The Online Railbird Report: Hansen, Ashby Lead New Year's Action
Nicole Gordon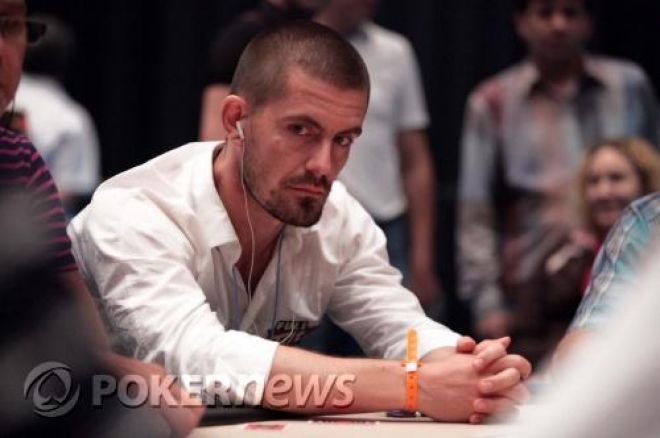 The first week of 2010 was far more subdued than usual at Full Tilt Poker's high-stakes cash game tables. Six-figure pots were few and far between as the majority of the action shifted back over to the 7-Game tables and the nosebleed-stakes pot-limit Omaha crowd found a new home at the $50/$100 and $100/$200 level.
While cash game stalwarts Phil Ivey and Tom "durrrrr" Dwan continued to enjoy a break from the tables, Gus Hansen returned to action (albeit at dramatically lower stakes) as he attempted to recoup some of the $5.57 million in losses he posted in 2009. Also enjoying a profitable start to 2010 was Richard Ashby, who has already posted more than a quarter of a million dollars in earnings in the new year.
Hansen Back in the Saddle at PLO, 7-Game
Last month, Hansen wrote on his blog that he was taking a break from online cash games to reevaluate his play and examine some of the money-losing mistakes he made over the last year. This week, however, he was back in action, playing $50/$100 pot-limit Omaha and $1,000/$2,000 7-Game. The first three days of 2010 were good to the Great Dane, as he banked $212,000 in earnings in less than 600 hands.
Last night, Hansen bumped the stakes up to $2,000/$4,000 as he took on Cole South heads-up. South, however, got the best of Hansen in this $77,000 PLO pot, which ended with some interesting chat.
Hansen opened for $3,000 from the button holding
, South three-bet to $9,000 with
, Hansen re-popped it to $27,000 and South called. South missed the
flop and checked, Hansen bet $6,000 (a bit more than half his stack), and after a bit of a think, South set Hansen all-in. Hansen called off the $5,474 he had behind and was likely shocked to find himself ahead in the hand with two small pair. That changed on the turn, the
falling to make South jacks up. The river was the
and South pulled in the $76,948 pot.
South defended his play in the chat that followed, leading many railbirds to believe that he is either (a) way more of a mathematical genius than we originally thought, or (b) very fast with his fingers when it comes to the use of range-calculating software.
Gus Hansen: it is just too much
Gus Hansen: lol
Cole South: i am 19% against top 15% of hands
Cole South: think i have to go with it at those odds
Cole South: sick one tho
Cole South: sorry
Cole South: only need 16% to go with it
Gus Hansen: the real question is do you have to win 92% of them against me
Cole South: 19% of the time
Cole South: it wins every time
Ashby, South Score at 7-Game
Continuing the $200K+ upswing he began enjoying on New Years' Eve, Ashby went heads-up with South on Monday for 212 hands at the $2,000/$4,000 7-Game tables. Ashby won the sole six-figure pot of the night, propelling him to a $96,000 win.
Sitting with $53,000 to South's $137,000 during the pot-limit Omaha round, Ashby opened for $3,000 from the button, South three-bet to $9,000, and Ashby called. South led out for $12,000 on the
flop and Ashby smooth-called. The turn came the
, putting a possible straight and two flush draws on board. South fired out $33,000, enough to set Ashby all in, and he made the call for the $31,971 he had behind, turning over
for a ten-high straight. South was looking for a king or a heart with his
, but the
fell instead, Ashby raking in the $105,942 pot.
The two reunited the following evening for some shorthanded $1,000/$2,000 7-Game, sharing the table with John "world1969" Hennigan, Ted "profbackwards" Forrest and Eli Elezra. This time South emerged as the session's biggest winner, raking in $83,000 while Hennigan bore the brunt of the losses, shedding $82,000.
South felted "Johnny World" on this $250/$500 PLO hand, where he led off the action with a $1,500 raise. Hennigan popped it to $5,000 and South called. The rest of their chips went in on the
flop, Hennigan leading out for $10,500, South raising to $21,000 and Hennigan calling all-in for $3,750. South turned up
for a flush draw while Hennigan tabled
for a pair of kings. South caught his gin card on the turn, the
falling to make his flush. The river was the
and South dragged the $39,000 pot while Hennigan was left to rebuy.
Harman Drops $42K in Mixed Hi/Lo Action
Jennifer Harman made a rare online appearance on Monday night, sitting in at the $500/$1,000 O.E. tables along with a rotating cast that included Eli Elezra, Chau "La Key U" Giang, "rafiboy," "DIN_FRU," David Grey, and Abe "EazyPeazy" Mosseri. Unfortunately for Harman, she posted the biggest loss at the six-handed table, shedding $42,000 over the course of 400 hands while rafiboy and Mosseri were the big winners, earning $29,000 and $27,000 respectively.
Harman found herself trapped in the middle in this stud eight-or-better hand against Ashby and Grey.
Grey (X) (X)
(X)
Ashby (X) (X)
(X)
Harman (X) (X)
(X)
Harman had the bring-in with the
, Giang called with the
up, Grey completed, Ashby raised to $1,000, Harman called and Grey called, taking the three-way pot to fourth street. Ashby led out for $500 with the high board, Harman called, Grey raised, and both Ashby and Harman came along. Harman made an open pair of nines on fifth street and checked, Grey bet $1,000, Ashby called and Harman called. Grey was the aggressor again on sixth street, leading out and earning two calls. Harman checked the river, Grey bet, Ashby called and Harman looked him up as well.
Grey revealed a seven-high straight and scooped the $15,747 pot while both Grey and Harman mucked.
Chat of the Week: Oppenheim Razzes South
Cole South didn't exactly appreciate David Oppenheim's sense of humor when Oppenheim referred to the scandal surrounding Brian Hastings, Brian Townsend, and South's alleged exchange of hand histories when they were battling "Isildur1." As the forum kids would say, "pwned."
David Oppenheim: gg are you gonna data base these hands
David Oppenheim: j/k good luck
Cole South: ? not funny
Cole South: gg
David Oppenheim: oh ok sorry
David Oppenheim: didnt mena anything buy it
David Oppenheim: gg
The highest-stakes action online all unfolds on Full Tilt Poker. Open up an account today and see for yourself.