The WSOP on ESPN: Hille Gets the Monkey Off Her Back, Smith's Two Kids and a Negreanu Bustout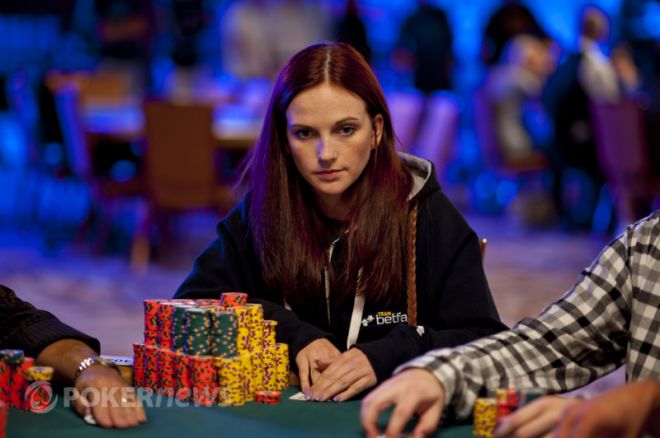 On Tuesday, ESPN's coverage of the 2012 World Series of Poker continued with two new episodes from Day 5 of the Main Event. Only 282 players from the 6,598-player field remained at the top of the broadcast, including notables Gavin Smith, Gaelle Baumann, Elisabeth Hille, Jason Somerville, Kevin Pollak, Daniel Negreanu and chip leader Paul Volpe.
Here's a look at the top stacks when play began:
Start of Day 5 Top 10 Chip Counts
| Place | Player | Chip Count |
| --- | --- | --- |
| 1 | Paul Volpe | 2,750,000 |
| 2 | Erik Hellman | 2,216,000 |
| 3 | David D'Alesandro | 2,093,000 |
| 4 | Kyle Bowker | 2,081,000 |
| 5 | Eric Buchman | 2,076,000 |
| 6 | Elisabeth Hille | 2,074,000 |
| 7 | Andras Koroknai | 1,971,000 |
| 8 | Amit Zulkwitz | 1,961,000 |
| 9 | Erik Le Goff | 1,947,000 |
| 10 | Nicco Maag | 1,899,000 |
Bold Prediction: After Michael Swimelar opened for 24,000 with
, Jessie Sylvia called holding
. Action then folded around to Ben Hamnett in the big blind and he moved all in for 324,000 with
. Swimelar folded the best hand, but Sylvia opted to make the call. The board ran out
, and Hamnett's Main Event came to an end. "At least I lost to the winner," Hamnett boldly predicted. (October Nine SPOILER ALERT: Sylvia is the chip leader at the October Nine Final Table).
Kornuth Gets Frisky: Chance Kornuth, who has one WSOP bracelet to his name, has a reputation of being one of the nicest guys in poker, but he no doubt irked Matthew Silberzweig a bit on Day 5. It happened over at the feature table when Silberzweig opened for 31,000 with
and Kornuth moved all in from the big blind with
. Silberzweig quickly called off for 348,000 and was a 63 percent favorite. That was reduced to just 24 percent when Kornuth paired his queen on the
flop, and the
turn and
river gave Kornuth the 720,000 pot. With that, Silberzweig was eliminated in 272nd place for $38,453,
JJ No Good for JJ: The cameras caught the action on the turn with the board reading
and 424,000 in the pot. John Juanda was all in holding
, but was at elimination's doorstep as Kyle Knecht held
. Juanda stood from his seat even before the
appeared on the river and then shook hands with the entire table before making his way to the payout desk in 237th place.
Not So Lucky Chewy: Over at the Secondary Feature Table, there was 198,000 in the pot and a board reading
when Andrew "Lucky Chewy" Lichtenberger bet 84,000 with
. AJ Jejelowo then put in a raise to 225,000 with
, Lichtenberger moved all in for 613,000, and Jejelowo made the call. The
river left Lichtenberger blankly staring at the board before rising, shaking hands with his opponent, and then exiting in 221st for $44,655.
History of the Hardware: During the broadcast, ESPN flashed a quick chart that featured the number of bracelets awarded over the years. It was pretty interesting to see the game's expansion in terms of bracelets: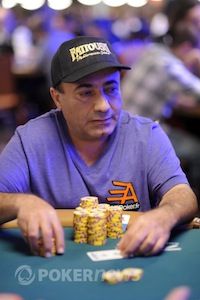 | Year | Number of Bracelets Awarded |
| --- | --- |
| 1970 | None (Johnny Moss voted World Champion by his peers) |
| 1976 | 8 |
| 1982 | 14 |
| 1990 | 15 |
| 2000 | 25 |
| 2002 | 35 |
| 2007 | 55 |
| 2011 | 58 |
| 2012 | 61 |
Deeb Done and Dusted: Shortly after the elimination of Henry Van Tran, who you may recall as the man who refused to show his hand to the camera on Day 4, was eliminated in 212th place for $44,655, Freddy Deeb got his last 205,000 all in preflop holding
but was dominated by the
of Gaelle Baumann. The
flop was not very interesting, but the
turn did give Deeb a flush draw. "King, jack or a club. Do it man, one time," Deeb told the dealer. The
river paired Deeb, but his king kicker was no good against Baumann's ace. Deeb was eliminated in 211th place for $44,655 while notching his 38th WSOP cash, which includes two gold bracelets.
The Start of Episode #2: The second one-hour episode of the evening kicked off with 201 players remaining, and though there was little to no coverage of either Kevin Pollak or Daniel Negreanu on the first episode, there was plenty in the latter half as both were moved to the feature table; albeit, with short stacks of 280,000 and 371,000 respectively.
With that said, in the very first hand, with the blinds at 8,000/16,000, William Katona raised to 37,000 with
and cleared the field all the way around to Negreanu, who called with
from the big blind. The
flop saw Negreanu check-call a bet of 46,000, and then checked when the
turn gave him trips. Katona obliged with a bet of 95,000, and Negreanu simply moved all in for 286,000. Katona, who barely had him covered, wasn't excited but made the call nonetheless. The
river was safe for Negreanu and he doubled to 762,000.
A Changed Man: "Kids have changed me a lot," Gavin Smith said in an interview that showed him riding his Harley Davidson through the Las Vegas desert. "I think that I'm a lot less reckless poker player than I used to be, I'm a lot less reckless of a person than I used to be. I lived a pretty fast life for a long time."

Hille Gets the Monkey Off Her Back: Will "Monkey" Souther got his last 460,000 all in preflop with
and was an 81 percent favorite against the
of Elisabeth Hille. The temperamental South was uncharacteristically stoic as the flop fell
and gave Hille top set. Souther remained silent as he crossed his fingers and covered his mouth, but it didn't bring him luck as the
turned followed by the
on the river — giving Hille quads and the tournament chip lead. The devastated Souther showed his gentlemanly qualities as he walked around the table to shake hands with Hille before taking his leave in 175th place for $44,655.
Kid Poker vs. the Comedian: After losing more than half his stack to Kyle Bowker, Daniel Negreanu shipped his last 240,000 all in preflop with
only to run into the
of comedian Kevin Pollak, who moved all in over the top. The rest of the field got out of the way, the board ran out
, and Negreanu was sent packing in 160th place for $52,718, an improvement over his 211th-place finish in 2011. "He's my poker hero," Pollak said. "There's no pleasure in that."
Merson Crippled: In one of the last hands of the broadcast, the flop read
when Fabrizio Gonzalez bet 87,000 holding
only to have Greg Merson, who held
, raise to 180,000. Gonzalez responded with a three-bet to 369,000, Merson four-bet 580,000, Gonzalez moved all in for 1.406 million, and Merson quickly called. Neither the
turn nor
river helped Merson and he lost 97 percent of his stack, leaving a meager 53,000 behind.
Tune in Next Week: Every week leading up to Oct. 30, ESPN will air two episodes of the 2012 WSOP Main Event. Be sure to either check your local listings or come back next week for our recap of the action.
Don't forget to follow us on Twitter and like us on Facebook.