The WSOP on ESPN: Johnny Chan & the Lon McEachern Memorial Hand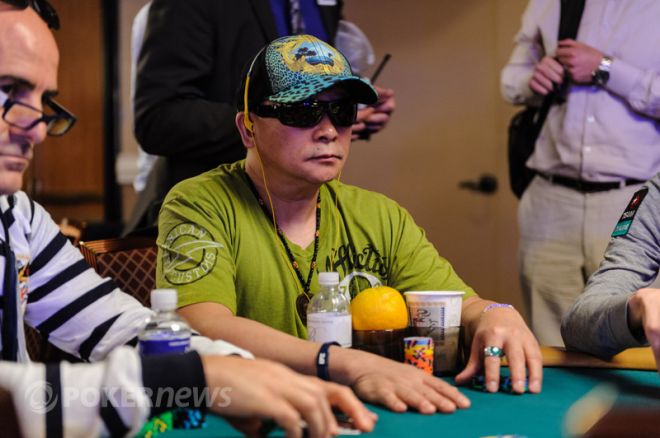 ESPN's coverage of the 2012 World Series of Poker continued Wednesday night with two new episodes of the Main Event. Last week, Day 4 kicked off with several notables still alive including Daniel Negreanu and Vanessa Selbst. This week featured the day's continuation with 442 players remaining.
Here's a look at the top stacks when play began:
Start of the Broadcast Top 10 Chip Counts
| Place | Player | Chip Count |
| --- | --- | --- |
| 1 | Ben Greenberg | 1,711,000 |
| 2 | Henry Van Tran | 1,629,000 |
| 3 | Paul Volpe | 1,589,000 |
| 4 | David D'Alesandro | 1,457,000 |
| 5 | Jacob Balsiger | 1,355,000 |
| 6 | Vanessa Selbst | 1,353,000 |
| 7 | Erik Hellman | 1,297,000 |
| 8 | Timothy Adams | 1,280,000 |
| 9 | Nicco Maag | 1,274,000 |
| 10 | Leo Wolpert | 1,211,000 |
The Hole Card Debate: Ever since hole cams were introduced in 2002, players have been conflicted, and oftentimes confused, about revealing their hand. You don't see many players disagree with it these days since it has become so ingrained in poker culture, but apparently Henry Van Tran has a problem with it. "Show me the agreement that I signed," Van Tran demanded at the feature table after he was informed he needed to reveal his cards to the camera. We hate to be the one to tell you Mr. Van Tran, but like it or not, by registering for the tournament you're entering into a contract that requires you to show your hole cards — it's all in the fine print.
Speaking of which, ESPN flashed the applicable text from the WSOP Player Release: "Player further consents . . . to disclosure of Player's strategies and hole cards . . . in perpetuity by any means and through any medium now known or hereafter used — and without further authorization or compensation."
The Lon McEachern Memorial Hand: Do you know what two cards constitute the Lon McEachern Memorial Hand? Neither did I until ESPN aired a short segment asking numerous pros the same question. Not surprisingly, none of them knew either. It's something you'd learn by paying attention to the WSOP broadcasts. The Lon McEachern Memorial hand was coined by Norman Chad, and no one knows why, but plenty of footage shows that the hand is
.
Karam Crushed: Action folded around to Dan Dizenzo on the button and he raised to 16,000 with
, which prompted Marc Karam to move all in for 169,000 from the big blind with
. Dizenzo made a quick call and was primed to score the knock out.
"My first time all in this tournament," Karam said. That was followed by an "Ouch," when the flop fell
. The
turn left Karam drawing dead, while the
river sent him home in 378th place for $32,871.
God Save the Moorman: At an outer table, there was 1,021,000 in the pot on a flop of
. Chris Moorman held the
but was up and preparing to exit as Patrick Halter held the far superior
. Neither the
turn nor
river helped Moorman, and the Brit gave us a wave as he made his way to the payout desk in 358th place to collect $32,871.
The Legendary Johnny Chan: In another hand at the outer tables, two-time Main Event winner Johnny Chan was all in preflop holding
and in bad shape against the
of Isaac Baron. With 1,085,000 on the line, the dealer burned and put out the flop —
, a disaster for Chan as Baron flopped top set. The
turn gave Chan a little hope for a chop, but the
river was not what he needed. Chan took a swig of his water, grabbed his humongous red bag, and then exited the Amazon Room in 353rd place.
A New Chip Leader: Paul Volpe, a 30-year old from Philadelphia with $113,633 in WSOP cashes, began Day 4 10th in chips, and things only seemed to go his way as the day progressed. For example, with 254,000 in the pot and a flop of
, Volpe checked
to Sean Rice, who held
on the button. The latter checked, the
turned, and Volpe fired out 150,000 with his flush. Rice made the call drawing dead, and the
river was danger as it gave him useless trips. Volpe wasted little time moving all in, and after thinking for a few moments, Rice called off his last 481,000. With that hand, Volpe became the new chip leader with 3.184 million and was primed to improve upon his 192nd-place finish in the 2011 WSOP Main Event.
Deeb Dusted; Buchman Looking for Another November Nine: A short-stacked Shaun Deeb was all in preflop for 114,000 holding
and out in front of the
of Eric Buchman, who you may recall as a member of the November Nine in 2009. Deeb sat silently while receiving a massage and didn't react much when the flop fell
followed by the
on the turn; however, when the
spiked on the river to give Buchman the win, Deeb shot out of his chair and exited in 319th place for $32,871. Meanwhile, Buchman was looking to become the first repeat November Niner — or in this case an October Niner.
First Timers: Did you know a bunch of established pros finally broke through in 2012 and won their first bracelet? The list includes Cory Zeidman, Andy Bloch, Brian Hastings, Joe Cassidy and David "ODB" Baker.
Pollak's Impression: Comedian and established Hollywood actor Kevin Pollak was still going strong in the Main Event. For weeks Pollak has been entertaining viewers with various impressions, and while that's hard to do justice while writing about in a recap, we at PokerNews just so happen to have him on film doing his best Christopher Walken. Check it out:
Tune in Next Week: Every week leading up to Oct. 30, ESPN will air two episodes of the 2012 WSOP Main Event. Be sure to either check your local listings or come back next week for our recap of the action.
Don't forget to follow us on Twitter and like us on Facebook.