The WSOP on ESPN: Bursting the Bubble on Day 4 of the Main Event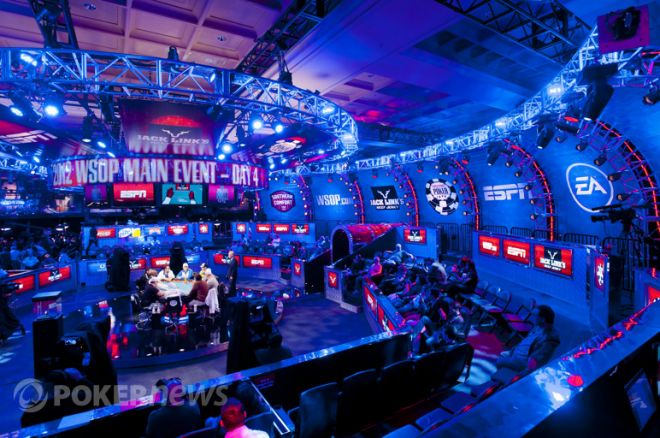 ESPN's coverage of the 2012 World Series of Poker continued Tuesday night with two new episodes of the Main Event. Last week, Day 3 came to a close with the money bubble looming as only 666 of the remaining 720 players would receive a minimum payday of $19,227.
This week, coverage of Day 4 kicked off with several notables still alive, including Daniel Negreanu, Vanessa Selbst, Johnny Chan, Maria Ho, Liv Boree, Shaun Deeb, Erick Lindgren, and Antonio Esfandiari. They were all chasing Dave D'Alesandro, who entered the day with 1,100,000 chips.
Here's a look at the top stacks when play began:
Start of Day 4 Chip Counts
| Place | Player | Chip Count |
| --- | --- | --- |
| 1 | Dave D'Alesandro | 1,100,000 |
| 2 | Sean Rice | 1,076,000 |
| 3 | Jacob Balsiger | 1,065,000 |
| 4 | Leo Wolpert | 1,003,500 |
| 5 | Ben Greenberg | 963,000 |
| 6 | A.J. Jejelowo | 928,500 |
| 7 | Daniel Rudd | 834,500 |
| 8 | Jonathan Seelbach | 824,000 |
| 9 | Michael Ferrell | 821,000 |
| 10 | Paul Volpe | 820,000 |
The Feature Tables: Two-time WSOP Main Event champ Johnny Chan made his way to the ESPN main stage when play began but wasn't the only star under the bright lights. Vivek Rajkumar and Erick Lindgren sat directly to Chan's left, creating a "Murderer's Row" for spectators to feast their eyes on.
On the ESPN secondary table, Vanessa Selbst was wielding a big stack with nearly 800,000 chips. She was joined by pros Tuan Le and Marc Karam.
Let's Get It Started: Chan and Lindgren didn't waste time before mixing it up. With the blinds at 2,500/5,000 and a 500 ante, Chan raised to 13,000 with
from early position and Lindgren called from middle position. The rest of the table got out of the way and the dealer rolled out a flop of
. Chan led out for 18,000 and Lindgren called. The turn brought the
, leaving Chan drawing dead, and he checked. Lindgren bet 26,000, but Chan made a move by raising to 65,000. Lindgren opted to fold, and Chan won the early pot.
Pro Analysis: In the special ESPN segment, Antonio Esfandiari and Phil Laak analyze the play by Lindgren against Chan. Both agreed that checking behind on the turn with position would have been the optimal play for Lindgren, especially against a tricky opponent like Chan. "Don't open the door for a check-raise," Laak said.
Daniel Doubles: Daniel Negreanu entered the day with around 20 big blinds and little wiggle room but added some talking chips after doubling through fellow WSOP bracelet winner Eric Baldwin at an outer table. Baldwin raised to 10,500 from under the gun with
, and action folded around to Negreanu in the big blind. He called with
and then hit gin on the
flop, giving him a straight and a redraw to the straight flush. He slyly checked and Baldwin bet 18,500. Negreanu check-raised all in for 77,000 and Baldwin called, putting "Kid Poker" at risk for his tournament as a 97 percent favorite in the hand. The turn and river gave Baldwin with no help, and Daniel increased his stack to 182,000.
Fun On The Bubble: Hand-for-hand play on the money bubble leaves many players anxious and restless, but as we saw Tuesday, some take it as an opportunity to relax. While Daniel Negreanu signed some autographs for fans, Antonio Esfandiari and Brian Meinders made a $100 bet on who could kick higher. Poker pro Justin Young was the brave soul who served as the measuring stick as Esfandiari and Meinders showed off their flexibility. Esfandiari won, adding a Benjamin to the $18 million he won at the Big One for One Drop earlier in the month. Run better, Antonio.
Bubble Boys: Normally, it takes several hands — and sometimes hours — to burst the money bubble during hand-for-hand play. Not in 2012. It took only one hand as five players were sent packing, including Dane Lomas, who had his pocket aces run down by Devin Looney's
after all the chips went in preflop. The four-way bubble resulted in each player taking home a share of the $19,227 min-cash. It was also decided they would play a four-handed single-table tournament to determine who would get a seat in next year's Main Event.
With that, the remaining 665 players were in the money. High-fives and awkward dance moves ensued.
Mic Check: We've seen the good and the bad of Freddy Deeb on camera in the past, but on Tuesday, Deeb shined in a new segment called Mic Check. Deeb playfully berated an opponent for taking a long time to act on his hand and bet another player that his daughter could beat him in arm-wrestling. He even called his daughter to explain the details of the $5,000 bet, which we're sure never got off the ground.
Out The Door: With the bursting of the money bubble, players began hitting the rail quickly. Among the notables eliminated on Day 4 were Jason Mercier, David Tuchman, Liv Boeree and NHL goalie Roberto Luongo, who was sent packing after running
into an opponent's
.
Ms. Pac Man: On the felt, Vanessa Selbst is one of the most feared poker players in the world. Off the felt, though, she enjoys spending time in Los Angeles where she makes her home. Inside of her new house is a Ms. Pac Man machine, which Selbst said was the first big purchase she ever made. "It's kind of the only frivolous thing I've ever bought," she told ESPN when the camera crew visited her home.
Sorry, Katie: Antonio Esfandiari was all-in for his last 33,000 with
against Brian Meinders'
and Dan Hicks'
. Before the flop, Esfandiari offered to give $10,000 toward the college fund of the dealer's daughter, Katie, if Antonio flopped the nuts. The
didn't do the job, but Esfandiari hit a lovely
on the turn to push him into the lead. The
came on the river and Esfandiari tripled up to stay alive. "Ship the sherbet," he exclaimed as he raked in his newfound chips.
Inside Daniel's Bedroom: ESPN ventured into Daniel Negreanu's "home away from home" during the WSOP, a rented RV that sits in the Rio parking lot all summer long. Negreanu gave viewers a tour of the vehicle and took them through his fridge, which his assistant regularly fills with vegan food.
The Magician Vanishes: Before Tuesday night's coverage came to a close, the cameras panned over Antonio Esfandiari who he was all in for his last 104,000. Esfandiari moved all in preflop with
, but Michael Shelton called with
. Antonio requested his "one time" for about the fifth time on Day 4, but the dealer didn't oblige as the board ran out
. He graciously shook the hands of his table mates as he left the tournament area.
Tune in Next Week: Every week leading up to Oct. 30, ESPN will air two episodes of the 2012 WSOP Main Event. Next week's coverage (on Wednesday) will begin with 442 players remaining and Ben Greenberg leading the way with 1,711,000 in chips. Be sure to either check your local listings or come back next week for our recap of the action.
Don't forget to follow us on Twitter and like us on Facebook.