Chris Moneymaker Reflects on Historic WSOP Win a Decade Later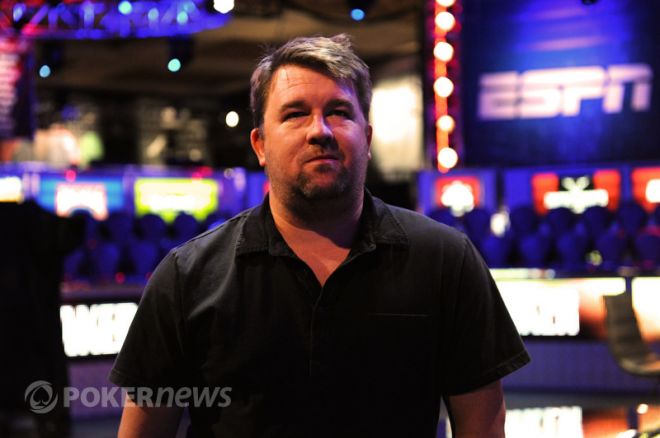 "I've got so many good things in my life to be thankful for. If I didn't win the WSOP, I probably wouldn't be doing what I'm doing now. I wouldn't have the family that I have now." — Chris Moneymaker a decade after his win.
Everyone knows the story of Chris Moneymaker, the 27-year-old accountant from Tennessee who turned a $39 investment on PokerStars into $2.5 million by winning the 2003 World Series of Poker Main Event. It was perhaps the most significant win in poker history, and one that has continually transformed the game over the past decade.
Moneymaker's win came on May 23, 2003, so by the time the 2013 WSOP kicks off on May 29, it will have been more than 10 years since his spark helped ignite the poker boom. Nine other men have donned the championship bracelet since then, and while a few of have had more poker success in the years that followed, no one has been more celebrated than Moneymaker.
"When you play the WSOP, you don't really think of winning it and having to become a spokesman for the poker community. When you do win that thing, it's more or less understood that's what you're going to do," Moneymaker said in a sit-down interview with PokerNews.
Winning the WSOP Main Event
"I don't use it myself," Moneymaker admitted when asked if he ever used the term Moneymaker Effect. "I mean, it's not something I would ever bring up in my day-to-day life, maybe in a random interview I might say it. There were a lot of things that contributed to the boom of poker. I caught the right time and right year, and I was the right guy because I was sort of related to everybody else."
Indeed, he was the right guy for the job, due in no small part to his personality and unbelievably appropriate surname. Born on November 21, 1975 in Atlanta, Georgia, Moneymaker was actually raised in Tennessee. He attended Farragut High School in Knoxville, married his high-school sweetheart, Kelly Weaver, and later attended the University of Tennessee where he earned a master's degree in accounting. In April 2003, just a couple of weeks after his daughter Ashley was born, Moneymaker entered the now-famous $39 satellite on PokerStars, an 18-person tournament.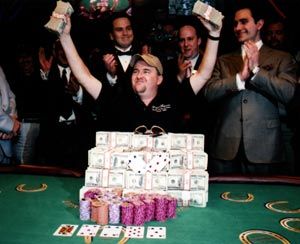 Moneymaker won that event to advance to a $600 satellite on Saturday, April 26, 2003, which had 68 runners and awarded WSOP Main Event seats to the top three spots and $8,000 to the fourth-place finisher. Surprisingly, Moneymaker initially had his sights set on the cash.
"I thought $8,000 would go a helluva long way toward digging us out of our financial hole, while a seat at the World Series of Poker would likely get me nowhere past the first day of play," Moneymaker explained in his post-victory memoir, Moneymaker: How an Amateur Poker Player Turned $40 into $2.5 Million at the World Series of Poker. "No sense coveting a souvenir-type memory when there was a good chunk of cash at stake."
Moneymaker managed to thrive in the qualifier and began to devise a plan to take fourth place. Fortunately, one of his friends convinced him to win one of the seats, and the rest, as they say, is history.
"Robert Varkonyi had won it the year before and got a little coverage, but he was a little more difficult to relate to. He was a little bit more, I don't want to say intelligent, just a little bit different personality," Moneymaker said. "I'm one of those guys that's going to come to your Saturday home game, have a beer, and hang out. I think a lot of people sort of related to me and could see themselves in me. I think it was between that and the coverage."
The coverage Moneymaker speaks of was the unrelenting broadcasts of the 2003 WSOP on ESPN. Because of the 2004-2005 NHL lockout, the network was in need of programming and the combination of Moneymaker's fairytale story and the enhancement of hole-card camera technology proved a ratings smash.
"Sammy Farha played a perfect villain and a typical Vegas pro — what you would imagine a professional poker player would be," Moneymaker reflected. "It was a perfect mix. I think the final table had a lot of personalities, a lot of characters, and gave people inspiration that this isn't just a game for pros, that you can do this at home, learn, and become successful yourself."
The Repercussions
The upshot for the World Series of Poker in the years that followed was an attendance jump from 839 in 2003 to a staggering 8,773 in 2006, but what many people don't know is how drastically it changed Moneymaker's life.
"I was a pretty shy person, and doing interviews and things like that was something I was really nervous about doing," Moneymaker explained. "That was the biggest change for me. To go on David Letterman, Jimmy Kimmel, or something like that, was just unheard of for me back in 2003. I just never would have done it. So, for me, that was the biggest challenge and the biggest change in my life was just having the public know who I am."
Not only did the public know who he was, Moneymaker became a worldwide celebrity. He was immediately given a sponsorship by PokerStars and began traveling the world. It seemed Moneymaker's fairytale would continue, but it was not without its consequences.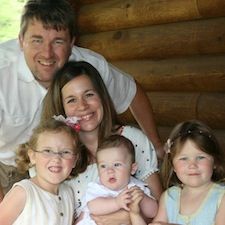 "I was married and am now remarried. With my lifestyle and everything else," Moneymaker drifted off when discussing the end of his marriage with Kelly. "We ended up moving three miles from my ex-wife. We couldn't agree on visitation and everything else. She got remarried, and I thought it was best just to have him adopt my other daughter, so I don't see my other daughter [Ashley] anymore."
While his win may have contributed to the end of his first marriage, it also allowed him to meet his future wife, Christy Wren, with whom he would have two daughters and a boy — Taylor, Hayden and Will.
"I'm happy with most of my decisions. Obviously I'm human and make some mistakes," Moneymaker confessed. "I've done some things I wish I wouldn't of. I've started a business, my wife started a business, I wish I wouldn't have done that, but for the most part I'm happy with the poker side of things."
When pressed what he meant by "for the most part," Moneymaker elaborated:
"One thing I wish I would've done in poker many years ago was after winning the WSOP I sort of got a little complacent. It gave me a false sense of security. I mean, the first tournament I played I ended up winning, then I played one more and busted, but the third tournament I played was the World Poker Tour where I got second place. I was a $10/$20 limit player at that point, and I just jumped into no-limit cash games. I never played big, but I just had a false sense of security I guess. I thought I was a better player than what I was, and I didn't take the time to learn the game as it changed. A lot of people put a lot of time in working on their game and stuff, and as the game evolved I didn't really evolve with it for many years."
Despite the early setbacks, Moneymaker seems content with his day-to-day life nowadays, which he splits between poker obligations and spending time with his family. "I've basically got two different lifestyles," he said with a smile. "When I'm on the road and out of the country, I just got set back up on PokerStars so I can play online again. I've got appearances, I do charity work, and a lot of different stuff to try and keep busy. I'm gone about half the time I would say. "
In addition, Moneymaker still reaps the benefits of fame, albeit at a smaller level than a decade ago. "I do [get recognized], but I've got a nondescript face and personality. Everyday it's, 'I know you from somewhere. Where do I know you from?' Once I say ESPN or poker they go, 'Oh yeah, you're Chris Moneymaker.' It's not like Phil Hellmuth or Daniel Negreanu. I guess they probably speak out a little more, but everybody's like, 'Where do I know you? I know you from somewhere.'"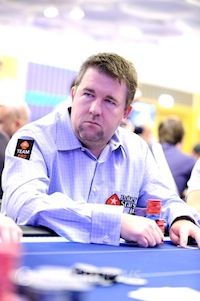 What It All Means
It's not hard to imagine someone getting tired of dealing with fans every day for a decade, but Moneymaker not only welcomes it, he also appreciates it.
"I enjoy it. It's nice to have fans," Moneymaker said. "I like doing the autographs. I like taking pictures. I remember right before I won the WSOP what it was like to talk to Phil Hellmuth, and how it sort of made my day. I wasn't that big into poker, I only knew three people at the time. I didn't know any poker players. He was one of the three names I even knew in poker. He had just won a bracelet before the Main Event, and I was playing in a sit-n-go. I walked over and said hi, and it sort of made my day to sit down and talk to him for like two minutes. I remember that and how it made me feel, and I want to give other people that opportunity as well."
Moneymaker was exceptionally candid in his interview with PokerNews up to the last question — was winning the 2003 WSOP ultimately a positive experience for you?
"Yes, it was," Moneymaker said. "I've got so many good things in my life to be thankful for. If I didn't win the WSOP, I probably wouldn't be doing what I'm doing now. I wouldn't have the family that I have now. There are so many good things that I have in my life, and I'm very thankful for that."
The 2013 WSOP marks the 10th anniversary of Moneymaker's big win that played a large part in the ignition of poker's big boom. Beginning May 29, you can follow all the coverage of the 2013 WSOP right here on PokerNews.
Get all the latest PokerNews updates on your social media outlets. Follow us on Twitter and find us both Facebook and Google+!
Executive Editor US, PokerNews Podcast co-host & 2013 WSOP Bracelet Winner.