Preparing for the 2011 World Series of Poker November Nine: Pius Heinz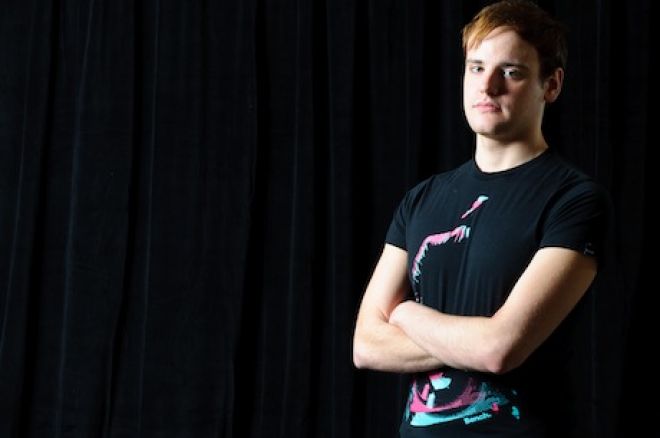 Playing your first World Series of Poker and making the final table of the Main Event is every poker player's dream. In 2011, that dream came true for 22-year-old Pius Heinz, a student from Euskirchen, Germany. To make things even sweeter, Heinz becomes the first player from Germany to make the Main Event final table. If he hopes to become the first German champion, he'll have his work cut out for him; he starts the table seventh in chips with 16,425,000.
Before the Main Event, Heinz actually navigated a field of 2,713 in Event #48 $1,500 No-Limit Hold'em to make the final table, ultimately finishing in seventh place for $83,286. That win gave Heinz the bankroll and confidence to enter the Main Event.
PokerNews recently caught up with Heinz to get his thoughts on being a member of the November Nine, what he's been up to since July, and what he's doing to prepare for the final table this weekend.
Was there any hand during the Main Event that you thought was a turning point for you?
Obviously there were a couple of really important hands. On Day 1 actually, in the first level, there was a hand where I had a four-card nut flush draw. My opponent had a straight flush draw. It was
with two clubs, an offsuit
on the turn, and the
on the river. I bet 1,800 and my opponent, like a 58-year old gentleman, made it 5,000. I just called [with the ace-high flush] and he showed
. This could have eliminated me from the tournament, so that was pretty interesting.
On Day 6, I won a gigantic flip against Sebastian Ruthenberg when I had
and he had
. I was fortunate enough to win the flip in an eight million-chip pot at the time, which was for a top three stack I believe.
What did it feel like making the November Nine? How long did it take to set in?
It felt incredible, just unbelievable. I was waiting for someone to wake me up. It was really, really, really sick and completely unbelievable. It took me a pretty long time to realize actually. When it happened, I wasn't feeling anything else but happiness, basically. It's really hard for me to describe that moment.
What was the reaction of your family and friends back home in Germany?
They obviously went crazy. Most of them aren't poker players, so you might expect that they don't really realize what's going on, but they may have been even more excited than me to be honest. They were really excited, and we had a small party. They were really, really proud of me.
Who will you be bringing to watch you at the final table this weekend?
I have a couple of poker friends coming. Most of my family is going to be here: my brother, my sister, and my mother. A couple of other friends from back home.
What have you been doing in the days leading up to the final table?
I have a couple of interviews to do. I'm going to try to use the next couple of days to relax. When I have the time, I'm not going to do anything too overly exciting. I'm just going to relax as much as I can.
During the three-month November Nine hiatus, what did you do with your time? Did you do any traveling? Play any tournaments?
I actually didn't play that many tournaments. I moved to Vienna, that's not really traveling, but it obviously takes some time. I went to Barcelona for the European Poker Tour. I busted on Day 2, but I managed to win a side event, so it turned into a pretty profitable trip, which was nice. Other than that, I was just meeting friends, doing all sorts of media stuff, playing some online poker, and basically just taking it easy.
Have you spent anytime watching the ESPN broadcasts of the Main Event and studying your opponents?
I watched a lot of the coverage, mainly from Day 8. I've watch a little from Day 5 and everything, but I've watched everything from Day 8.
If you were to make it to heads-up play, whom would you like to face off against?
Probably against Bob Bounahra.
Is that because you feel he is the easiest to defeat?
I don't want to say it that way, but I think I would have an edge against him. It would be fun though, he's a pretty cool guy. He was really excited and definitely enjoying his time. I think it'd be pretty fun actually.
What's more important to you: the money of the Main Event bracelet?
The money.
Did your final table earlier in the WSOP give you the bankroll and confidence to enter the Main Event?
Yeah, but I swapped with people, which is pretty standard. I mean everybody did that. I don't think anybody at the final table [didn't swap] other than maybe Badih, who is a businessman, and I guess maybe Ben Lamb. It just makes the best since because you can beat the variance more easily.
Do you have any plans for your money? Any big splurges?
No, not really. I'm not really worried too much about that right now. I haven't bought anything meaningful like a house or car or anything like that. I don't know what I'll win yet, I know the minimum amount, but there is quite a bit of difference between winning [and finishing ninth].
Do you think poker is in your future? Do you plan to travel the circuit a little bit?
Oh yeah, I'm definitely going to be doing that. You'll find me at a lot of EPTs this season.
It was announced the day after this interview that Heinz became the latest PokerStars Pro, joining Team Germany.
To learn more on Heinz, check out his post-November Nine interview:
Stay up to date on all the latest news by following us on Twitter and liking us on Facebook.