The WSOP on ESPN: The November Nine is Set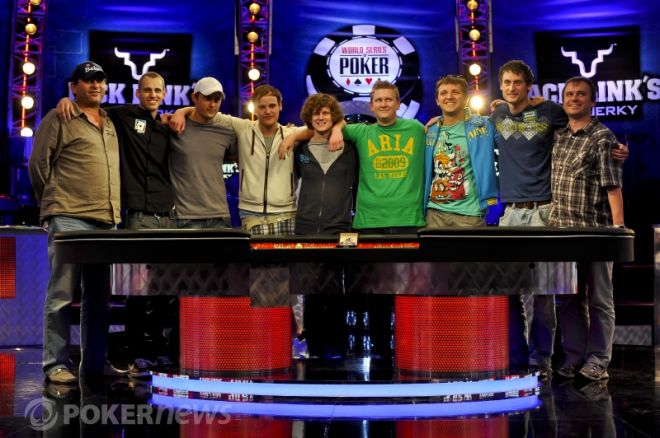 For months, the 2011 World Series of Poker Main Event has aired every Tuesday night as the field played its way to the November Nine. Last week, the start of Day 8 saw Anton Makiievskyi extend his chip lead as the field was reduced to the final 14 players. In the last two episodes before the Main Event's exciting conclusion in Las Vegas, five more players will hit the rail and officially set the 2011 November Nine.
Here's a look at the chip counts at the top of this week's broadcast:
Final 14 Chip Counts
| Place | Player | Chip Count |
| --- | --- | --- |
| 1st | Anton Makiievskyi | 32,820,000 |
| 2nd | Eoghan O'Dea | 26,415,000 |
| 3rd | Pius Heinz | 24,995,000 |
| 4th | Phil Collins | 18,870,000 |
| 5th | John Hewitt | 18,595,000 |
| 6th | Ben Lamb | 14,990,000 |
| 7th | Martin Staszko | 13,030,000 |
| 8th | Badih Bounahra | 10,915,000 |
| 9th | Sam Holden | 9,995,000 |
| 10th | Matt Giannetti | 9,725,000 |
| 11th | Scott Schwalich | 7,695,000 |
| 12th | Bryan Devonshire | 7,095,000 |
| 13th | Khoa Nguyen | 7,010,000 |
| 14th | Kosta Mamaliadis | 3,770,000 |
Let's Get It Started: With the blinds at 120,000/240,000 and a 30,000 ante, Ben Lamb opened for 525,000 holding
and Badih Bounahra defended from the big blind with
. The two were heads-up to the
flop, which Bounahra checked. Lamb continuation-bet 650,000, Bounahra called, and the
hit the turn. Again Bounahra checked, Lamb bet 1.2 million, and Bounahra called.
The
river gave Bounahra the flush he was looking for, but he checked to Lamb, who checked behind. "Ahhhhhh, you didn't bet on this one?" Bounahra asked as he slapped over his cards. Lamb gave his own hand a second look before tossing them to the muck, watching the 5,080,000 pot shipped to the elder statesman of the tournament.
Giannetti's Ladies Treat Him Right: Matt Giannetti raised to 525,000 from the button, holding queens, and was called by Anton Makiievskyi in the big blind holding
. The chip leader checked the
flop, opening the door for Giannetti to bet 650,000. Makiievskyi, who had flopped top pair, made the call and then checked the
turn. Giannetti counted out some chips and single-handedly slid out a bet of 1,475,000. His Ukrainian opponent made the call and then checked for a third time on the
river. Giannetti went for value with a 2.6 million bet on the river, and somewhat surprising, Makiievskyi laid down his hand.
Schwalich Bounced: After being crippled when his
failed to overcome the pocket tens of Bryan Devonshire, Scott Schwalich was all-in preflop for his last 570,000 with
and at risk against the
of Eoghan O'Dea. Schwalich only had a 28 percent chance of winning, which dropped to 14 percent on the
flop. The
turn left him looking for a jack on the river, but it was not meant to be as the
peeled off. Schwalich was eliminated from the Main Event in 14th place, taking home $478,174 for his efforts.
Like Father Like Son: After scoring the aforementioned knock out, a stat was shown showcasing the success of Eoghan O'Dea's father, Donnacha O'Dea:
Donnacha O'Dea Main Event Cashes
| Year | Place | Payout |
| --- | --- | --- |
| 2007 | 171st | $51,398 |
| 1996 | 25th | $19,500 |
| 1994 | 27th | $16,800 |
| 1991 | 9th | $17,250 |
| 1990 | 32nd | $7,500 |
| 1983 | 6th | $43,200 |
Costly Mistake for Mamaliadis: Chip leader Eoghan O'Dea opened the pot for 625,000 and cleared the field to a short-stacked Kosta Mamaliadis on the button. The South African moved all-in for 4,020,000, and O'Dea made the call after the blinds got out of the way.
Showdown
O'Dea:

Mamaliadis:
Apparently picking the wrong time to make a move with his weak hand, Mamaliadis was promptly eliminated in 13th place after the board ran out
. O'Dea extended his chip lead while Mamaliadis made his way to the payout desk to collect his $478,174.
Interestingly, Mamaliadis explained to his friend Mars Callahan that he had accidentally looked down at the eight twice and mistook his hand for pocket eights, prompting the all-in shove. It was a costly mistake, but as Callahan pointed out, even the great Phil Ivey misread his hand in the Main Event, alluding to his mucked flush in the 2009 WSOP.
Nguyen Doubles Through Devonshire: Action folded to Bryan Devonshire in the cutoff and he put in a raise to 700,000. Short-stacked Khoa Nguyen responded with a three-bet shove for 3.86 million from the button, which cleared out the blinds. Devonshire let out a sigh before making the call.
Showdown
Devonshire:

Nguyen:
Nguyen was pleasantly surprised to discover he was a 57 percent favorite to win the hand with his ace high, which prevailed as the board ran out
. Nguyen doubled on the hand to 8.41 million while Devonshire lost 48 percent of his stack and was left with just 12 big blinds.
Devonshire Eliminated in 12th Place: Eoghan O'Dea opened for 650,000 and cleared the field all the way to Bryan Devonshire in the big blind. The short-stacked pro opted to move all-in for 3.5 million and O'Dea snap-called.
Showdown
O'Dea:

Devonshire:
O'Dea was in a dominating spot, leaving Devonshire in need of a minor miracle. The
flop was not what he had in mind, while the
turn left Devonshire looking for a king on the river. The railbirds were on their feet as the dealer burned and revealed the
.
Devonshire failed to improve and was O'Dea's third straight victim, finishing in 12th place for $607,882. In his post-elimination interview with Kara Scott, Devonshire talked about his enthusiastic rail: "I enjoy having the rail just because it's fun. I like my buddies being here and having a good time. I enjoy the support. A little bit of a hometown advantage when they're cheering for you to win pots and not them."
Nguyen Eliminated in 11th Place: Martin Staszko looked down at
and opened for 675,000. Khoa Nguyen then made it 1.75 million to go with
. Action folded back around to Staszko and he moved all-in, putting the pressure back on Nguyen, who called off for 7,745,000 total. Staszko was an 80 percent favorite in the hand and didn't need to sweat much as the board ran out
. Nguyen's elimination in 11th place ($607,882) saw the final ten players combine to one table, bringing us to the November Nine bubble.
Giannetti Does Work: Matt Giannetti, the short stack at the start of ten-handed play, moved all-in for 5.5 million with
and found a caller, John Hewitt in the big blind, who held the mediocre
. The board ran out
and Giannetti doubled to 11,750,000.
A short time later, Pius Heinz opened for 1.1 million with
and was three-bet to 3.1 million by Ben Lamb who held
. Giannetti was on the button and four-bet shoved for 8,350,000, which influenced Badih Bounahra to lay down
in the small blind. Heinz quickly got out the way and Lamb made a reluctant call. The
flop wasn't much danger to Giannetti, but the
turn did give Lamb a flush draw. Luckily for Giannetti, the harmless
appeared on the river and he used jacks to double once again, this time to 19,050,000.
The November Nine is Set: John Hewitt opened for 1.1 million with
and was met with a three-bet shove to 9.3 million by Badih Bounahra, who held the dominating
. Much to the surprise of the commentators and the rest of the table, Hewitt made the call. The room was silent as the board ran out
, giving Bounahra the double to 19,850,000; meanwhile, Hewitt lost 70 percent of his stack and was left with just 4,125,000.
In what would be the last hand before the November Nine hiatus, Eoghan O'Dea raised to 1,100,000, and Hewitt moved all-in from the big blind. O'Dea made the call, and it was off to the races.
Showdown
O'Dea:

Hewitt:
The
flop did not hit O'Dea directly, but it did make him the favorite in the hand with two overs and an open-ended straight draw. The
turn completed the flush and Hewitt was drawing dead. The meaningless
was put out on the river as Hewitt shook hands with the table and made his exit in tenth place.
November Nine Chip Counts
| Place | Player | Chip Count |
| --- | --- | --- |
| 1st | Martin Staszko | 40,175,000 |
| 2nd | Eoghan O'Dea | 33,925,000 |
| 3rd | Matt Giannetti | 24,750,000 |
| 4th | Phil Collins | 23,875,000 |
| 5th | Ben Lamb | 20,875,000 |
| 6th | Badih Bounahra | 19,700,000 |
| 7th | Pius Heinz | 16,425,000 |
| 8th | Anton Makiievskyi | 13,825,000 |
| 9th | Sam Holden | 12,375,000 |
To be Continued: On Sunday, Nov. 6, 2011, the WSOP Main Event will play down to the final three players in Las Vegas; what's more, it will be aired from beginning to end on ESPN 2 and ESPN 3 beginning at 3:30 p.m. EST. The action will be on a 15-minute delay, with hole cards being shown.
Then, on Tuesday Nov. 8, the final three will play down to a winner. This will be shown in the same format on ESPN and ESPN 3 beginning at 9 p.m. EST. All told, nearly 18 hours of exciting poker action is expected, so be sure to check your local listings.
In addition, you can follow the live updates here on PokerNews (with no 15-minute delay), while joining us for Cover It Live, an interactive media platform where you can interact with other viewers, the PokerNews staff, and various pros and guests.
Don't forget to follow us on Twitter and like us on Facebook.
Executive Editor US, PokerNews Podcast co-host & 2013 WSOP Bracelet Winner.