Online Chat: Katie "katie75013" Stone Talks Relocation and Full Tilt Poker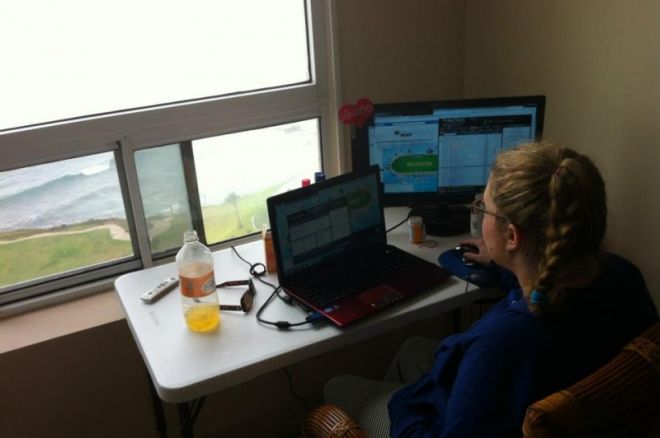 Have you heard of The Grindettes — four women with unique backgrounds who play poker for a living? If so, you're familiar with Katie Stone, a former chess player who made the transition to poker in 2004. Since then, she has become a successful online player, winning more than $160,000 over 14 months by playing approximately 10,000 multitable tournaments with a 49 percent ROI.
Stone, a former equestrian and basketball player who attended the University of Texas, was greatly affected by Black Friday and the disappearance of online poker from United States. She tried live play but ultimately opted to relocate to Mexico to continue her online poker career. PokerNews recently caught up with Stone in her home south of the border to talk about her poker origins, the return of Full Tilt Poker, and much more.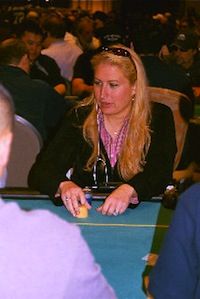 Can you tell us a little about your background?
I grew up in a small beach town on the Jersey Shore in New Jersey, rode horses and played every sport. I was very athletic and competitive from a young age and was always playing sports with the boys. I was definitely the typical tomboy growing up who hated wearing dresses and anything girly! I excelled in chess and basketball, both of which took up huge chunks of my life. I went to high school in Houston and college in Dallas, where I started and later sold a company that teaches children how to play chess.
How did you learn to play poker and how were you introduced to online poker?
I learned to play poker in 2004 from other chess players who had made the switch to poker or were in the middle of making the switch. Most people don't realize how many chess-turned-poker players are out there! It's so cool too because so many of the kids I grew up playing chess with are now playing poker, and so it feels like we will never grow up because we have been playing one game or another with each other for so long now!
I started playing online a bit on PartyPoker and then later on PokerStars. I had good live poker success in 2008-09, and I attributed it to the fact that I had been playing more and more online. So that is what convinced me to start spending more time online and eventually transitioning to it full time; realizing my improvement in such a tangible way was amazing.
What sort of games do you play?
I play multi-table tournaments on PokerStars and Full Tilt Poker. During the week I play approximately 50 to 60 tournaments per day and I play all the high-value stuff from the $1.00 rebuy all the way up to the daily Big $162. On Sundays, I play pretty much everything $215 and under. My daily session lasts anywhere from 6 to 12 hours. On Sundays, I start at 5 a.m. and my normal time in front of my laptop is 18 hours.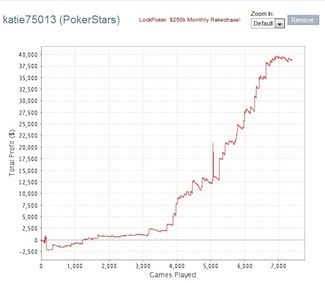 You recently made the decision to relocate to play online poker. What lead to that decision and what did you take into consideration?
Moving out of the country was a huge decision. I would like to say that it was strictly a financial decision, but I would be lying if I said that. The fact that my profession was made illegal devastated me not only financially but it hurt me emotionally. I felt extremely betrayed by the U.S. government, who had taken my years of study and hard work and just tossed it out the window.
I moved to Vegas with my boyfriend after Black Friday to try playing live full time, but it just was not for me. It's difficult as a tournament player, to withstand the financial variance of live poker's higher buy-ins; it's also difficult to mentally withstand it. In addition to the thousands of MTTs you are able to play each day online, you have so many tools at your disposal like tracking and analysis software, graphs, charts and stats that help us understand and realize our true expectancy as a poker player. For me, this makes all the difference in the world. My only regret is that I did not leave the country sooner to get back online. But we live and we learn, and I believe the entire experience has made me a better person and a better poker player.
Why did you choose Rosarito, Mexico, for your relocation?
Rosarito was the most obvious option for me because of its proximity to Vegas and Los Angeles. So many of my friends moved here, and we have essentially formed a little colony. There are over 200 poker players in Rosarito and the surrounding areas; it feels more like a college atmosphere rather than being in an entirely different country.
Some of the people I have met here call this area a 'suburb of San Diego' and I absolutely agree with them. There are a ton of Americans, everyone speaks English, U.S. dollars are accepted, and in general everyone is very nice, polite and happy. Rosarito is a charming little vacation beach town that most people will never know or experience because they are too afraid of the false negative stigma associated with Mexico.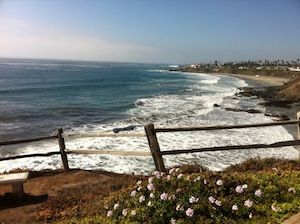 What's your living situation like in Rosarito?
For the last few months, I have been sharing a three-bedroom apartment in a high-rise tower with Ben Yu, Clayton Newman and Jamie Kerstetter. Next month, however, I will be moving into a large house with 10 other poker players. There are several residential complexes in Rosarito, and a few are popular with poker players. The place I am now is pretty popular and there are a lot of poker players here. It is also very safe and has very reliable Internet, which is extremely important!
What's it like to be a female online poker player? Do you think this has any bearing whatsoever?
For the most part, I think the majority of online poker players who I play with every day do not know that I am really female even though my screen name has my first name in it. There are lots of screen names with female names because people think it conveys passivity or weakness. And that is totally fine with me! I definitely know how to take advantage of that!
I have been around for a decent amount of time now, and so there are a lot of people who do know me and know how to play versus me, so that's when the games become tougher; when your opponents know your strengths and weaknesses and tendencies. It's just part of the game and needing to constantly be studying and improving and trying to stay ahead of the curve. This is where I thank my mom and grandpa for making me go to all those chess lessons and chess tournaments while I was growing up! The ability to focus and analyze for long periods of time, to understand logic and see patterns is so innate within me now and this has proven so useful and critical for poker.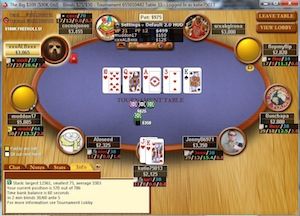 What is your screen name and what's the story behind it?
My screen name on Stars and FTP is "katie75013", which is my first name and then the numbers are the zip code where I used to live in Texas!
Now that Full Tilt Poker is back on the market, will you be playing on the site?
I was up and running on the day that FTP came back as were most of my friends and roommates. It was definitely a surreal experience having my monitors full of Stars and FTP tables again. I can honestly say I never thought it would happen! Mostly though, I'm just really happy for all of my friends who got their bankrolls back, or are in the process of getting their money back. I definitely am happier playing on FTP now that that has happened, and also since PokerStars owns it.
Do you have any good stories or crazy bets that have come from the house?
No crazy bets, but occasionally we have power outages and Internet outages, and while they do not last very long, during the first 60 seconds of this happening, you can hear people in our building and the ones next to us loudly vocalizing their unhappiness with unique, "choice" words! Generally the outages lasts only a few minutes, and most people have air cards for backups. But one time the entire city lost power for an hour in the middle of the day — and that was not pleasant!
Aside from playing poker in Rosarito, what other sort of things do you do for fun?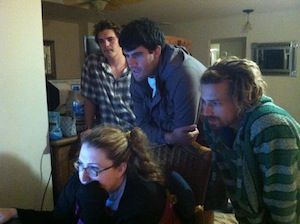 Generally most of our time is spent playing or sleeping! This is a very quiet town, which is perfect for me since I am not a drinker or club-goer, although there are sports bars and clubs about 20 minutes away. Usually, I will play my session and then take my dog Rylee for a walk and then go to another friend's apartment to hang out for a while or go to one of the amazing restaurants nearby for a quiet dinner. It's so laid back here and the food is unbelievably good, which is ideal since tournament poker can be very stressful.
The really nice thing about being in Rosarito is that its not too far from L.A. and Vegas, which are huge poker player hot beds, so it's been really easy for poker players to get here. In addition to the many friends I have here, I have made so many new friends as well, which has been an amazing experience!
You're a member of The Grindettes. How did the idea of creating such a group come about? How did you become involved?
The Grindettes formed in early 2011. My boyfriend and I had decided to go to World Poker Tour in Hollywood, Florida, for the month, and I actually had the idea while we were driving south from New Jersey to Florida. I got the other three girls — Jennifer Shahade, Katie Dozier and Jamie Kerstetter — on a conference call and said, "I think I have a good idea, about a good idea...." and the conversation went from there.
I just felt that there was an entire hidden community of strong female poker players who were playing poker full time and making a living, but people would never hear about them. I wanted to show people that we are out there and that there is a role for females in poker that is not limited to the model and spokesperson role. It has been a really great, organic experience and a ton of fun along with way. These women are incredibly talented and skilled and I am honored to call them my best friends.
What are you upcoming plans as far as poker is concerned?
I am definitely going to be staying in Mexico, or at least outside of the U.S., for a long time or as long as I am profitable online. I really don't see a reason to return to the U.S. other than visits to family and the occasional live poker bug I may get. FTOPS starts soon, and so most likely I will be here over the holidays grinding away!
Get all the latest PokerNews updates on your social media outlets. Follow us on Twitter and like us on Facebook now!
Executive Editor US, PokerNews Podcast co-host & 2013 WSOP Bracelet Winner.