Sofia "welllbet" Lövgren Talks Learning to Play Poker, Team PKR, and More
Poker may be a male-dominated game, but women have been proving themselves on the felt for years. Vanessa Selbst, Maria Ho and Jennifer Harman are just a few of the women who've shown that they're not only among the best female players, but also that they're among the best players, men or women, in the world. With that said, it's still rare to find dominant female players on the virtual felt — enter Sofia "welllbet" Lövgren, a 22-year-old online pro from Gothenburg, Sweden.
Lövgren is not your average online player, to say the least. In March 2010, at the age of 20, she became the first woman to join Team PKR and then set about familiarizing herself with the live realm. Lövgren made her live tournament debut the next month at the 2010 Irish Open, where she finished in 29th place for $13,215, and then proceeded to build her résumé while continuing to dominate cash games on PKR.
PokerNews recently caught up with Lövgren, who writes a regular blog on PKR, to talk about being a part of Team PKR, her relationship with a fellow online pro, and what it's like to be a woman playing in a male-dominated game.
For those who might not know a lot about you, can you tell us about yourself?
I grew up in an idyllic place called Särö just outside Gothenburg with my parents, an older sister and two brothers in a wonderful house by the sea. My siblings brought me into many sports. I started to play soccer with friends when I was seven and competed on a female team for 10 years. I also played golf, table tennis, participated as a middle-distance runner and sailed Optimist dingy in a sailing club every summer. I also have been skiing since I was very young thanks to our winter house in Geilo, Norway. Sailing is a big interest of my whole family and I have spent my vacation out sailing along the Swedish beautiful archipelago every summer.
I studied economics in high school and was planning to continue with college studies after taking a break to play poker full time. I recently renewed my contract with PKR, and this break from studies has been going on for more than three years now.
How did you learn to play poker?
I started to play after my brother showed me online poker when I was 16. It looked fun and when I understood it was possible to win money in free roll tournaments, I loved it and played nearly every day after school. Of course I've read some books but the three millions hands I've played online over the years have been my way to learn poker.
Can you describe your progression through the stakes and tell us what you normally play? Are you a cash-game or tournament player?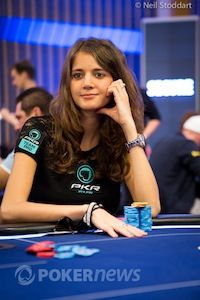 I'll tell you a little bit in detail about how it all started which I actually haven't done before in any interview. I won several 30-cent prizes in free-roll tournaments. When I had $2.00, I started to play the lowest micro-level cash games and built a bankroll from that. After a year and a half, I had $4,000 in my bankroll and played NL$50 constantly winning. Then one black day in 2008 this site closed down after a cheating scandal, and I lost everything but $50 that I had on another site. I remember clearly how devastated I was.
When I turned 18, I heard about PKR so I transferred my last $50 there and started all over again, this time with two buy-ins on NL$25. I played full ring, the game was very soft and I continued winning more than 20 to 100 big blinds after climbing up the stakes.
I used strict bankroll management, put in a lot of hours and after another year, I had $60,000 in my bankroll. This was encouraging and I decided to try playing poker full time after finishing high school. After another year grinding mid-stake cash games, PKR contacted me and I was given the opportunity to be a Team Pro in 2010. I've played live a little more than two years now and cashed in some tournaments including three World Series of Poker events, one WSOP Europe event, Irish Open and European Poker Tour but still I'm definitely more of a cash-game player. Today I mainly multi table 6-max at the mid-stakes cash game tables which still are my bread and butter in poker.
You became the first female member of Team PKR in March of 2010 at the age of 20. How did that opportunity come about?
I immediately loved the PKR 3D poker and put in a lot of volume. As one of the biggest and most consistent earners on PKR at the end of 2009, when I was only 19, PKR invited me to London for interviews for the Stacked Magazine and after some contacts and meetings they gave me the opportunity to be the first lady of Team PKR Pro.
What's it been like being a member of Team PKR for the past two years? What's your best memory?
It was a great chance for me to take my online game to the live arena, and since April 2010, I've been representing PKR and traveling the world playing live tournaments. It's been great to be a member of Team PKR Pro. We have an amazing community with people supporting each other all the time. When I'm deep in a live tournament, I know there are thousands of PKR friends following and supporting me. This summer in Vegas more than 50 qualifiers from PKR participated in one WSOP event. Imagine the parties we had!
Very difficult to pick the best memory because so much has happened, like the WSOP in Las Vegas, but I think I still have to say that it was playing live for the first time. One week after signing my pro contract I played the Irish Open. It was very exciting to play at the televised feature table and later finish deep in my first live tournament. I didn't have any live experience and couldn't even shuffle the chips.
You recently placed 30th out of 797 players for $24,532 at the EPT Sanremo. What was that experience like?
I felt I played good poker throughout the tournament and then on Day 4, I was top 20 of 66 remaining players. As Day 4 went on, luck turned a little against me and I finished in 30th place and was disappointed to not go even deeper. Of course, I'm not complaining after a deep run as the best Swede and female for $24.5K, but I was hoping for the real big money this time.
In one of the WSOP events this summer, I finished 24th of 3.231 players after being top five in the final stage before losing a couple of flips. That was my third cash in a row at the WSOP, but I was still disappointed being so close to the top.
I learn a lot from these tournaments playing together with the best of the best. I will continue analyzing hands, study my game, and keep improving. New opportunities will come. I believe luck is the place where preparation meets the opportunity!
Your boyfriend, Luca Moschitta, also did quite well in that event by finishing in 25th place for $24,532. What was it like making a deep run together? Also, did you have the chance to play at the same table? If so, what was that like?
It was fun that we both made a deep run and we supported each other throughout the tournament. At the end of Day 1, we came to the same table, but luckily we didn't clash in any big pots. Also, Day 4 ,when there were seven tables remaining, we were seated together in the new table draw. He did three-bet me a couple times, but I didn't have any good hands myself. If he busted me, he would have had to sleep on the sofa for the next four weeks! Joking aside, we've agreed that this will probably happen sooner or later and may the best and luckiest win. But if we do clash in a big pot with a big cooler, it's still better than giving the chips to someone else.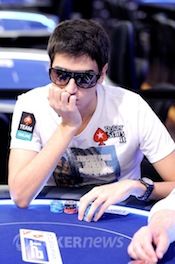 You're from Gothenburg, Sweden. Do you still live there or have you relocated?
I love my hometown, Gothenburg, even though I have to admit the climate in Catania, Sicily, where my boyfriend comes from, is better this time of the year. Living in two different countries, where we both have families and friends, means a lot of traveling. So we are spending 50/50 between Gothenburg and Catania being together as much as possible and also trying to get the best from each country.
We live in an apartment in Gothenburg and another one near the sea in Catania. Good thing, we are both sponsored poker pros and can synchronize our tournament schedules so we have a golden opportunity to travel and experience the world together.
We understand you like to travel. Where's your favorite place poker has taken you and why?
It's a hard question because I have been to so many nice places playing poker over the last years. Las Vegas is very special with all the tournaments during the WSOP and so much else to do beside poker, like pool parties, nightclubs and amazing restaurants. Probably Bahamas is on the top of my list. A sun chair by the stunningly blue sea with a strawberry daiquiri is perfect relaxation after a tough poker tournament.
Do you find people treat you differently at the poker tables or that it gives you some sort of advantage?
Yes, people sometimes underestimate me at the tables since I'm a young girl. Some guys may think it's very easy to steal my blinds and try to bluff and run over me. This is a big advantage since in the end I often trap them and take all their money. It's also much easier for me to do a big bluff because they usually don't expect me to do that. They usually fold and say, nice hand.
What's the story behind your PKR screen name "welllbet"?
I decided this screen name on PKR when I was 18, and I bet I liked the name and thought it would bring me luck. It has been a lucky screen name for me on PKR and I hope it will be in the future.
Get all the latest PokerNews updates on your social media outlets. Follow us on Twitter and like us on Facebook now!
All promotions are subject to local jurisdictions