Online Chat: Jason "Prairie Hawk" Grad Talks Poker, MMA, and Sports Betting

Earning Super Nova Elite status on PokerStars is no easy feat. In 2007, the first year of the program, only 39 players captured the coveted title. Becoming a SNE just once is impressive, but earning it for four consecutive years is truly a remarkable feat as Canadian online pro Jason "Prairie Hawk" Grad recently learned.
Unfortunately for Grad, changes to the PokerStars VPP program have drastically changed his life and put an end to any hope of making it five years in a row. Grad, who once played $1/$2 no-limit hold'em for 88 hours straight at the Stampede Casino and won $3,300, is the latest player to be featured in our Online Chat series, which takes an in-depth look at the lives of some of online poker's most prominent players.
How did you begin playing poker?
I came to start playing poker very much like a lot of other people did, by watching Rounders. I went out the next day to Chapters and bought the only poker book they had on the shelf at the time. I don't even remember the name of it. It became an obsession after that and I read every book I could find. I was already a fairly experienced sports bettor, so this just seemed a natural progression.
You've reach Super Nova Elite status on PokerStars four years in a row. This is a feat in and of itself. What inspires you to put in those long hours to achieve this status?
The money! Easy answer. Unlike many of the players, I play frequently, I have a wife, three kids and a mortgage. I need to be able to make a somewhat steady income. The SNE benefits paid me $10K a month, every month. If I manage to win anything else that was a bonus. The main thing that most poker players do not understand is how big an influence variance can make over the course of a year or even a career. I have played close to 20 million hands in my career. I am telling you that swings in results either up or down do often last more than a million hands at a time. For live or tournament players, this can be an entire career. This is why I placed such a heavy emphasis on achieving SNE.
You told us that the changed VPP program on PokerStars hurt you. Can you tell us a little bit about that?
Yes, the VPP changes on PokerStars have hurt me quit badly. I have had to give up my quest for a fifth straight SNE year. My point-per-hand ratio dropped about 25 percent from the previous year. I simply could not make up an additional 25 percent more hands in a year. I was already stretched as far as I was prepared to go. I figure the changes will cost me about $70K this year alone.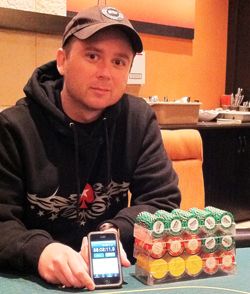 There is one benefit to me no longer being an SNE, and that is time. For many years now, I have logged so many hours playing that I have not spent enough time improving my game. I would certainly say I am a better player than I was five years ago, but the truth is that the rest of the pack has caught up to me and recently started passing me. I could no longer be assured of a winning month as I once took for granted.
Now that I have more time I plan on spending more time studying to keep my game sharp. I also play fewer hands per hour now, which should increase my win rate, as well. There is no worse feeling in poker than seeing your pocket aces folded preflop because you were unable to act in time or because you mis-clicked. Hopefully mistakes like this won't happen to me anymore.
I made several attempts to increase my point-per-hand ratio back to its previous levels. I was mildly successful at this by playing more hands UTG, as well as stealing more, but this also resulted in a decrease in my hands per hour rate. This net result was no change in my points per hour and put me back to where I started and still unable to reach my goal of achieving SNE again. I also tried short-stacking for a while but with similar results. In this case, the opposite happened with my hands per hour going up, but the points per hand went down even further. I could have tried moving up in stakes, but I had tried that already in the past and never really had much success. Also, that would result in an even higher variance, which was exactly what I was trying to avoid.
PokerStars also has begun issuing warnings for players who 24-table and are deemed to be acting too slowly. I received one of these emails myself. They threatened to reduce my maximum number of tables to 20, but to this point have not done so. The truth is, I rarely play 24 at a time anymore anyway, so the threat is hollow. In fact, during off-peak times (North American prime time), it is rare that you can even find 24 tables of full ring $1/$2 on PokerStars anymore.
What games and stakes do you normally play?
I have played almost entirely $1/$2 NL full ring games for about seven years now. I plan on changing that in the near future. Full ring NL poker seems to be a game that is starting to fizzle out. Several years ago, it was the only game people wanted to play. Now all the money really seems to be sucked out of this game. The competition is all just too competent. Also the percentage of short-stackers has become an epidemic. I would say a full 35 percent of all players now are short-stacking. I wouldn't be surprised to see this number get to 50 percent. How can anyone reasonably expect to make a high win-rate with that many "empty seats" at each table? Nowadays you are glad if there is just one full-stacked new player at any given table. Many of the longtime quality grinders in this game have already left. What they are doing now, I cannot say.
All the big games now are six max in either NLHE or PLO. The epidemic of short-stackers in the six-max games is less prevalent. The natural advantage the shorties enjoy is less in these games due to the more frequent posting of the blinds. PLO in particular seems to be the game that is picking up the most steam. I plan on using some of my newly acquired time to study up on my PLO. I think it is a time for a change.
Learning something new might be good for me and reignite that fire that I once had. Playing the $1/$2 PLO game should also give me enough points to retain my SNE status. The biggest question is, can I play that game for an entire year without losing my bankroll in the process? Hopefully, I will thrive. Perhaps I will crash and burn and be forced to get a real job. I wouldn't be the first.
Obviously you're a PokerStars guy, but did you ever play on Full Tilt or UB? If so, do you have any money stuck on there as a result of Black Friday?
I did play on Full Tilt a couple of years in the beginning. I switched to PokerStars when they introduced their VIP programs, which just seemed vastly superior to the rewards at Full Tilt. I did have some money stuck on Full Tilt, and I look forward to getting that money back [now that [URL="https://www.pokernews.com/news/2012/07/pokerstars-acquires-full-tilt-poker-assets-players-refunded-13146.htm"+]PokerStars has acquired FTP[/URL]] and hopefully playing U.S. competition again soon after that.
Can you describe your progression, as in how you moved up and your bankroll strategies?
I was pretty lucky to get into the games when they were still pretty soft, unlike today. I was able to win almost immediately from the day I started playing full time. I started playing $1/$2 NL at Full Tilt Poker with just a couple of thousand and managed to make over six figures in my first year. Looking back now, it seems likely that I must have run well that first year.
Speaking of, what have the games been like since U.S. players were taken out of the online poker equation?
The players at PokerStars have gotten tougher each and every year that I've played there. The closure of the U.S. market certainly made it more difficult for everyone. Many of the good U.S. players simply moved to other countries and continued to play while all of the easy money continued to be locked out.
I noticed that you placed 54th in the EPT Grand Final in May 2011 for $37,106. How did you come to play that event?
I played the European Poker Tour Madrid event on my SNE freeroll. I had played the World Series of Poker Main Event four previous times and the PokerStars Caribbean Adventure twice. This, however, was my first time playing in Europe.
Do you have any notable memories from that run?
Obviously cashing was a great thrill. Being on a freeroll and still mainly a low- to medium-stakes player was a pretty big score for me. It was every bit as exciting as I thought it would be. I managed to make my first TV table even though it lasted only five hands. I also got to sit beside Vanessa Rousso all of Day 1, which was fun.
How were you eliminated in that event?
It wasn't anything very exciting. I shoved
on the button and was beaten by
in the big blind. The most memorable thing was the totally obnoxious Frenchman who knocked me out. He made an ass of himself, and I refused to shake his hand as I left.
Do you enjoy playing live poker? What are some of the big differences between live and online play? What do you like and dislike about each?
Honestly, I find live poker to be incredibly boring. I play the big tournaments when I get freerolled, and that's pretty much it. Maybe once or twice a year, I will head down to the local casino and play. I simply do not have the patience for the game. Also, the poor play frequently displayed by the low-stakes cash-game players just annoys me. Poker can be a beautiful game and to see it butchered by so many bad players at the low stakes drives me crazy. Perhaps as I get older I will gain more patience and play more often.
What's your most notable online result?
I have two cashes in the WCOOP Main Event. They weren't big cashes but again anytime you win money on a freeroll, it is super exciting. I also just recently received the Career Achievement award on PokerStars for reaching the 5 million career VPP mark. To my knowledge I am the 23rd player to do this. Hopefully I will still be able to make it to 10 million.
You mentioned that you have kids. Can you tell us a little bit about them and what it's like being a family man and trying to make it as an online pro?
I actually have three kids now because I added a stepchild to my family when I got remarried this summer. Being a family man means that I can no longer work those long 20- to 30-hour marathon sessions I used to do. I pretty much try to stick to a 9 to 5 schedule nowadays. I think this makes it a bit tougher since there are many more regular players at the tables during these hours. I also cannot take the shots at the big games that many single players often like to do. It increases the pressure to win, as well. Luckily, my wife has a good job and that helps level out the swings a bit.
We understand you are into mixed martial arts and betting on the NFL. Are you into MMA as in you like to fight?
Betting on NFL and MMA, as well, is one of my favorite things to do. It is tremendously exciting. I have been betting NFL for about 20 years now. Sometimes successfully and sometimes not. I am a long-term winner, though. One market that has started getting my attention more lately is the online fantasy sports games. The market is starting to mature enough to the point where it could be possible to play the games professionally full time. I think the industry is primed to take off just like poker did many years ago.
As for MMA, I trained the discipline for several years but never actually had any real fights. I loved the workouts and the strategy in the sport, especially the jiujitsu. I quit a couple years ago because it is quite hard on the body, and I'm not that young anymore. I stick to mostly coaching kids soccer now.
One of may favorite memories was sitting at the same table as Forrest Griffin at the WSOP the night after watching him beat Rampage Jackson for the UFC light heavyweight belt. It was a pretty lucky table draw because Forrest is possibly the worst poker player I've ever seen. Great guy, though. It was actually Johnny Chan who knocked him out that day, sitting at the other end of the table.
What is your favorite NFL team? Which has made you the most money? Which has lost you the most money?
Professional sports bettors do not have favorite teams, just the team they bet on that week. I like betting teams that can run the ball and play aggressive defense. I am mostly a dog player and try to avoid highly public teams such as the Patriots and Cowboys.
In MMA you want to try to bet on fighters that have multiple ways to win. Avoiding fighters that can only win with a big knockout punch is usually a good idea.
What inspired you screen name, "Prairie Hawk?"
When I first created my account, I was reading Phil Hellmuth's book. In it, he describes his different player types as animals. There is the elephant, mouse, lion, eagle and a few others. I always liked hawks and thought I could try and play like that. I was born on the prairies, so I just added the two together. I don't have that book any more. I saw it at garage sale a few years ago for a dollar and thought it was grossly overpriced.
Be sure to follow us on Twitter and like us on Facebook.
Executive Editor US, PokerNews Podcast co-host & 2013 WSOP Bracelet Winner.