Online Chat: Jamie "AndTheLawWon" Kerstetter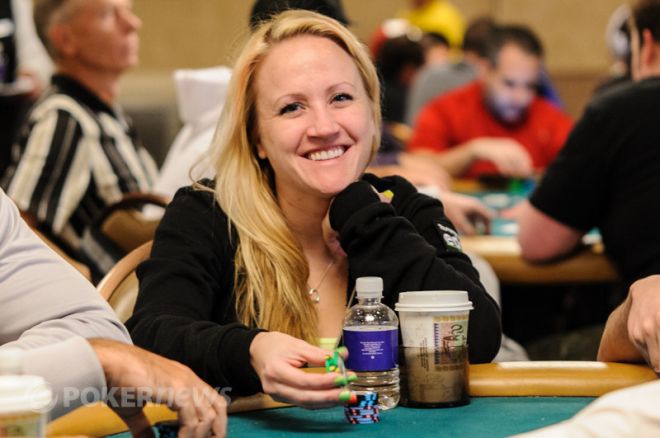 The last two editions of Online Chat have featured Katie "katie75013" Stone and Katie "hotjenny314" Dozier, who together constituted half of The Grindettes. That group consists of four women with unique backgrounds who play poker for a living, three of whom recently relocated to Rosarito, Mexico, to play online poker; as such, we figured we'd round out the emigrant Grindettes in the latest Online Chat with Jamie "AndTheLawWon" Kerstetter, who recently joined Stone and Dozier south of the border.
Kerstetter, who began playing poker in 2002, wears many different hats. She graduated with high honors from Rutgers University, where she also competed for their Division I track and soccer teams. She then earned a degree at the University of Michigan Law School and became a licensed tax attorney in New Jersey; however, she has set that role aside to pursue a career in poker. Thus far, it's proved a fruitful decision: she has $268,842 in live tournament winnings, including $49,119 and a National Championship bid on the 2011/2012 World Series of Poker Circuit. In addition, she has more than $275,000 in online high-stakes multi-table tournament winnings.
PokerNews sat down with Kerstetter to talk about both live and online poker, living in Mexico and much more.
We know you as an East Coast grinder and a circuit regular, but for those who haven't had the opportunity to meet you, can you tell them a little about yourself?
I grew up in Monroe Township, New Jersey, the third of four kids. I was a big nerd in school but was also extremely competitive at sports. I spent the first 15 years of my life getting beaten in every game and every sport by my older siblings, and I think it toughened me up a little.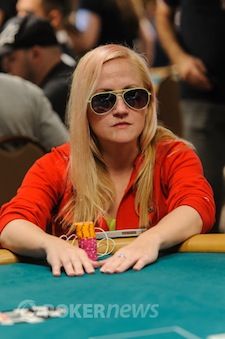 How did you learn to play poker?
I used to play with friends at Rutgers, just a micro-stakes cash game for fun, and I that's how I learned the basics. I didn't get hooked until ESPN started covering the [World Series of Poker] Main Event extensively and made poker seem glamorous and interesting. I remember one family vacation when my little brother and I rushed through dinner to make sure we caught the Main Event on TV. I told him one day I would play it, but it seemed like such a long shot at the time.
You attended the University of Michigan Law School and are a licensed tax attorney in New Jersey. Do either of those experiences come in handy in the poker world?
Attending a tough law school and working for a few years in a traditionally male-dominated field was good preparation for me to handle some of the things I've had to go through to be successful at poker. It wasn't easy the first time I played in a casino, fully aware of how much of a newbie I was, with the added pressure of extra attention because I didn't fit in with the normal crowd. But that wasn't a new feeling for me, I'd been through that before at my first job, so it was a little easier to suck it up and deal with it.
As for being a licensed attorney, it's a great feeling to "choose" poker, not just to fall into it for lack of better options. Having my law degree gives me the ability to wake up every day and decide to keep playing and improving, and also leaves me the option to stop one day if I ever lose my passion for the game. I don't see myself becoming a miserable grinder because I'll both love it and throw myself into it 100%, or I'll move on.
What is your online screen name?
I am "AndTheLawWon" on PokerStars and "and the law won" on Full Tilt Poker. I took some lyrics from The Clash song "I Fought the Law" because they're just so damn good.
You have more than $275K in online high-stakes MTT winnings. How did you learn to play online, and can you describe for us your progression?
I played some SNGs on PartyPoker a million years ago while I was studying in law school, but didn't fully embrace online poker until 2009. I wanted to put in tons of volume and prove to myself that I could win in the long run and make sure that I wasn't just experiencing the positive side of variance with any live success that I had had up to that point. I progressed from four-tabling mid-stakes MTTs and feeling overwhelmed, to 12-tabling high-stakes MTTs and dancing around to terrible 80's music (everyone's goal). I make instructional videos for TournamentPokerEdge.com now that helps me improve, as I have to explain and defend my thought process behind every hand. I have come a long way since I started playing, but have met some terrific players recently who make it hard to become complacent.
You followed in the footsteps of your fellow Grindettes and relocated to Rosarito, Mexico. What sort of things did you consider when making such a decision?
I had thought about moving away as soon as Black Friday happened, but kept putting it off because there was always a good live tournament series around the corner, and the hassle of uprooting seemed so tough. But finally when Katie Stone made the move and had a room available for me, I ran out of excuses.
I had a great experience in Rosarito, playing about 600 tourneys in less than a month, going through crazy swings playing everything from $20 rebuys to the $1K Super Tuesday and just binging on PokerStars because I had missed it so much. I like putting in enough volume to have my stats actually mean something, unlike live poker, and being able to weather the swings and bounce back quickly. I loved the weather, how accepting and kind the locals were to us, and waking up to the sound of waves every day.
I'm home for the holidays, but going back in January and can't wait to get back to work. There are definitely things I did miss and will miss about living in the U.S., mainly friends and family, but also the food. Katie and I disagree on this point, but she has an unhealthy obsession with guacamole, so you can't trust her taste buds.
How did Black Friday affect you? Did you have money trapped on Full Tilt?
Black Friday was pretty awful timing for me. I was on a $40K heater on FTP, which was huge for me because I wasn't grinding the high-stakes, fun tourneys that I'm able to play now. I grinded a blankroll into a bankroll playing mid-stakes MTTs and then had a lot of it trapped there for the last couple years. To make matters worse, I had just stopped working at a small law firm and had made the responsible decision less than a week before Black Friday to pay off credit card debt that I had been carrying since law school.
What's your proudest online poker accomplishment and why?
I think I am most proud of the fact that I haven't ever had the "big score" online and still have found a way to be profitable. I have had a lot of $5K to $20K scores, enough to stay afloat and grind, waiting for a bink that may never come. But it all boils down to making a decent living and enjoying the journey so that I don't feel like a failure if I don't win the Sunday Million one day.
Last year you qualified for the WSOP Circuit National Championship. You had a great showing at the Harrah's Atlantic City stop, and won $49,119 last season. Was qualifying a goal of yours from the onset?
Qualifying wasn't even on my radar! I was planning to only play the Circuit stops that were close by because paying for travel, hotels and eating out — all of that overhead cuts into a player's profitability, which is already lower for live players because of the high rake and time investment required for live events. But then I binked a bunch of tourneys at Harrah's AC, mitigating the overhead costs of traveling with the $10K overlay for winning a seat. I did my best to make a game plan, but was willing to go with the flow, change gears and adapt my plan to play a Circuit event in Iowa and hang out with cows because it was the smartest thing at the time. I have plans to go to Mexico, but would follow the Circuit again if it seemed more profitable.
Kerstetter's 2011/2012 WSOP Circuit Results
| Venue | Event | Place | Prize |
| --- | --- | --- | --- |
| Harrah's Atlantic City | $345 No Limit Hold'em | 33rd | $959 |
| Harrah's Atlantic City | $555 No Limit Hold'em | 29th | $947 |
| Harrah's Atlantic City | $345 No Limit Hold'em Six-Handed | 2nd | $17,813 |
| Harrah's Atlantic City | $1,080 No Limit Hold'em | 6th | $9,145 |
| Harrah's Atlantic City | $1,600 Main Event | 58th | $2,940 |
| Palm Beach Kennel Club | $345 No Limit Hold'em | 38th | $604 |
| Palm Beach Kennel Club | $345 No Limit Hold'em Six-Handed | 8th | $2,928 |
| Horseshoe Council Bluffs | $350 No Limit Hold'em Turbo | 17th | $695 |
| Horseshoe Council Bluffs | $1,080 No Limit Hold'em | 4th | $13,088 |
What's your best memory from the WSOPC?
My best memories are always hanging out with friends. I got a lot closer to my fellow Grindettes at some of these stops, and I think I remember Katie Dozier proposing to me at a karaoke night at Harrah's Rincon. I think I have a photo of this. I have also met a lot of accomplished players that are now in my network of people that I harass with hand histories on a daily basis. The trick is to alternate who I harass so that they don't get too sick of me.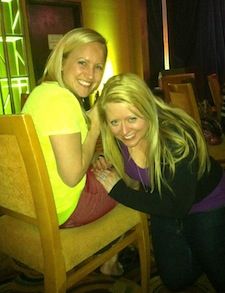 What's your proudest live poker accomplishment and why?
I'm most proud of the changes I've made in the way I react to things that happen to me. It took a long time getting to this point, and I'll probably experience a relapse here and there, but I can deal with the bad and good things that are an inevitable part of the game much better than I used to. I always admired the players that can take a horrendous beat and just move on to the next hand or next tournament. I have learned from them what a valuable asset this can be, not only in terms of hourly profit, but also for overall happiness with poker as a career.
What's it like being a member of the Grindettes and how did that opportunity present itself?
Being a member of the Grindettes is cool. Katie Stone had met each of us individually, and had the idea to get us all together to try to represent poker-playing women in a positive light. It's a nice, supportive group that I can turn to with lots of things from hand histories to gossip. There aren't many people who I trust with commentary on a hand I played and an outfit I'm wearing.
What's next for you as far as poker is concerned?
I'm heading to Harrah's AC tomorrow to try to repeat last year's luck-box festival, then possibly PCA before heading back to Rosarito for a couple months.
If you'd like to grind many of the tournaments Kerstetter plays and talked about above, head over to our PokerStars page and get started today!
Get all the latest PokerNews updates on your social media outlets. Follow us on Twitter and like us on Facebook now!
Executive Editor US, PokerNews Podcast co-host & 2013 WSOP Bracelet Winner.