Pigskin Diaries Presented by DraftKings: Intro to DVOA and Fantasy Running Backs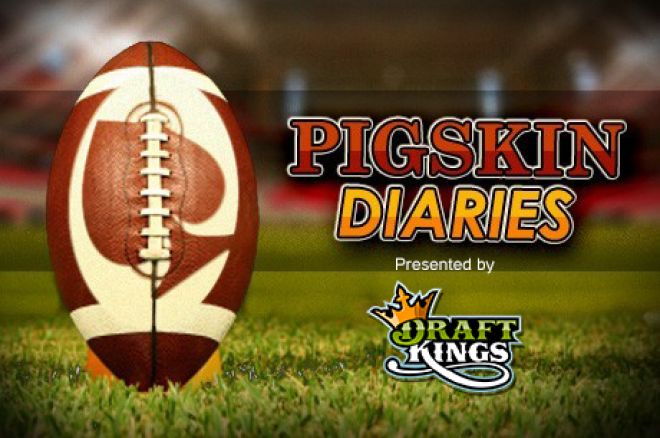 The year was 2008, and after a random drawing, I had the sixth overall selection in the fourth annual It's a Celebration Fantasy Football League draft.
Yes, we named our league after a Chappelle's Show sketch.
In preparation for the draft I talked with the five owners ahead of me, and the best player that was going to be available a No. 6 was Indianapolis Colts running back Joseph Addai. Addai, a third-year back out of LSU, was coming off of a Pro Bowl season during which he rushed for 1,072 yards and 12 touchdowns. He also caught 40 passes for the second consecutive season, which is huge for a point-per-reception league like It's a Celebration.
Oh, and he was on one of the most prolific offenses of all time led by future Hall of Famer Peyton Manning.
The selection seemed easy, which is exactly why I gave pause. The previous year, I drafted Kansas City Chiefs running back Larry Johnson with the fifth pick, and watched him go from a back-to-back 1,700 yard stud to a broken man. Johnson only had 559 yards and three touchdowns in 2007. He would never run for 1,000 yards ever again, and in his last four seasons combined he only scored five total touchdowns.
Since Johnson's plummet from grace, we've learned more and more about the "Curse of 370," which we will touch upon later. In his last great season, Johnson carried the ball an insane 416 times and caught 41 passes.
In Addai's first two seasons in the NFL, he had 568 touches. In three years with LSU, he had 462. Even the Colts organization must have been worried about potential wear and tear, because that summer they resigned former back Dominic Rhodes. Another concern was the young back's touchdown totals. In his second season, while his workload only increased slightly, Addai scored seven more touchdowns than he did as a rookie. This number didn't seem sustainable.
Unlike Johnson, who was an absolute no-brainer the year before, I felt comfortable passing on Addai, and all of my research, and most importantly my gut, told me look elsewhere.
So I drafted him, and suffered through my first losing season in the league. Addai missed four games due to injury, running for only 544 yards and five touchdowns.
There are two lessons to be learned here. One, go with your gut. The NFL season is very long, and I can promise you that if you don't draft players that you're comfortable with, it can be torture. It's your team after all. Don't listen to the jerk in the chat box or, ever worse, your jerk friend at a live draft who is mocking you for "reaching."
Second, if your team sucks, you're completely fed up with season-long fantasy football, or you're just looking for some more action, then go play daily fantasy football over at DraftKings.com, the official sponsor of the 2013-14 Pigskin Diaries.
This season, along with my picks against the spread (ATS), I will be providing you with daily fantasy football advice using the values listed at DraftKings. If you haven't played daily fantasy sports yet, then let me first explain this amazing concept.
In the case of football, instead of drafting a team for the season, with DraftKings you can draft a team each week and compete for cash. In fact, you can draft multiple teams each week. Each team has a nine-player roster, including one quarterback, two running backs, two wide receivers, one tight end, one flex (WR/RB/TE), a kicker, and a defense/special teams. You have a salary cap of $50,000 to spend on the nine positions, and the players have fixed prices.
Like poker, you can compete in sit-n-gos (ranging from $2 to $1,060) or in larger contests, some of which have guaranteed prize pools. During the opening weekend of the 2013 NFL season, DraftKings is blowing the doors off of daily fantasy sports, offering a $1 million guarantee called the Kickoff Million. The $200 contest features unlimited entries for users who like to submit multiple teams, and the winner will take home $150,000. The top 10 finishers are all guaranteed a minimum of $5,000.
If you can't afford to play in the Kickoff Million, or are unfortunately unable to win your entry fee in one of the many baseball satellites running now, then hop into the $11, $100,000 guarantee Hail Mary or the $2, $30,000 guarantee Play-Action. Both of these contests are very affordable, and are great for players looking to get acquainted with daily fantasy sports.
Best of all, Draft Kings is hooking you guys up. With your first deposit, you'll receive free entry into the $30,000 guarantee Play-Action and a 100% deposit bonus up to $600.
I am very excited to be teaming up with DraftKings, who was just announced as the home of the official mini-fantasy game of MLB.com, this season, and I can't wait to start rolling out my value picks in two weeks. For now though, let's take a look at some fantasy running backs and wide receivers that I think are either undervalued or overvalued in season-long leagues.
Overvalued Running Backs
Arian Foster (HOU), Average Draft Position: 3.6 (ESPN), 2.4 (Yahoo!)
If you are a longtime reader of the Pigskin Diaries, welcome back. If you are new, thanks for stopping by. I hope you enjoy the ride.
Unlike the talking heads you see on the major networks, we don't (usually) focus on raw stats. Things like "total offense" are actually rather useless, because putting up 500 yards against the New Orleans Saints last year would've been much less impressive than putting up 500 yards against the Seattle Seahawks. That's why we use Football Outsiders' defense-value adjusted over average (DVOA).
Each year, Aaron Schatz and his crew at FO grade every play run in the NFL. That's right, every one. These "success values" vary due to things like down and distance, field location, time remaining in game, and the team's lead/deficit. They then adjust each play based upon the opposing defense's average success in stopping that type of play over the course of a season, or, for defenses, they adjust for an offense's average success.
So technically the stat could be OVOA (offense-adjusted) or STVOA, (special teams-adjusted), but Schatz just calls ii DVOA, and so will I.
Individual players can also be measured by DVOA, as well as another stat named defense-adjusted yards over replacement (DYAR). Like wins over replacement (WAR) in baseball, DYAR measures the success rate of offensive players against replacement-level talent, while also taking into account DVOA.
I just want to quickly thank Mr. Schatz and his colleagues for all of their hard work. All of the advanced statistics below are from the Football Outsiders Almanac 2013, which is a must-buy for anyone interested in advanced statistics.
So what does all of this have to do with Houston Texans running back Arian Foster? Well, for starters, Foster ranked 20th among running backs in DVOA with -1.6% in 2012. He also ranked 13th in DYAR. As a receiver, things only get worse. Among running backs with a qualifying amount of receptions, Foster ranked 41st in DVOA and 43rd in DYAR.
His past three years have looked like this:
| Season | Rushing DVOA | Rank | Rushing DYAR | Rank | Receiving DVOA | Rank | Receiving DYAR | Rank |
| --- | --- | --- | --- | --- | --- | --- | --- | --- |
| 2010 | 18.0% | 4th | 372 | 2nd | 22.3% | 10th | 180 | 1st |
| 2011 | 2.3% | 24th | 122 | 14th | 18.8% | 15th | 127 | 4th |
| 2012 | -1.6% | 20th | 105 | 13th | -28.0% | 41st | -43 | 43rd |
*Receiving ranks are for running backs only
I mentioned the "Curse of 370" earlier, and according to FO, players with 370 or more carries in the regular season or 390 or more including the post season, will see their rushing yardage decline by an average of 35 percent. In 2012, Foster carried the ball 351 times, the most by any back since 2009, but he escaped the "Curse of 370" by the hair on his chinny-chin-chin. However, according to FO, backs with 300 to 369 carries and no postseason appearance will see their rushing yardage decline by an average of 15 percent.
Foster's physical decline was apparent last season. Prior to the Texans' Week 8 bye, he actually had a positive DVOA (4.7%) and 100 DYAR, but in the last nine games he only had 5 DYAR and a -7.9% DVOA.
Foster has been battling both calf and back injuries this preseason, and on Wednesday he was finally removed from the physically unable to perform (PUP) list. Buyer beware, however, Foster is on the decline, and there are several other backs I would take ahead of him, including Adrian Peterson, Doug Martin, Marshawn Lynch, Ray Rice, and LeSean McCoy.
Lamar Miller (MIA), ADP: 67.3 (ESPN), 49.2 (Yahoo)
Lamar Miller is currently the 26th-highest running back being drafted in ESPN snake drafts. On Yahoo!, that number rockets up to 16.
Please, someone help me understand.
I get that running back is a "shallow" position, but that's no excuse for reaching for Miller in the fifth round or earlier. In 2012, the Miami Dolphins ranked 22nd in total offense DVOA (-8.4%), and 23rd in rush offense DVOA (-8.4%). In the offseason, they let go left tackle Jake Long, who was the best run-blocking starter on the team with only two missed blocks on run plays in 2012, and instead signed wide receiver Mike Wallace.
The only thing worse than Miami's below average offensive line is the fact that Miller hasn't even secured the starting job yet. Dolphins offensive coordinator Mike Sherman says that the competition is "neck and neck" between him and Daniel Thomas, and that both players "would get plenty of snaps" if the season started today.
This report is alarming for one of two reasons. The first possible scenario, which would be the worst scenario for Miller owners and Miami fans alike, is that Miller simply can't separate himself from Thomas. This is alarming because Thomas stinks, and he has proved it over two seasons, generating a DVOA of -24.7% on 367 snaps in 2011 and -10.8% on 323 snaps last year. He's a plodding, goal line back. If Miller can't outperform him, then he'll be out of the league in a few years.
The second scenario, which is less scary, is that the coaches are making a mistake now and the talent will rise to the top eventually. "Eventually" isn't a good word in fantasy football, however, and for now I won't be drafting Miller on many of my teams.
Undervalued Running Backs
LeSean McCoy, ADP: 12.4 (ESPN), 8.9 (Yahoo)
As the Chip Kelly offense in Philadelphia reaches more and more eyeballs, LeSean McCoy's stock rises higher and higher. It's probably a stretch to call him "undervalued" seeing that he's a first-round pick in most leagues, but this is my column and I can do what I please!
Frankly, I just want to wax poetic about the man they call Shady. There are very few moments in the preseason where I go "wow," but I legitimately screamed a week ago when McCoy juked half of the Carolina Panthers defense on this play: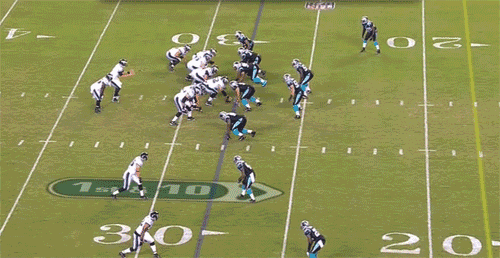 The man is a human joystick, and despite being on the 25th-ranked offense DVOA last year, he still had over 1,200 total yards and five touchdowns. McCoy also broke 44 tackles in 2012, leading the NFL alongside another beast, Adrian Peterson.
In 2011, McCoy had a monster season with over 1,600 total yards and 20 touchdowns. He ranked 4th in rush DVOA (15.8%) and first in rush DYAR (304).
Kelly announced that Michael Vick will be the starter this week, which is great news for McCoy. As a much better athlete than Nick Foles, Vick will be more suited for this new, up-tempo offense, and will increase McCoy's value when he's on the field.
McCoy's value vaults significantly in PPR leagues, as he's caught an average of 75 passes over the last three seasons, but his value in standard leagues is still very high. I'm all in on the Chip Kelly offense from a running standpoint, and I suspect that McCoy will be in the competition for the number one running back spot on fantasy leader boards by season's end.
DeAngelo Williams, ADP: 82.4 (ESPN), 113.7 (Yahoo)
Don't look now, but the next time you do a mock draft, or if you find yourself in a real draft, there may be a starting running back available in the 12th round.
DeAngelo Williams isn't sexy. His -6.7% DVOA in 2012 was good for No. 26 on the list, and he only had 14 DYAR (25th). He hasn't rushed for 1,000 or more yards since 2009. He has 15 total touchdowns in the last three years. And yet here I am, telling you to draft the eighth-year back out of Memphis.
There's nothing pretty about this suggestion, and you will most likely cringe when hitting the draft button with Williams in your cue, but while the other owners in your draft are grabbing soon-to-be bench warmers like BenJarvus Green-Ellis or perennial injury risks like Ryan Matthews, you'll be getting a starting running back in an uncontested backfield.
It was announced on Tuesday that fellow Carolina Panthers running back Jonathan Stewart is going to miss his third preseason game. Also, head coach Ron Rivera isn't ruling out the possibility of keeping Stewart on the PUP list entering the season, which would make him ineligible to play during the first six weeks.
Suddenly, Williams looks a lot sexier.
Behind Williams on the Panthers depth chart are the aforementioned Stewart, rookie Kenjon Barner, and second-year man Armond Smith. Smith is no threat to Williams at all, and while Barner is a burner, running for over 1,700 yards and 21 touchdowns in his senior season at Oregon, he's not big enough to carry a significant load in the NFL.
The Panthers had the 10th-best offense DVOA (7.2%) in 2012, and runners not named Cam Newton had over 1,200 yards and 13 touchdowns. Somebody on Carolina has to pick up the slack, and even 75% of the load would give Williams 950 yards and nine touchdowns. Not too bad for even the ninth round or higher.
Check back next week as we preview the quarterback, wide receiver, and tight end positions, and again don't forget to head on over to DraftKings!
Get all the latest PokerNews updates on your social media outlets. Follow us on Twitter and find us on both Facebook and Google+!