Pigskin Diaries: NFL Divisional Weekend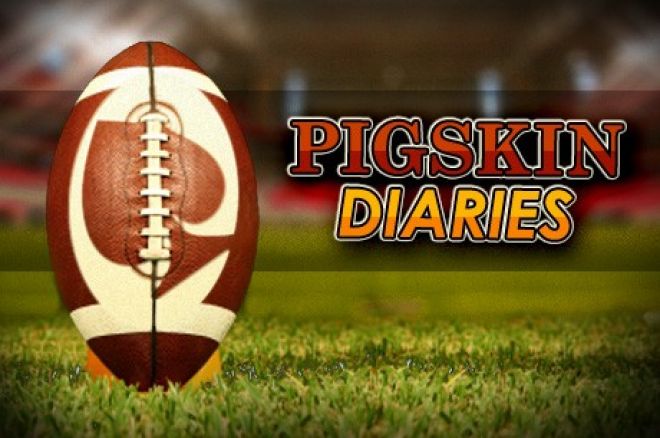 Last week, for the first time in history, all four favorites covered the spread in the Wildcard Round of the NFL playoffs. The last time that all four favorites covered on a playoff weekend was in January 1991, and before then, it had only happened in 1982 and 1989.
If you think this is an indicator of what's to come, then brace yourself: Last year, the favorites went 1-3 ATS in the Divisional Round, and two lost outright.
Two huge underdogs will be afield this week, and no one will expect them to compete. I think they're both going to cover, and one can even win.
Baltimore (+9.5) @ Denver
This is the first time since Dec. 23, 2007, that the Baltimore Ravens are receiving 9.5 points or more. In that Week 16 game against the Seattle Seahawks, the Ravens quarterback was former Heisman Trophy winner Troy Smith.
Now, I give Joe Flacco grief every chance I get, but he's no Smith. This line is too high.
These two teams met back in Week 15 when the Broncos crushed the Ravens in Baltimore. Casual fans will simply point to that game and say it's the be-all end-all, and that the Ravens have no chance, but one game in a vacuum doesn't prove anything. Flacco had a terrible game – throwing a pick-six in the second quarter, and then fumbling on a fourth-and-short in the fourth quarter. If you take one of his terrible turnovers away, it was a completely different game.
Denver has been tough at home, but not invincible. The Broncos were 4-2 ATS at Mile High before padding their stats against the Browns (24th in total Defense-Adjusted Value Over Average) and the Chiefs (32nd in total DVOA) in Weeks 16 and 17, respectively. In fact, in the last seven weeks of the season, the Ravens were the only team the Broncos played that were ranked higher than 20th in total DVOA.
Denver is a really good team, and I'm quite confident they'll represent the AFC in the Super Bowl, but no team in the league is more than nine points better than the Ravens – even with Flacco at quarterback.
Green Bay (+3) @ San Francisco
The Green Bay Packers have been underdogs twice this season. In Week 6 they smashed the Texans in Houston on Sunday Night Football, and in Week 12 they were smashed by the Giants on Sunday Night Football. The Packers receivers are at full strength for the first time all season. To some people, that doesn't mean anything because they subscribe to the "Greg Jennings is just a guy who's not going to get resigned" narrative, but Jennings is by far the most skilled receiver on the team.
Randall Cobb may have more upside, James Jones may be the healthiest, and Jermichael Finley may create the most mismatches, but I'm taking Jennings over those three in a heartbeat.
Also, the unlikely emergence of DuJuan Harris as a reliable scat back in Green Bay's spread system is huge. If the Niners get caught in nickel or dime too often on defense, Harris can exploit them with quick inside runs.
Two things scare me about San Francisco: Justin Smith and Colin Kaepernick. When the Niners made the switch to Kaepernick, I was all for it, but this is a very high-pressure situation for the second-year quarterback. After having a fantastic game against the Patriots on Sunday Night Football, Kaepernick struggled against the Seahawks in a big, prime-time game.
This is the biggest game of the kid's career, and he's a favorite against Aaron Rodgers, a former MVP and Super Bowl winner. That's scary.
Justin Smith, though, may be a bigger X Factor than Kaepernick because he's the signal caller for the defense (ranked second in total DVOA). If he can't stay on the field because of his triceps injury, then San Francisco will have no one to play cat-and-mouse with Rodgers before the snap. Aldon Smith's productivity has plummeted without Justin in the lineup (he's recorded nine tackles and zero sacks in three games), and the Niners have given up an average of 29.6 points per game in his absence.
Early reports point to Smith playing, but that doesn't mean he'll last the entire game. The Niners defense will have to be at full strength to slow down Rodgers and company (ranked third in total offense DVOA), and without a fully healthy Smith, I don't see that being a likely scenario.
Seattle (+2.5) @ Atlanta
The Falcons finished the 2012 regular season 4-4 ATS at home. This includes a Week 17 loss to the Tampa Bay Buccaneers (20th in total DVOA), where the Falcons played their starters for the entire game.
According to the DVOA rankings, Atlanta (10th overall) is the second-worst team remaining in the playoffs. If you've been reading the Pigskin Diaries for the past couple of weeks, you already know the Seahawks rank first in total DVOA, performing 38 percent better than average. Seattle is solid in all three phases of the game, and last week, the Seahawks proved why they should be respected as contenders.
Seattle, a young team with a rookie quarterback, was playing from behind early in the Wildcard Round against the Redskins. Down 14-0 on the road, the Seahawks could've easily faded away into obscurity, but they rallied back behind their excellent defense.
Atlanta's biggest strength is at receiver. Roddy White and Julio Jones are athletic freaks who can create space and make plays after the catch, but Richard Sherman and Brandon Browner are more than capable of shutting the two down. Seattle ranked first against opposing number one receivers (-37.5 percent DVOA), and 10th against opposing number two receivers (-7.4 percent DVOA).
Seattle should have no problems stopping the never-explosive Michael Turner, but defending Tony Gonzalez will be an issue. The ageless Gonzalez racked up 93 catches for 930 yards and eight touchdowns this season, and Seattle ranks 17th against opposing tight ends (-1.6% DVOA).
If you're in any kind of fantasy pick'em league, or you participate in same-day fantasy sports, do yourself a favor and snag Marshawn Lynch this weekend. The Falcons will receive a heavy dose of Beast Mode, and their smaller front seven will most likely struggle. The team finished the regular season ranked 20th in rush defense DVOA.
It looks like the same song and dance from Atlanta, a team poised to go one-and-done again.
Houston (+9.5) @ New England
Like the Ravens, it's been more than five years (Oct. 28, 2007) since the Houston Texans have received 9.5 or more points in a game. They failed to cover the 10-point spread against the San Diego Chargers in Week 8 of the 2007 regular season, losing 35-10.
Again, like the Baltimore/Denver game in the regular season, New England crushed Houston in Week 14. This created a lot of doubt about the Texans, and sparked debates as to whether or not they're "ready to take the next step."
Last week, we debunked the "hotter team" theory by taking a look at the teams that both the Texans and the Bengals played toward the end of the season. Anyone who watched that Wildcard matchup knows that Houston dismantled Cincinnati, and if it wasn't for a horrendous pick-six by Schaub to Leon Hall, Houston would've won in a blowout.
While the Texans offense isn't superb (16th in DVOA), I still have faith in Arian Foster's ability to keep the chains moving, and New England is below average (23rd in DVOA) against the pass. If Houston is going to compete, they'll have to score some points. If Houston is going to win, then this is going to be a low-scoring affair.
The Patriots are as public as it gets, but they were less than perfect (4-4 ATS) at home this year. Dating to 2007, they are 1-5 ATS at home in the playoffs, and the only team they covered against was quarterbacked by Tim Tebow.
This line is simply absurd, and taking the points is a must.
Last Week: 3-1
Regular Season: 137-115-4
All betting lines are courtesy of Covers.com, and are accurate as of Friday at 12 p.m. EST.
Follow PokerNews on Twitter for up-to-the-minute news.