Pigskin Diaries Week 16: Nearing the Finish Line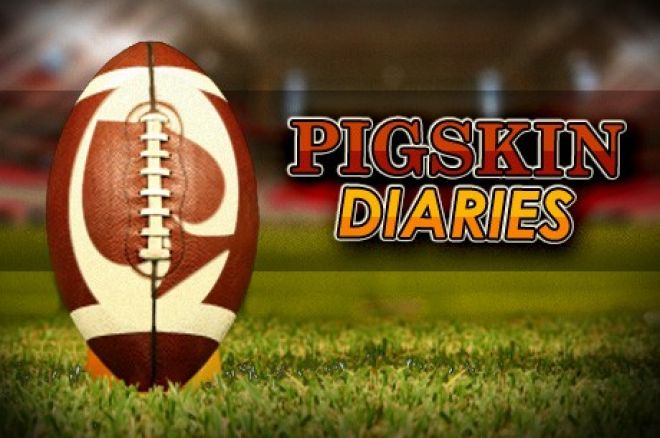 With a full plate of 16 games this weekend, we have little time or space for an anecdotal lead-in to this week's picks. What I will say, is that the Washington Redskins hottest teams in the league. Since their bye in Week 10, Washington is a perfect 5-0 ATS. On the contrary, including Week 10 few teams have looked as bad as the Pittsburgh Steelers. During that time span, Pittsburgh is a measly 2-4 ATS. The Oakland Raiders are 1-5 ATS.
Sometimes, these trends can change abruptly because public perception takes over, but this week I agree with all three. Let's start with Washington, who will head up I-95 to take on the Philadelphia Eagles.
Washington (-6.5) @ Philadelphia
The Eagles have given up 26 points or more in eight of their last nine games. They rank 22nd in total defense DVOA. LeSean McCoy will reportedly split carries this week with Bryce Brown, but unless he takes a few snaps at quarterback, it's impossible to trust Philly.
Despite Brown's recent success, the Eagles rank 25th in total offense DVOA. They can't protect Nick Foles, and when they do, he doesn't make enough plays to move the ball. If you remove Foles' only good game (Tampa Bay ranks 28th in pass defense DVOA), the rookie quarterback has three touchdown passes and four interceptions. That stinks.
Barring a major setback this weekend, Robert Griffin III will start for Washington. This just in: he's pretty good.
Fantasy: Even with Kirk Cousins at quarterback, Pierre Garçon was effective. He reeled in six catches for 65 yards, and his production should only increase with the return of RG3.
Cincinnati (+3) @ Pittsburgh
It's a must-win for Pittsburgh! How can Big Ben Roethlisberger lose?!?
Ladies and gentleman, may I introduce you to the nail in the coffin of the 2012 Pittsburgh Steelers football season. The Steelers find themselves in the bottom half of the league offensively, ranking 17th in total offense DVOA and a horrid 28th in rush offense DVOA. On defense, they're still solid (14th overall, 17th against the pass, and 10th against the rush), but they're falling down the charts.
Conversely, the Cincinnati Bengals are on the rise. Cincy's big weak spot is rush defense (24th in DVOA), but as we noted above, the Steelers struggle to run the ball. Andy Dalton has cemented himself as a trustable, efficient, starting quarterback in the NFL, and A.J. Green is an absolute stud.
With the Ravens dropping three straight, the Bengals not only have a chance to secure a playoff spot with a win this week, they are still in contention for the NFC North. I'd argue this is more of a "must-win" game for Cincy than it is for Pittsburgh, a team that would be one-and-done even if they snuck in as a wildcard team.
Fantasy: I've always trusted Antonio Brown more than Mike Wallace, and with Big Ben healthy, Brown is a solid WR3 with WR2 upside.
Oakland @ Carolina (-8.5)
The Raiders are a West Coast team traveling east to play a 1 p.m. EST game, and they plan to give Tyrelle Pryor a few reps. Also, during their recent six-game losing streak, they were outscored by an average of 17.6 points per game. Need I say more?
Fantasy: Even if Pryor plays six snaps, Denarius Moore will be negatively affected. I don't think Moore can be started in a three-receiver league, and in a super-deep four-receiver league, I'd reach for guys like Golden Tate and Donnie Avery ahead of Moore.
Atlanta (-3.5) @ Detroit
The only thing the Lions have going for them is Calvin Johnson's pursuit of Jerry Rice's single-season receiving yards record. If Megatron averages 91 yards in the next two games (he's currently averaging 119 per game), then he will eclipse Rice's record of 1,848 yards.
Other than that, Detroit is a mess. Matthew Stafford has regressed, throwing 15 interceptions in his first 14 games. The defense is terrible, ranking 24th in total defense DVOA and 26th against the run. And Jim Schwartz should be fired at the end of the season, especially after his monumental screw-up on Thanksgiving.
You guys know how much I hate Atlanta, and they're still only ninth in total DVOA despite being 12-2, but good teams should lay at least five points against Detroit.
Fantasy: If there was any time to play Michael Turner, it would be this week. Even though he has a very low ceiling – despite scoring a touchdown in five consecutive games – he has been very dependable.
I almost threw up in my mouth after writing that sentence.
St Louis (+3) @ Tampa Bay
The Bucs lived and died by the big play this season. Over the past four weeks, during which Tampa Bay is 0-3-1 ATS, their defense has given up big plays while their offense has been stuck in neutral. During that time, Josh Freeman has thrown only four touchdowns (one per game), and five interceptions. Doug Martin has only rushed for 250 yards (62.5 yards per game).
In the past four weeks, the Rams have traveled to Buffalo and beaten the Bills, and have also defeated the Niners at home. As underdogs, St. Louis are 9-3 ATS this season. Stephen Jackson is in a contract year and is running very hard, and the Rams defense is tough, ranking ninth in total DVOA (10th against the pass and 8th against the run).
Toward the end of the 2011 regular season, Tampa Bay quit on then head coach Raheem Morris. I don't think they'll quit this week per se, but the team has apparently checked out.
Fantasy: There's no bigger feast-or-famine receiver than Vincent Jackson. With the Bucs offense enduring a nadir, it's scary to have to depend on him. If you have a stud (Megatron, Green) and a player like Cecil "Salute Your" Shorts or Eric Decker, I would bench Jackson.
New Orleans @ Dallas (-2.5)
Since Week 11, the New Orleans Saints are 2-3 ATS. The two teams they covered against? The aforementioned Bucs and Raiders, who are a combined 2-7-1 ATS in the same span.
Here's my weekly New Orleans still stinks on defense mention: They still stink on defense, ranking 29th in total defense DVOA (25th against the pass and 30th against the run). Prior to last week, Dallas was 0-6 ATS at home, which led to them being home dogs. The Cowboys should be at least field goal favorites in this game, probably more.
Fantasy: If somehow you made your championship game with an injured DeMarco Murray on your bench, prepare to have a party.
San Diego @ New York Jets (-2.5)
IN GREG MCELROY WE TRUST!!!
Fantasy: With McElory starting, both Shonn Greene (RB2) and Bilal Powell (FLEX) are interesting plays.
Tennessee @ Green Bay (-12.5)
New England (-14.5) @ Jacksonville
I can't look anyone in the eye and tell him to bet the Titans - terrible team traveling to Green Bay on a short week. You can throw every number possibly at me about double-digit underdogs in the NFL, and more times than not I'm on your side, but Tennessee is dreadful. This pick will feel a lot better once Jake Locker makes an atypical bone-headed mistake.
As for New England, they want to break the scoring record they set in 2007. Tedy Bruschi, a former player who knows the inner workings of the organization, said as much on the ESPN Boston Podcast. To eclipse 589 points, the Pats need to average 42 points per game over the last two weeks of the season. If the Jaguars score 28 points or more on Sunday, then so be it.
Fantasy: I believe Bruschi, and I believe in Brandon Lloyd's late-season surge. He's a WR2 with WR1 upside.
Cleveland (+13) @ Denver
You didn't think I was going to lay double-digit points with all three favorites, did you?
Since coming off of a bye in Week 10, the Cleveland Browns are 4-1 ATS. In the same time span, the Denver Broncos are 3-2 ATS. When favored by more than seven points, the Broncos are 1-2 ATS. When receiving more than seven points, the Browns are 3-1 ATS.
It's hard to argue against the numbers, even with Peyton Manning playing at such an extraordinary high level.
Fantasy: I was wrong on Trent Richardson. Wrong. Wrong. Wrong. On the other hand, the second Knowshon Moreno was announced as the starting running back of the Broncos, I scooped him up in two leagues – one of them being a Dynasty. There, I was right. Right. Right. Right.
They're both low-end RB1's. Start them and be happy.
Minnesota @ Houston (-7.5)
Indianapolis @ Kansas City (+7)
Adrian Peterson isn't human. Without him, the Minnesota Vikings could be a two- or three-win team. This is arguably the greatest single-season performance in the history of football.
All of that being said, the Texans are a much better team than the Vikings. Houston ranks eighth in total DVOA, excelling on defense with the fourth-ranked pass defense DVOA and the fifth-ranked rush defense DVOA. The Texans are also 5-2 ATS at home, 5-1 ATS at home against teams not named "the Green Bay Packers," and 4-1 ATS at home when favored by ten or more points.
The Chiefs are a perfect 1-0 ATS at home when getting seven or more points. The Colts are 2-3 ATS outside of a dome. Indy has only been favored by more than five points once, and they failed to cover in that contest.
Kansas City is bad, but this is way too many points.
Fantasy: Jamaal Charles struggled last week, but don't lose faith. The Colts are 32nd in total defense DVOA (31st in rush defense DVOA).
Buffalo @ Miami (-4.5)
The Dolphins have covered in three of their last four games, while the Bills have only covered once. In their previous meeting, Buffalo housed Miami on Thursday Night Football, and if the Fish have any pride, they'll respond.
C.J. Spiller is the most dangerous player on Buffalo's offense, but the Miami is ranked seventh in rush defense DVOA. On the other side of the ball, the Bills rank 32nd in rush defense DVOA, while Reggie Bush looked like he was in good form last week, crossing the 100-yard threshold for the first time in 12 weeks.
If this line was a bit closer to a field goal I'd be more confident, but Buffalo's defense has the potential to give up yards in bunches.
Fantasy: Bush is a legitimate FLEX play this week, though I doubt you have him if you made the fantasy playoffs.
New York Giants (-2.5) @ Baltimore
Chicago (-5.5) @ Arizona
If there are two teams that can round into form heading into the playoffs, it's the Giants and the Bears. It seems like every year Big Blue goes through some weird mid-season swoon, while Chicago wraps up their year with two easy games against the Cardinals and Lions.
Just because Arizona won last week doesn't mean that Ryan Lindley isn't their quarterback still.
As for the Ravens, they don't know which way is up. Their offense is a mess, their defense is below average (20th in team defense DVOA and 25th in rush defense DVOA), and Jim Caldwell is calling plays for them. JIM CALDWELL!
I didn't think it could get any worse for Baltimore, but Cam Cameron is at least semi-competent. In last week's game, Ray Rice had zero touches on third down. Zero.
It's almost as if Rice has never made a big play when the team needs a first down, or something.
Fantasy: While I don't think he's a top-five quarterback, I still believe that Eli Manning is a solid, safe, fantasy quarterback – especially against a banged up, aging defense.
San Francisco @ Seattle (+1)
The Seahawks are 6-0 ATS at home. They just won their last two games by a combined score of 108-17. This line has to be a field goal, and even then I'm taking the 12th Man with confidence.
Fantasy: Colin Kaepernick is my guy, but he should be nowhere near your starting lineup this week. Seattle ranks sixth in total defense DVOA, and third in pass defense DVOA.
Last Week: 10-6
This Season: 112-93-3
All betting lines are courtesy of Covers.com, and are accurate as of Friday at 12 p.m. EST.
Follow PokerNews on Twitter for up-to-the-minute news.