Pigskin Diaries Week 13: A Full Slate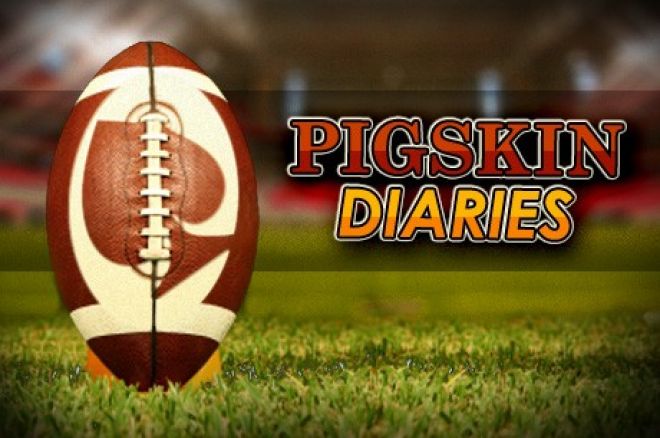 Dear fantasy players faced with a must-win game this weekend,
Don't get cute.
When it comes to fantasy sports, I'm generally risk aversive, but there are times when I roll the dice. Week 13, which is either the final or the penultimate week of your regular season, is not the time to take a chance if you have to win.
Here's a good example of what I'm talking about:
Last night on Twitter, somebody asked me whether to start Michael Turner or wait to see whether DeMarco Murray plays. If this person benched Turner, and Murray was inactive, then the person could've plugged in Vick Ballard. In Week 5, I would've waited. Dallas is playing Philadelphia, a team that ranks 23rd in total defense DVOA. The Eagles have also quit on their coach, and management just cut two-time Pro Bowler Jason Babin.
Still, if Murray doesn't go, Ballard is a significant downgrade from Turner because the Saints defense is that bad. I suggested this person go with Turner, and he did.
Let's not be results oriented, however, and let's look at a couple of potential conundrums you guys might have.
You all know that Colin Kaepernick is my guy, and I am fully behind Coach Harbaugh's decision to play him, but it might be a bit dangerous to have him in your fantasy lineup. There's a good chance that you also have Tony Romo, Matthew Stafford, Cam Newton, or Eli Manning alongside Kaepernick, and if you do, I'd sit the Niner quarterback.
At running back, you have to have better options than Beanie Wells. Wells looked great last week, and you might be tempted to plug him back into your lineup, but the Jets rank 11th in rush defense DVOA. Guys that are safer than he is include Shonn Greene, Jonathan Dwyer, Rashad Jennings, and even Michael Bush.
At receiver, there is one player I would be willing to gamble on, but only if I could play him in a FLEX spot; Greg Jennings (doe). Jennings has had four full weeks to recover from his groin surgery, and probably could've played a few snaps on Sunday Night Football, but Green Bay wants no setbacks from their number one receiver. I have a feeling he's going to be just fine, and next week he'll be a no-brainer WR1.
Alright, let's move on to the games. Home teams are 79-95-3 against the spread (ATS), favorites are 79-93-3 ATS, teams favored by a touchdown or more are 16-23-2 ATS, and home underdogs are 32-26-1 ATS.
Jacksonville (+6) @ Buffalo
Blaine Gabbert has started ten games in 2012, throwing for 1,662 yards, nine touchdowns, and six interceptions. In his ten starts, the Jaguars are 1-9.
Chad Henne has started one game in 2012 (and subbed in for Gabbert in four others), throwing for 830 yards, seven touchdowns, and two interceptions. In his lone start, the Jaguars are a perfect 1-0.
Henne isn't a Hall of Fame quarterback, but he certainly can extend the field, and he makes this Jacksonville team a whole hell of a lot better. With Gabbert at the helm, it would be a lot easier to lay six points with the Bills. But if he is to face an actual NFL quarterback, I find it very difficult to lay this many points with a team that ranks 27th in total defense DVOA.
The Jags are right behind them at 28, so this game could be a bit of a shootout, but we'll happily take the points.
Fantasy: All Cecil "Salute Your" Shorts does is make big plays. If he's healthy, and you're in a three-receiver league or have an open FLEX spot, plug him in.
New England (-7.5) @ Miami
Last week, I begged you not to hop off the Miami Dolphins bandwagon too soon. I told you that they were scrappy. I told you they could defend Seattle. Well, they scrapped, and they defended, and they won.
This week, feel free to hop off of the bandwagon.
The Patriots match up perfectly with the Dolphins. New England can't defend the pass (23rd in DVOA), but Ryan Tannehill and the Miami offense struggle to move the ball through the air (24th in DVOA). The Dolphins defense is strong against the run (4th in DVOA), but against the pass it's in the middle of the pack (18th in DVOA).
I'll give you one guess as to where the Pats rank in pass offense DVOA.
Teams laying a touchdown or more have only covered in 41.5 percent of games this season. The Patriots are 4-3 ATS when favored by seven or more points, and if you take away the three games where they were favored by ten or more points, then they're a perfect 4-0 ATS.
Historically, no one covers big point spreads like Tom Brady. No one.
Fantasy: All of that being said, Brandon Lloyd should be nowhere near your starting lineup. Nowhere.
Minnesota (+8) @ Green Bay
San Francisco @ St. Louis (+7)
Tampa Bay (+7) @ Denver
Philadelphia (+10) @ Dallas
One of these four teams is going to win outright. If you forced me to pick one, I'd take the Bucs. Tampa Bay has struggled to defend the pass (25th in pass defense DVOA), but its offense can score. The Bucs rank ninth in rush offense DVOA thanks to Doug Martin, and 11th in pass offense DVOA behind Josh Freeman.
The Broncos are on a six-game winning streak during which they've gone 4-2 ATS. In the two games Denver failed to cover, it was favored by a touchdown or more.
As for the three other dogs: the Rams are 3-1 ATS as home under dogs, the Cowboys are 0-5 ATS at home, and the Packers are 1-3 ATS when favored by a touchdown or more.
Again, one of these dogs will win outright.
Fantasy: No one has more total yards than Green Bay's Randall Cobb (1,754). You wouldn't get credit for PR/KR yards, but Cobb still has 613 receiving yards and seven touchdowns. Jennings' return is good for Cobb because it allows him to play exclusively in the slot.
Indianapolis (+5) @ Detroit
How can Jim Schwartz throw the challenge flag against Houston? How is that even possible? How does he even get the throw off without some assistant coach going J.J. Watt on him and strip-sacking him of the red flag?
If the overtime period ended, would Schwartz have been "that guy" who didn't know NFL games could end in a tie?
Maybe I wouldn't be as upset had I not played Detroit (ML), but his mistake was simply inexcusable. Coaches get fired over less than that, and if Detroit loses ten games, Schwartz should get canned. His defense is horrendous, his players are undisciplined, and outside of 2011, his team is 8-31.
Eight and thirty-one.
Andrew Luck and the Colts have struggled on the road, going just 2-3 ATS, but this is their first road game in a dome. I have a feeling they'll be .500 come Sunday evening.
Fantasy: Keep an eye on Mikel LeShoure, who was limited in practice this week. If he suffers any kind of setback, then Joique Bell becomes interesting, particularly in PPR leagues.
Houston (-6) @ Tennessee
This line opened at 4.5, and if you grabbed it, then congratulations. I'm not sure why the Texans get overlooked so much. If they played the Falcons on a neutral field tomorrow, I bet Atlanta would be favored — maybe by as much as a field goal.
Denver, New England, Green Bay, and San Francisco would all be favored by a touchdown or more in this game. The Titans stink. They rank 29th in total DVOA (24th on offense and 29th on defense), and the last time these two teams played, the Texans won by 28.
Houston is 7-4 ATS, and 5-2 ATS when favored by six or more points. Tennessee is 4-7 ATS this season, and has only covered once since Week 7.
Fantasy: You have to be really desperate to have a Titans receiver in your starting lineup this week. Nate Washington leads the team with 73 fantasy points in ESPN standard scoring, just one more point than Davone Bess and Josh Gordon have scored this season.
Seattle (+3.5) @ Chicago
Don't look now, but the Seahawks are ranked eighth in total offense DVOA. What about Russell Wilson, you ask? The pass offense ranks fifth in DVOA. Wilson is accurate and consistent, and when Pete Carroll lets him make plays, he finds Golden Tate and Sidney Rice. I thought Seattle would struggle last week because the trip to Miami is the longest in the NFL, and now they need to bounce back.
Jay Cutler has returned, but the Bears offense is still mediocre. They rank 26th in total offense DVOA, and 30th in pass offense DVOA. The defense is still stout, but when they're not forcing turnovers left and right, scoring is an issue.
Against teams with a winning record, Chicago is 2-3 ATS. They should be favored in this game but not by more than a field goal.
Fantasy: Matt Forte will reportedly play, but I think Bush still has some value. The Seahawks are small on defense and struggle to defend the run between the tackles. I could also see him snagging a goal line touchdown.
Carolina (-3) @ Kansas City
Any team that runs this play should never get less than five points. Never. Even against Kitty Cam Newton on a short week.
Go home, Romeo Crennel. Go home.
Fantasy: It's the fantasy playoffs. Start your studs. Jamaal Charles is a beast, even if he likes to get autographs from his opponents.[ http://espn.go.com/nfl/story/_/id/8681979/jamaal-charles-kansas-city-chiefs-got-peyton-manning-autograph-loss-denver-broncos]
Arizona @ New York Jets (-4.5)
The NFL is a week-to-week league — this matchup if a perfect example of that. The Jets are a mere 6-5 ATS, but against teams like the Cardinals, they feast. If you can't stretch the field (Ryan Lindley is making Mark Sanchez look like Dan Marino), then Gang Green can play single-high safety and send both pass and rush blitzes nonstop. LaRon Landry and Yeremiah Bell are the most talented safeties Rex Ryan has had in New York, and in a game like this they're both going to play closer to the line of scrimmage and fly around the field.
On the offensive side of the ball, the Jets can't look much worse than they did in two of the last three weeks. Again, Sanchez isn't as bad as Lindley.
During their seven-game losing streak, Arizona is 1-6 ATS. If you're looking for a backdoor cover, I suggest you look elsewhere.
Fantasy: FREE LARRY FITZGERALD! FOR THE LOVE OF GOD!
Cincinnati (-1.5) @ San Diego
Cleveland (-1) @ Oakland
When Ray Rice converted that 4th and 29 (what an elite throw by Joe Flacco), I beamed. Not because I have Rice in a keeper league, not because I picked the Ravens, and not because I love insane plays that break Twitter, but because it gave us an opportunity to talk about Freddie Mitchell.
Mitchell — or "FredEx" as I like to call him — was an awesome character who carried a championship belt with him before Aaron Rodgers was even in the league. That play was legendary, and it led to a Super Bowl berth for the Eagles. In that Super Bowl, Terrell Owens put on one of the greatest performances ever.
None of which would've been possible had FredEx dropped that ball.
Did Anquan Boldin block Eric Weddle in the back? Probably. Was Rice short? Probably. Did Norv Turner have any direct correlation with the results of the play? Absolutely.
While the Chargers are reeling, the Bengals are peaking at the right time. Andy Dalton is throwing darts, BenJarvus Green-Ellis has two straight 100-yard rushing games, and A.J. Green is a complete beast. Since it is bye week, Cincinnati is 3-1 ATS, and the only team it failed to cover against was Denver.
As for the Raiders, though, I'm through with them. I can't wait until they win by three touchdowns.
Fantasy: Please do not play Darren McFadden if you're in a must-win situation. Please.
New York Giants (-2.5) @ Washington
This line is shocking. Maybe I'm just crazy, but how does a two-game winning streak against Philadelphia and Dallas increase Washington's value this much? Did we not watch them lose at home to Carolina?
I think the Redskins are playoff contenders (they play Cleveland, Philadelphia, and Dallas in their last three games), but this is a bit nutty. I'm not expecting the Giants to walk all over Washington like they walked all over Green Bay on Sunday night, but they need to be at least 3.5-point favorites. Washington is 2-4 ATS at home, and one of those wins came against the aforementioned Eagles, who are 2-9 ATS.
Robert Griffin III is a stud, but in Eli Manning I trust.
Fantasy: Hakeem Nicks looked a bit sluggish on Sunday night, but he's still being targeted more often than Victor Cruz. Start your studs. Start Nicks.
This Week: 0-1
Last Week: 8-7-1
Season 95-78-3
All betting lines are courtesy of Covers.com, and are accurate as of Friday at 10:00 a.m. EST.
There is no line available for the Pittsburgh @ Baltimore game. When the line is released, I will make the pick on Twitter.
Follow PokerNews on Twitter for up-to-the-minute news.