Pigskin Diaries Week 9: The Halfway Mark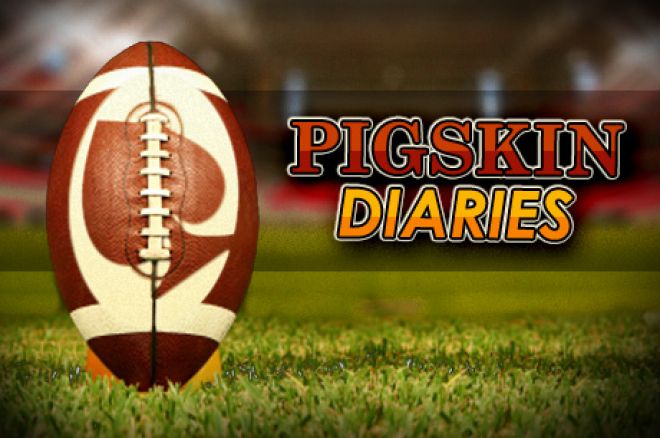 We've reached the halfway mark of the 2012 NFL regular season, and despite some early woes, we have a very solid record of 65-51-2 against the spread (ATS). That's a win rate of 55.5 percent. It will be very difficult to sustain that rate for the next nine weeks, but it gives us a nice cushion in case things go haywire.
I don't plan on suddenly plummeting, but variance happens.
Let's look at some of our future bets that I offered in the preseason:
Arizona UNDER 7 wins (-190)
After the first four weeks of the season, this looked like a lock to lose. Suddenly, 6-10 isn't out of the realm of possibility – we just need John Skelton to keep doing his thing!
Buffalo UNDER 8 wins (+125)
Buffalo's win at Arizona was obviously bittersweet for us as it also gave the Bills three wins, but closing out the season with a 4-5 record sounds pretty accurate.
Indianapolis OVER 5 wins (-130)
We'll be cashing this ticket in soon.
Washington UNDER 6.5 wins (EVEN)
The Redskins started off 3-5. Why can't they finish the season 3-5?
Cincinnati makes the playoffs (+200)
We're going to need Baltimore to really nosedive.
Seattle wins the NFC West (+325)
We're going to need to need some division wins.
Matthew Stafford leading passer (+650)
We're going to need a miracle.
Darren McFadden leading rusher (+800)
Or two.
Hakeem Nicks leading receiver (+1600)
Or three.
Giants to win the Super Bowl (+2200)
OK, now this bet might make up for all of those terrible player props. The Giants are currently (+750) to win the Super Bowl, which means we snagged a lot of value in the preseason.
We'll check back on our preseason picks after Week 17, but for now, let's pick some winners!
Baltimore @ Cleveland (+3.5)
Through seven games, Ray Rice is averaging 4.9 yards per carry. He ranks third among running backs with 100 or more carries. Unfortunately for the Ravens, Offensive Coordinator Cam Cameron refuses to run the ball — Rice ranks 20th in the league with only 106 carries.
The defense isn't as strong as it once was, but that doesn't mean Joe Flacco should be throwing the ball 40 times a game. Baltimore's pass offense ranks 19th in DVOA (Defense-Adjusted Value Over Average), and only two quarterbacks with 250 or more attempts have thrown for less touchdowns than Flacco (nine) – Andrew Luck and Matthew Stafford.
The Ravens paid Rice in the offseason. Rice is arguably the most talented running back in the league. If Cameron continues to be stubborn, this team is going to continue to struggle (they're 2-5 ATS) and could also miss the playoffs.
The Browns are 4-3-1 ATS, and unlike the Ravens, they like to feed the rock to their stud running back Trent Richardson. Baltimore ranks 24th in total defense DVOA, 24th in rush defense DVOA, and could be without All-Pro nose tackle Haloti Ngata, who's listed as questionable on the injury report with a right shoulder injury.
These aren't the Baltimore Ravens of old, and the (+170) money line bet for Cleveland looks very enticing.
Fantasy: In ESPN standard scoring, Brandon Weeden has outscored Jay Cutler, Mark Sanchez, and Philip Rivers. He's a solid bye-week fill in if you need one.
Buffalo @ Houston (-10)
Arizona @ Green Bay (-10)
Ironically, if these underdogs were reversed, I would take the points in both games. Buffalo can score on Green Bay, and Arizona's defense is capable of limiting Houston's rushing attack, but as is, neither matchup is favorable for either underdog. The Bills rank last in rush defense DVOA (good luck stopping Arian Foster), and the Cardinals rank 30th in total offense DVOA (29th in passing and 31st in rushing).
Buffalo will need to find a way to stop the run, and Arizona will need to find a way to score. My guess is neither team will succeed.
Fantasy: I think the hate is going a little too far with Larry Fitzgerald. The quarterback situation in Arizona is brutal, but it was brutal last year and he still found a way to finish fifth in ESPN standard scoring. He's a physical freak, and I don't think you should give up on him just yet, especially because his market value is so low.
Denver (-4) @ Cincinnati
Chicago (-3.5) @ Tennessee
Denver and Chicago are ranked 1st and 5th respectively in total DVOA. Peyton Manning has really impressed, and the Broncos rank 2nd in total offense DVOA, while the Bears are playing great on the other side of the ball, ranking number one in total defense DVOA.
And, while we love home dogs here at the Pigskin Diaries, teams favored at home were just 1-6 ATS in Weeks 7 and 8. Since Week 6, home teams are 13-27 ATS.
In the preseason, I placed a wager on the Bengals to make the playoffs (+217), and I still want to believe in them, but Andy Dalton has disappointed. Only Tony Romo (13) and Matt Cassel (11) have thrown more interceptions than Dalton (10), and Cincinnati's offense ranks 19th in DVOA. BenJarvus Green-Ellis has been equally bad, averaging only 3.4 yards per carry.
The Titans, as we pointed out last week, are simply bad. They rank 31st in total DVOA (28th in total offense, 29th in total defense), and couldn't fend of the Colts, who rank 29th in total DVOA.
Fantasy: If you're in a huge hole at running back, Michael Bush could be interesting this week. The Titans rank 25th in rush defense DVOA, and Bush could pick up a few goal line carries.
Miami @ Indianapolis (+2)
Detroit @ Jacksonville (+4.5)
Since starting the season 0-4 ATS, the Lions have covered in their last three games, two of which were on the road. They were underdogs in both of those games however, and are 0-1 ATS this season when favored on the road. Detroit may not be as bad as it played to start the season, but the Lions certainly not the 10-6 team that finished second in the NFC North in 2011. The secondary is really weak, ranking 27th in pass defense DVOA, and this week they may be without stud wide receiver Calvin Johnson, who's hampered by a knee injury.
The Jaguars are very sneaky. They're 4-3 ATS, and were very competitive in Green Bay last week. They're lacking on offense without superstar running back Maurice Jones-Drew, but Rashard Jennings is running well, and Cecil "Salute Your" Shorts continues to impress, catching eight passes for 116 yards against the Packers.
This game has ugly written all over it, and I think that Jacksonville keeps it close.
The Colts are 3-1 ATS at home, and had the aforementioned Shorts not scored a game-winning 80-yard touchdown at the end of regulation against them in Week 3, Indy would be a perfect 4-0 ATS at Lucas Oil Stadium. Rookie quarterback Andrew Luck has been very efficient at home, throwing just two interceptions in four starts. On the road, Luck has thrown six in just three starts.
The Dolphins, who I still think will win a wildcard spot in the AFC and are ranked 10th in total DVOA, are due for a letdown after crushing the Jets last week by 21 points. I also think that playing a semi-injured Ryan Tannehill is a bit crazy, especially when you have a healthier, more talented Matt Moore sitting on the bench.
Fantasy: Shorts is owned in just 14.9 percent of ESPN fantasy football leagues. Do yourself a favor and pick him up if he's available in your league. The guy's a stud.
Carolina @ Washington (-3)
Normally, when two crappy teams play one another, I just take the points. The Panthers are exceptionally crappy however, especially on rush defense (21st in DVOA), and the Redskins rank 3rd in rush offense DVOA. Washington's secondary is lacking (20th in pass defense DVOA), but none of Carolina's deep threats are all that threatening, including Steve Smith, who hasn't reached the end zone in 2012.
Worst of all for Carolina, they just gave everything they had in Chicago, only to lose on a last-second Robbie Gould field goal. Those losses sting, especially when you have a sensitive quarterback like "Kitty" Cam Newton.
Fantasy: Other than Arian Foster, has any running back been as consistent as Alfred Morris? Kudos to you if you drafted him – I expect Alf and Robert Griffin III to run all over the Panthers defense.
Tampa Bay @ Oakland (-1.5)
Both of these teams are interesting. They're both 2-1 ATS in the past three weeks, and have shown signs of life against good football teams. The Raiders beat the Steelers outright in Week 3, and hung tough with the Falcons in Week 6. The Bucs hammered the Vikings last Thursday, and covered on the road against the Cowboys in Week 3.
Unfortunately for the Bucs, they lost left guard Carl Nicks for the season with a toe injury. In August, when ESPN Insider released the 2012 player rankings, Nicks was ranked as the second-best guard in the NFL. Moreover, prior to the injury, Tampa Bay ranked 4th in adjusted rushing yards when running to the left. When running to the right, the team ranks 14th, and straight up the middle they rank 28th.
The loss of Nicks is huge, and I think the Bucs should get at least a field goal in all of the road games against competent teams. Oakland is certainly competent, and I expect them to be able to stop Doug Martin and company on the ground.
Fantasy: Just when Martin owners finally got a glimpse of what his kid can do, he loses his best offensive lineman. I still think he's a decent RB2, but if you can somehow sell high before Sunday, I'd be willing to move him for a WR2 or even a lesser accomplished back this year like Willis McGahee or Ahmad Bradshaw.
Minnesota @ Seattle (-4)
Pittsburgh @ New York Giants (-3)
These lines are really low. Perhaps it's because road teams are 64-51-2 ATS, and favorites are only 48-67-2 ATS, but traditionally these lines would be closer to five points. After taking a few small steps forward, Christian Ponder has stumbled back to reality the past few weeks, losing to both Tampa Bay at home and Washington on the road. With weapons like Adrian Peterson and Percy Harvin, one would think that Ponder would be able to graduate from "game manager" a little quicker, but he hasn't, and the Vikings are 20th in total offense DVOA because of it.
Meanwhile, the Seahawks are 3-0 ATS at home, beating Green Bay, New England, and Dallas outright. Likewise, Russell Wilson is starting to improve, and there is chemistry building between him and wide receiver Sidney Rice.
The late afternoon game between the Steelers and the Giants is most likely going to be a shootout, and I simply trust Eli Manning to find a way to win. I also think Pittsburgh's defense is very exploitable – just look at the box score from their Week 3 loss to the Raiders.
Fantasy: The running back situation in Pittsburgh is a mess. Both Rashard Mendenhall and Jonathan Dwyer are listed as doubtful, meaning Isaac Redman will get the bulk of the work. There are plenty of players I'd rather start than Redman at RB2 or FLEX, including Fred Jackson, Jonathan Stewart, Mikel Leshoure, and Chris Johnson.
Dallas (+4) @ Atlanta
Philadelphia (+3) @ New Orleans
The Cowboys are going to beat the Falcons. It makes very little sense seeing that Atlanta is undefeated and all Dallas can do is find ways to lose games, but it's going to happen. The Falcons rank 28th in rush defense DVOA, and I think Jason Garrett is going to find a way to exploit this. Even if it means throwing a ton of bubble screens to Miles Austin and Dez Bryant, Garrett should challenge the Atlanta defense to make tackles in the open field.
I'm also going to take a complete shot in the dark and say that Phillip Tanner has 100 yards from scrimmage. Felix Jones has worn out his welcome in Big D.
For Michael Vick and the Eagles offense, this game has "slump buster" written all over it. The Saints defense is horrific (I'm going to keep saying this until the last second of their last regular season game), and Philadelphia has too much speed for them not to score in bunches. On offense, New Orleans will be without h-back Darren Sproles, who broke his hand. There is currently no timetable for Sproles' return.
Drew Brees will have to find another safety valve for Monday night, and fast.
Fantasy: With the injury to Sproles, Pierre Thomas' stock is rocketing up the charts. Mark Ingram will gain a few more touches as well, but he's averaging 2.9 yards per carry in 2012. Thomas is the guy.
All betting lines are courtesy of Covers.com, and are accurate as of Saturday at 9:00 a.m. EDT.
Follow PokerNews on Twitter for up-to-the-minute news.