Pigskin Diaries Week 8: Don't Become Complacent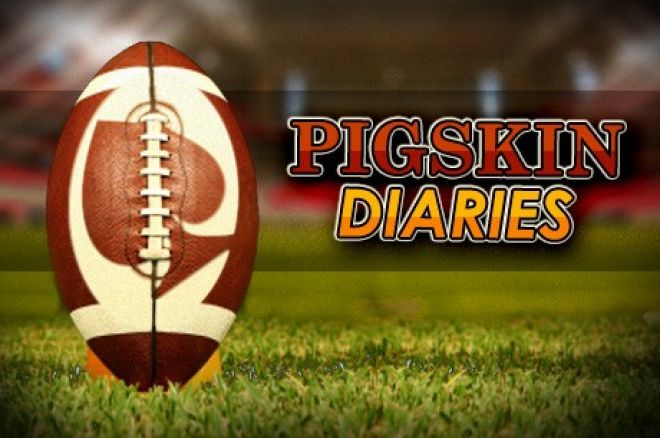 Last week, despite the fact that my beloved Jets choked away their game against the hated Patriots — and I had to change all of my social media avatars to something pro-New England as a result of a prop bet with Donnie Peters at PokerNews' — I was ecstatic. Once the Monday Night Football game ended, I opened an Excel spreadsheet that has all my bets on it, highlighted all my bets for Week 7, and filled them in with a green background to signify that all were winners.
Sunday was the most profitable NFL betting day of my life.
When you're picking winners, and you're profiting off of your plays, it's very easy to become complacent. For the last two weeks, my Pigskin Diaries picks have gone 17-9, and last week I was a perfect 8-0 with my actual plays. Naturally, I felt invincible, but this feeling led to my worst pick of the season:
I didn't even explain why I was picking Minnesota, and to be honest, I still don't know why I took the Vikings. Instead of looking at the matchup, breaking down each team's DVOA rankings, and maybe even watching a little film, I just flipped a coin in my head and it landed showing "Vikings" face up.
Had I taken the time to study the two teams, I would've seen that the Bucs are the No. 1 ranked rush defense DVOA. This is huge, especially on Thursday Night Football, because the games tend to be low scoring, and especially against Minnesota because their offense is a bit more conservative. True to form, Adrian Peterson was limited for most of the game until he broke off a 64-yard touchdown run in the third quarter. The Vikings were down 20 points at the time, however, and the run was inconsequential.
Now, you may be asking yourself why this matters? Why am I beating myself up over one game when there are still many more to be played?
One, it's inexcusable and it's lazy. Two, and more importantly, the object of the game is to pick 52.4 percent winners. That's a very thin line, and one or two games here and there can make a world of difference. We need to focus each and every week to make the best picks possible, dodge variance, and hopefully rack up a few more winners.
Now, let's get over that horrific pick and focus on the Week 8 lines!
Carolina @ Chicago (-7.5)
Through seven weeks of the regular season, home teams are 47-55-2 against the spread (ATS). Teams favored by seven or more points are 8-15-2 ATS. Just looking at these numbers alone it appears that we should take the Panthers and the points, but thus far the Bears have been the exception to the rule. Chicago is 2-1 ATS at home, and would be 3-0 had Detroit not scored a meaningless, garbage touchdown with only 1:43 remaining on Monday Night Football.
They would also be 3-0 ATS at home using last week's opening line of (-5), which was one of my eight winners, but we've always used Friday morning lines for the Pigskin Diaries, and will continue to do so.
Likewise, the Bears are 2-0 ATS when favored by seven or more points. In Week 1, when favored by 10 points at home against Indianapolis, Chicago won by 20. In Week 3, when favored by 7.5 points at home against St. Louis, Chicago won by 17.
Carolina's one strength is rush offense (11th in DVOA), but Chicago is ranked seventh in rush defense DVOA. The Bears can also run the ball effectively (10th in DVOA) while the Panthers struggle to defend the run and rank 21st in rush defense DVOA.
If the Panthers want to keep this game close, then Cam Newton will have to bust out of that phone booth and do his best Clark Kent impersonation. I don't see that happening. The Bears rank first in pass defense DVOA.
Fantasy: With Matt Forte fully healthy, Michael Bush's role is becoming smaller and smaller. If you're a Forte owner, then hold onto Bush because he's a valuable handcuff, but if you just own Bush, then look to trade him. If you can't unload him, then he is droppable if need be.
Seattle (+2.5) @ Detroit
Why do people still think Detroit is good? The Lions are 2-4 ATS — barely, depending on when you bet them last week — and are 0-2 ATS at home. Matthew Stafford looks average, Calvin Johnson is getting triple teamed, they refuse to run the ball, and now Nate Burleson is out for the season. Titus Young, who was everybody's fantasy sleeper this year, finally put together a decent game against Chicago, but is he ready to take on a full WR2 role?
Nothing about Detroit appeals to me, and Seattle is coming off of 10 days rest. For the season, teams coming off of Thursday Night Football have a below .500 record ATS the following week, but some of the first TNF games featured teams that stink — Cleveland, Baltimore, Carolina, and Arizona. In the past two weeks, after playing on TNF, teams were 3-1 ATS the following week.
The Seahawks are arguably the toughest defense in the league, too, ranking second in total defense DVOA (third in passing and second in rushing). We saw what Detroit did on Monday night against a good defense. Why should we expect to see anything different on Sunday?
More importantly, Seattle cornerback Richard Sherman, who showed up Tom Brady after their Week 6 victory over New England, has adopted a great nickname for the game: Optimus Prime.
Fantasy: Detroit's offense should struggle this week against another tough defense, but I think Mikel Leshoure is a pretty talented back. He could be a really nice buy-low candidate come Monday.
Atlanta (+3) @ Philadelphia
Miami (+2.5) @ New York Jets
New Orleans @ Denver (-6)
Last week, teams coming off a bye were 2-2 ATS. Stafford's late touchdown pass ruined a 3-1 week, but yet again, the rested teams not named the Carolina Panthers performed well.
In the first game we listed, both teams are coming off a bye. For the next two days, and hours upon hours on Sunday morning, national pundits will rave about Andy Reid being 13-0 after the bye as a head coach. That stat is very impressive, and Reid is clearly a master at preparing his team, but there may be too many holes to fill.
Reid fired friend and defensive coordinator Juan Castillo and said he wants to "tear things apart" during the bye week. Well, if "tearing things apart" includes him adding a few more running plays to the game plan, then I'd feel a lot more confident about Philadelphia.
Traditionally, Matt Ryan and the Falcons have struggled on grass. In 2012, however, they're 3-0 ATS on the road, beating their opponents by a combined 47 points. I have never trusted Ryan. If you read any of the Pigskin Diaries from last year, particularly the wildcard playoff edition, you'd know, but it's getting more and more difficult to deny that Atlanta is among the top-tier teams in the league.
Looking at the schedule last weekend, I was prepared to take the Eagles, thinking they might be home dogs or at worst favored by one. No, I didn't forget that Reid was 13-0 after the bye week, I just don't think that stat matters very much in this game. Apparently I was wrong, but I'll happily take the Falcons and the field goal.
The Jets just gave every ounce in New England and still fell short. That's demoralizing. Gang Green matches up poorly against Miami, who should've defeated New York in Week 3, and I think the Dolphins (ranked 10th in overall DVOA, seventh in defensive DVOA) win this game outright.
It's unfortunate that we have to lay six points now against the Saints — there was a nice little run there where they were still grossly overrated — but it's still less than a touchdown. Peyton Manning and company should tee off on New Orleans' 32nd-ranked pass defense DVOA.
Fantasy: With four teams on a bye this week, Eric Decker becomes a top-10, no-brainer start at WR. This matchup is way too good to pass up.
San Diego @ Cleveland (+3)
Oakland (+1.5) @ Kansas City
I don't care if both teams were coming off back-to-back bye weeks, there are very few trends, if any, that would lead me to take Brady Quinn as a favorite and Norv Turner as a road favorite in the same week.
Fantasy: The Quinn era in Kansas City could be over in the blink of an eye, so if you're in a two-quarterback league, and have a roster spot to burn, grab Ricky Stanzi. He's a long shot, but worth a flier since he'll be throwing to Dwayne Bowe, Jonathan Baldwin, and Jamaal Charles.
Washington @ Pittsburgh (-4.5)
I've captained the anti-Steelers bandwagon this season, and I still think that they're average, but the Redskins pass defense (16th in DVOA) is concerning. Last week, after scoring a huge touchdown to take the lead on the road against the Giants, the Washington secondary let Victor Cruz run straight past them en route to a game-winning 77-yard touchdown.
Pittsburgh ranks sixth in pass offense DVOA, and without Isaac Redman and Rashard Mendenhall, I expect the Steelers to throw the ball upward of 45 to 50 times. Like Wes Welker in New England's offense, Antonio Brown can act as a de facto running back, catching screen and swing passes at the line of scrimmage to keep the chains moving. Likewise, Chris Rainey, who had five touches last week, might have an expanded role after ripping off a game-winning touchdown run.
Robert Griffin III is incredible, and I can see him having another big day on Sunday against an aging Pittsburgh defense, but I don't trust his defense at all. It's a shame he can't play cornerback or safety, because the Skins sure could use help on the back end.
Fantasy: Well hello, Santana Moss. Moss' role has been reduced with the Redskins because he's not a great blocker and Washington runs a lot of read option plays. He's still a talented pass-catcher however, and if he continues to perform at a high level, then Kyle Shanahan will certainly find ways to get him the ball.
Jacksonville (+14.5) @ Green Bay
This line is way too high. Even if Brady Quinn was the quarterback of the Jaguars and Norv Turner was the head coach, I'd still take the points.
Fantasy: Cecil "Salute Your" Shorts had a key fumble in last week's game against the Raiders, but he's outshined rookie Justin Blackmon through six games. Shorts has fewer targets and catches than Blackmon, but has racked up nearly 160 more yards, five more plays of 20-plus yards, and three more touchdowns.
New England (-7) vs. St. Louis (in London)
What's the point of showcasing an NFL game in London if it's going to get lost in the mix with all of the other 1 p.m. games? Why isn't this game at 10 a.m. EST? Why isn't this game on Saturday?
The NFL is certainly a global game, and I don't doubt that there are a lot of fans in the United Kingdom, but this trip seems really pointless. I have an idea: instead of playing one regular season game in London, every team should play all four of their preseason games across the pond. This way the NFL owners can't rob season ticket holders by making them pay full value for exhibition games, Czar Roger Goodell can expand the brand, and we can hear more stories about Italy being shaped like a boot.
In all seriousness, I probably would've taken the Rams as home dogs or as double-digit dogs in Foxborough, but not as touchdown-dogs on a neutral field where Tom Brady gets to put on a show in a foreign country. This is a bad spot for St. Louis, and I feel bad for their fans because they missed out on an extra home game this season.
Fantasy: By season's end, Daryl Richardson will be the No. 1 running back in St. Louis. If you've held onto him for a couple of weeks, don't give up now.
Indianapolis (+3.5) @ Tennessee
Because the crappy Buffalo Bills (31st in total defense DVOA) couldn't stop the Titans on 4th and 9 last week to win the game, we get three and the hook this week. That's sweet.
Had Tennessee lost — like they should have — and dropped to 2-5, this line could've been as low as 1.5. The Titans are miserable, ranking 31st in overall DVOA, 29th in offense DVOA, and 30th in defense DVOA. Last week's game is a perfect example as to why raw stats are flawed. Chris Johnson had a great game, and that long run was very impressive and, dare I say it, CJ2K-like. However, the Bills defense is putrid, ranking 28th in pass defense DVOA and 32nd in rush defense DVOA.
The Colts are 0-2 ATS on the road this season, losing by a combined 46 points, but those games were against the Bears (2-1 ATS at home, ranked 4th in overall DVOA) and the Jets (3-1 ATS at home, and Gang Green was coming off consecutive home losses at the time). Andrew Luck played outside in college, so the natural grass has nothing to do with this, they've just run into really good teams in their only two road games.
The Titans are not a good team and shouldn't be favored by this many points.
Fantasy: Some say that Luck was "bailed out" by two rushing touchdowns last week, but I don't think so. Luck rushed for nearly 1,000 yards and seven touchdowns in his three years as a starter for Stanford. Don't expect him to start going RG3 on teams, but Luck is much more athletic than you think.
New York Giants (-2) @ Dallas
All year I've had this strange feeling that this will be Tony Romo's last season with the Cowboys. In early October, Calvin Watkins of ESPN Dallas reported that the Cowboys and Romo ended contract extension talks, and with Romo scheduled to make $11.5 million in 2013, cutting him would clear a lot of space for a potential free agent.
If there's actually something to my hunch, what better way to start a complete nosedive than to be blown out at home by a bitter division rival.
The Giants are good. If you told me that I had to pick one back on a neutral team, I'd take Big Blue without hesitation. They rank third in total DVOA, second in offense DVOA, and 14th in defense DVOA. Eli Manning proved once again last week that no lead is too large and no time frame is too short, throwing an absolute bullet to Cruz to win the game.
Let's replace this matchup with two comparable teams. Let's say the Bears (one spot below the Giants in total DVOA) and the Jets (one spot above the Cowboys in total DVOA). In this game, the Bears would be favored by more than two points, even in MetLife Stadium. Remove the star from the helmet, take away Jerry Jones' Death Star, and just look at the football team — they're average at best.
R.I.P. to Romo's career in Big D. The nosedive begins on Sunday.
Fantasy: Miles "Jekyll" Austin and Dez "Hyde" Bryant are so frustrating to own, but they both remain must starts. On the other side of the ball, I expect Hakeem Nicks to finally return to form.
San Francisco @ Arizona (+7)
Home dogs went 0-4 ATS the spread last week, but are still 21-14 ATS on the season and home dogs getting a touchdown or more are 3-1 ATS. The Niners are 1-2 ATS when favored by seven or more points, and 0-2 ATS when favored by seven or more points on the road.
All the signs point to Arizona. Let's go John Skelton!
Fantasy: William Powell looked really good when Ryan Williams was injured, but LaRod Stephens-Howling looked even better last week. It's going to be hard to trust either back, especially because Arizona's offensive line is ranked 32nd in run blocking DVOA.
This Week: 0-1
Last Week: 8-4
Season: 55-46-2
All betting lines are courtesy of Covers.com, and are accurate as of Friday at 11:30 a.m. EDT.
Follow PokerNews on Twitter for up-to-the-minute news.