Pigskin Diaries Week 5: Team-Dependent Football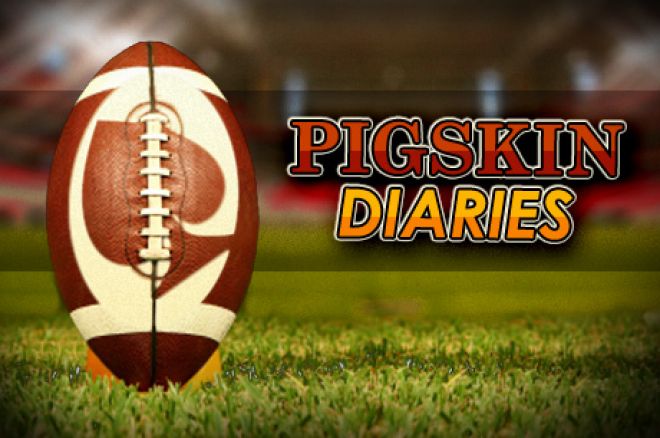 If you ask a professional poker player how to play a specific hand, one of the things you'll probably hear is that the decision is "player-dependent."
For example, if you want to know whether or not you should raise on the button with
, one of the main factors going into the decision is how the players in the small blind and big blind are playing. If the players in the blinds are folding too often, you should probably be raising a very wide range. If the player in the small blind is likely to three-bet you, or if the big blind is defending a very wide range and calling a lot of continuation-bets, then perhaps you should wait for better holdings.
The decision is player-dependent.
In the National Football League, pundits, announcers, players, and coaches tend to use raw statistics to measure teams. On Sunday, during the pregame shows, I'm sure that you'll hear at least one person say, "Kansas City has the number one rushing attack in the league." That's a fair statement — through four games, no team has rushed for more yards than the Chiefs (690 yards).
What that pundit won't mention is that Kansas City's "dominance" is skewed by their Week 3 performance in New Orleans, where they ran for a collective 273 yards. So, roughly 40 percent of their total output for the season came in that game, and it was against a terrible defense.
Just like in poker, football can be team-dependent.
At the beginning of the season, we discussed Defense-adjusted Value over Average (DVOA) rankings. In brief, the crew at FootballOutsiders.com breaks down every play and measures performance based upon their opponent's ability and the league's baseline average. After Week 4, because the data is now more statistically significant, the writers believe that opponent-adjusted statistics are now relevant.
Here's a look at the top five:

| Rank | Team | Offense | Defense | Record | ATS Record |
| --- | --- | --- | --- | --- | --- |
| 1st | HOU | 3rd | 2nd | 4-0 | 4-0 |
| 2nd | SF | 5th | 4th | 3-1 | 3-1 |
| 3rd | NE | 1st | 18th | 2-2 | 3-1 |
| 4th | ATL | 6th | 10th | 4-0 | 3-1 |
| 5th | DEN | 10th | 7th | 2-2 | 2-2 |
The top five teams are rock solid, going a combined 15-5 ATS. Now let's look at another winning team that people think can contend for a title — the Philadelphia Eagles:

| Rank | Team | Offense | Defense | Record | ATS Record |
| --- | --- | --- | --- | --- | --- |
| 13th | PHI | 22nd | 3rd | 3-1 | 1-3 |
And that first win ATS on Sunday Night Football was by the hair on their chinny-chin-chin. Not all 3-1 teams are built equally, and Philly's DVOA ranking reflects that.
Here's a look at the bottom five teams:

| Rank | Team | Offense | Defense | Record | ATS Record |
| --- | --- | --- | --- | --- | --- |
| 28th | PIT | 17th | 30th | 1-2 | 1-2 |
| 29th | JAC | 24th | 23rd | 1-3 | 2-2 |
| 30th | TEN | 25th | 31st | 1-3 | 1-3 |
| 31st | OAK | 16th | 29th | 1-3 | 1-3 |
| 32nd | KC | 30th | 27th | 1-3 | 1-3 |
There's that "number one rushing attack," and they rank 30th offensive DVOA. These teams are a combined 6-13 ATS, and can be faded more often than other teams with losing records, like the Miami Dolphins:
| Rank | Team | Offense | Defense | Record | ATS Record |
| --- | --- | --- | --- | --- | --- |
| 12th | MIA | 19th | 8th | 1-3 | 2-2 |
The Dolphins are one terrible Ryan Tannehill pass away from being 2-2 overall and 3-1 ATS. The fish are frisky on defense and unafraid to throw the ball long — the aforementioned Tannehill passed for over 400 yards last week against the Arizona Cardinals. We like sneaky ugly teams because sneaky ugly teams tend to be undervalued.
In Week 4, the home teams came crashing down to earth, going a combined 4-11 ATS. Home teams are now 30-32-2 ATS, favorites 25-37-2, home dogs 13-10, and teams favored by seven or more points are 6-10-2.
More importantly, though, teams not named the Houston Texans that are favored by seven points or more are 3-10-2.
Houston (-8) @ New York Jets
Yes, I know this is the Monday Night Football game, and yes, I know I'm going out of order. I just want to get this out of the way. Everybody and their mother are on the Texans. According to VegasInsider.com, 92 percent of the money is on the Houston. This is a square pick.
But I don't care.
After watching the Texans dismantle four teams (the Denver game was much more of a blowout than the final score indicated), and after watching the Jets offense be offensive (and not in a good way), there's no way I was taking Gang Green. No line was too high.
OK, maybe 23.5 points would be enticing, but I'd still think about taking Houston.
Did I mention that this is an irrational, square pick that none of you should take serious in any way shape or form?
Fantasy: ARGGGGGHHHHHHHHHHHHHHHHHHHHHH
OK. That feels better. On to some real picks!
Miami (+3) @ Cincinnati
This is a nice game for our frisky Dolphins because they match up very well with the Bengals. Miami has a strong front seven, ranking first in rush defense DVOA, and cornerback Sean Smith is talented enough to stay with A.J. Green in man coverage. Green is still going to get his, but I certainly wouldn't expect a nine-catch, 183-yard performance like he had in Week 3 against Washington.
I also don't expect Andrew Hawkins and Armon Binns to do as much damage either. Miami's linebackers aren't arm-tacklers — Kevin Burnett, Karlos Dansby and Koa Misi are all savvy veterans who will wrap up on "space players" like Hawkins and Binns.
On the other side of the ball, Cincinnati ranks dead last (32nd) in rush defense DVOA, and 21st in pass defense DVOA. The Dolphins, led by Reggie Bush, who looked like Reggie Bush last week despite taking a helmet to the knee in the previous game, rank 12th in the league in rush offense DVOA and 20th in pass offense DVOA. If Davone Bess (seven catches for 123 yards last week) and Brian Hartline (12 catches for 253 yards) continue to help their rookie quarterback out, that number will start to creep up, as well.
Fantasy: If you're in a point per reception (PPR) league, and Bess is available, grab him. The former Hawaii Warrior is averaging five catches per game and eight targets per game. That's better than Julio Jones, Rob Gronkowski, and Miles Austin.
Cleveland (+8.5) @ New York Giants
This line opened at 10, and the more it creeps down, the more enticing the Giants look. Don't bite. In their last 10 regular season games at home, Big Blue are 3-5-2 ATS, including outright losses to Washington (5-11) and Seattle (7-9) in 2011.
The Browns rank 14th in defensive DVOA (12th in passing, 14th in rushing), and are well-rested after playing on Thursday Night Football during Week 4. Not having Joe Haden in the lineup hurts Cleveland, but they won't have to worry about New York's top receiver Hakeem Nicks, who has been ruled out with an ailing knee injury.
Against Baltimore, Brandon Weeden looked strong but obviously there is still room for improvement. That last-second Hail Mary pass can't go out of the end zone — you have to at least give your guys a chance to win. Trent Richardson looked very impressive last week, especially on passing downs. If he continues to catch balls out of the backfield and make plays, then the Browns will be able to get into a rhythm offensively and instill a little bit of confidence into their rookie quarterback.
Remember when I said teams not named the Houston Texans are 3-10-2 when favored by seven or more points? Well, the Browns were dogs in three of those games, and are 2-0-1 ATS when favored by a touchdown or more.
Fantasy: Is it Domenik Hixon or Ramses Barden? Is it matchup-dependent? On tape, Hixon looks much more polished, whereas Barden was just wide open on every play against Carolina in Week 3. Play Hixon.
Baltimore (-6) @ Kansas City
If the Texans are the exception to the rule when it comes to touchdown favorites, then the Chiefs are the exception to the rule when it comes to home dogs. Home dogs not named the Kansas City Chiefs are 13-8 ATS, while the Chiefs are a dismal 0-2 ATS. The Falcons (6th in offensive DVOA) and Chargers (20th in offensive DVOA) both housed Kansas City in Arrowhead, winning by an average of 16.5 points.
Like the Browns, the Ravens have had extra time to prepare for this game, which helps because Ray Lewis and Ed Reed are a combined 71 years old. It's also allowed Bernard Pollard and Torrey Smith to heal from minor injuries.
I'm still not ready to buy the Joe Flacco hype (this red zone interception was inexcusable), but he certainly looks better. If he can avoid costly turnovers and keep Kansas City's defense on its heels, then this game could be a slobberknocker.
Fantasy: All that being said, Jamaal Charles is still going to get his. Don't get cute because it's the Ravens, start your studs.
Atlanta (-3) @ Washington
The Redskins rank 27th in pass defense DVOA. The Falcons rank 7th in pass offense DVOA. Matt Ryan is licking his chops.
The Redskins rank third in rush offense DVOA. The Falcons rank 30th in rush defense DVOA. Robert Griffin III is licking his chops.
This feels like a stay away game, but having to pick, I'll take Atlanta. In their worst defensive effort, the Falcons gave up 28 points to a very dangerous Cam Newton, and still found a way to win. In Washington's best defensive effort, they gave up 22 points and snuck out of Tampa Bay with a win thanks to a game-winning field goal from Billy Cundiff.
If one of these defenses shows up, I will be less surprised if it's Atlanta. If neither defense shows up, and it's an all-out barnburner, then I'd rather have Atlanta's aerial attack over Washington's running attack.
In the past, I would've taken Washington solely because Matty Ice tends to struggle outside on grass, but he's 2-0 straight up and ATS this year outside, scoring an average of 33.5 points on grass.
Fantasy: I hope you took my advice and tried to sell high after Michael Turner's performance last week. That was the slowest 60-yard touchdown I have ever seen.
Philadelphia (+3) @ Pittsburgh
I think this game is going to surprise some people. Before their early bye, Pittsburgh's only win came against the Jets, who actually walked down the field during the first quarter and grabbed a seven-point lead. We've all seen what the Jets have done since that game: nothing.
In their two losses in Denver and in Oakland, the Steelers looked very average on defense, surrendering 20 points to the Raiders (16th in offensive DVOA) in the second half.
The Eagles have three wins by a combined four points and haven't put together a strong offensive effort.
Yet.
I still have faith in Michael Vick and the gang, and I think that this is the game that they break out. Pittsburgh ranks 31st in pass defense DVOA and 20th in rush defense DVOA.
Fantasy: I still prefer Antonio Brown over Mike Wallace. Brown leads the team in targets (29, seven more than Wallace), he just needs to find the end zone more often.
Green Bay @ Indianapolis (+7)
Chicago @ Jacksonville (+4.5)
We've already picked three road favorites, so I feel obligated to take these two home dogs. The Jaguars get to play the Bears on a short week, which helps, and the Colts got two weeks to prepare for Aaron Rodgers and the Packers, which also helps.
And, not to make light of the situation, but there's definitely going to be a little "lets win for Chuck Pagano" in the air in Indy on Sunday.
Neither of these games jumps of the page to me as "must-plays," so I'm just going to take the points and hope the teams can stay close.
Fantasy: James Jones is making fewer mental errors and has filled in nicely for Greg Jennings. With Jennings out again this weekend, Jones is a solid WR3 or FLEX play.
Seattle (+3) @ Carolina
Who's ready for some Beast Mode?
The Seahawks, despite refusing to throw the ball, still rank sixth in rush offense DVOA. The defense knows it's coming, they put eight, sometimes nine men in the box, and Marshawn Lynch still finds a way to make plays.
The Panthers rank 31st in rush defense DVOA (we documented their inability to tackle, take the right angle, etc., last week) and are going to have fits with Beast Mode.
Seattle is very one-dimensional and match up well against only a few teams in the league, but Carolina is one of them. Unless the Panthers jump out to an early lead, which is difficult to do against the Seahawks (5th in defensive DVOA), then this game is going to be a fistfight rather than a shootout.
Carolina doesn't fare very well in fistfights.
Fantasy: Russell Wilson is droppable unless you're playing in a three-quarterback league. If you play in a three-quarterback league, you're insane.
Tennessee @ Minnesota (-5.5)
Matt Hasselbeck! Christian Ponder!
Get pumped!
Tennessee ranks 31st in defensive DVOA. They are going to have nightmares stopping Percy Harvin and Adrian Peterson on the turf in Minnesota, but the Vikings secondary isn't strong at all. Despite ranking fourth in rush defense DVOA, Minnesota ranks 18th in pass defense DVOA. Their linebackers can get up the field, but their cornerbacks are very, very suspect.
However, we're not too frightened of Hasselbeck, Kendall Wright and Nate Washington.
We've already picked against two of the bottom five teams in total DVOA (Oakland is on bye), so let's make it three out of four.
Fantasy: In ESPN standard scoring, the Titans are giving up 19 points per game to tight ends. The next closest team is the Patriots, who give up 10.3 points per game to tight ends. Kyle Rudolph is a great play this week.
Denver @ New England (-6.5)
Buffalo @ San Francisco (-9.5)
Laying this much wood hurts, and the taste of chalk is dissatisfying, but it's really hard to pick against the Patriots and the Niners, especially when they're both at home.
Old noodle-armed Peyton Manning was very efficient last week, but Oakland's pass defense ranks 30th in DVOA. Denver's defense is tough (7th in defensive DVOA), but Atlanta scored 31 points on them on Monday Night Football. The Brady Bunch scored 45 second-half points in Buffalo last week, and are certainly capable of exploiting tough defenses.
The Bills, who were on the wrong side of that 45-point second half, have to travel all the way to San Francisco to play another one of the best teams in the league. Both C.J. Spiller and Fred Jackson are scheduled to play, but the Niners rank second in rush defense DVOA. This line might feel very big, but once San Francisco goes up 7-0, you'll feel a lot better about laying this much wood.
Fantasy: This is a total gut-call, but I think Mario Manningham is going to become fantasy relevant very soon. He's had four weeks to play in San Francisco's offensive system and get acquainted with Alex Smith. Now it's time to make plays.
San Diego (+3.5) @ New Orleans
Drew Brees will break Johnny Unitas' record of 47 straight games with a touchdown pass on Sunday Night Football, but he can't play defensive end. Or linebacker. Or cornerback. Or safety.
New Orleans ranks 28th in defensive DVOA (29th against the pass and 28th against the run). Last week, they covered in Green Bay thanks to Brees' ability to chuck the ball around the field, but how can they be more than a field goal favorite against a team with a winning record? This line makes absolutely no sense.
The Chargers are 2-0 ATS on the road this year, and despite Ryan Matthews' struggles, the running game has been OK thanks to Jackie Battle. Former Charger LaDanian Tomlinson could probably rip off 150 yards against this Saints defense however, and I bet Dan Fouts could probably cross the 200-yard passing mark.
Fantasy: Battle is worth owning, but San Diego wants Matthews to carry the ball. In this matchup, you can probably play both at RB2 this week, but in other weeks Matthews will be a RB2 at best and Battle should be on your bench.
This Week: 0-1
Last Week: 5-10
Season: 30-32-2
All betting lines are courtesy of Covers.com, and are accurate as of Friday at 11:30 a.m. EDT.
Follow PokerNews on Twitter for up-to-the-minute news.