Pigskin Diaries: Fantasy Help Part III (Wide Receivers)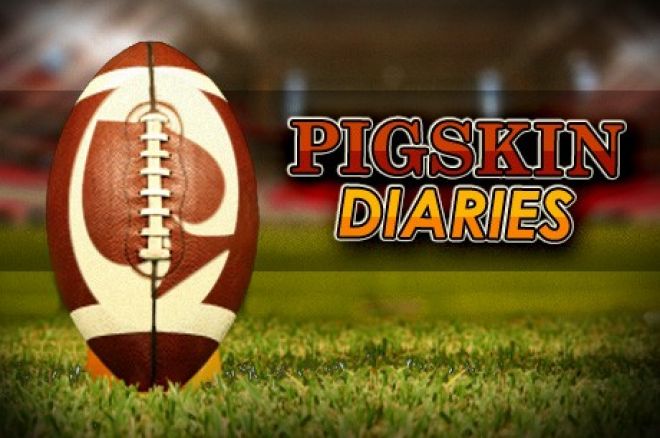 Unless you're playing in a full point-per-reception (PPR) league or you're forced to start three or more wide receivers, the position has much less value than running back. We discussed last week that there are very few feature backs in the NFL, making guys like LeSean McCoy and Ray Rice invaluable. However, I'd argue that there's only one wide receiver in the league that's head and shoulders above the rest; Calvin "Megatron" Johnson.
Johnson's 96 catches for 1,681 yards and 16 touchdowns last year were nothing short of absurd, and in ESPN standard leagues, he outscored Jordy Nelson, the second-best fantasy receiver, by 44 points. Johnson outscored Marques Colston, who finished just outside the top ten, by 100 points.
If you don't draft Megatron and you're in a non-PPR league with a standard format, I suggest you wait on receiver and address your running back needs first. You'll see that the two overvalued receivers we'll talk about this week are going in the first two or three rounds while our undervalued receivers are going after the sixth round.
+EV
Antonio Brown (Average Draft Position – Yahoo!: 62.8, ESPN: 69.6, NFL.com: 84.6
Last year, when I first started playing on daily fantasy sports sites like DraftDay.com, I fell in love with Antonio Brown. Even after catching seven balls for 102 yards against Arizona in Week 7, Brown was a great value play because his salary was still less than most WR2's in the league, and he was certainly cheaper than fellow Steeler Mike Wallace.
Interestingly enough, according to Matthew Berry of ESPN, starting with his Week 7 performance, Brown had more targets, more reception, more yards, and more fantasy points per game than Wallace for the rest of the season. Pittsburgh rewarded Brown with a five-year, $42.5 million contract, and the team refuses to pay Wallace what he wants.
Wallace, who has been holding out and has missed the entire preseason, plans to rejoin the team this weekend. All he has to do from there is get into game shape and learn an entirely new offense with new formations and new terminology.
On average, Wallace (ADP – 31.8, 27.2, 38.4) is being drafted three to four rounds before Brown. Not only will I never take Wallace that high, I'll never draft him before Brown. Wallace's fantasy value, much like DeSean Jackson's, is dependent upon big plays. Pittsburgh's offensive line doesn't give Ben Roethlisberger enough time to make big plays, and Todd Haley's offensive scheme consists of quicker, shorter passes.
Brown thrives in space – just look at this play he made in Pittsburgh's second preseason game.
Brown only scored two touchdowns last year. While that might alarm you, it was a complete anomaly. Dwayne Bowe was the only other thousand-yard receiver to score less than six touchdowns last year (five), and despite having fewer catches and fewer yards than Brown, Vincent Jackson, Greg Jennings, and Dez Bryant all scored nine touchdowns. Laurent Robinson scored 11.
If Brown's touchdowns increase, then he's a borderline top-ten receiver. If his receptions and yards increase, as well, then he could be this year's Victor Cruz.
Players being drafted before Brown that I would select him over include Wallace, Stevie Johnson, DeSean Jackson, Jeremy Maclin, Jermichael Finley, Vernon Davis, Philip Rivers, and the San Francisco 49ers defense.
James Jones (ADP – 129.0, 152.9, undrafted)
James Jones, the slot receiver on the best passing team in the NFL, is currently being drafted after the punt/kick returner on the best passing team in the NFL; Randall Cobb (ADP – 121.1, 148.0, undrafted).
Cobb was the MVP of the season opener against New Orleans last year for returning a kick for a touchdown and catching a touchdown pass. He then promptly disappeared.
Regular Season Stats After Week 1:
| Player | Receptions | Yards | Touchdowns | Fantasy Points (ESPN standard) |
| --- | --- | --- | --- | --- |
| Jones | 37 | 634 | 7 | 99 |
| Cobb | 23 | 340 | 0 | 29 |
Clearly, Jones' receptions-to-touchdowns ratio is unsustainable, but whoever is in the slot for Green Bay is going to be productive. When I first saw that Cobb was being drafted ahead of Jones, I assumed he was getting more reps in the slot. On Thursday, while watching the Packers take on the Bengals, I noticed that Cobb did play in three-receiver formations, but that's because Finley's wife gave birth to a child that morning, and Jones is recovering from a slight injury.
Cobb only one pass with the starting offense, and is expected to drop down the depth chart Week 1.
If Cobb doesn't get reps with the first-team offense, then why is he getting drafted higher than Jones who has proven he has fantasy value? Cobb is explosive and has a lot of promise, but roster spots are extremely valuable. If you're going to draft a lottery ticket player in the last few rounds, he has to at least be on the field.
Jones may not be a week-to-week starter for you, but he's certainly a flex option. Players being drafted before Jones that I would select him over include Cobb, Donald Driver, Devin Hester, Plaxico Burress, Vincent Brown, and Chad Johnson.
-EV
Andre Johnson (ADP – 23.7, 14.6, 18.2)
When owners take Cam Newton in the second round of a mock draft, I cringe a little, but I understand the argument and Newton's upside - it's not an indefensible selection. When owners take Andre Johnson in the second round of a mock draft, I look for the nearest window and jump.
Not really, but it takes every inch of self-restraint to remain calm.
Did you know that in Johnson's nine years in the NFL he's never scored more than nine touchdowns in a single season? Since 2003, Johnson's rookie year, 48 players have scored double-digit touchdowns at least once. Eighteen players, including Joe Horn and Chris Chambers, scored double-digit touchdowns twice. Torry Holt, Reggie Wayne, Megatron, and Antonio Gates scored double-digit touchdowns three times. Terrell Owens, Marvin Harrison, and Larry Fitzgerald scored double-digit touchdowns four times. And last, but certainly not least, Randy Moss scored double-digit touchdowns five times, including in 2007, when he scored an NFL-record 23 touchdowns.
Johnson has also missed 12 games over the past two seasons because of injuries, and his receptions and yards have declined every year since 2008. There should be an uptick in 2012 – it's hard not to improve upon 33 receptions for 492 yards – but Johnson will struggle to put up elite numbers, meaning you shouldn't even consider touching him until the fourth round or later.
Even if Johnson is fully healthy and ready to give secondaries nightmares, he will not be as productive as other top receivers because the Texans are a run-first team. In 2011, Houston ran the ball 52.2 percent of the time (2nd most in the NFL), and they have two great running backs in Arian Foster and Ben Tate. There's no need to throw the ball to Johnson ten-plus times every week, especially if he's just going to crumble once he gets hit.
Sorry. That was a bit harsh, but it's true.
Johnson is the most overvalued player in fantasy drafts this year, and there is a zero percent chance that he'll end up on any of my teams.
Players that I would take ahead of Johnson that are being drafted after him include Roddy White, Greg Jennings, Jimmy Graham, Adrian Peterson and Jamaal Charles.
Victor Cruz (ADP – 21.8, 31.6, 33.4)
Victor Cruz is currently being drafted ahead of fellow Giant Hakeem Nicks (ADP – 33.0, 31.6, 34.7). That's insane, especially considering that Nicks' body of work spans over three seasons in which he averaged 67 receptions, 1,011 yards, and eight touchdowns.
Cruz's 82 reception, 1,536 yards, and nine touchdowns in his rookie season were impressive, but all three statistics could easily be outliers once his career is over. In six of the seven games Cruz had over 100 yards receiving, he recorded a catch of at least 68 yards or more. Some of these big plays were very fortunate, including this bobble catch he made in Week 5 against the Seahawks.
We can't discredit Cruz for his big-play ability, but it definitely increases the variance of his fantasy production. In four games on the playoffs, Cruz's longest reception was only 36 yards. Subsequently, he averaged just five receptions for 67 yards and .25 touchdowns. If Cruz averages less than 70 yards per game, and you selected him in the third round of your fantasy draft, then you're going to be in for a very long year.
I love Cruz as a football player. He has sure hands, he's dangerous in space, and "The Salsa" is the best touchdown celebration in the game, but for him to live up to his expectations this year, he has to mirror what he did last season.
That's a tremendously difficult task, even for elite receivers.
Next week, we'll take a brief look at tight ends, and I'll give you my top ten futures for the NFL regular season.
Need fantasy help at other positions? Then check out Part I: Quarterbacks and Part II: Running Backs.
Follow PokerNews on Twitter for up-to-the-minute news.