Pigskin Diaries: Looking into the Future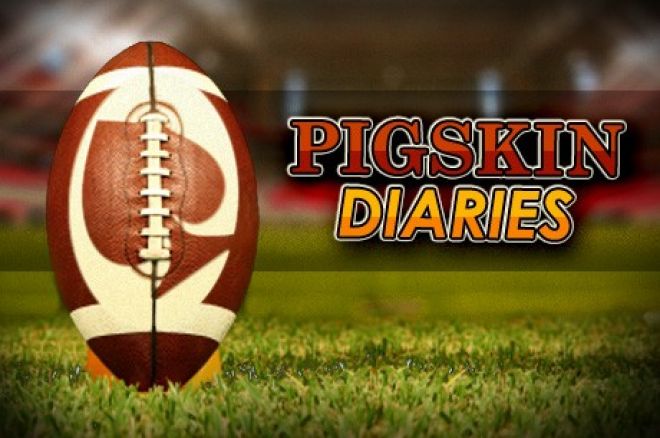 Over the past few weeks, the Pigskin Diaries has been dedicated to fantasy football. In the final preseason edition, however, we'll examine some of my favorite NFL future bets.
If you were looking for advice in regard to tight end, defense, and kicker, and if you're in a PPR league and think they're safe, then feel free to target either Rob Gronkowski or Jimmy Graham in the first two rounds. Other than that, wait on tight end because suffering a spleen injury, Jason Witten's average draft position has plummeted to 72.9 on average. He's a great value in the seventh round or later.
In regard to defense and kicker, go ahead and start flipping coins. In the middle of the season, we'll know which defenses are fantasy relevant, but right now we're just throwing darts. Take a defense in the penultimate round of your draft, and take a kicker in the last round. Easy game.
OK, on to the future bets! All of these lines were found on Bovada.lv, and are accurate as of 5 p.m. EDT on Aug. 30.
1. Arizona Cardinals UNDER 7 wins (-190)
If you read the Pigskin Diaries over the next five months, you will see the term "DVOA" pop up in every edition. DVOA is Defense-adjusted Value Over Average, and it's a statistical algorithm developed by the geniuses over at FootballOutsiders.com. Rather than use raw stats like total yards and total points, which are fatally flawed and overused, FO ranks teams based upon the opponents they've played. Scoring 30 points against the 2011 Indianapolis Colts isn't that impressive — the Colts ranked 26th in defensive DVOA — but scoring 30 points against the 2011 Baltimore Ravens is a whole other story — the Ravens ranked first in defensive DVOA.
With that brief description out of the way, let's focus on the Arizona Cardinals. According to DVOA, nobody overachieved more in 2011 than the Cardinals. Arizona finished 28th in total DVOA, 28th in offensive DVOA, and 20th in defensive DVOA, yet they finished with a record of 8-8. The two teams that flanked the Cardinals in total DVOA (27th Jacksonville and 29th Minnesota) finished 5-11 and 3-13 respectively.
How did the Cardinals win eight games? Arizona ranked 11th in special teams DVOA thanks to rookie Patrick Peterson. Peterson tied the NFL record for most punt-return touchdowns in a single season (4), including this 99-yard winner in overtime against St. Louis (28th in special teams DVOA).
Even if Peterson continues to ball out, the Cardinals have two very bad quarterbacks (Kevin Kolb and John Skelton) battling for the starting job, and their nondivision opponents this year are frightening: Bears, Packers, Lions, Vikings, Eagles, Falcons, Bills, Patriots, Dolphins, Jets.
2. Buffalo Bills UNDER 8 wins (+125)
The last time the Buffalo Bills won eight games or more (9-7), George W. Bush was entering his second term as President of the United States (2004-2005). They didn't make the playoffs, however; the Jets went 10-6, the Patriots 14-2. Last year, the Bills got off to an extremely hot start, beating Kansas City, Oakland, and New England in the first three weeks of the season. Buffalo averaged over 37 points per game in the process.
Things went south quickly, however, and Buffalo lost 10 of their last 13 games. After the season, rumors began swirling about Ryan Fitzpatrick, who allegedly suffered a rib injury against the Washington Redskins in Week 8. The Bills lost the next three games by a combined 80 points, and Fitzpatrick threw seven interceptions.
The Bills added two very good pass rushers to their defense in the offseason. Mario Williams (coming off of an injury) and Mark Anderson (10 sacks) will help them pressure the quarterback, but will they help the team win two more games? Can Fred Jackson, who broke out last year, continue to perform like a feature back? Was Fizpatrick hurt, or did he just fall back down to earth?
Buffalo is a trendy sleeper pick to grab a wildcard spot in the AFC, so we'll buck the trend and pick them to finish under .500.
3. Indianapolis Colts OVER 5 wins (-130)
Trust me when I say this: Andrew Luck is phenomenal.
When ESPN made a big deal out of his first touchdown "pass" to Donald Brown at the start of the season, I laughed. Heartily. The comparisons to Peyton Manning — who also threw a touchdown on his first NFL pass — began, and it looked as if the hype was spinning out of control.
Upon watching the tape, however, you realize the hype is real. This guy is good.
Luck's footwork is impeccable. He manipulates the pocket — which is going to collapse a lot this year because Indy's front five is lacking — and is capable of picking up big yards with his feet. Like an Aaron Rodgers, I expect Luck to rush for 300 yards or more and four or more touchdowns.
Luck's resilient. The Colts are going to struggle, and Luck is going to make mistakes, but you'll rarely see the rookie quarterback hang his head. In Indy's second preseason game, Luck threw a pick-six to Ike Taylor in the first quarter, giving the Pittsburgh Steelers a 14-0 lead. What did he do on the next possession? Orchestrate an 80-yard touchdown drive.
Luck's a winner. I love DVOA and think it's a great tool, but there's no way to measure intangibles. There's no way to measure "it." Well, whatever "it" is, Andrew Luck has boatloads of "it," and the Colts are going to flirt with .500 this year. If they had a real defense, I'd pencil them in for the playoffs without hesitating.
4. Washington Redskins UNDER 6.5 wins (EVEN)
Robert Griffin III is equally as talented as Luck, but he's certainly not as polished. RG3 still struggles with his footwork, tends to run rather than slide in the pocket, and drops his eyes at the sight of oncoming defenders. Can RG3 make some big plays when he escapes the pocket? Absolutely, but he could make even bigger plays if he simply slid in the pocket and delivered a good pass downfield.
Don't believe me? The next time you watch the Patriots, Packers, or Saints, watch how Tom Brady, Rodgers, and Drew Brees slide around in the pocket. The extra second or two they pick up by avoiding the rush helps receivers get open, and the space they create allows them to get set and deliver a good ball. Right now, when RG3 is met with oncoming rushers, he doesn't slide — he brings the ball down and tries to make a play.
Mike Shanahan is smart and plans to run a lot of play action to get RG3 out of the pocket and into open spaces. This will help, but the average NFL defensive player is much faster than the average college defensive player, and RG3 will struggle if he tries to tuck and run too frequently.
More importantly, the Redskins schedule is brutal. Outside of the six games they have to play against the Giants, Cowboys, and Eagles, the Hogs face the Falcons, Saints, Panthers, Ravens, Bengals and Steelers.
Good luck finding seven wins on that schedule.
5. Will the Cincinnati Bengals make the playoffs? Yes (+200)
Everybody called the Pittsburgh Steelers old and slow last year. They proved people wrong and finished with the seventh-ranked defensive DVOA. Now, before the 2012 season begins, I am calling them old and slow. James Harrison (34), Larry Foote (32), Troy Polamalu (31), Ike Taylor (32), Ryan Clark (32), Brett Keisel (33), and Casey Hampton (34) are all on the wrong side of age 30. In fact, the seven players have played a combined 74 seasons in the NFL.
Father time is coming, and when he strikes, it will be swift.
Rather than bet the Steelers to win fewer than 10 games (+110) or miss the playoffs (+155) though, let's jump on the up-and-coming team in the division: the Cincinnati Bengals. This makes sense for three reasons: we're getting a better price, the Bengals made the playoffs last year, and Andy Dalton and A.J. Green are a great offensive combination.
With a full camp under their belts, and the addition of veteran running back Benjarvus Green-Ellis (who has never fumbled in his career), why can't the Bengals win nine or 10 games again? The AFC is completely wide open outside of the Patriots, Texans and Ravens, and Baltimore isn't exactly a shoo-in because their defense is getting old (Terrell Suggs is injured and both Ray Lewis and Ed Reed are senior citizens), and we still don't trust Joe Flacco.
If the Bengals repeat what they did last season, they'll make the playoffs again. If they take a few steps forward, they'll win the division.
6. Who will win the NFC West? Seattle Seahawks (+325)
We believe the San Francisco 49ers are going to regress, so again, rather than bet against them (UNDER 10 wins (-145) or miss the playoffs (+195)), let's hop on a team in their division with upside — the Seattle Seahawks.
The Niners over-achieved in 2011. Of the four teams that won 13 or more games, they ranked the lowest in total DVOA (6th), and offensive DVOA (18th). Teams that ranked higher in offensive DVOA include the Raiders (14th), Titans (15th), and the aforementioned Bengals (17th). The Niners had a great defense (3rd in defensive DVOA), but of the top five defensive teams, only two made the playoffs: the Niners and the Ravens (1st).
The Jets (2nd), Bears (4th), and Jaguars (5th) all missed the playoffs. This is a passing league, and if you have a less than average offense, you're going to struggle.
That being said, we don't trust Alex Smith — who was horrendous for five seasons and injured for one — to win double-digit games again. I already told you that the Cardinals are going to stink, and the St. Louis Rams are rebuilding once again, so the only team left in the NFC West is the Seahawks.
TWELFTH MAN, BABY! RUSSELL-MANIA IS COMING FOR YOU, BROTHER!
7. Who will lead the league in passing yards? Matthew Stafford (+650)
The next three futures I've selected are very random. They will probably all miss, but if they hit, they'll hit big.
The Lions don't have a single healthy, nonsuspended running back who can carry the ball effectively for an entire game, let alone an entire season. Mikel Leshoure could potentially be a monster, but Detroit is going to throw the football. When they're done throwing, they're going to throw some more. And when they're finished throwing some more, they're going to continue throwing.
Calvin Johnson Jr. is terrifying, but if you shade coverage toward him, then who is going to cover Nate Burleson, Titus Young, and Brandon Pettigrew? Once he's fully ready, you can go ahead and throw Ryan Broyles into the mix, as well. That's a defensive nightmare.
If Stafford stays healthy, then he is a viable candidate to lead the league in passing. And of the four or five "elite" quarterbacks, he has the best price.
8. Who will lead the league in rushing yards? Darren McFadden (+800)
Darren McFadden ran for 393 yards in his first three games last year. One of those games was against the Jets (2nd in defensive DVOA). If you extrapolate that, McFadden was on pace to rush for 2,096 yards.
Is that a reliable method of projecting performance? Absolutely not.
But I'm just saying…
9. Who will lead the league in receiving yards? Hakeem Nicks (+1600)
I was contemplating printing out a bunch of pictures of wide receivers, sticking them to my wall, and blindly throwing a dart at them. But instead I eye-balled the receivers with greater than ten-to-one odds, and chose the one with the best quarterback not named Brady.
10a. Who will win the MVP? Tim Tebow (+10000)
10b. Who will win Super Bowl XLVII? New York Giants (+2200)
The Dallas Cowboys, who have one playoff win since 1996, have the same Super Bowl odds as the Giants, who have won two championships since 2007. The Ravens, Broncos, Bears, Texans, Eagles, and Niners all have worse odds than the Giants, with the Eagles going off at 11-1.
ELEVEN-TO-ONE.
I'm not picking the Giants to win the Super Bowl (Packers 38, Texans 10), but this is a great value pick.
For my first pick of the regular season, check my Twitter account before kickoff on Wednesday.
Follow PokerNews on Twitter for up-to-the-minute news.