Pigskin Diaries Week 3: More Love for Home Dogs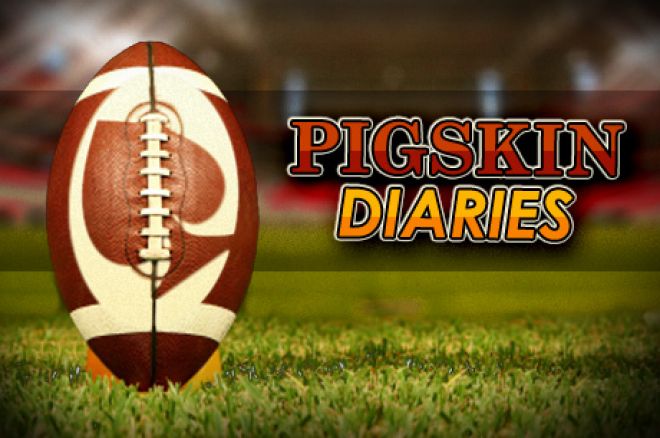 Using the lines we've picked against over the past two weeks, home teams in the National Football League are 18-12-2 against the spread (ATS). Home dogs are 8-3 ATS.
The home teams are dominating, perhaps because of the replacement officials, but this week we're fading a bunch of home favorites, including the Panthers last night because we still love the home dogs!
New York Jets @ Miami (+2.5)
According to Covers.com, the Dolphins opened as favorites at (-1). The line has moved more than a field goal — which is a lot in the NFL — and could move even more as we inch closer to game time.
The Jets have played roughly five quarters of good football. In Week 1, they demolished Buffalo, and in Week 2, Mark Sanchez led Gang Green down the field on their first possession and scored an easy touchdown on a slant pass to Santonio Holmes. After that the offense sputtered, scoring only three more points in the following 49 minutes and 24 seconds of game time. The defense also struggled, but mainly because Darrelle Revis, who was cleared for contact on Thursday, was out with a concussion.
Revis is back and should give the defense a much-needed boost, but can the offense execute well enough to win a tough divisional game on the road?
The Dolphins are frisky. In 2011, no team underachieved more than Miami, which ranked highest (18th) in total DVOA among losing (6-10) teams. They ranked just below Cincinnati, which made the playoffs, and above three .500 teams: Oakland, Denver, and Arizona. In Week 2, Miami played extremely well and did a very good job of protecting their rookie quarterback with both great blocking up front and play calling. The Dolphins ran the ball 43 times, and Tannehill targeted running backs on roughly 31 percent of passing plays. Expect more of the same this weekend. Miami knows that Rex Ryan will be dialing up the pressure, and they don't want Tannehill to be rattled.
If Miami is going to keep the ball on the ground, then all eyes will be on Reggie Bush, who had averaged 6.6 yards per carry in Week 2. In Bush's only game against the Jets in 2011, he averaged 7.1 yards per carry, but Miami abandoned the run after New York took an 11-point lead in the third quarter.
The Jets can win handily if Sanchez plays like he did against Buffalo, and like he did in the first quarter against Pittsburgh, but the only consistent thing about Sanchez is his inconsistency. Take the home dog.
Fantasy: Well hello, Brian Hartline. Nine catches on 12 targets for 111 yards is a fantasy owner's dream, and though I don't expect this kind of production every week, he seems to be Tannehill's favorite receiver.
Buffalo @ Cleveland (+3)
Like the first game we covered, this line opened with the home team favored by a point. Again, like the first game we covered, this line moved a lot, and the Bills are now three-point favorites.
I don't like it.
Brandon Weeden won't throw for 300 yards every week, but last Sunday he showed why Mike Holmgren spent a first-round pick on the 28-year-old rookie quarterback. He was accurate, his arm looked strong, and he successfully spread the ball around to eight receivers. Better yet, Trent Richardson ripped off 100 yards on 19 carries, caught four balls for 36 yards, and scored two touchdowns.
Buffalo's defense is much more competent than Cincinnati's (the Bengals secondary looks awful), but we're not asking the Browns to rack up 400+ yards of total offense. We just need Weeden and company to avoid turnovers and to move the ball in small chunks.
Ryan Fitzpatrick doesn't worry me, nor does Stevie Johnson, but C.J. Spiller terrifies me. Still, Buffalo's Week 1 road performance lingers in the back of my mind, and they were woeful on the road in 2011, finishing 2-5-1 ATS.
Fantasy: Did I mention that Spiller terrifies me? He's an electric back who catches the ball out of the backfield. Even if Fred Jackson is fully healthy in the coming weeks, expect Spiller to carry the majority of the load.
Kansas City (+8.5) @ New Orleans
I refuse to believe that the Chiefs running game is this bad. In Week 1, they moved the ball a little bit against Atlanta, but in Week 2, there were no holes for either Jamaal Charles or Peyton Hillis. Also, Hillis' goal line fumble was an absolute momentum killer.
What's the best remedy for a poor rush offense? A poor rush defense, of course!
Enter New Orleans.
As Jets linebacker Bart Scott once put it, the Saints can't stop a nosebleed. New Orleans ranks 32nd in rushing yards allowed (372), 32nd in rushing touchdowns allowed (5), and 20th in yards per attempt (4.4). When they're not defending the run, the Saints are busy not defending the pass — they rank 26th in passing yards allowed (550) and are among a select few teams who haven't intercepted a pass in the first two weeks.
The national pundits want you to believe that this will be New Orleans' bounce back game. Drew Brees and the Saints offense will get back on track (the total in this game is 53, the highest this week by four points), the Chiefs will go to 0-3 and peace will be restored in the NFC South.
I'm here to say that the Saints defense is horrific, and the Chiefs won't fall to 0-3 without a fight.
Fantasy: Don't give up on Charles and Hillis just yet, especially with this juicy matchup on the horizon. In fact, if you really want to deal them, wait until after Sunday. Their stock could rise significantly.
Jacksonville @ Indianapolis (-3)
In Andrew Luck we trust.
Tie game, half a minute left, on your own 20? No problem. Luck dissected Minnesota in the final seconds of last Sunday's game, completing three straight passes and moving the Colts all the way to the Vikings 35-yard line. Adam Vinatieri nailed a 53-yard field goal without breaking a sweat, and Luck won his first professional game.
Luck is a stud, and he's only going to improve.
On the other side of the ball, you have the Jaguars, who rank 32nd in total yards from scrimmage (472), 31st in pass attempts (294), and 30th in points per game (15). Granted they played arguably the best defense in the league (Houston) in Week 2, but even a simple eye test leads you to believe that Jacksonville is going to struggle to move the ball.
Last year, Jacksonville ranked fifth in defensive DVOA. Their defense was a saving grace. Thus far in 2012, their defense is performing just as poorly as their offense, ranking 29th in defensive DVOA (albeit a very small sample size). In Week 1, the Jaguars lost to the Vikings because they let Christian Ponder go all Andrew Luck on them in the fourth quarter.
In every road game the Jaguars play, they should be at least a field goal underdog. So, since the line doesn't favor Jacksonville, let's avoid them like they're the plague.
Fantasy: Last week, Donnie Avery looked like the second-round draft pick the Rams wanted in 2008. As long as Austin Collie is out, Avery will continue to get WR2 reps, and Luck will keep looking his way.
Tampa Bay (+8) @ Dallas
If you look up "public team," in the dictionary, there should be a giant picture of Jerry Jones wearing a cowboy hat next to it.
Despite winning only one playoff game since 1996, the Cowboys are still revered by the national media. Well, in their last 34 games, Big D is 12-21-1 ATS. At home, they're 5-11 ATS.
The Bucs are one quarter away from being 2-0 here in 2012, but Eli Manning went crazy in the fourth quarter of last Sunday's game, throwing for 243 yards and two touchdowns. Aqib Talib didn't look like the shutdown corner he once was, Ronde Barber looked very much like a 37-year-old veteran, and the entire front seven was shut down. Manning dropped back 51 times without being sacked.
This doesn't bode well for Tampa Bay, especially because Dallas can spread the ball around, but an eight-point line is simply too high. The Bucs want to run the ball and play good defense, which sounds exactly like Seattle's plan, that worked last week — and even if they lose, the backdoor cover is definitely in play.
I expect the Cowboys to win, but I don't expect Greg Schiano's squad to lose by more than a touchdown.
Fantasy: Kevin Ogletree didn't quite live up to the hype in Week 2, and if doesn't produce this week then consider him droppable.
St Louis (+7.5) @ Chicago
Behold, one of the most entertaining new Tumblr pages: Smokin' Jay Cutler.
The only thing worse than Jay Cutler's attitude in Chicago is Brian Urlacher's mobility. The 34-year-old linebacker looked like he was running on eggshells with two broken ankles against the Packers, and if he can't move around, then the Bears' Tampa-2 defense is useless. Chicago needs Urlacher to be able to drop back into coverage, especially against a team like St. Louis that likes to throw short slants over the middle.
To make matters worse, Rams WR Danny Amendola, who is virtually not coverable when he lines up in the slot, is a killer against zone coverage. Amendola is very capable of finding gaps, getting open, and making plays in space. Quarterback Sam Bradford looked great in Week 2, throwing for 300 yards for the fourth time in his career and three touchdowns for only the second time in his career.
The Rams feel like this year's 49ers. That doesn't mean they'll go 13-3, or reach the NFC Championship game, but they're a team that isn't very sexy, performed poorly last year, and has a new, fiery head coach in Jeff Fisher who'll get a full 60 minutes from his entire 53-man roster. Like Tampa Bay, St. Louis is a few plays away from being 2-0. And after playing tough in Detroit during Week 1, the team probably believes they can compete with anybody.
It's dangerous to try and fade teams that are confident and hungry, especially when the opposing team is rattled by in-fighting and led by an immature, turnover-happy quarterback.
Fantasy: As a three-down back, Michael Bush is a top-10, no-brainer RB1.
San Francisco @ Minnesota (+7)
Maybe I'll never learn my lesson.
I promise that I don't hate the Niners; I was just sticking to my preseason beliefs in Weeks 1 and 2, fading San Francisco because I thought they would regress. They haven't, and their offense looks very efficient, particularly Frank Gore who looks like the stud feature back he once was.
Still, we love home dogs here at the Pigskin Diaries, and we still don't want to trust Alex Smith. You can't make me forget his first six seasons in the NFL! You can't!
This pick is ugly. Christian Ponder will have to play great and Adrian Peterson will have to run hard if the Vikings are to cover, but if we're alone on an island, so be it. I'd rather stand by myself on a pick than be among the public bettors.
Fantasy: If you have Aaron Hernandez and Kyle Rudolph is somehow available, then scoop him up ASAP. If you have Randy Moss and you need to fill in other needs, then drop him ASAP.
Cincinnati (+3) @ Washington
No Brian Orakpo, and no Adam Carriker. Wide receiver Pierre Garçon is still limited in practice with a sprained right foot, cornerback Josh Wilson is recovering from a concussion, and safety Brandon Meriweather is hampered by a sprained left knee.
The Bengals defense really struggled last week, and they're without cornerback Dre Kirkpatrick, but I still like their front seven, which is key against Robert Griffin III. RG3 has been more successful on the ground than he has in the air through two weeks. The rookie quarterback has 20 rush attempts (the only quarterback who has more is Cam Newton, and Newton has played in three games) for 124 yards (19th most in the league, ahead of running backs such as Shonn Greene, Steven Jackson, and Jamaal Charles).
You may be thinking to yourself: "Wait a minute, hasn't RG3 thrown two long touchdown passes?"
Yes, this is very true; however, through two weeks, RG3 has completed just five passes that have traveled 20 or more yards in the air. On the contrary, he's thrown 39 completions that were made behind the line of scrimmage or less than 10 yards, making it quite clear that this is a short to intermediate passing attack.
The return of Carlos Dunlap is huge for Cincinnati, and he'll play a key role in pressuring and containing RG3.
On offense, the Bengals are a lot more explosive than you think. Obviously A.J. Green is a freak athlete, but fellow wide out Andrew Hawkins is one of the fastest players I've ever seen in pads. This guy flies.
Last week, Amendola reeled in 15 balls for 160 yards against the Redskins linebackers and secondary. If Hawkins can halve that production, the Bengals will be just fine.
Fantasy: I am so angry that I didn't pick up Hawkins after Week 1. He's now owned in literally every league I play, but he's still available in more than 90 percent of ESPN leagues. He's well worth a flier.
Detroit (-3.5) @ Tennessee
I read a short blurb on the ESPN AFC South Blog, saying that, "The Titans are urging patience" with regard to quarterback Jake Locker.
Patience, Mr. Locker. You'll be 0-3 soon enough!
Fantasy: Chris "CJ.021K" Johnson should only be in your starting lineup if (1) you must start three running backs, (2) your team is riddled with injuries (Matt Forte, Ahmad Bradshaw), (3) you're in a 12- or 14-team league, or (4) you forget to set your lineup on Sunday.
Philadelphia @ Arizona (+3)
Pittsburgh @ Oakland (+3.5)
OK, back to the home dogs.
I was much happier when the Cardinals were four-point dogs, but then again, I was very happy when the Raiders line moved from 2.5 to 3.5 — crossing the three-point threshold is very important.
The Philadelphia/Arizona line is baffling. In the preseason, I projected that the Cardinals would regress and I even offered it as one of my future bets.
Sidenote: I may or may not have actually made the play. That's just a rumor, though.
But after watching the first two games, you have to realize that their defense is for real. Darnell Dockett and Paris Lenon are nightmares up front. Adrian Wilson has been a play-making safety for the better part of the last decade. And Patrick Peterson is quickly becoming one of the best cover corners in the league.
The Eagles have not played well, but thanks to a few lucky bounces, they're 2-0 with an average margin of victory of one point. One point. They will also be without Jeremy Maclin (hip) on Sunday.
Let's take the hot team getting points at home rather than lay a field goal with the team whose average margin of victory, with several lucky bounces, is one point.
Fantasy: Denarius Moore is getting open, but Carson Palmer can't get him the ball. If this continues, Moore's fantasy value will be little to nothing.
Atlanta (+3) @ San Diego
If you've followed the Pigskin Diaries over the past year, then you'll know there are three quarterbacks I refuse to trust: the aforementioned Alex Smith, Joe Flacco, and Matt Ryan.
Well, Ryan hasn't taken the big leap everyone anticipated he would heading into the 2012 season, but he's still solid, and more importantly, the Falcons defense looks great. Even without Brent Grimes, the secondary was able to mix coverages and confuse Peyton Manning on Monday night, which isn't really the easiest thing to do. The defense forced three first-quarter interceptions en route to a 27-21 victory.
San Diego's two victories come against very suspect teams; the Raiders (whose long snapper botched three punt attempts) and the Titans (a terrible, awful team). Had the Chargers split those games, they'd definitely be less than a field-goal favorite, and we'd probably be taking them.
If you're afraid of the whole "East Coast Monday Night Team Traveling to the West Coast" thing, then don't play the Chargers. Bet the under on 47.5. It's the third-highest total this week.
Fantasy: It feels like Antonio Gates' absence last week was more precautionary than anything. He's been a full participant in practice this week, and should be inserted back into your fantasy lineup.
Houston (-1.5) @ Denver
Manning's lack of arm strength didn't surprise me last Monday. Anyone who watched him in the preseason or during Week 1 could see he has considerably less zip on his passes. I was surprised to see Manning try and throw 90 mph, which led to three quick interceptions.
Once Manning stopped trying to be a hero, the offense stabilized and the Broncos were able to move the ball effectively with thanks to running back Willis McGahee.
The Texans won't let McGahee run rampant, however in the first two weeks of the season, they kept both Reggie Bush and Maurice Jones-Drew from running 70 yards or more. Earlier this week I tweeted that the Texans will be a good team to bet against when they're big favorites (touchdown or more) because they refuse to stretch the field on offense. Well, when they're dogs or they're favored by a field goal or less, then they're a great play.
Matt Schaub doesn't need to throw the pill all over the field if they want to win by two points or more — a very heavy dose of Arian Foster and Ben Tate will do the trick.
Fantasy: Speaking of Tate, if you're in a bind then don't be afraid to start him at RB2 or FLEX, especially in PPR leagues. He won't get as many touches as Foster, but he will certainly carry a decent load, and last week Houston Head Coach Gary Kubiak rewarded him after a long run with a goal line carry.
New England @ Baltimore (-3)
The "Ravens No Huddle Offense" narrative may be the biggest farce in the NFL. Sure, the team is technically not huddling, but there is a lot of standing around between plays and the tempo isn't necessarily fast-paced. Prior to the Thursday Night Football game last night, Flacco was tied 11th in pass attempts (71), with just five more attempts than Schaub.
Only Washington and Seattle throw the ball less than Houston, and Schaub still only has five less attempts than Flacco.
Perhaps Baltimore wants to throw the ball more, but then what was the point of re-signing Ray Rice? If you're going to pay the man, then give him the ball. Rice, who had the third-most carries and the second-most rushing yards in 2011 (291, 1,364), has only 26 carries in 2012 (24th in the NFL, tied with Michael Bush).
Prior to Week 3, Bush was solely a change-of-pace back.
We get it Baltimore. You want to be like all the other big kids in school, but don't lose your identity. You have arguably one of the best running backs in football. Use him.
The Patriots looked very bad last week, especially the offense. The loss of Aaron Hernandez will force them to abandon their bread and butter two-tight end sets until either Hernandez is healthy or Kellen Winslow is up to speed with the offense. For now, the scorned Wes Welker will have to make a triumphant return if New England wants to compete against a tough Baltimore defense.
We'll lay the field goal and take the home team.
Fantasy: If you can grab him, Tom Brady is a terrific buy low, especially if the Brady owner in your league also owns someone like RG3 or Luck.
Green Bay @ Seattle (+3)
Since 2006, the Seahawks have played four games at home on Monday Night Football. They won all four games by a combined 104-37, shutting out two of their opponents.
We believe in Russellmania and the 12th Man.
Fantasy: Randall Cobb's Week 1 performance wasn't a fluke. Green Bay is extremely creative on offense, and they've lined him up in the backfield multiple times in both games. The Packers will get him his touches by any means necessary.
This Week: 1-0
Season: 16-15-2
All betting lines are courtesy of Covers.com, and are accurate as of Friday at 11:30 a.m. EDT.
Follow PokerNews on Twitter for up-to-the-minute news.