Pigskin Diaries Week 6: Stick to Your Guns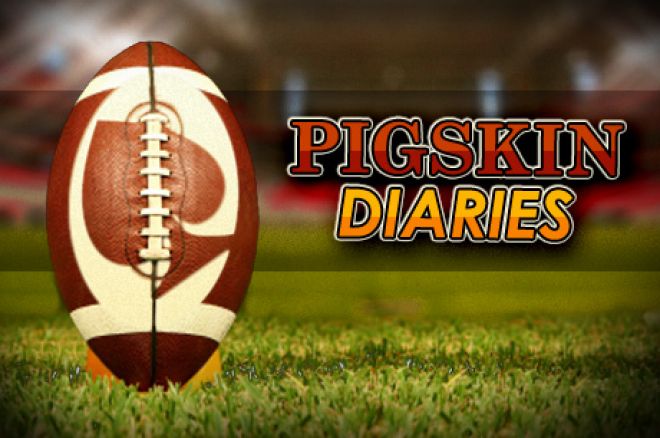 No two weeks in the National Football League are the same. Teams change, for better or for worse, as the season progresses. Players get injured. Coaches find themselves in the hot seat. And countless variables come into play when two teams line up against one another.
Still, if you've thoughtfully assessed a team or a player, it's important for you to stick to your guns. It's far too easy to react to a few games and change your thought process entirely.
Take the Arizona Cardinals. Before the start of the season, I listed Arizona under seven wins as one of my 10 favorite future bets. I also booked the bet in real life at (-190). Looking at the data from 2011, and the team's roster, it made sense that the Cardinals would regress. Despite ranking 28th in total DVOA, Arizona finished the season with an 8-8 record.
Only two other 8-8 teams finished the season ranking lower than 16th in total DVOA. One was the Denver Broncos, who won a playoff game thanks to Tim Tebow.
Well, Arizona began the 2012 season with four straight wins, and I started to buy in. Their defense is tough, and Patrick Peterson has developed into one of the top five cornerbacks in the league. But if they can't keep Kevin Kolb upright on offense, they can't win consistently.
Here's Arizona's DVOA rankings along with the teams they've played:

| Team | Result | Total DVOA | Offense | Defense | Record | ATS Record |
| --- | --- | --- | --- | --- | --- | --- |
| ARI | N/A | 14th | 27th | 7th | 4-1 | 3-2 |
| | | | | | | |
| SEA | W | 10th | 22nd | 3rd | 3-2 | 3-2 |
| NE | W | 5th | 1st | 17th | 3-2 | 4-1 |
| PHI | W | 17th | 24th | 6th | 3-2 | 2-3 |
| MIA | W | 12th | 19th | 5th | 2-3 | 3-2 |
| STL | L | 13th | 28th | 8th | 3-2 | 4-1 |
There are some impressive wins in there, but they've only played one team (the Patriots) with a top-18 offense. Four of the next five teams the Cardinals play are ranked in the top 12 offensively, and three of those are in the top seven: (Niners 3rd, Packers 5th, and Falcons 7th).
Had the schedule been different, Arizona could easily be 1-4 right now.
I bought into the hype. I stupidly laid 5.5 points with the Cardinals in Week 4. I stupidly laid points with them on the road for a Thursday Night Football game in Week 5. Stupid. Stupid.
If you have a really strong feeling about a team then stick to your guns. More often than not, if your assessment is well thought out, your gut decision is the right decision.
Including Thursday night's game, home teams are 39-37-2 against the spread (ATS), favorites are 32-44-2 ATS, home dogs are 19-10 ATS, and teams favored by seven or more points are 8-12-2 ATS.
Buffalo (+4.5) @ Arizona
You didn't think I was going to lead a column with anti-Arizona sentiments and then pick them, right? This is me sticking to my guns.
Fantasy: With Beanie Wells and Ryan Williams sidelined with injuries, Arizona will turn to LaRod Stephens-Howling and William Powell. Powell looks a little more athletic, but neither player should be in your long-term fantasy plans.
St Louis (+3.5) @ Miami
Our frisky Dolphins won outright on the road last week, but why are they giving the Rams an extra half of a point here? St. Louis is coming off of a big win at home over the formerly undefeated Cardinals, putting them above .500 for the first time in 93 games (November of 2006), and they're 4-1 ATS. Had Sam Bradford not thrown a terrible, awful, horrific pick-six in Chicago, St. Louis could potentially be 5-0 ATS.
In the past, I may have added that St. Louis has an advantage because they've had 10 days to rest, but teams coming off of a midweek game are currently 2-5-1 ATS. Is that a trend? It would certainly be a very interesting one because we've always been told that extra time off is good for the players. If Buffalo and Miami both cover this week, then there's a good chance I'll be picking against the Steelers and the Titans next week.
Watch carefully when Reggie Bush touches the ball this week, because on tape it looks like he's considerably less explosive after suffering a knee bruise against the Jets. If he gets injured, Miami will have to turn to Lamar Miller — Daniel Thomas suffered a concussion last week.
Fantasy: With Danny Amendola out, the receiver situation in St. Louis is bleak. I don't expect Brandon Gibson or Steve Smith to step up big any time soon.
Detroit (+3.5) @ Philadelphia
Dallas (+3.5) @ Baltimore
Kansas City @ Tampa Bay (-4.5)
All three of these teams are coming off a bye, and both the Lions and Cowboys are getting a key hook — 3.5-point dogs are currently 3-1 ATS. Both Detroit and Dallas have left a bad taste in bettors' mouths, going a combined 1-7 ATS in their first four games combined — we will happily fade the scorned public bettors.
For the record, I guarantee that we split these two games. Had I picked one favorite and one dog, we'd go 0-2. Now that's some seriously analytical stuff.
The Bucs are almost as frisky as our frisky Dolphins, but not quite. Tampa Bay is ranked 14th in defensive DVOA, and their defensive line is incredibly athletic, but the offense (26th in DVOA) is lacking. This pick isn't about Tampa Bay's offense or defense however, it's about Brady Quinn starting at quarterback on the road.
I didn't do the research, but I believe Quinn is 2-100 ATS on the road.
Fantasy: Don't quit on Doug Martin just yet. His production has been bad, LeGarrette Blount is getting goal line carries, and Josh Freeman isn't throwing to Martin, but better days are on the horizon. The kid is talented, I promise you.
Oakland @ Atlanta (-9)
Initially, I packaged the four bye teams together and began to cite the record of teams favored by a touchdown or more, but Oakland's secondary is that bad. The Raiders rank 31st in pass defense DVOA, and are giving up 148.9 yards per game to an opposing team's top two receivers.
Two of the duos (Mike Wallace/Antonio Brown, and Demaryius Thomas/Eric Decker) that Oakland has faced are really good, but the other two (Robert Meachem/Malcom Floyd, and Brian Hartlin/Davone Bess) are average at best.
This just in: Roddy White and Julio Jones make up the best wide receiver tandem in the league.
Fantasy: If you're really desperate — I mean really desperate — how about Harry Douglas? He's not great, his game logs aren't pretty, but there will be a lot of offense in the Georgia Dome.
Cincinnati (-2) @ Cleveland
This line opened at three points, and had it stayed there or moved the other way, I would've selected the Browns because home dogs are 19-10 ATS.
All home dogs aren't equal, however.
Home dogs getting less than a field goal at home are 6-4 ATS, while teams getting three or more points at home are 13-6 ATS. The Bengals are partially responsible for this — they covered as a 2.5-point road favorites in Week 4.
This isn't to mention that Cleveland was spotted two touchdowns last week against the Giants and still found a way to lose by 24 points. That's remarkable.
Fantasy: Andrew Hawkins has more targets than Andre Johnson, Vernon Davis, and Rob Gronkowski. He's a freak athlete, continues to be a solid WR3 option.
Indianapolis @ New York Jets (-3)
On Tuesday, after the Jets lost by six on the 666th career game of Monday Night Football, a good friend texted me Mark Sanchez's 2012 stat line: Six touchdowns, six interceptions, 6.6 yards per attempt, a long of 66 yards, and a passer rating of 66.6%.
Oh yeah, Sanchez wears number six.
The Mayans were right. Please save us, Tim Tebow.
On a more serious note, the Colts are a team Gang Green can beat. Indy is ranked 25th in total defense DVOA (21st against the pass and 23rd against the run), and the Jets will have Stephen Hill and Dustin Keller back in the line up on Sunday.
Andrew Luck's game-winning drive last week was awesome, and I've gushed over him all year, but coming off an emotional win at home this has "let down" written all over it.
Fantasy: Jeremy Kerley is a stud. Despite New York's passing woes, he's still a top-20 receiver in ESPN standard leagues. Kerley's a great route runner, he has sure hands, and is quick enough to make plays with the ball in his hand.
New England @ Seattle (+3.5)
There's a 60 percent chance of rain on Sunday in Seattle, Washington. This game is going to be ugly.
New England has shown they can play ugly, running for nearly 500 yards in their past two games, but against the Ravens and Cardinals they ran for a combined 167 yards. The Seahawks rank third in rush defense DVOA, and are the kings of ugly.
The biggest question mark is Russell Wilson.
Seattle ranks 24th in pass offense DVOA. Wilson's number is rarely called. At some point this season he will need to mature, even if it's by the slightest bit.
Let's take the home dog and hope for a lot of ugly.
Fantasy: If you can, try and buy low with Aaron Hernandez. He's making the trip to Seattle, and should be fully healthy by Week 7 or 8.
Minnesota (+2.5) @ Washington
New York Giants (+6.5) @ San Francisco
The Redskins received a gift last Sunday when Matt Ryan threw the ball right into Adam Carriker's bread basket and the sixth-year defensive end scored a touchdown. Unfortunately, they couldn't capitalize on the score, and lost at home.
Robert Griffin III took a hellacious hit to the head, something I've been warning you about for weeks, and was taken out of the game because of a concussion. If he passes the NFL's concussion test on Friday, which he's expected to do, he'll play on Sunday. I have no idea why Washington would play him immediately — with all of the injuries on defense, the Redskins have no shot of making a deep playoff run, and RG3's long term health is paramount if the franchise wishes to succeed.
I like the Vikings here because they're ranked second in rush defense DVOA and won't allow Washington to get away with their read option attack. On the other side of the ball, Minnesota has speed at the skill positions, which is a nightmare for Washington's 25th-ranked secondary.
In the second game, San Francisco is simply giving too many points. If this line was five or lower, I'd have to think a little harder, but there's no way I'm laying that many points against Eli Manning.
Fantasy: Well hello Rueben Randle. On tape, the only receivers that look better than Randle are Victor Cruz and Hakeem Nicks. The guy looks great.
Green Bay @ Houston (-3.5)
Denver (+1) @ San Diego
The Texans are a Joe McKnight kick return away from being 5-0 ATS. I'm all in on Houston, especially against teams like Green Bay who struggle to stop the run (16th in rush defense DVOA).
This week's Monday Night Football game is a critical AFC West matchup. In what looks to be a total toss-up between two mediocre teams, I'm going to take noodle-armed Peyton Manning. He still can't extend the field, but he's insanely accurate and efficient, and both Decker and Thomas can rack of the YAC.
Fantasy: Neither James Starks nor Alex Green are very appealing, especially against Houston.
This Week: 0-1
Last Week: 8-6
Season: 38-38-2
All betting lines are courtesy of Covers.com, and are accurate as of Friday at 11:30 a.m. EDT.
Follow PokerNews on Twitter for up-to-the-minute news.