Pigskin Diaries Week 7: Jim Harbaugh (-2)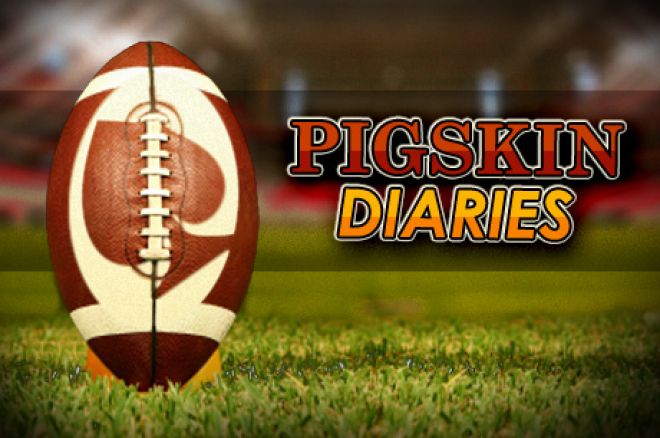 Dear NFL Commissioner Roger Goodell,
If anyone in your office still doesn't think gambling drives professional football, go back and check Twitter on Thursday night at 10:20 p.m. EST.
Signed,
Everybody.
The decision by San Francisco 49ers Head Coach Jim Harbaugh to decline the safety was legendary. From a game-theory standpoint, Harbaugh's decision made sense because botching the snap in the victory formation is very unlikely. From a gambler's standpoint, however, the decision was a little more polarizing.
PokerNews' Donnie Peters and I are in Hammond, Indiana, for the World Series of Poker Circuit stop at the Horseshoe Casino. We were watching the game at the bar, and when the safety was called, there was another guy at the bar wearing a Darrelle Revis jersey (his knee looked fine) who became very upset. I asked him if he had the Seahawks (+7.5), and he told me yes before storming off.
Bill Simmons' reaction on Twitter accurately sums up how all the bettors who took the Hawks felt:
Donnie and I began to get up from the bar, but all of a sudden, the chain gang was on the field to measure the spot. We were confused because the sound was off, and suddenly the two points were gone. Harbaugh had declined the penalty.
Again, let's turn to Simmons for the official Seahawks bettor's reaction:
Yesssssssssssssssssssssssssssss!!!!!!! One of the great moments in gambling history!!!!!

— Bill Simmons (@sportsguy33)
Our friend in the Revis jersey was long gone, and I'm pretty sure he made his bet online (which is good because you can't really rip up an e-ticket), but I'm sure the books in Vegas were a mess. In the blink of an eye, all the money swung from one side to the other.
With the cover, Seattle becomes the 55th underdog to do so. Using our Pigskin Diaries statistics, underdogs are now 55-35-2 against the spread (ATS) — an astounding 20 games above .500. This doesn't seem sustainable and I'm not a numbers cruncher so I can't determine the statistical significance on my own, but it says something about the parity in the league right now.
Just look at the AFC — there are seven teams with a 3-3 record and only two teams (Baltimore Ravens and Houston Texans) with winning records. Two teams.
We'll continue to lean on the dogs more than often, but it will only be a matter of time before the market readjusts itself.
First, let's address the four teams coming off of a bye.
New Orleans (-2) @ Tampa Bay
Dallas @ Carolina (+2)
Jacksonville (+4) @ Oakland
Detroit @ Chicago (-6.5)
Last week, all four teams coming off of their bye week covered. In Week 5, teams coming off their byes went 1-1 ATS. Is this 5-1 ATS trend real?
According to Bet Labs, a sports betting analytics site, since 2004, teams that have had between 13 and 15 days off (which is basically a bye) are 138-113 ATS. That's a winning percentage of 55 percent.
If you remove all of the underdogs, the record adjusts to an astounding 86-48 ATS. After neglecting the Oakland Raiders last week, I'm just going to take all four of the teams coming off a bye and be happy.
However, if I were to single out one game I'm uneasy about, it would be New Orleans laying two points in Tampa Bay. Home dogs are 21-10 ATS in 2012, and the Bucs are a frisky team, ranking 6th in total defense DVOA (13th against the pass and 1st against the run).
Fantasy: Don't bail on Doug Martin just yet. If you trade him, you're not getting the proper value, and if you bench him you're going to be sour. The Saints rank 28th in rush defense DVOA, and this could be the rookie's breakout game.
Baltimore @ Houston (-6.5)
The Texans are 4-2 ATS, and have been favored in every game they've played this season.
The Ravens are 2-4 ATS, and have failed to cover in their last four games.
The Ray Lewis injury isn't at serious as you think. Lewis isn't the sideline-to-sideline, gap-plugging linebacker you think he is. He's old and is more of a signal caller than anything. The injury to Ladarius Webb is huge, though, because Baltimore's base 3-4 defense requires cover corners. Without Webb, the Ravens will be lost.
Baltimore's defense is the epitome of average. They rank 17th in defense DVOA (17th in rush defense and 17th in pass defense). Last week, DeMarco Murray ran for 80 yards in the first half before suffering an injury. Just imagine what Arian Foster and Ben Tate are going to be able to do.
To succeed from here on out, the Ravens will need to win on offense. In Joe Flacco we do not trust.
Fantasy: Tate is a legitimate FLEX play this week, especially in point per reception (PPR) leagues.
Cleveland @ Indianapolis (-2)
The Colts are 2-1 ATS at home, beating both the Minnesota Vikings and Green Bay Packers outright. The only team they lost to was the Jacksonville Jaguars, who needed a miraculous 80-yard touchdown to Cecil "Salute My" Shorts in the final seconds of the fourth quarter.
Indy is a different team at home, and this is a nice bounce-back game after they were shellacked on the road in Week 6 by the New York Jets.
Conversely, the Cleveland Browns are coming off of a big win at home against a division rival. This has all the makings of a let down game. Trent Richardson will be forced to wear a flak jacket to protect his ribs after suffering a cartilage injury against Cincinnati, Travis Benjamin and Mohamed Massaquoi were limited in practice on Thursday with injuries, and Greg Little missed Thursday's practice with an illness.
Rookie receiver Josh Gordon has scored big touchdowns in the past two weeks, but he can't do it all by himself.
If Luck gets back on track this game, then the Browns will have to score in the high 20s if they want to keep it close. I can't trust Brandon Weeden and company to do this.
Fantasy: Donnie Avery should be owner in every fantasy league, and in PPR leagues with 12 or more teams, he's a sneaky FLEX play this week.
Green Bay @ St. Louis (+5)
Pittsburgh @ Cincinnati (+1.5)
The Rams opened as six-point dogs in some places, and I suggest that you keep your eye on this line because it could drop even more. The sharp money will be on the home dog.
There's a chance that the sharp money doesn't move the line though. Thanks to Green Bay's massive win on Monday Night Football, the public money will pour in on the Packers.
St. Louis is 5-1 ATS and I continue to love them week after week.
In the latter game, I think we'll continue to see regression from the Steelers. The defense isn't what it once was (24th in overall DVOA, 22nd against the pass, 20th against the run), and Pittsburgh is very thin at running back.
Prior to the season, one of my favorite future bets was on the Bengals to make the playoffs, and it had as much to do with Pittsburgh as it did with Cincinnati. This is a pivotal game for that bet, and I'll happily double down.
Fantasy: Darryl Richardson had 76 yards on 11 carries last week against the Dolphins, who are ranked fifth in rush defense DVOA. At some point this season, Richardson could replace Stephen Jackson as the number one back in St. Louis.
Tennessee @ Buffalo (-3)
Neither of these teams are very good. Buffalo (27th in total DVOA) is a little bit better than Tennessee (30th in total DVOA), and I trust the Bills playmakers (C.J. Spiller, Fred Jackson, and Stevie Johnson) more than the Titans playmakers (Chris Johnson, Kenny Britt, and the occasional Jared Cook/Nate Washington/Kendall Wright).
Defensively, Buffalo is ranked worse (31st in total defense DVOA compared to Tennessee's 28th-place ranking), but Tennessee ranks last in total offense DVOA. Matt Hasselbeck has looked miserable, and we all know about CJ0K's early season woes.
I will say that if Johnson ever finds himself on a team with a real offensive line, he will be much more effective. The Titans offensive line ranks 29th in run blocking per FootballOutsiders.com's Adjusted Line Yards.
I don't think either team has a clear edge in this game, and I hope that NFL fans in Buffalo and Tennessee have access to the Red Zone Channel.
Fantasy: Spiller is a no-brainer RB1 this week, and Jackson is a borderline RB2 with a ton of upside.
Washington (+6.5) @ New York Giants
Arizona @ Minnesota (-6.5)
Well hello, Robert Griffin III. That touchdown run was spectacular, and it was definitely needed in D.C. after the Washington Nationals collapsed at home against the St. Louis Cardinals in the ALDS. When he's healthy, RG3 is capable of anything, but in the back of my mind I still worry every time he tucks the ball and crosses the line of scrimmage.
The Giants aren't great against the run, their defensive line is built to pass rush, and their linebackers are very weak, but they're rarely exposed because Eli Manning is always putting up points. It's hard for teams to establish the run and ground and pound when they're down two touchdowns.
This feels like a letdown game for the G-Men, who just won a big game on the West Coast last week, and I think RG3 can give this defense nightmares.
As for the game in Minnesota, picking a team ranked last in Adjusted Sack Rate (Arizona) against Jared Allen seems like a very poor idea. Good luck staying upright, John Skelton.
Fantasy: If you play in a 10-team league, then don't hesitate to drop Pierre Garçon. There's no timetable for his return, which is never a good sign. He's not worth burning a roster spot unless you have an "IR" slot available.
New York Jets (+10.5) @ New England
This Week: 1-0
Last Week: 9-5
Season: 48-42-2
All betting lines are courtesy of Covers.com, and are accurate as of Friday at 11:30 a.m. EDT.
Follow PokerNews on Twitter for up-to-the-minute news.