Pigskin Diaries Week 10: The Return of the Favorites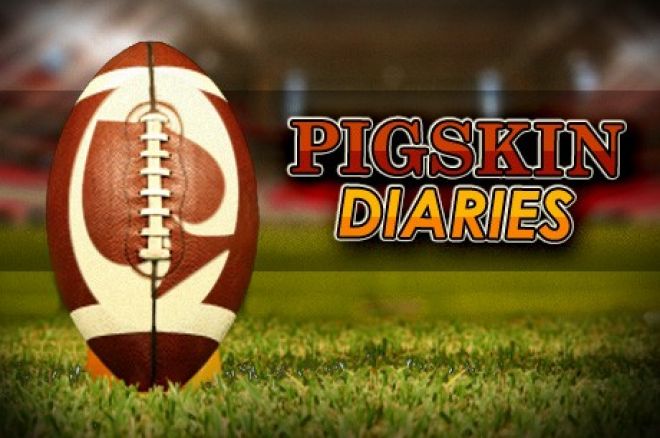 I picked this week's Thursday Night Football game incorrectly — it's too bad Blaine Gabbert wasn't benched earlier because Chad Henne actually looked half decent — so my season record is 71-59-2 against the spread (ATS).
Ironically, that's the exact record underdogs have ATS. 71-59-2.
Well, perhaps it's not ironic. Of the 132 NFL games played, we've backed the underdog 80 times (60 percent). With 71 covers, underdogs have racked up a winning percentage of 54.2 percent, which is just above the magical sports-betting threshold of 52.4 percent.
It's no secret that I like underdogs, and who can blame me? Since 1983, underdogs have covered in the NFL more often than favorites. In a league that promotes parity, this makes sense, but things are turning, it seems.
Since Week 7, the favorites are 24-17 ATS (58.5 percent). Road favorites have been even more impressive, going 9-2 ATS (81.8 percent). A 41- or 11-game sample size isn't large enough to make life-changing declarations, but it's a hat tip to say the least.
Including an insane 11-3-2 ATS record in Week 2 with the replacement officials, home teams are 58-72-2 ATS (44.3 percent). If we consider the recent success rate of favorites, particularly road favorites, then perhaps we should move away from picking home dogs that are getting less than a field goal. Perhaps we should move away from picking home dogs altogether.
Of course, each game is its own independent event, and no trend can be blindly applied to every game, but it's certainly something to keep in mind.
New York Giants (-4) @ Cincinnati
Atlanta (-2.5) @ New Orleans
Denver (-4) @ Carolina
The Broncos, Giants, and Falcons, are ranked third, seventh, and ninth respectively in total DVOA. All three teams are ranked in the top eight offensively, and both Denver and New York are in the top eight defensively as well. Atlanta is ranked 16th in total defense DVOA.
The Panthers and Saints are ranked 17th and 18th respectively in total DVOA, but both teams have major holes. Carolina, ranked 18th in total offense DVOA, has only scored four touchdowns in its last three home games. New Orleans, ranked 30th in total defense DVOA, can't stop a nosebleed, unless the nose is named Michael Vick.
On Monday night, the Eagles reached the New Orleans red zone five times. During those five visits, Philadelphia scored -1 points. That's not a typo.
Readers, I beg you to not believe the hype. This Saints team stinks. They're not "back," they don't have a "chip on their shoulder," they stink, and they simply ran into a team that stinks more than they do.
Atlanta has lost 10 of its last 12 games against New Orleans and will be in full "eff you" mode on Sunday.
Last week, the Bengals, despite intercepting Peyton Manning in the end zone and on the Denver 27-yard line, lost at home by eight points. Cincinnati is 0-3-1 ATS at home, and the Giants are coming off a tough loss at home. One of these teams is going to bounce back, and I think it's going to be Big Blue.
Fantasy: Matt Ryan, Roddy White, and Julio Jones could all have Doug Martin-like games this Sunday. I really think the Falcons are going to try and win by four or five touchdowns, and these guys are worth the big ticket in salary cap leagues.
Oakland (+7.5) @ Baltimore
Baltimore is ranked 21st in total defense DVOA (18th against the pass and 23rd against the run). They are not the Ravens of old. I can't stress this enough.
The Raiders aren't great, and will be without Darren McFadden this weekend, but this line is too high. Baltimore is 1-3 ATS at home, 0-1 when favored by a touchdown or more, and Oakland is 3-1 ATS as underdogs.
Despite giving up 251 rushing yards to Martin on last week, Oakland was still in the game in the fourth quarter. Carson Palmer is competent, Denarius Moore can make plays, Brandon Myers is a nice security blanket, and Marcel Reece is interesting coming out of the backfield.
Not only are we getting a touchdown, but we're getting the hook too. Done and done.
Detroit @ Minnesota (+2)
I don't feel very strongly about this game. These teams are neck and neck in total DVOA, with the Lions ranking 15th and the Vikings 16th, and both teams have their flaws. Detroit's secondary is lacking, ranking 27th in pass defense DVOA, and it gave up the fourth-most pass yards to opposing running backs. Adrian Peterson isn't the most prolific pass-catching back, but he and Percy Harvin can be very effective catching balls at the line of scrimmage.
Minnesota struggles to defend the pass, as well, ranking 21st in pass defense DVOA, and this could be a great opportunity for Matthew Stafford to return to top-five quarterback status.
The Vikings are 3-2 ATS at home, and have already defeated the Lions in Detroit. I like Minnesota, but barely. This is a stay-away game.
Fantasy: Mikel Leshoure isn't going to score multiple touchdowns every game, but being the running back on Detroit is very valuable. If Leshoure remains healthy, he will be a sold, top-15 fantasy back.
San Diego @ Tampa Bay (-3)
The Chargers are 2-4 ATS against teams that play their home games outside of Kansas City, Missouri. I was afraid that this line would be too high after Martin went nuts in Oakland, but thankfully there are people who still believe in Norv Turner and Philip Rivers.
I don't, especially against the Bucs who rank 13th in overall DVOA (13th in offense and 10th in defense). Best of all, Tampa Bay is ranked second in rush defense DVOA. Rivers will have to win this game for San Diego, which excites me.
Fantasy: I've never been a big Ryan Matthews supporter, and this is a really bad matchup. If I had C.J. Spiller, Ahmad Bradshaw, or BenJarvus Green-Ellis, I'd seriously consider leaving Matthews on my bench.
Buffalo @ New England (-11)
St. Louis @ San Francisco (-11)
Kansas City @ Pittsburgh (-11.5)
Jimmy Vaccaro, a spokesperson for William Hill North America, which sets lines for hundreds of sportsbooks in Nevada, called last week, "the worst single, regular-season, day I've ever seen."
The favorites crushed, public bettors smashed parlays, and Las Vegas Hotels Super Book vice president Jay Kornegay told Chad Millman on the ESPN Behind the Bets Podcast that it will take the books several weeks to recover.
With the Niners and Patriots coming off of a bye, and the Chiefs being completely inept in every way (32nd in total DVOA, 32nd in total offense DVOA, and 27th in total defense DVOA), it's hard for me to believe that any of these three underdogs can win outright. San Francisco and New England are ranked first and second, respectively, in total DVOA, and match up perfectly against their opponents. Buffalo (29th in pass defense DVOA) will struggle mightily to stop Tom Brady, and St. Louis (23rd in total offense DVOA) will find it nearly impossible to move the ball against San Francisco's defense (fourth in total defense DVOA).
The only dog in this trio that's even remotely enticing is St. Louis. The Rams are 5-3 ATS and are frisky, but they're also just 2-2 ATS in games outside of the Edward Jones Dome.
I say lay the wood. Everything will feel a lot better once these teams get up 7-0 in the first quarter.
Fantasy: Danny Amendola will start this weekend after suffering a shoulder injury a few weeks into the season. He is a very solid WR3 with WR2 potential in PPR leagues.
Tennessee (+6) @ Miami
New York Jets (+6) @ Seattle
The Dolphins are my favorite mediocre team in the NFL, and I strongly believe that, with their schedule, they could've won 10 games with Matt Moore at quarterback. That being said, this line is way too high.
The Titans were absolutely smacked last week by the Bears, burning an irremovable image of terribleness in the public's memory. Miami's defense is solid (11th in total DVOA, 14th against the pass, and third against the run), but it's not the Chicago defense and what happened last Sunday in Tennessee isn't replicable no matter how bad Matt Hasselbeck or Jake Locker (whoever starts) plays.
Miami will probably win, but not by a touchdown or more.
Despite traveling cross-country, the Jets are coming off a bye and have had a chance to hit the reset button. I don't expect them to come out and look like a completely difference team, but a week away from football had to help Mark Sanchez and company mentally.
Russell Wilson has looked great the past few weeks, but the offense is still limited. Seattle ranks 32nd in passing yards per game and 12th in pass offense DVOA. The Seahawks, like Miami, will find a way to win, but I don't expect them to win by a touchdown or more either.
Fantasy: Shonn Greene will struggle this week, but I think you should buy low on him heading into Week 11. In the fantasy playoffs (Weeks 14, 15, and 16), the Jets play the Jaguars (28th rush defense DVOA), Titans (24th rush defense DVOA), and Chargers (15th rush defense DVOA).
Dallas (-1.5) @ Philadelphia
Your guess is as good as mine. Seriously, I'm not touching this game with a 500-yard pole. Stay away, unless you somehow know whether or not Vick or Tony Romo will implode more than the other.
Fantasy: I continue to believe that Miles Austin is more valuable than Dez Bryant, and Bryant's injury makes this decision even clearer. As for Philly, DeSean Jackson and LeSean McCoy are the only players you can trust. Jeremy Maclin only has one game this season with more than 39 yards receiving. That's horrendous.
Houston (+1) @ Chicago
Everyone, including President Barack Obama, is praising the Bears defense, and rightfully so — they're the top ranked defense in total DVOA.
The Texans are also a great defense, ranking second in total defense DVOA, and have a much more efficient offense than Chicago. Houston ranks ninth in total offense DVOA, Chicago ranks 25th, and Arian Foster is arguably the best running back in football.
It wouldn't surprise me if Chicago won this game by three to six points. If they won by a touchdown or more, my eyebrows would be raised. If Houston wins by more than a touchdown however, I wouldn't be too shocked. Their defense may not force as many turnovers as Chicago's but it's suffocating. This game has Texans 21 Bears 10 written all over it.
Fantasy: If you're an Arian Foster owner, and you don't own Ben Tate, then why not try and buy him low? He's coming off of an injury, and you could probably move a RB4 or even a WR4 for him. You don't want to be crushed by a freak injury as we head down the stretch.
This Week: 0-1
Last Week: 6-8
Season: 71-59-2
All betting lines are courtesy of Covers.com, and are accurate as of Saturday at 9:00 a.m. EDT.
Follow PokerNews on Twitter for up-to-the-minute news.