Pigskin Diaries Week 11: The Good, The Bad, and The Ugly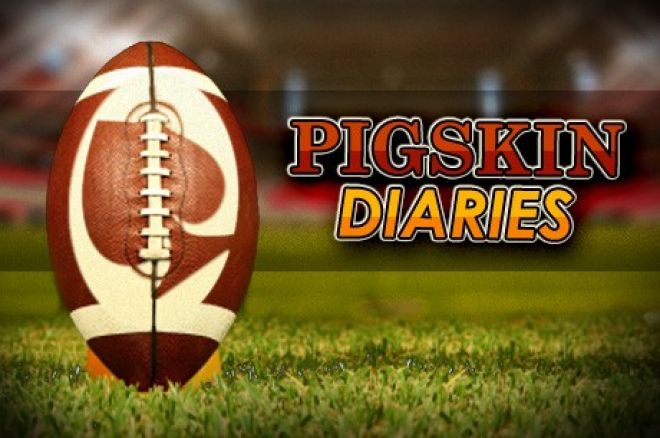 The good, the bad, and the ugly.
I unsuccessfully did this bit last year, but it wasn't a failure because the content was lacking — my picks were a whopping 4-9 against the spread (ATS).
That's yucky.
Don't worry readers, I'm not results oriented, although I will say that I've been postponing this bit until I could examine the 2012 Pigskin Diaries:
The Good: Through 10 weeks, we're 77-67-2 ATS (53.4 percent). That includes a four-week winning streak that climaxed with a 10-4 record ATS during Week 8. We've already won one of our future bets (Indianapolis OVER 5 wins), and we're in decent shape to pick up a few others (Buffalo UNDER 8 wins, Washington UNDER 6.5 wins, and Cincinnati makes the playoffs).
The Bad: Since Week 5, I'm 1-6 ATS on Thursday Night Football. One and six. Part of the problem is that the favorites have covered the past three weeks (prior to Week 8, favorites were 1-5 ATS on Thursday), and part of the problem is that Thursday Night Football games are just weird to handicap. One would think that the home team (unless the road team is coming off of a bye) has a distinct advantage because they don't have to travel on a short week. Well, with Buffalo's win on Thursday, home teams are now 5-5 ATS on Thursday Night Football. It's a dead heat.
Likewise, the games look completely different on Thursdays. The players look sluggish, the execution is off, and for some reason, weird things tend to happen. In Week 2, Green Bay ran a fake field goal pass that resulted in a touchdown. In Week 7 we saw the safety that wasn't, when San Francisco Head Coach John Harbaugh chose to decline a holding penalty in the end zone. In Week 9 San Diego scored defensive touchdowns on back-to-back possessions in the fourth quarter. And in Week 10, for the first time in the history of football, a fan base said, "Thank god Chad Henne is at quarterback."
The Ugly: The return of the favorites. The return of the favorites? THE RETURN OF THE FAVORITES???
What the hell is this, the Squareskin Diaries? The Eat Chalk Diaries? The Phil Hellmuth's Awful Las Vegas Hilton SuperContest Picks Diaries?
Seriously, Phil, stick to winning all the bracelets. If you keep betting sports and playing open-faced Chinese poker, you might end up like T.J. Cloutier one day.
Back to our regularly scheduled programming: THE RETURN OF THE FAVORITES???
Dogs win in the NFL, particularly touchdown dogs, and they do so consistently. Legendary NFL Commissioner Pete Rozelle introduced parity to the league years ago, and when Paul Tagliabue succeeded Rozelle, he successfully crammed "parity" down our throats. Now, Czar Roger Goodell bangs the parity drum for the front office, but doesn't bang the drum too loudly in fear of potential head drama.
Goodell is pulling every string to extend the season to 18 games however. Go figure.
The favorites aren't back. This is a week-to-week league, and every matchup is an independent event with various factors at play.
I feel more focused than ever, and I'm ready to crush the next seven weeks of regular season games. Let's get it going with this week's slate!
New York Jets @ St. Louis (-3.5)
The Good: With another cover last week, the Rams are now 6-3 ATS. What's more impressive is the three teams they failed to cover against were Chicago (5th in total DVOA), Green Bay (4th in total DVOA), and New England (2nd in total DVOA). Sam Bradford is still inconsistent at times, but he's certainly no Mark Sanchez. Barring a few hiccups last week, St. Louis should've won outright in San Francisco.
The Bad: Excluding a miraculous win in Miami thanks to two missed field goals by Dan Carpenter, the Jets have only beaten teams with terrible defenses. Gang Green picked apart Buffalo (31st in total defense DVOA) and Indianapolis (32nd in total defense DVOA) at home but were demolished by teams like Seattle and San Francisco, which are both ranked in the top six for total defense DVOA. The Rams are ranked 10th in total defense DVOA, and ninth in pass defense DVOA. Good luck, Sanchez.
The Ugly: Fans outside of New York or St. Louis may not know who the offensive coordinator of the Rams is. Well, his name is Brian Schottenheimer, and he received all of the blame in the off-season for the Jets' offensive woes. During his six seasons as offensive coordinator of Gang Green, the team ranked 12th, 22nd, 18th, 22nd. 16th, and 21st in total offense DVOA. That's certainly nothing to write home about, but currently the team ranks 28th in total offense DVOA. Part of that has to do with the injury to Santonio Holmes, and the early season absence of Dustin Keller, but the fact remains that the Jets offense has been worse without Mr. Schottenheimer.
In the six years prior to hiring Schottenheimer, the Rams offense ranked 14th, 31st, 32nd, 32nd, 30th, and 32nd in total offense DVOA. They now rank 19th.
Having watched Brian on the sidelines for six years, I know how fiery he is. This has, "Eff You Sanchez, Ryan, Tannenbaum, and Johnson" written all over it.
Fantasy: Danny Amendola is an absolute stud. If you held on to him during his injury like I did, then you're about to be rewarded in the fantasy playoffs. He's a must-start, even in non-PPR formats.
Jacksonville (+15) @ Houston
The Good: The Jaguars are a perfect 1-0 ATS in 2012 as two-touchdown underdogs.
The Bad: For the second time this season, the Jaguars are two-touchdown underdogs.
The Ugly:: The Sunday Night Football game between Houston and Chicago was unwatchable. I think Matt Schaub just went three-and-out again.
Fantasy: We love ourselves some Cecil "Salute Your" Shorts, but Laurent Robinson looks intriguing. He's finally fully healthy, and Justin Blackmon continues to look worse and worse.
Cleveland (+7.5) @ Dallas
The Good: Rob Ryan is a genius. His brother Rex gets all the attention because he's a head coach in the biggest market in the league, but Rob did something last Sunday that was absolutely brilliant.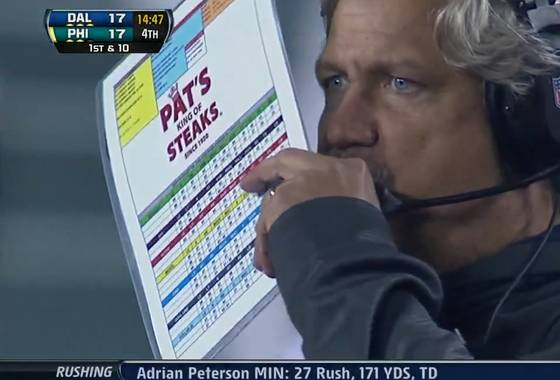 Photo courtesy of USA Today
What a great use of advertisement space! I'll take the over on 6.5 cheese steaks consumed by Rob Ryan prior to his departure from Philadelphia on Sunday night.
The Bad: So Dallas beats a bad Philadelphia team with a very shaky backup quarterback who threw a pick six and fumbled in the end zone, resulting in another defensive touchdown, and suddenly they're a great team? This line opened at (-9.5), which is insane, and it immediately dropped to what it is now. As long as the Browns are getting a touchdown and the hook, I like their side.
The Ugly: Dallas is 0-3 ATS at home, and 0-1 ATS when favored by a touchdown or more. The Browns are 2-1-1 ATS when getting a touchdown or more.
Fantasy: If you were rolling with Martellus Bennett, Kyle Rudolph or Dennis Pitta at the start of the season, and you're frustrated, try and grab Jason Witten. With Witten's preseason spleen injury there's a chance he's on someone's bench, and since Week 4, he's had no less than six catches for 44 yards each week, including two monster double-digit catch, 100-yard performances.
Cincinnati (-3.5) @ Kansas City
The Good: You did it, Kansas City! You finally had a lead!
The Bad: Oh wait. They lost? To Byron Leftwich? The 32-year-old quarterback with the longest release in NFL history?
The Ugly: The Chiefs rank 31st in total DVOA, 24th in total defense DVOA, and 32nd in total offense DVOA. They're 1-3 ATS at home and 1-2 ATS at home as underdogs. They stink.
The Bengals came up with a big win at home last week against the Giants. With the injury to Big Ben, San Diego stinking, and Miami losing three straight games, the path to the playoffs has never been more clear for Cincinnati.
Fantasy: This is a huge shot in the dark, but Mohamed Sanu is very interesting. Cincinnati drafted Sanu in the third round this year to eventually be the Y receiver across from A.J. Green, so they want to get him more involved with the offense. Last week, Andy Dalton targeted him six times, resulting in four catches for 47 yards and a touchdown in the red zone.
He's athletic, he looks good on tape, and they want to use him. That's a very good combo for fantasy owners in deeper leagues.
Philadelphia @ Washington (-3.5)
The Good: Rookie quarterback Robert Griffin III has had two weeks to rest. Two weeks to get into the cold tub, get massages, sleep, watch tape, increase his knowledge of the playbook, and prepare for the Eagles. In 2012 alone, rookie quarterbacks are 2-0 ATS after their bye week.
The Bad: Coming from the Greater Philadelphia Area, I can tell you that something like 90 percent of Eagles fans have been clamoring for Nick Foles to start. Shockingly, the 10 percent who didn't blame Michael Vick understand that Foles is a heavy-footed passer who's never seen an NFL defense, and that he's going to be playing behind a horrific offensive line.
The Ugly: There's a good chance that Andy Reid will be fired before Christmas. Reid has made some questionable decisions in Philly, and his game management isn't up to par, but he's 129-87-1 (60 percent) as the head coach. He won the NFC East seven times, reached the conference championship game five times, and reached the Super Bowl once. That's impressive.
Fantasy: Pierre Garçon is going to try and play this weekend, but if he can't, the Skins are going to shut him down for the season. If you've held on to him, this is his last chance to remain fantasy relevant.
Green Bay (-3.5) @ Detroit
The Good: Green Bay is ranked fourth in total DVOA, second in total offense DVOA, and seventh in total defense DVOA. Green Bay has only been favored by less than five points once this season, and they were totally jobbed in Seattle. You have an opportunity to take Aaron Rodgers giving three-and-a-half points. Do it.
The Bad: The Lions rank 25th in total defense DVOA, but more importantly, they're ranked 29th in pass defense DVOA. Detroit can't cover anybody, and now they have the 2011 MVP coming to town to play inside the dome. The Lions are 1-2 ATS at home, losing outright to Minnesota, and are getting way too many points in this game.
The Ugly: We give Rodgers a lot of praise here at the Pigskin Diaries, but he's coming off as a softy in this 60 Minutes beef. You're sensitive. We get it. Now go out and throw some touchdowns.
Fantasy: Jordy Nelson is expected to start on Sunday for the Packers. As both a Nelson and a Greg Jennings owner in a handful of leagues, it's been really frustrating to watch Randall Cobb and James Jones flourish in the Green Bay offense. Nelson, who probably shouldn't have even played in Week 9, and aggravated an injury in the first quarter, has had two weeks to rest, and should bounce back strongly against a bad Detroit secondary.
Tampa Bay (-1) @ Carolina
The Good: Don't look now, but Tampa Bay is ranked eighth in total offense DVOA. The loss of Carl Nicks still looms over the offensive line, but Josh Freeman has successfully rebounded from a sophomore slump, Vincent Jackson is stretching the field, and Doug Martin is an absolute beast.
The Bad: Last week, it looked like Carolina was going to upset Denver at home. They took a touchdown lead in the first quarter, but proceeded to give up six consecutive scores to the Broncos. Peyton Manning and the Broncos offense deserve a ton of credit, and so too does the replay official who didn't overturn this, but the Panthers defense continues to struggle.
The Ugly: The Carolina running game is nonexistent. The team ranks 21st in rush offense DVOA, and their team leader is Cam Newton with 354 yards.
Fantasy: If you need to play a Carolina running back, it's Jonathan Stewart. He's slightly more dependable than D'Angelo Williams, but not by much.
Arizona (+9.5) @ Atlanta
The Good: Teams getting a touchdown or more are 20-14-2 ATS in 2012.
The Bad: The Falcons are 2-2 ATS at home and needed last-second field goals to beat Oakland and Carolina.
The Ugly: I've never trusted Matt Ryan. For some reason, I did last week, and I lost a ton of money. I can't wait to bet against Atlanta in the playoffs.
Fantasy: Michael Turner had three carries on the one yard line during three separate drives against New Orleans. He failed to score on all three attempts. Jacquizz Rodgers will be fantasy-relevant very soon.
New Orleans @ Oakland (+4.5)
The Good: In Darren Sproles' absence, Chris Ivory has looked terrific. His long touchdown run last week should've been cut short by Asante Samuel, who didn't contain, but he's running really hard. Drew Brees is awesome, but even the best quarterbacks need a running game to keep things moving smoothly.
The Bad: The Raiders have been outscored by a total of 45 points the past two weeks. Why isn't that "The Ugly," you ask?
The Ugly: I'm sticking to my guns. New Orleans still stinks. They're still 30th in total defense DVOA and 31st in pass defense DVOA. Carson Palmer has thrown for over 780 yards over the past two weeks.
Fantasy: Palmer and Denarius Moore are both very enticing plays. Don't reach if you don't have to, but they're both great bye week fill-ins.
Indianapolis @ New England (-9)
The Good: For how bad the Patriots defense has played, their offense is still ranked first in total DVOA. They get leads and they extend leads, especially against bad defenses.
The Bad: The Colts rank 32nd in total defense DVOA, 32nd in pass defense DVOA, and 31st in rush defense DVOA. On the road, Indy is 2-2 ATS, losing outright to the terrible Jets. Andrew Luck hasn't performed as well on the road, and New England isn't an easy place to pay.
The Ugly: Bill Belichick is devious. He pretends to be unaware of NFL headlines and trends, but he knows everything about everything. He wants to crush Luck like a little bug, and will look to feast on the league's worst pass defense.
Fantasy: If Brandon Lloyd doesn't have a big week this week, then it's time to drop him out of the top 25. He's been a total disappointment thus far.
San Diego @ Denver (-7.5)
The Good: Teams facing a coach-quarterback combination of Norv Turner and Philip Rivers.
The Bad: Norv.
The Ugly: Rivers. That fourth-quarter pick six was absolutely mind-boggling. The end is near for these two in San Diego.
Fantasy: Do you hear that? Listen closer. That's the sound of all of the Ryan Matthews apologists not saying a peep. Matthews is a serviceable running back, but he's not in the same conversation as Adrian Peterson, Arian Foster, and company.
Baltimore @ Pittsburgh (+3.5)
Chicago (+5) @ San Francisco
The Good: What a great lineup of prime time games! Even without Big Ben, every Ravens and Steelers game is an absolute slobber-knocker. Even though both teams aren't performing as well as expected (as some expected, I should say), the effort level is going to be sky high.
Out in San Fran, the Bears are coming to town after a very weird game. The Niners are coming off an equally weird tie. Both teams need to bounce back.
The Bad: Three of the four quarterbacks in these two games were injured last week. Two of them (Jay Cutler and Alex Smith) look like they're going to start, while Roethlisberger is out. Ironically, I don't think there's a huge difference between Cutler and backup Jason Campbell, and with a week or two to practice, Colin Kaepernick would put the fear of God into me. Leftwich on the other hand is the exact opposite of Big Ben, and the Steelers will have to tailor their offense to his abilities.
The Ugly: Picking Leftwich. I think Chicago's defense will keep them in the game no matter who plays quarterback, but I can't honestly tell you why I like the Steelers on Sunday Night Football. They can control the clock and the ball with Jonathan Dwyer and Isaac Redman, but Leftwich will need to make a few plays to keep the Baltimore defense honest.
Maybe I hate Joe Flacco that much. Here's looking at you, Christian Harder.
Fantasy: Kaepernick needs to be owned in all leagues. If he becomes the Niners quarterback at any point this season, he's a borderline top-ten guy.
This Week: 0-1
Last Week: 6-8
Season: 77-67-2
All betting lines are courtesy of Covers.com, and are accurate as of Friday at 10:00 a.m. EST.
Follow PokerNews on Twitter for up-to-the-minute news.