Pigskin Diaries Week 14: Complete Teams
According to FootballOutsiders.com's Defense-adjusted Value Over Average rankings, the Seattle Seahawks are the most complete team in the NFL. Seattle ranks fourth in total DVOA, fifth in total offense DVOA, sixth in total defense DVOA, and third in total special teams DVOA. The Denver Broncos are the only other team that ranks in the top ten in all four categories – the three other teams ranked in the top five for total DVOA (New England, San Francisco, and Green Bay) all have at least one flaw.
The Patriots rank 18th in total defense DVOA, the Niners rank 23rd in total special teams DVOA, and the Packers rank 12th in total special teams DVOA.
How much does balance matter? Let's look at the Super Bowl winning teams since 2000:
Super Bowl Winners Since 2000

| Year | Winner | Total DVOA | Offense | Defense | Special Teams |
| --- | --- | --- | --- | --- | --- |
| '00-'01 | Baltimore Ravens | 3rd | 22nd | 2nd | 3rd |
| '01-'02 | New England Patriots | 11th | 11th | 13th | 6th |
| '02-'03 | Tampa Bay Buccaneers | 1st | 20th | 1st | 9th |
| '03-'04 | New England Patriots | 4th | 14th | 2nd | 16th |
| '04-'05 | New England Patriots | 2nd | 3rd | 7th | 16th |
| '05-'06 | Pittsburgh Steelers | 4th | 8th | 3rd | 10th |
| '06-'07 | Indianapolis Colts | 7th | 1st | 25th | 25th |
| '07-'08 | New York Giants | 14th | 18th | 13th | 20th |
| '08-'09 | Pittsburgh Steelers | 4th | 21st | 1st | 23rd |
| '09-'10 | New Orleans Saints | 6th | 2nd | 17th | 28th |
| '10-'11 | Green Bay Packers | 4th | 7th | 2nd | 26th |
| '11-'12 | New York Giants | 12th | 7th | 19th | 15th |
| Average | —empty— | 6th | 11th | 8th | 16th |
All of the averages were rounded down.
I'm not sure the "average" category is relevant, but I wanted to include it because I was interested in seeing what it would be. Just looking at the table, special teams seams to be the least important phase of the game – although don't tell that to the 2011-2012 San Francisco 49ers – and surprisingly, defense trumps offense by the smallest of margins.
The margin would've been even smaller if the Patriots had defeated the Giants in Super Bowl XLII. No team ranked outside the top 14 in total DVOA has won the Super Bowl since 2000, meaning Pittsburgh (15th) and Indianapolis (28th) are on the outside looking in, and more than half of the teams finished the season ranked in the top four.
Currently, the top four teams are New England (+450 to win the Super Bowl), Denver (+500), San Francisco (+500), and Seattle (+2500) in that order. We know that Brandon Browner is out for the next four games, but if the Seahawks can make the playoffs and have Browner and Richard Sherman – who is still waiting for his appeal to be heard – on the field, they are a great value pick.
Two teams I would never bet on to win the Super Bowl are Atlanta (+550) or Baltimore (+1500). Despite having a combined record of 20-4, these two teams rank ninth and tenth respectively in total DVOA, and neither Joe Flacco nor Matt Ryan have proven themselves to be dependable in the playoffs.
Let's make some picks!
Atlanta @ Carolina (+3.5)
Speaking of the Falcons, did you know that they're 7-1 this season in games decided by seven points or less? They were also 7-1 in such games in the 2010 regular season before getting spanked by the Packers in the Divisional Round of the playoffs. Atlanta has played well on the road, and is 4-1-1 ATS when away from the Georgia Dome, but three of those covers (Kansas City, Philadelphia and San Diego) came against teams ranked 23rd or worse in total DVOA.
The Panthers aren't the prettiest team in the league, and they're 1-5 ATS at home, but they match up really well against the Falcons. Cam Newton, DeAngelo Williams, and Mike Tolbert can really exploit Atlanta's 28th-ranked rush defense DVOA.
The last time these two teams met, Carolina could've won outright in the Georgia Dome had they simply attempted a fourth and short at the end of the fourth quarter. Instead, they punted, gave up a long pass play to Roddy White, and still only lost by two.
Fade the Falcons and take the points.
Fantasy: Steve Smith has been dreadful this year, and if you're in the fantasy playoffs, I doubt you can feel very comfortable starting him. Smith scored just his second touchdown of the season last week in Kansas City, and only has two 100-yard receiving games since Week 2.
Philadelphia @ Tampa Bay (-7.5)
The Eagles were the right play last week, and although I didn't bet them, I was ecstatic when Damaris Johnson ran that punt 98 yards for a touchdown. Nobody that laid double digits with Dallas at home deserved to cover, and somehow Johnson avenged that terrible Bryce Brown fumble.
That being said, this Philadelphia team is absolutely dreadful, and their biggest hole is on pass defense (31st in DVOA). The Bucs rank 11th in pass offense DVOA, and Josh Freeman absolutely loves to chuck the ball deep to Vincent Jackson and company.
The Eagles are a bad team that have quit on their coach, and they're coming off a short week. This line is high, but not high enough.
Fantasy: If you're a Rob Gronkowski owner that's still looking for a solid replacement, then Dallas Clark could be your guy. Clark has scored a touchdown in three of the last five games, and is a huge play-action threat in the red zone thanks to Doug Martin.
San Diego (+7.5) over Pittsburgh
Miami (+10) @ San Francisco
Arizona (+10) @ Seattle
Teams favored by a touchdown or more were 1-5 ATS the spread last week and are now 17-28-2 ATS on the season. This means that if you blindly bet all of the touchdown dogs in 2012, you'd have a winning percentage of 61.7 percent.
The Steelers and Niners are a combined 2-5 ATS when favored by a touchdown or more, and the Seahawks have only been favored in two games this entire season. They covered on both occasions but weren't favored by a touchdown or more in either game.
The Chargers, Dolphins, and Cardinals are ugly teams. The average person isn't going to stroll up to the betting window on Sunday and think to themselves: I can't wait to wager my hard-earned money on Norv Turner!
But at the end of the day, big dogs cover more often than not in the NFL. We love stinky teams here at the Pigskin Diaries.
Fantasy: Speaking of stinky, Mike Wallace and Antonio Brown owners have been tortured over the past few weeks. Hopefully, they were able to pick up a guy like Denario Alexander or Golden Tate in the interim. Both of these receivers have been solid, Alexander especially as he's ascended into the WR1 role in San Diego.
Chicago (-3) @ Minnesota
Dallas (+3) @ Cincinnati
St. Louis (+3) @ Buffalo
Road teams have been equally as impressive as touchdown dogs in 2012. With a record of 104-85-3 ATS, if you blindly bet road teams in 2012, your winning percentage would be 54.9 percent. 3-2 4-2 4-1
The Bears, Cowboys, and Rams are a combined 11-5 ATS on the road.
None of these games pop out to me as absolute locks – that's why they're all field goal spreads – so I suggest you stay away. I'm the most confident in Chicago because they're coming off of a brutal loss and have a good enough defense to slow down Adrian Peterson.
Fantasy: Percy Harvin owners, I feel your pain. His "ankle sprain" turned torn ligament could cost me in one league, but it's somewhat good news for Vikings tight end Kyle Rudolph. In Harvin's stead, Rudolph has scored a touchdown in three consecutive games.
Baltimore @ Washington (-2.5)
Kansas City @ Cleveland (-6.5)
If you told me on Draft Day, when Washington and Cleveland picked 2nd and 4th respectively, that I would be happily laying points with both teams in Week 14, I would've guessed that Ray Rice suffered a season-ending injury and that the Browns were giving a point, maybe two.
Well, Rice is fully healthy if you don't consider Cam Cameron's play-calling to be a disease, and Cleveland is favored by 2.1667 Phil Dawson field goals.
Seriously though, Dawson is killing it. The 37-year-old is 23 of 24 (95.8%, which is the best in his career), and he's a perfect 5-5 from 50 yards or longer. In fact, the only kick Dawson missed this year was blocked.
Unless you're getting a touchdown or more, it's really hard to pick the Chiefs. Kansas City, who ranks last in total DVOA, is just 2-6 ATS when they're getting less than seven points.
As for the Redskins, I feel like it's necessary to ride the hot hand. Since their bye week, Washington is 3-0 ATS. Pierre Garçon is playing unreal considering the foot injury he's enduring, and somehow that defense is holding up despite not having Brian Orakpo and Adam Carriker.
If this line was a field goal or higher, I'd probably stay away, but all we need to do is win by one Kai Forbath field goal and we're golden.
Fantasy: Josh Gordon is a stud, and if you've been tentative about putting him in your lineup then now's the time to do so. The Chiefs have the 26th-ranked pass defense DVOA.
New York Jets @ Jacksonville (+2.5)
The Jets are 6-6 ATS - failing to cover in four consecutive games - and haven't been favored on the road once in 2012.
That is the only objective sentence I can write about this game.
Fantasy: Cecil "Salute Your" Shorts is out with a concussion this week, making Justin Blackmon a very interesting play at WR3 or FLEX.
Tennessee @ Indianapolis (-5.5)
New Orleans @ New York Giants (-5)
The Titans are 2-4 ATS on the road, and have already lost to the Colts at home. Indianapolis is 5-1 ATS at home (6-1 ATS on turf), and Andrew Luck must be licking his lips while preparing for the 29th ranked pass defense DVOA.
The Saints have come back to earth, losing consecutive games to the Niners and the Falcons, are still have a terrible defense (30th in total DVOA, 28th against the pass). The Giants have struggled at home, going 2-3-1 ATS in their first six games, but that performance against Green Bay really sticks out. Drew Brees can score against Big Blue, but they still can't stop a nose bleed.
Fantasy: Hakeem Nicks practiced on Friday, and despite his recent struggles, this is a fantastic matchup. He and Victor Cruz should flourish.
Detroit @ Green Bay (-6.5)
Houston @ New England (-3)
Regarding the Lions: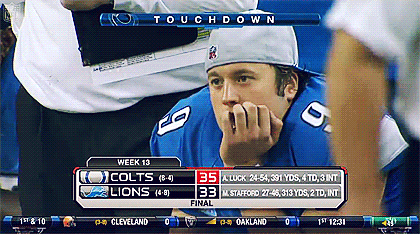 Regarding the Texans: If another person calls this the biggest game in the franchise's history, I'm going to melt down like Dan Marino.
Fantasy: Don't get cute and plug Mike Thomas into your lineup. His touchdown drop last week was atrocious, and Matthew Stafford will likely favor Brandon Pettigrew as a de facto WR2.
This Week: 0-1
Last Week: 8-8
Season: 103-86-3
All betting lines are courtesy of Covers.com, and are accurate as of Friday at 10:00 a.m. EST.
Follow PokerNews on Twitter for up-to-the-minute news.