Pigskin Diaries: Wildcard Weekend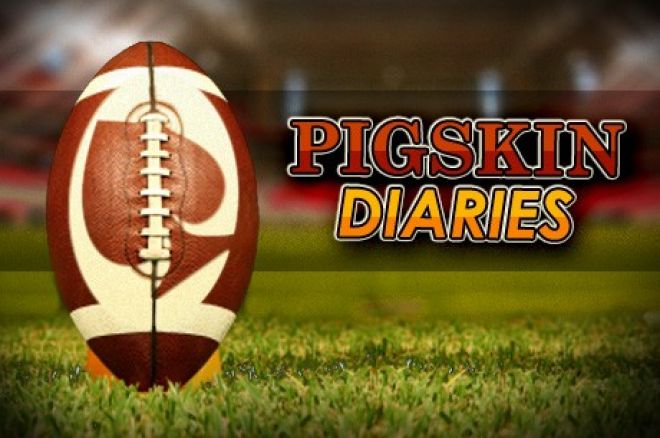 In four weeks, only two teams will be left standing in the NFL playoffs. One will represent the NFC in Super Bowl XLVII, the other the AFC. Right now, as we head into Wildcard Weekend, prognosticators young and old, professional and unprofessional, are making their cases for two teams they believe will battle for the Lombardi Trophy.
According to Vegas Insider, the Denver Broncos are favored to win the Super Bowl at (+200). The NFC team with the highest odds to win is the San Francisco 49ers at (+400).
A few weeks ago, I fired off an insanely irrational Tweet with no logical foundation:
I'm going to say something very irrational right now, and I don't know why I feel it: the Cowboys are going to the Super Bowl. #flameaway

— Rich Ryan (@RichTRyan)
Wow, how stupid is that guy.
With Twitter, It's so easy to type something without thinking about it and hit the send button. To be fair, I intended to add that they would be playing the Broncos, but I ran out of characters.
More importantly, who cares about predictions like that? Here at the Pigskin Diaries, unless there is some value in a future bet (which there really isn't anymore since there are only 12 teams remaining and Vegas can jack up the odds), we need to focus on the games week-by-week. If you took my advice in Week 14 and grabbed the Seattle Seahawks at (+2500) — good for you. Vegas Insider has them at (+900), but I've seen them as low as (+700).
I didn't listen to my own advice (I mean really, HOW STUPID IS THIS GUY???), but I do have a little taste of Broncos (+1500) and Redskins (+10000) to win the Super Bowl. With Washington, I plan to hedge every round and guarantee myself a profit. Even if they make the Super Bowl, and I lose three consecutive money line bets, I'll still be in a position to make a lot of money if they somehow win it all.
OK, enough future talk, let's get to the games!
Cincinnati @ Houston (-4.5)
If you turn on ESPN or the NFL Network on Saturday morning, I guarantee you will hear numerous pundits use the phrase "hot at the right time." Sports fans tend to have very short memories, and less than a year ago we watched the New York Giants "get hot at the right time," winning their last two regular season games before winning four consecutive playoff games including the Super Bowl.
What does "getting hot at the right time" really mean? Is it a two-game winning streak? Is it one big win against a tough opponent? If "getting hot" is the be-all end-all, then I wouldn't want my team to "get hot" or "peak" until the Conference Championship, maybe even the Super Bowl. We use terms like "get hot" because they're easy to throw around. There are, of course, reasons why teams go on winning and losing streaks, but instead of looking at the intricacies of the picture, we tend to take a step back and paint over everything with a very large brush.
The Chicago Bears are a good example of this failure to look closely at what is going on. They started off 7-1 and failed to miss the playoffs. Some say they "peaked at the wrong time" when in reality they were performing way above expectation against poor teams like the Jaguars (31st in total DVOA), Lions (16th in total DVOA) and Titans (30th in total DVOA).
The Houston Texans ended the regular season on a low note, losing three of their last four games and forfeiting a bye week in the playoffs, but the three teams they lost to all made the playoffs. The Colts (25th in total DVOA) and Vikings (14th in total DVOA) also had very strong, immeasurable intangibles working in their favor.
The Cincinnati Bengals ended the season strong, winning seven of their last eight games, but only one of those games was against a playoff team. That playoff team, the Baltimore Ravens, benched all their starters after a series or two.
The Bengals are no pushover, ranking 12th in total DVOA and 10th in total defense DVOA, but this isn't a great matchup for them. They're basically playing a better version of themselves. Both teams rely on the defensive line to generate a pass rush and are just average at the second and third level. Both teams run a very conservative offense — Matt Schaub finished the regular season 13th in adjusted yards (7.2) per attempt, Andy Dalton finished 18th (6.6). And both teams rely on their X receiver and feature running back to make plays.
A.J. Green and Andre Johnson are a toss-up, and Arian Foster is much better than Benjarvus Green-Ellis.
As underdogs, the Bengals are 3-3 ATS. When getting four or more points, they are 1-2 ATS. The better the team they play, the poorer they perform.
At home, where they were favored in all eight games they played, the Texans are 5-3 ATS. When favored by four or more points at home, they are 5-2 ATS.
I would feel more comfortable laying three or three-and-a-half points, but I am still confident that Houston will cover the four or four-and-a-half (depending where you get it) spread.
Minnesota (+8) @ Green Bay
When getting a touchdown or more, the Vikings are 3-0 ATS. When they played the Packers at Lambeau Field in Week 13, Minnesota covered this exact line, and of course, they beat Green Bay outright in Week 17 in the Metrodome.
The Packers were average at home, finishing the regular season 4-4 ATS. In games when Green Bay was favored by a touchdown or more at home, they were 2-3 ATS.
I wouldn't be shocked if Green Bay won the Super Bowl. They have supreme talent on offense (3rd in DVOA), arguably the best quarterback in the playoffs (Aaron Rodgers), and their defense (8th in total DVOA) is getting healthy — both Clay Matthews and Charles Woodson are expected to start on Saturday. They also have experience winning big road-playoff games — they were a wildcard team in 2010 when they won the Super Bowl.
Still, this line is far too high.
Wagering on Christian Ponder in a road game in the playoffs is frightening, but Adrian Peterson is playing like he's possessed. I picked the Packers last week as road favorites because I didn't think AD was valuable enough to drive the line down to three points. I was wrong. He is single-handedly putting the offense on his back, which in turn opens up opportunities for Jerome Simpson, Kyle Rudolph and the rest of Minnesota's rag-tag, Percy Harvin-less receiving core. Also, when Peterson gets the running game going, the Vikings can eat up some clock and keep Rodgers off of the field.
Minnesota's biggest weakness is their pass defense (21st in DVOA). This is worrisome against Green Bay, but the Vikings can mask some of their weaknesses in the secondary with a strong pass rush — the Packers rank in pass blocking DVOA.
Crazy enough, I think one of the x-factors for the Vikings is kicker Blair Walsh. Walsh shortens the field and allows Minnesota to score more often than other teams with lesser offenses.
Indianapolis @ Baltimore (-7)
I trust the numbers, and the numbers hate the Colts defense. I've said this every week. Indy ranks 31st in total defense DVOA (27th against the pass and 32nd against the run). According to Football Outsiders' archives (starting in 1991) the Colts have the lowest defensive DVOA (14 percent below the mean) than any other playoff team in history.
The #ChuckStrong movement is phenomenal. It's nearly impossible to root against Chuck Pagano. There's a reason they call these things intangibles — you can't measure them. It's impossible to quantify the value of Pagano standing on the sideline. We know that it's positive; we know that it motivates the players, but no one will ever know how much.
It's like the "clutch factor." Can we really say that Eli Manning is measurably more clutch than his older brother Peyton because David Tyree stuck a football to his helmet?
Ironically, the Ravens now have their own unquantifiable motivating factor: #RayStrong.
Or maybe it's #LewisLeaving? AllInForRayRay? #OneLastTimeForTheDogsToBeInTheHouseWOOFWOOFWOOF?
Ray Lewis has announced that he is retiring after the season, and reportedly he is joining ESPN. Hopefully, the first thing he does in Bristol is commit a roughing the Skip Bayless penalty. This is a pretty desperate move from Lewis and the Ravens, but I still think it will have a positive impact — Ray Rice cried on Thursday when fielding questions about the announcement.
If you've read the Pigskin Diaries over the past two years, you know I hate Baltimore. I think Joe Flacco is average at best, the defense is aging (19th in total DVOA, 26th against the run), and the offensive play-calling is offensive. They are 3-5 ATS at home. If they were hosting Cincinnati, and the line was a field goal or more, I would be all in on the Bengals.
But they're hosting the Colts, a team that Jamaal Charles gashed for 200+ yards just two weeks ago. Lay the chalk. Trust the numbers.
Seattle (-3) @ Washington
According to DVOA, the 2012-13 Seattle Seahawks are the sixth-best team in NFL history (again, since 1991). They performed 38.3 percent above average, and finished the season ranked fourth in total offense DVOA, fourth in total defense DVOA, and third in special teams DVOA. Don't let anybody tell you that Seattle is a "sleeper" or a "dark horse"; they are legitimate contenders to win the Super Bowl.
The Redskins won their Super Bowl already. Beating the rival Dallas Cowboys at home on Sunday Night Football was great for Washington. Hearing the fans belt Hail to the Redskins at the top of their lungs after the final touchdown was awesome. But they're not prepared to make a deep run.
It starts with Robert Griffin III, who looks considerably slower with that big, black, Stone Cold Steve Austin brace on his knee. Against an awful Philadelphia team, Kyle Shanahan didn't have to call a single designed run for RG3. Against Dallas' 19th-ranked rush defense DVOA, the read option worked well. But against Seattle, RG3's injury will be exposed.
Keeping RG3 in the pocket seams like a no-brainer for Shanahan — a very talented pocket passer — but good luck trying to throw against Richard Sherman and Brandon Browner.
On defense the Redskins are very poor (22nd in DVOA) against the run. Has Marshawn Lynch ever gone "beast mode" in the playoffs?
If Washington is going to win this game, I feel like they have to throw haymakers. I don't see a scenario where they win scoring less than four touchdowns – and I don't see them scoring four touchdowns against the Seahawks defense.
Season: 137-115-4
Last Week: 6-10
All betting lines are courtesy of Covers.com, and are accurate as of Friday at 12 p.m. EST.
Follow PokerNews on Twitter for up-to-the-minute news.