Pigskin Diaries: Conference Championship Weekend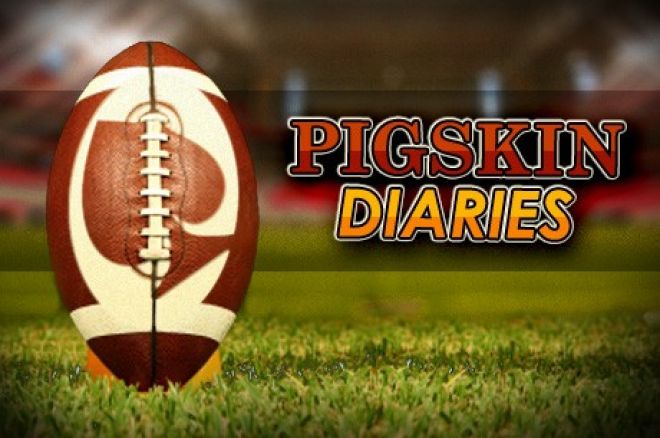 Following a bizarre Divisional Round of the playoffs, which saw Peyton Manning lose despite being spotted two special teams touchdowns, the Seahawks lose despite scoring three unanswered touchdowns in the fourth quarter, and Colin Kaepernick set the single-game rushing record for quarterbacks (181 yards), we are entering perhaps the most unique Conference Championship Weekend in recent history.
In the AFC, we have the Patriots and the Ravens in a rematch of last year's conference championship game. In the fourth quarter of the 2011 AFC title game, Lee Evans dropped a game-winning touchdown pass and Billy Cundiff missed a game-tying field goal — neither payer will be in a Ravens uniform on Sunday. Cundiff is with the Niners, and will step in if anything happens to David Akers, while Evans didn't play in a single game this season.
The Ravens still have Ray Lewis and his inspirational retirement story, however. #AllInForRayRay. #OneLastTimeForTheDogsToBeInTheHouseWOOFWOOFWOOF.
In the NFC, we have the Niners, the Falcons and one of the most interesting spreads ever. Pro-Football-Reference.com has a database of every spread dating back to 1978, and according to their numbers, the Niners are the biggest road favorites in the history of the Conference Championship. I'll expound about this shortly, but just let that stat sink in a little bit.
In terms of our favorite statistic (DVOA), we lost the two best teams (Seattle and Denver) in the league last week. Let's see how the final four stack up:
| Team | Total DVOA | Total Rank | Off. DVOA | Off. Rank | Def. DVOA | Def. Rank | ST Rank |
| --- | --- | --- | --- | --- | --- | --- | --- |
| New England | 34.9% | 3rd | 30.8% | 1st | 1.3% | 15th | 4th |
| San Francisco | 29.9% | 4th | 17.0% | 5th | -14.3% | 2nd | 20th |
| Baltimore | 9.8% | 8th | 3.0% | 13th | 2.2% | 19th | 1st |
| Atlanta | 9.1% | 10th | 6.1% | 12th | -2.9% | 12th | 16th |
You can see just how impressive the New England offense is looking at their offensive DVOA. They rank four spots ahead of San Francisco, yet have performed 23 percent better against the mean. The Niners — to no surprise — have the best defense remaining.
OK, on to the games.
San Francisco @ Atlanta (+4)
As stated above, the Niners are the biggest road favorites in a conference championship game ever, dating back to 1978. Since 1978, only 11 teams have been road favorites in a conference championship game, and eight of those teams were favorites against the No. 1 seed. Road teams favored against the No. 1 seed in a conference championship game are 5-3 ATS, and two of them have gone on to win the Super Bowl; the '04-'05 Patriots and the '88-'89 Niners.
After watching Kaepernick run wild against Green Bay, and Atlanta blow a 20-point halftime lead, public bettors will not bet on the Falcons. I've been single-handedly pushing the "Can't Trust Atlanta" narrative for two years now — and I was extremely angry at myself when I let my guard down for one week this season and they were crushed at New Orleans by the Saints — but there is too much value here to pass up.
Since Matt Ryan became the quarterback in 2008, the Falcons have been home dogs in only six games. In those six games, the team is 3-3 outright and 4-2 ATS. Including the playoffs, Ryan is 34-6 in the Georgia Dome, and in the only playoff game he's lost at home, Aaron Rodgers torched Atlanta's defense for 366 yards and three touchdowns en route to winning the Super Bowl.
This season, the Niners were 4-3 ATS as road favorites, and their four covers came against three very unimpressive teams (the Jets, Bills and Cardinals) and a team that was plummeting at the time (the Bears).
The Falcons are clearly a great team at home, and after finally winning a playoff game last week (their first since 2005), they almost have nothing to lose. In writing the Pigskin Diaries, I've always blended the eye test with the numbers, but in this case the numbers are too strong and the results of the eye test seam too obvious. Nobody that watched Kaepernick last week can confidently pick against him, yet it seems asinine to pick against a prolific home team that's getting four points.
The Falcons have let me down countless times, and I have a feeling that I might regret this, but I can't back the largest road favorite in the history of the conference championship. Give me the Dirty Birds.
Baltimore (+8) @ New England
Hey, is Ray Lewis retiring after this year?
Like the #ChuckStrong movement in Indianapolis, it's impossible to say what kind of impact Lewis' impending retirement has on the performance of the Baltimore Ravens. It's clear that it has some kind of positive impact, but an intangible is intangible for a reason — good luck trying to operationally define Lewis' retirement by assigning a number to it.
What we do know is that Baltimore is just the sixth team since 1979 to be getting eight or more points on the road in the 19th game they've played.
Side note: the reason this stat is so convoluted is because Pro-Football-Reference.com only lets you search by "number of games played" and not "post season week." Thus, this stat excludes No. 2 seeds because they had a bye.
The other six teams that were eight-point dogs or more finished 3-3 ATS, however all of them lost outright.
We wouldn't be talking about Baltimore this week had Raheem Moore not made one of the worst defensive plays ever, but the Ravens were going to cover regardless of the result of the pseudo Hail Mary. Joe Flacco played well — although he still missed a handful of very makeable throws — and the defense clamped down on Manning and company. If you take away the two special teams touchdowns, which were rare occurrences against Baltimore's top-ranked special teams DVOA, the Ravens held the Broncos (2nd in total offense DVOA) to 21 points.
That's impressive for an aging defense that I've been crushing all year.
Since 2009, the Ravens and Patriots have played five times. In four of the five games, the average margin of victory was 3.25 points. The only blowout was in January of 2009, when Baltimore went into Foxboro and beat New England 33-14. These teams have history. They know one another. It's going to be a battle, not a blowout.
With the cover last week, the Patriots are now 2-5 ATS at home in the playoffs since 2007. They are a very good team that is continuously overvalued, and with only two games to bet on this week, the casual bettors will certainly back the "public teams."
It's only fitting that I take the two dogs this weekend after preaching my love for the underdogs all year in the Pigskin Diaries. I hope to see you back here in two weeks where I will prepare you for Super Sunday.
Good luck everyone!
Last Week: 2-2
Playoffs: 5-3
Regular Season: 137-115-4
All betting lines are courtesy of Covers.com, and are accurate as of Saturday at 12:00 p.m. EST.
Follow PokerNews on Twitter for up-to-the-minute news.