Pigskin Diaries: Super Bowl XLVII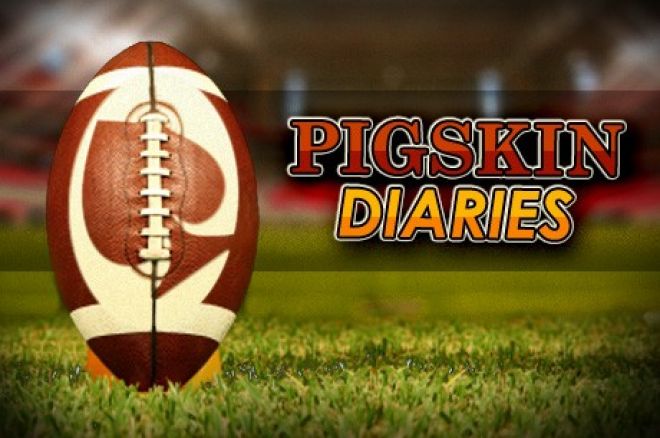 For fans of the Baltimore Ravens and the San Francisco 49ers – and the players and coaches themselves, of course – the past two weeks have probably felt like a month. Maybe even a year.
The anticipation is enough to keep even the calmest of people up at night. Dreams of confetti-filled celebrations clash with nightmares of last-second losses, and neither the delusions of grandeur nor the fears of failure will escape until the ball is kicked off on Sunday.
For some, it's just a game. A fun event, during which the commercials are as important as the game itself. But, for others, this will be the biggest day of their life.
For me, the past two weeks felt like seconds. I've been dreading this day since Feb. 5, 2012 – the last time I incorrectly picked the Super Bowl.
If you've been reading the Pigskin Diaries during the 2012-13 NFL season, then you know that we finished the regular season 22 games above .500, and we're currently 6-3-1 ATS in the playoffs. Not too shabby. However, if you remember my Super Bowl preview from last year, then you know that I am now 0-7 ATS on Super Sunday.
Zero and seven.
If I pick seven consecutive Super Bowls correctly, then I will reach .500 in the year 2019. We should treat it like it's an election year. #Ryan2019!!!!
We'll get to the game in a bit, but first, let's check out some prop bets.
Note: These are for entertainment purposes only. I don't expect to get any of these correct, but I hope to make you laugh at least once. Maybe twice.
1. Coin toss: Tails (-105)
According to SB Nation, in the last four Super Bowls, the coin has come up "heads." That means I've been wrong four years in a row, because tails never fails. Ever.
The result of the coin toss has never been the same for five consecutive Super Bowls, which means we're an absolute lock to win this bet.
2. Will there be a score in the first seven minutes and 30 seconds of the first quarter? No (+145)
In four of the last nine Super Bowls, a team has scored in the first seven minutes and 30 seconds of the first quarter. In three of the five playoff games that either the Ravens or the Niners participated in this January, a team scored in the first seven minutes and 30 seconds of the first quarter.
This prop is less about the x's and o's and more about the price. If we had bet one dollar on either side for the last nine Super Bowls, we would be up $3.25 betting "No" and down $4.75 betting "Yes." The record (5-4) is very close, yet because of the price, you're a big loser when the "Yes" doesn't come in.
For the majority of the players on both teams, this is their first trip to the Super Bowl. There should be plenty of jitters. Hopefully this translates into a slow start, for both teams.
3. Will either team score three unanswered times in the game? Yes (-165)
I don't want to spoil my pick just yet, but I do believe a team will score three unanswered times.
4. Longest touchdown scored in the game? Over 46.5 yards (-105)
This season, including the playoffs, Torrey Smith and Colin Kaepernick alone have combined for eight touchdowns of 46.5 yards. Baltimore's rush defense (0.9%) ranks 26th in DVOA, and while San Francisco ranks 2nd (-14.3%) in total defense DVOA, they weren't perfect against No. 1 receivers (10th, -10.3%) or slot receivers (21st, 7.3%).
I love the big play ability of these two guys, and the turf always seems to make players a half step faster.
5. Will a field goal attempt be missed in the game? Yes (-125)
Da-vid A-kers! Clap! Clap! Clap-clap-clap!
6. Longest successful field goal in the game? Over 44.5 yards (-130)
Jus-tin Tu-cker! Clap! Clap! Clap-clap-clap!
7. Total passing attempts in the game for Joe Flacco? Under 34.5 (-110)
Excluding the Week 17 game where he only played a few snaps, and including the playoffs, Joe Flacco is averaging 32.42 pass attempts per game. In the playoffs, where Flacco has been brilliant and has re-entered the silly "elite" conversation, he's averaging 31 pass attempts per game.
The reason this line is inflated is because the public bettors believe that – in order to win the game - Baltimore will have to throw the ball. San Francisco's run defense (-19.7%) ranks second in DVOA, and no one will expect the Ravens to be able to run the ball on Sunday. Balance is very important, however, and even Jim Caldwell knows that if Flacco has to throw the ball in excess of 40 times, the team is in trouble.
In four of the team's five losses in the regular season (again, excluding Week 17), Flacco threw 34 or more pass attempts. Baltimore needs balance.
8. Total receptions in the game for Ray Rice? Under 3.5 (-125)
In the regular season, Ray Rice averaged 3.8 receptions per game. In the playoffs, he's averaging just 1.3 receptions per game. Since their bye in Week 9, the Niners have given up four or more receptions to opposing running backs in half of their ten games. In the playoffs, neither Green Bay nor Atlanta had a running back with four or more receptions, but DuJuan Harris was on the brink with three catches, and Michael Turner isn't a threat at all coming out of the backfield.
If Baltimore can't get things going on the ground, then they'll have to find different ways to get Rice the ball. Smith and Flacco have had a great postseason, but Rice is still the most dynamic player on the offensive side of the ball.
9. Total tackles and assists for Ray Lewis? Under 11.5 (+105)
No amount of deer antler spray will help Lewis chase Kaepernick, Frank Gore, and Kendall Hunter.
10. What color will the Gatorade (or liquid) be that is dumped on the Head Coach of the winning Super Bowl team? Clear/Water (+225)
Using NFL Gamepass, I went back to see what color Gatorade was used to shower each of the Harbaugh brothers in their respective Conference Championship games. Ironically, neither coach was doused with the delicious sports drink. Weird, right?
Well, I went back and watched the final seconds of the Conference Championship games in 2012 and 2011, and there were no Gatorade showers then either. Am I crazy, or should a "We're Going to the Super Bowl" Gatorade shower be mandatory? I know it's cold at some of these games, and the ultimate goal is to win the next game, but come on! If the Celtics can shower Doc Rivers after a basketball game, then the Conference Champions should be able to shower their head coaches as well.
I went back to the first Harbaugh Bowl because I remembered that the Ravens showered John twice at the end of the game. What was the color of the liquid? You guessed it: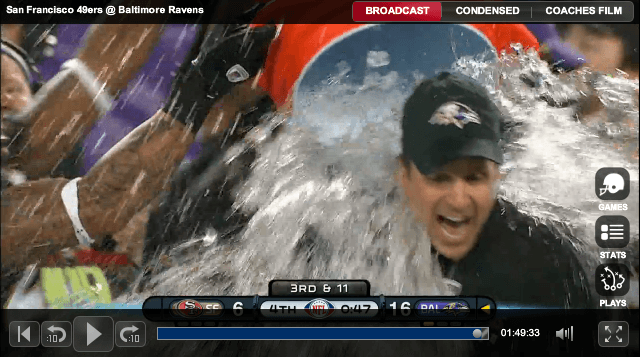 Clear/Water.
Four of the last eight Super Bowl-winning coaches were doused with clear Gatorade or water, and knowing that one of these teams prefers clear/water, that gives us a bit of an advantage.
OK, now that we've had a bit of fun, let's turn to the game itself. Here's how the two teams stack up in terms of DVOA:
| Team | Total DVOA | Rank | Off. DVOA | Rank | Def. DVOA | Rank | ST DVOA | Rank |
| --- | --- | --- | --- | --- | --- | --- | --- | --- |
| Niners | 29.9% | 4th | 17.0% | 5th | -14.3% | 2nd | -1.5% | 20th |
| Ravens | 9.8% | 8th | 3.0% | 13th | 2.2% | 19th | 9.0% | 1st |
This line opened at five points at some establishments, four-and-a-half points at others. It was quickly bet down by the sharps, and has now settled at three-and-a-half, which seems much more reasonable.
On paper, San Francisco looks like the far superior team. The only advantage Baltimore has is on special teams, and in the Divisional Round of the playoffs, the Ravens gave up two special teams touchdowns to Trindon Holliday. The public money has finally started to pour in on the favorite, and the money line has moved all the way up to (-180). With only a few more days to wager on the biggest football game of the year, I expect even more money to come in on the Niners (money line). The spread should remain the same, barring some kind of bizarre Barret Robbins incident.
Including the playoffs, the Niners are 10-7-1 ATS. The Ravens are 9-10 ATS, and covered in all three of their playoff games. When getting seven or fewer points as underdogs, Baltimore is 2-4 ATS. When giving four or fewer points, San Francisco is 2-1 ATS (and that number is debatable because by game time in Week 16, they were no longer road favorites against Seattle).
Looking at this matchup, I honestly have no idea how Baltimore plans to stop San Francisco's running attack. In their three playoff wins, the Ravens beat a team that can't run the ball (Indianapolis), a team that lost it's starting, second-string running back (Denver), and a team that only ran the ball six times in the second half (New England).
A better comparison would be Baltimore's Week 14 matchup with the Washington Redskins, during which Robert Griffin III and Alfred Morris combined for 163 yards en route to a 31-28 overtime victory. Griffin was injured with around five minutes to go in the fourth quarter.
The Ravens linebacking core is weak. As we mentioned above, Lewis isn't going to be able to move laterally and attack the likes of Kaepernick, Gore, and Hunter. Paul Kruger and Terrell Suggs are pure pass rushers. Dannell Ellerbe has 23 tackles in the post season, but is battling an injured ankle that he played with in the New England game. That game was only the second time since Week 10 that Ellerbe recorded less than six tackles.
On the other side of the ball, the Niners are stout. Despite giving up a few big plays to Atlanta, they held on when it counted, forcing Matt Ryan to throw a big interception and then a game-clinching incompletion. Flacco has been playing excellent (that was a tough sentence to type), but he doesn't have the weapons that Ryan had. Taking away Anquan Boldin and Dennis Pitta will seem effortless when compared to the likes of Roddy White and future Hall of Famer Tony Gonzalez.
The Niners are going to put up a good number of points in this game, and I don't think that Baltimore can A) stop them or B) score with them.
San Francisco (-3.5) over Baltimore
MVP: Colin Kaepernick (+160)
Last Week: 1-0-1
Playoffs: 6-3-1
Regular Season: 137-115-4
All betting lines are courtesy of Covers.com, and are accurate as of Saturday at 12:00 p.m. EST.
Follow PokerNews on Twitter for up-to-the-minute news.