Pigskin Diaries Presented by DraftKings: Looking for Fantasy Value at QB, WR, and TE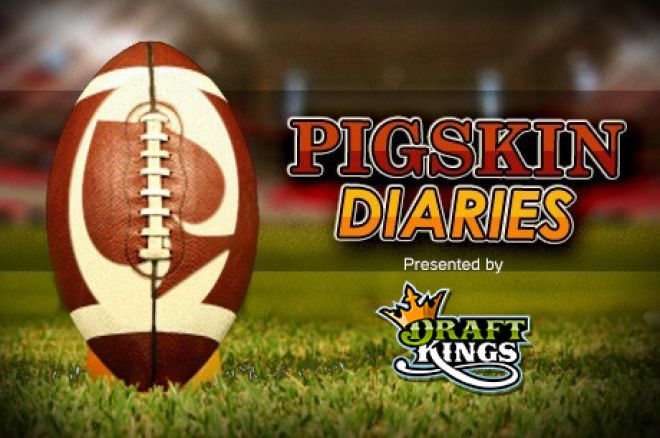 With the start of the NFL season next Thursday, the last fantasy football draft weekend is finally upon us. It's time to stop mocking, print up your cheat sheets, grab a case of light beer, and make really old and corny T.J. Houshmandzadeh jokes.
Time is of the essence, so I will spare you with nightmares of Joseph Addai's past this week and instead quickly move on to some commentary about quarterbacks, wide receivers, and tight ends. If you are wondering why I omitted defenses and kickers, it's because they are completely random. Last season, the Philadelphia Eagles were a consensus top-10 fantasy defense – some sites even had them in the top five – yet they finished 29th in points in ESPN standard scoring and 26th in defense DVOA.
Speaking of DVOA, if you need a refresher of some of the terms we use here at the Pigskin Diaries or simply missed the running backs preview, you should check out last week's edition here.
Also, if you haven't already, get on over to DraftKings.com, the official sponsor of the 2013-14 Pigskin Diaries, and sign up to play daily fantasy sports for straight cash, homey. If you hate the team you drafted in your season-long league, or you're like me and want as many sweats as possible on Sunday, DraftKings has great sit-n-go style leagues, plus guarantees for all of the major American sports.
DraftKings is going all out during Week 1, offering a $1 million guarantee called the Kickoff Million. The $200 contest features unlimited entries for users who like to submit multiple teams, and the winner will take home $150,000. The top 10 finishers are all guaranteed a minimum of $5,000. For players looking for a smaller buy-in, there's also the $11, $100,000 guarantee Hail Mary or the $2, $30,000 guarantee Play-Action.
Sign up now and with your first deposit, you'll receive free entry into the $30,000 guarantee Play-Action and a 100% deposit bonus up to $600. Also, be on the lookout for my favorite DraftKings value plays, which will be in every edition of the Pigskin Diaries starting next week.
Now, let's look at some signal callers that I think are either overvalued or undervalued.
Overvalued Quarterbacks
Peyton Manning, Average Draft Position: 16.4 (ESPN), 26.0 (Yahoo)
If you've read any fantasy analysis this preseason, then you know that the quarterback position is relatively deep in 2013. Personally, if I am in a 10 or 12-team league with only one quarterback, and Aaron Rodgers or Drew Brees doesn't fall to me in the mid-to-late second or early third round, then I am going to wait on a quarterback.
Likewise, in an auction draft, if I can't get Rodgers or Brees for under or around their exact market value, I am probably waiting to get a bargain later on.
Football Outsiders generates a baseline projection for each position and ranks each player against that baseline in a statistic called Fantasy Points over Baseline. Using ESPN standard scoring for a 10-team league (the most popular format on the website), Peyton Manning (ranked 3rd) has an FPOB of just 30. Andrew Luck (ranked 10th) has an FPOB of 0. That's just a 30-point difference between quarterbacks three and 10, yet Luck is being drafted four or five rounds later than Manning.
Yahoo's ADP of 26 is much more reasonable than ESPN's 16.4 – spending a second-round pick on Manning is insane to me – but even still, by selected Manning in the late third round you're passing up on guys like Chris Johnson, Victor Cruz, Roddy White, and Andre Johnson. Johnson is the only player among those four who has a lower FPOB than Manning, and both running back and wide receiver are much more scarce than quarterback.
Manning is terrific, and in 2012 he ranked second in DVOA (32.8%), second in DYAR (1,805), and first in net yards per pass (NY/P), but unless he falls to me in the fourth round and I absolutely love my first three picks, it's hard for me to take him. It's simply too important to fill up the other, more scarce positions on my roster.
Matt Ryan, ADP: 36.5 (ESPN), 47.5 (Yahoo)
Again, Yahoo has a much friendlier ADP, but I am still never using a fifth-round pick on Matt Ryan.
With an FPOB of 14, Ryan is projected to perform on par with the baseline. He is coming off of the best statistical year of his career, where he finished seventh among quarterbacks in ESPN standard scoring. Ryan scored 20 points more than the eighth-best quarterback (Tony Romo), and 28 points more than the tenth-best quarterback (Matthew Stafford).
Ryan finished 2012 ranked eighth in DVOA at 16.5%, which is his worse rating over the past three years. He has never finished a season higher than seventh in DVOA.
While Matty Ice has two incredible targets in Julio Jones and Roddy White, and a very reliable tight end in Tony Gonzalez, the Falcons offensive line gives me nightmares. Ryan took 61 quarterback hits in 2012, more than anyone in the league other than Luck, and in the offseason they lost two of their best offensive linemen; Tyson Clabo (free agency) and Todd McClure (retirement).
I don't see an argument for using a fifth-round pick on a slightly above average signal caller with a terrible offensive line, when you can grab guys like Pierre Garçon, Jordy Nelson, Wes Welker, or Demarco Murray to either play WR2 or FLEX.
Undervalued Quarterbacks
Tony Romo, ADP: 78.2 (ESPN), 86.5 (Yahoo)
How 'bout them Cowboys?
In an average ESPN or Yahoo fantasy draft, you can get Romo 40 picks after Ryan is selected. We mentioned earlier that in 2012, the best year of his career, Ryan only scored 20 more points than Romo in ESPN standard scoring, and the Cowboys quarterback played without Miles Austin for two games, and tight end Jason Witten was battling a spleen injury to start the season.
It's easy to dislike Romo because he plays for "America's Team" and he, like Tim Tebow, can be the center of discussion even when his team isn't relevant, but the numbers don't lie. In 2012, Romo was 10th in NY/P (6.8), 10th in DVOA (14.8%), and seventh in DYAR (1,156).
In 2011, Romo finished the season with a DVOA of 26.8%, making him the fourth-best quarterback in the league.
Of course, there are certainly flaws in Romo's game. He is very turnover prone, and in 2012 he tied a career high for interceptions with 19. According to Football Outsiders, he also had six interceptions dropped throughout the year, giving him an adjusted interception total of 25. That's pretty awful.
The great equalizer is the talent around Romo. While Colin Kaepernick, Robert Griffin III, and Russell Wilson are forced to elevate the play of the mediocre receivers they're throwing to, Romo gets to play pitch and catch with Austin, Witten, and Dez Bryant. By all accounts in Dallas, Bryant is ready to take the next step towards NFL superstardom, and the biggest beneficiaries of this would be Romo and his fantasy owners.
Carson Palmer, ADP: 128.9 (ESPN), 132.6 (Yahoo)
Here's a list of some of the quarterbacks being drafted ahead of Carson Palmer:
Philip Rivers, Alex Smith, Jay Cutler, Joe Flacco, Sam Bradford, and Andy Dalton.
Only one player in that group threw for more yards than Palmer in 2012, and that's Freeman. Remember, Palmer was in Oakland, throwing to Denarius Moore, Brandon Myers, Marcel Reece, and a cotton candy vendor.
Here's a list of some of the non-quarterbacks going ahead of Palmer:
Matt Bryant, Steelers D/ST, Steven Hauschka, Brandon Pettigrew, and Scott Chandler.
Which one of those could score 250 or more points in a standard league? Oh that's right, none of them.
By no means is Palmer the second coming of Johnny Unitas, but there are very few quarterbacks in the NFL that get to throw to a guy like Larry Fitzgerald. In fact, until Bryant proves he can dominate for a full 16-game season, I would wager that only Andre Johnson and Calvin Johnson have as much physical ability as Fitzgerald.
If you don't remember how freakishly good Fitzgerald is because his quarterbacking since Kurt Warner retired has been a joke, here's a little taste:
Add in Michael Floyd, a second-year receiver looking to make a big jump, Andre Roberts, a reliable slot receiver, and Rob Housler, a very capable pass-catching tight end, and suddenly Palmer should look like an NFL-caliber quarterback once again.
Rather than grab someone like Flacco, who has a very low floor but zero upside, or a kicker (you're better than that), why not snag Palmer? He has all of the upside in the world, and if he stinks after the first few weeks, then you can always dump him and find a Flacco or a Dalton on waivers.
Overvalued Wide Receivers
Randall Cobb, ADP: 35.7 (ESPN), 29.4 (Yahoo)
Let me begin by saying that I am approaching both wide receivers and tight ends using a 0.5-point PPR lens. This way I won't overvalue high volume receivers (full point PPR) or undervalue them either (no PPR).
In a full PPR format, Cobb is certainly within top-10 receiver range because, if he can stay healthy, he is a candidate to catch 90-100 balls in the up-tempo Green Bay offense. In 15 games in 2012, Cobb caught 80 passes for 954 yards and eight touchdowns. He ranked ninth in DVOA (24.1%), sixth in DYAR (357), and sixth in broken tackles by a wide receiver (13).
Those are very strong numbers, and I will admit that I am nit-picking, but I didn't want to cop out and choose two top 30 receivers who are easily avoidable in any draft. I want to help you in the first few rounds of the draft as well, where mistakes can cost you en entire season.
One of the things that concerns me with Cobb is durability. With the absence of Greg Jennings, he will be on the field much more frequently, which sounds like a dream scenario for fantasy owners, but his 5'11" 190-pound frame really isn't built to take a beating.
Cobb's best comparison is fellow burner Percy Harvin, who is the same exact height and roughly two pounds heavier. In 2012, Cobb was on the field for 631 of Green Bay's snaps. Harvin was on the field for 605, and still had more catches and yards than Cobb. These two players don't need a great volume to be productive, because they are so good every time they touch the ball.
If Cobb is on the field for 700 or more snaps this season, then I think he is a huge injury risk – just look at Harvin. Cobb already suffered a bicep injury heading into the regular season, finally returning to practice this week, and I would not be looking to spend a third round pick on him this season. Instead I'd wait one more round and grab someone like Marques Colston, who plays in just as explosive of an offense as Cobb.
Tavon Austin, ADP: 82.2 (ESPN), 89.8 (Yahoo)
Like Cobb and Harvin, Tavon Austin is an incredible player in space. At West Virginia, all Geno Smith had to do was throw a bubble screen to Austin and watch as defenders whiffed left and right trying to bring the speedster down.
Unlike Cobb, who has an all-star quarterback, and Harvin, who has a track record of being an NFL stud, Austin has a mediocre quarterback in Sam Bradford and no track record at all. And, even though the games don't count it's nice to see something, Austin hasn't done very much of anything in the preseason.
Rams head coach Jeff Fisher is apparently scheming, telling media on Tuesday that he hasn't revealed how he will use Austin just yet. The upside is there, but I think the eighth or ninth round is still too early to be grabbing lottery ticket players. By then you will have probably filled out your starting positions, but you don't want your first player off of the bench to be a hit-or-miss prospect. Instead you can grab more reliable players like Cecil Shorts, Lance Moore, and Stevie Johnson.
There are also several other lottery ticket players with just as much upside in 2013 as Austin. Players like Kenbrell Thompkins (13th round), Michael Floyd (13th round), fellow rookie Cordarrelle Patterson (13th round), and Rueben Randle (14th round) all have loads of upside, and they cost you a lot less to draft them.
Undervalued Wide Receivers
Hakeem Nicks, ADP: 57.5 (ESPN), 47 (Yahoo)
ADP and raw, physical ability are the two main reasons I am a huge Nicks fan going into the 2013 season.
Nicks in the fifth round is great value, and Nicks in the sixth round is simply a party. The fifth-year man out of North Carolina stands at 6'3", but very few receivers can leap like him and catch the ball at its highest point. Two years ago Nicks cashed in a 1,200-yard season with seven touchdowns, and the year before that he had just over 1,000 yards and 11 touchdowns. In those two seasons, he finished sixth and 11th respectively in DYAR.
The biggest concern with Nicks is injuries. In 2012 he missed four games, in 2011 he missed one, and in 2010 he missed four once again. Calling Nicks injury prone doesn't really do him justice, however, because his injuries aren't related with soft tissue. Last year he broke his foot during OTA's and partially tore his knee during a Week 2 game against Tampa Bay. Nicks played through the tear for the most part, still catching 53 passes for nearly 700 yards.
When healthy, Nicks is one of the more dynamic pass catchers in the game, and if you can get him in the fifth or six round then you can get creative with your first few picks. For example, if Rodgers or Brees falls to you at the end of the second round or the middle of the third round, you can snag them knowing you can get Nicks later. Likewise, if either Jimmy Graham or Rob Gronkowski excite you, you can grab one of them knowing that there will still be a very valuable WR2 available later.
Nicks is in a contract year, and in order to get paid, he must put the "injury risk" label behind him and have a big year. I like his chances of doing so, and love grabbing him where he's being drafted.
T.Y. Hilton, ADP: 86.3 (ESPN), 99.4 (Yahoo)
Let me preface this by saying that I love T.Y. Hilton. There, I said it.
The first time I laid eyes on the second-year man out of Florida International University was during the Colts' 2012 preseason bout against the Redskins. As a new owner of NFL Game Rewind I wanted to watch the all-22 tape of Luck and RG3, and two players jumped off the screen at me.
One was Jerrell Freeman, who was replacing the injured Pat Angerer at middle linebacker. Freeman was flying all over the place, prompting me to draft him in both of my leagues with individual defensive players. He finished the season fifth in tackles with 145. Humble brag.
The other player was Hilton, who had three very good characteristics that I liked: he was fast, Luck was constantly look for him, and he was fast. I knew that Hilton was too deep of a sleeper to be drafted in most leagues, but in a an auction for a first-year dynasty league, I snagged him at $1.
Again, humble brag.
Fifty receptions, 861 yards and seven touchdowns later, Hilton is still being drafted in the 30's among wide receivers. The two main detractors for Hilton seem to be the presence of Darrius Heyward-Bey, who was battling an injury and is most known for not being able to get off of the line of scrimmage, and new Colts offensive coordinator Pep Hamilton, who won't stretch the field vertically as much as Bruce Arians did.
The latter detractor is more of a concern, but Hamilton, the former Stanford OC, surely realizes that the NFL isn't the Pac-12. He will stretch the field when necessary, and when he does it will be Hilton streaking down the sideline.
As a rookie, Hilton ranked 23rd in DVOA (10.7%) and second in average YAC (7.7). With an entire offseason alongside Luck, I'm confident that he was able to pick up the new West Coast-style offense, and will continue to shine in 2013.
Tight Ends
To me, the tight end position is very straightforward in 2013. Either you spend an early pick on Jimmy Gram, a third to fourth-round pick on Rob Gronkowski (I can see the argument for Witten in a PPR or even drafting two of these three in a PPR league with a flex spot), or you wait.
And I mean wait.
Don't get scared in round seven because there's a "run on tight ends" and grab someone like Kyle Rudolph. Vernon Davis looked good at the end of 2012, but are you really going to pass up David Wilson for a tight end? Montee Ball? Antonio Brown?
Wait means wait. A few weeks ago, before Jordan Cameron had a two-touchdown game and the NFL Network showed it roughly fifty 'leven times, you could've grabbed him in the 12th round. Not to worry, the following tight ends are still available that late:
Jermichael Finley, Brandon Meyers, Jared Cook, Martellus Bennett, and Fred Davis.
All of those players have reasonable upside with minimal risk, yet they are going up to 50 picks later than Owen Daniels. Don't waste a seventh or an eighth rounder on a tight end – unless someone crazy like Gronk is still available – and instead add to your depth at running back and receiver.
Just like with quarterbacks, this is as simple as recognizing FPOB. Graham (49) is light-years better than the baseline, Gronkowski (13) has crushed the baseline before and will probably again when he returns from injury, and everyone else (Gonzalez -3, Davis -5, Witten -8) is eating dust.
Good luck in your drafts this weekend or in the upcoming week. Check back next Thursday for Week 1 picks against the spread, DraftKings value plays, and fantasy advice for each matchup. Until then, tweet your questions, comments, trade offers and anything else to @RichTRyan, and I will be more than happy to discuss pigskin.
Get all the latest PokerNews updates on your social media outlets. Follow us on Twitter and find us on both Facebook and Google+!