Pigskin Diaries Presented by DraftKings Week 2: What to Believe and Not to Believe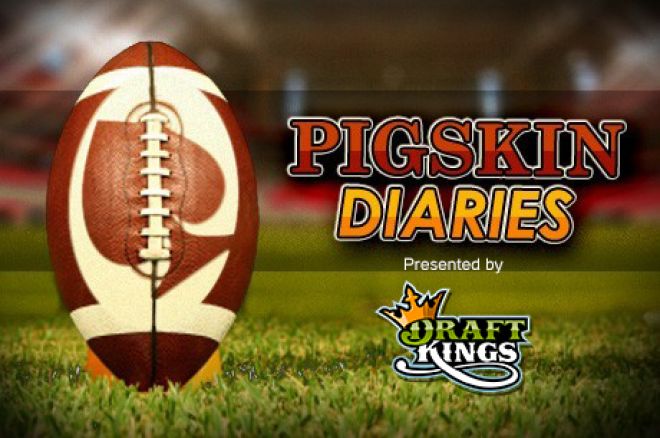 Chip Kelly is a genius. Peyton Manning is going to throw for 112 touchdowns. The Green Bay Packers are going to miss the playoffs. The Jacksonville Jaguars won't win a single game.
These are just some of the overreactions that can be made after Week 1 of the NFL season. Now, while I do believe Kelly is a genius, I want to provide a little bit of perspective going into Week 2. For each matchup this week, I list what I believe, what I don't believe, and why I am making my pick.
I promise I will try to avoid the hyperbole.
Chip Kelly is still a genius though.
While the Kickoff Million is over at DraftKings.com, which I successfully bubbled, there are still some great tournaments going on. The $109 entry NFL Sunday 2nd Chance offers a $250,000 guaranteed prize pool and a first place prize of $100,000, and there are satellites running for the Football Millionaire Grand Final. The winner of the Grand Final will take home $1 million, and the tournament will award $3,100,000 in guaranteed payouts.
As always, the team with the number is the team I am picking. All advanced statistics, particularly defense-value adjusted over average (DVOA), are courtesy of Football Outsiders.
New York Jets (+11.5) @ New England
What I Believe: The Jets defense is, once again, very good. This should come as no surprise though, because under Rex Ryan, Gang Green's average defense DVOA ranking is 4.25. The team's worst year was in 2012, where they finished the season ranked ninth. Rookie cornerback Dee Milliner held his own in his debut last week, and undrafted second-year defensive tackle Damon Harrison was a force to be reckoned with in the middle.
What I Don't Believe: The Patriots didn't really win a nail-bitter in Buffalo. Take away the random Da'Norris Searcy 74-yard fumble recovery for a touchdown and Tom Brady's failed sneak on fourth and goal from the one-yard line – he was 18 of 19 in his career on fourth-and-one sneaks prior to that play – and New England wins handily. The Patriots didn't play great though, and now Shane Vereen, the best player on the field for them that day, is out until Week 12 with a broken bone in his wrist.
The Pick: This line opened up at 13 and was quickly bet down to 11.5. Although I'd prefer the original 13, I still like the points because New England is struggling to find pass catchers. Without Rob Gronkowski and Danny Amendola, Brady will only have one non-rookie to target, Julian Edelman. Kenbrell Thompkins looked completely lost in Week 1, and Aaron Dobson, who is questionable, missed the first game altogether.
Gang Green's defense should be enough to keep them in the game, and if Geno Smith can avoid making any mistakes, this game may be closer than you think.
Fantasy: Edelman worked the seam really well last week, and that's the Jets' biggest weakness on defense. He should be in for a lot of targets once again.
Cleveland (+6.5) @ Baltimore
What I Believe: Before Michael Oher's injury, the Ravens were in control of the opening game last Thursday night. After his ankle was rolled up on, the story changed. All of a sudden the Broncos, who couldn't generate a pass rush whatsoever, treated the Baltimore offensive line like turnstiles. Hell, even Shaun Phillips recorded a couple of sacks. Things got even worse when Jacoby Jones was injured by his own teammate.
What I Don't Believe: Brandon Weeden isn't solely responsible for Cleveland's loss to Miami. Because of Cameron Wake, who had two-and-a-half sacks and six quarterback hits, Weeden barely had time to breathe in the pocket let alone throw the ball downfield. Two of his three interceptions were also tipped. I think we'll find out soon that the Dolphins front seven is actually very good, especially with a lead, and that the Browns will be able to run the ball and be more effective on offense moving forward.
The Pick: Even though they had a few extra days to practice, I don't like laying nearly a touchdown with this banged up Ravens team. Oher practiced on Wednesday, but he called his injury, "one of the worst sprains" he's had. Jones is out four-to-six weeks, and both Dallas Clark and Brandon Stokely are one hit away from retirement. If this game was played in Week 10, and we were able to see a little more from these teams, I suspect the line would be closer to a field goal, so let's take the points.
Fantasy: Don't panic, Trent Richardson owners. He is still a very versatile back who will have a lot of opportunities to shine going forward.
Carolina @ Buffalo (+3)
What I Believe: EJ Manuel is a significant upgrade from Jeff Tuel, Ryan Fitzpatrick, and every other Bills quarterback dating back to the early 2000's when Drew Bledsoe was behind center. Manuel played with poise and confidence during Week 1, and Buffalo fans have a right to be a little excited.
What I Don't Believe: Cam Newton should never throw for 125 yards or less. Ron Rivera tends to be a conservative coach, and Seattle's defense can make you even more conservative, but constraining Newton when all you need is two touchdowns to win is silly. Only five players caught passes for Carolina last week. That number has to rise.
The Pick: Including last week, the Bills are 4-2 ATS in Buffalo over the past three years when getting a field goal or more. When getting exactly three points, they're 2-0 ATS.
Fantasy: C.J. Spiller was a dud last week, and although I don't expect him to be great this week, he will bounce back. Carolina's front seven is very capable, and if Spiller has a bad game then he could be a buy-low candidate.
Washington @ Green Bay (-7.5)
What I Believe: Robert Griffin III isn't all there, but he's close. In his final 34 throws on Monday Night Football, RG3 completed 24 of them from 267 yards and two touchdowns. The last stage of rehab in the NFL is on-field play, which RG3 was able to finally accomplish last week, but there are still more hurdles to clear going forward.
What I Don't Believe: The Green Bay defense is a lot better than people think; the problem is Colin Kaepernick is just that good. To be fair, the Packers shut down San Francisco's running game and kept the majority of the receivers in check. Two of them, Anquan Boldin and Vernon Davis, just happened to go off for a combined 19 catches and 306 yards.
The Pick: The short week favors Green Bay, and all of their preseason preparation for the read option is applicable this week if Kyle Shanahan wants to use RG3 as a runner. Washington's corners are also a concern, particularly DeAngelo Hall, who has no chance of keeping up with any of Green Bay's pass catchers.
Fantasy: If you drafted Fred Davis like I did, go ahead and dump him like I did. In eight career games with RG3, Davis has 26 catches for 347 yards and no touchdowns. His fellow tight end rookie Jordan Reed received more targets Monday night, and there are most likely better options in free agency.
Minnesota @ Chicago (-6)
What I Believe: Adrian Peterson is very good. Christian Ponder is very bad. The Vikings and Lions box score was very deceiving, because if Detroit avoided a few dumb penalties (here's looking at you, Ndamukong Suh), they could've won by two touchdowns or more. Ponder is a big problem.
What I Don't Believe: In August, Jay Cutler told Pro Football Talk, "don't panic, we'll spread the ball around." Then on Sunday he targeted Brandon Marshall 10 times, and it felt like 20. While Cutler may be a fibber, that doesn't mean it's a bad thing for Da Bears. Marshall's ability to draw double coverage can leave the seam open, and tight end Martellus Bennett is a very athletic player who exploit one-on-one coverage against a linebacker or nickelback.
The Pick: The Bears didn't play great on Sunday and were very fortunate to receive two personal foul penalties from Cincinnati at the ends of both halves, but I need much more than a touchdown to take Ponder at Soldier Field. In two appearances there, he's thrown for just 258 yards and the Vikings have lost by an average of 23.5 points.
Fantasy: During the first few weeks of the season, while everyone is looking for sexy waiver claims, look for value. If you drafted Matt Forte but someone else grabbed Michael Bush, they might waive him for an Edelman or a Marlon Brown. Small moves like this can go a long way.
St. Louis (+7) @ Atlanta
What I Believe: Jared Cook is going to help the Rams offense tremendously. He won't always be as productive as he was against Arizona, but he will be a reliable option for Sam Bradford as his younger receivers develop during the season. The Rams defense is also just as strong as it was last year, when it finished the season ranked seventh in defense DVOA.
What I Don't Believe: The Falcons shouldn't be favored by a touchdown in many games this year. After scoring 10 points in the first quarter against Saints, they were outscored 23-7 in the next three quarters. The offensive line looked predictably poor – Matt Ryan was sacked three times and hit six more times – and minus a 50-yard scamper, Steven Jackson averaged 2.7 yards per carry against a below average defense.
The Pick: Take the points. I hope the Falcons win by six so that they continue to be overrated, but I think this game will go down to the wire, much like Atlanta's home games against Oakland and Carolina last year.
Fantasy: With Roddy White's ankle injury, Harry Douglas becomes a bit interesting, especially for White owners. Douglas had four catches on six targets last week for 93 yards.
San Diego @ Philadelphia (-7.5)
What I Believe: I was all in on Chip Kelly entering the season, and that first quarter against Washington had me positively giddy. Protecting Mike Vick is a concern and the Eagles defense is still shaky, but Kelly's system fits the talent on offense and they are dangerous. My favorite part of the night was when the Eagles immediately went for it on fourth down in the first quarter. There was no hesitation; Vick didn't look at the sideline confused, the offense simply lined up and got the first down. Beautiful.
What I Don't Believe: Philip Rivers won't throw for four touchdowns in another game this season, and yet the Chargers still couldn't hold on and win the game. What an epic meltdown.
The Pick: This line opened at nine before getting bet down. Laying more than a touchdown with the Eagles is hard, but betting against a bad team on a short week flying from the West Coast to the East Coast softens the blow a little bit.
Fantasy: Brent Celek will be used early and often in the Eagles offense, and once he gets more acclimated, so too will Zach Ertz.
Dallas @ Kansas City (-3)
What I Believe: The Chiefs are a good team, but more so because of their defense. Tamba Hali made a great play on his pick-six, bouncing off of a cut block only to leap into the air and snatch an errant Blaine Gabbert pass, and the front seven did a great job of containing Maurice Jones-Drew. Kansas City blew the doors off Jacksonville because of their defense, not their offense.
What I Don't Believe: The Cowboys forced six turnovers on Sunday night, but they still looked average, allowing Eli Manning to throw for 450 yards, including this easy Victor Cruz touchdown. If you force six turnovers, you're supposed to win by two or more touchdowns. Dallas didn't do that.
The Pick: Dez Bryant's mild foot sprain doesn't frighten me as much as Arrowhead Stadium does. When the Chiefs are competitive those fans rival the 12th Man in Seattle, and this is the first time in three years that KC is even competitive.
Fantasy: Be patient, Dwayne Bowe owners. The Chiefs will have more opportunities to stretch the field going forward and Alex Smith can get him the ball.
Top 10 DraftKings Value Plays
We're at the midpoint of this week's picks, so let's take a look at some DraftKings value plays. The following players are listed in order of price from highest to lowest. If you played Terrelle Pryor last week, you're welcome.
| Player | Position | Opponent | Price |
| --- | --- | --- | --- |
| Carson Palmer | QB | Detroit | $6,700 |
| Michael Vick | QB | San Diego | $5,700 |
| Maurice Jones-Drew | RB | Oakland | $5,700 |
| Eddie Lacy | RB | Washington | $4,200 |
| Daryl Richardson | RB | Atlanta | $3,700 |
| Tyler Eifert | TE | Pittsburgh | $3,400 |
| Rueben Randle | WR | Denver | $3,100 |
| Brent Celek | TE | San Diego | $3,100 |
| Ace Sanders | WR | Oakland | $3,000 |
| Packers | DST | Washington | $3,000 |
Carson Palmer: Palmer looks like he might be a DraftKings Value Play All-Star. As the 16th-highest priced quarterback, the $6,700 is well worth a possible 300-yard two or three touchdown game.
Michael Vick: I am legitimately shocked that there wasn't a knee-jerk uptick in Vick's value, especially against an average Chargers defense traveling from San Diego to Philly on a short week. This is terrific value.
Maurice Jones-Drew: Did you see Andrew Luck scamper up the middle for a 19-yard touchdown? Luck is a better runner than most think, but those holes will be open for a much more agile MJD.
Eddie Lacy: Green Bay struggled to run the ball, but during the drive in which Lacy scored a goal line touchdown, the rookie looked good. He's valued at $300 less than Le'Veon Bell, who isn't even playing.
Daryl Richardson: Richardson is going for $800 cheaper than the aforementioned Bell, and is a starting running back going up against a poor defensive line. Isaiah Pead won't leach that much.
Tyler Eifert: Eifert finished the first game of the season tied for second on the team with five targets. In the red zone, he lined up at wide receiver opposite of A.J. Green and ran a fade route. The Bengals like this kid, and want to get him involved more and more.
Rueben Randle: Randle is a slot receiver on a good passing team that will probably be playing from behind.
Brent Celek: As mentioned above, Celek is a key part of the Eagles offense. At $100 more than the bottom of the barrel, Celek is a great value.
Ace Sanders: Sanders is this week's Stanford Band Play. He had nine targets against the Chiefs, and is a player the Jags want to get the ball in space. Sanders has some big play potential against Oakland.
Packers: I believe in the defense and I think RG3 will continue to struggle on his road to recovery.
Tennessee @ Houston (-9.5)
What I Believe: Darius Reynaud should have an awareness rating of -50 in Madden.
What I Don't Believe: Ben Tate isn't better than Arian Foster, but Foster has a real case of the yips. He dropped two very easy passes on Monday night and looked visibly upset on the sideline. Foster will get better though, and Houston needs that.
The Pick: The Texans tend to crush bad teams at home. Over the past two years, Houston is 6-1-1 ATS at home when favored by nine or more points.
Fantasy: DeAndre Hopkins, when targeted, looked very good on Monday night. I still like him as a WR3 with FLEX and WR2 potential.
Miami (+3) @ Indianapolis
What I Believe: The Colts defense is going to struggle again this year. Terrelle Pryor didn't rush for 100 yards because he's the next coming of Randall Cunningham, he did it because Indy's linebackers had to clue how to play contain defense. Without Andrew Luck, this is a four or five-win team, and even with him they may only win seven or eight games.
What I Don't Believe: The Dolphins played great defense in Cleveland, but they're not going to blow the doors off teams this year. Miami benefitted from timely turnovers, while Cleveland dropped two interceptions from Ryan Tannehill. One drop, which came in the end zone, was followed by a 34-yard touchdown pass to Brian Hartline.
The Pick: I don't trust the Colts defense at all. If Miami can get Lamar Miller or Daniel Thomas going, they can win this game by more than a touchdown.
Fantasy: Hartline definitely has value due to his rapport with Tannehill. I also think Miller could have his biggest game of the season this week.
Detroit (-1.5) @ Arizona
What I Believe: If healthy, Reggie Bush will play a huge role in the Lions offense, opening up opportunities for the receivers and fellow running back Joique Bell. Bush needs to be managed properly though, and is already battling injuries, but Jim Schwartz claims that he won't limit his workload.
What I Don't Believe: Jim Schwartz.
The Pick: Arizona looked solid last week, and I loved what I saw from Tyrann Mathieu, but they were smoked by Jared Cook in the middle of the field. Patrick Peterson may be able to take Calvin Johnson out of the game, but Detroit was just fine last week despite Megatron's three catches. The Lions are legit, and I think they should be giving at least a field goal in this game.
Fantasy: Bell doesn't need a Bush injury to be fantasy relevant. With Bush active last week, he scored two touchdowns on 11 touches.
New Orleans (-3) @ Tampa Bay
What I Believe: Josh Freeman isn't an NFL quarterback. Watching him firsthand on Sunday, he was awful. He was solely responsible for several delay of game penalties, and made a handful of very bad throws. Rookie Mike Glennon will be the quarterback of the Bucs by season's end.
What I Don't Believe: The Saints will not be in "eff you" mode this season, rather their offense will be more balanced. This will allow Drew Brees to work in some play action outside of the shotgun, and create more opportunities for his receivers down the field. It will also eat up more clock and keep New Orleans' below average defense off the field.
The Pick: With Freeman, the Bucs are 1-3 ATS at home against the Saints. Tampa Bay won outright by six points in 2011, and in their three losses they were beat by an average of 21 points.
Denver (-4.5) @ New York Giants
What I Believe: This is the greatest rap video ever made:
More importantly, Peyton Manning is a very good quarterback, especially with a few extra days to prepare. The Giants defense is also very weak in the middle where Julius Thomas was a beast in the opening game against Baltimore.
What I Don't Believe: Tom Coughlin can't go away from David Wilson. He's clearly the most talented back on the team, and even if they have to use tight end Brandon Meyers as a blocker, they have to find a way to keep Wilson on the field. The second-year man from Virginia Tech must play if the G-Men want to be successful.
The Pick: There are defenses in the NFL that can stop or slow down Peyton. The Giants are not one of them.
Fantasy: Brandon Jacobs doesn't interest me at all. Not one iota.
Jacksonville (+5.5) @ Oakland
What I Believe: This game will receive a lower rating than an episode of Here Comes Honey Boo Boo.
What I Don't Believe: The Jaguars are not as bad as they played in Week 1. The defense is solid and should be able to contain Pryor in the read option, and Chad Henne is a huge upgrade over a nine-fingered Blaine Gabbert.
The Pick: The Raiders shouldn't be 5.5-point favorites over any team in the NFL. They probably wouldn't even be 5.5-point favorites at home against Alabama. This line is mind boggling to say the least.
Fantasy: Relax, MJD owners, it's one game. Don't go nuts and trade him for Julian Edelman or anything crazy.
San Francisco @ Seattle (-3)
What I Believe: Both of these teams are fantastic. Kaepernick's performance last week is not an anomaly, and the Seahawks defense gave up only seven points while missing key players like Brandon Browner and Chris Clemons. This game is going to be a slugfest between two heavyweight fighters.
What I Don't Believe: The Seahawks won't throw for over 300 yards often, but they won't rush for only 70 yards either. I expect Seattle to be much more balanced going forward, even against a tough team like San Francisco.
The Pick: This column is due on Thursday, so I have to pick a side now, but I would wait until Sunday evening to actually bet on this game. As the line stands, I like the Hawks at home, but if the line moves in any direction (it will likely move in favor of the Niners once people start losing on Sunday), then there will be more value. I like Seattle at 2.5 much more than I do at 3.
Fantasy: Like I said to the MJD owners, all of you Marshawn Lynch owners should take a collective deep breath. He will be effective going forward, barring some freak injury.
Pittsburgh @ Cincinnati (-7)
What I Believe: The loss of Maurkice Pouncey can't be understated. It's huge. Continuity is paramount for offensive lines and it starts with a team's center. Without Pouncey, this already below average offensive line will have huge issues protecting Ben Roethlisberger, and now they have to play one of the best defensive lines in the NFL.
What I Don't Believe: I don't think the Steelers are suddenly a two-win team, despite the loss of Pouncey and the struggles on offense. Dick LeBeau will still be able to coach this defense and keep them in games, and Big Ben is skillful enough to string a couple of plays together.
The Pick: This is a terrible matchup for Pittsburgh. No team can rush the quarterback and defend the run with a four-man front as effectively as the Bengals. Likewise, this is Cincy's chance to beat up on a rival at home when they're down. As long as Andy Dalton doesn't make costly mistakes, this game could even be a blowout.
Fantasy: As I said in the DraftKings Value portion of this article, I love Tyler Eifert.
All spreads are courtesy of Covers.com, and are accurate as of 12:00 p.m. EDT on Thursday Sep. 12.
Get all the latest PokerNews updates on your social media outlets. Follow us on Twitter and find us on both Facebook and Google+!