Phil "Unabomber" Laak on His Cameo Appearance in Upcoming Runner Runner Film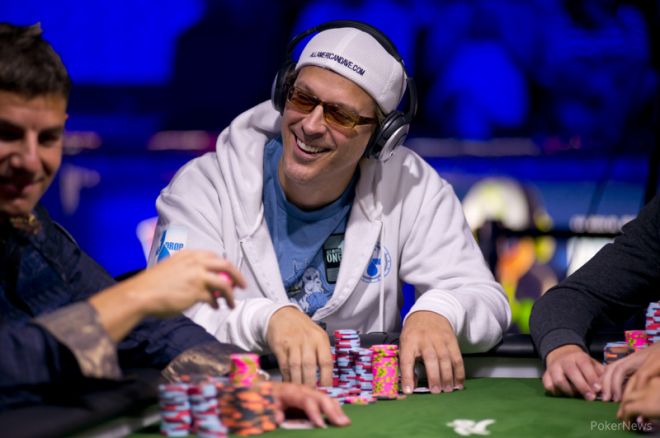 Runner Runner, the new film by 20th Century Fox starring Ben Affleck and Justin Timberlake, will premiere in Las Vegas on Wednesday, September 18, and as we've already told you, PokerNews will be on the red carpet to capture all the highlights.
In anticipation of the gala, we've already interviewed the screenwriters, David Levien and Brian Koppelman (who also talked about Rounders 2), and touched on how the American Gaming Association (AGA) plans to leverage the film's release to push for legalized online poker regulation. Now, we've decided to speak with a poker pro who filmed a cameo in Runner Runner — Phil "Unabomber" Laak.
For those unfamiliar with the upcoming film, here's the storyline according to imdb.com:
"Princeton grad student Richie (Timberlake), believing he's been swindled, travels to Costa Rica to confront online gambling tycoon Ivan Block (Affleck in his first-ever villain role). Richie is seduced by Block's promise of immense wealth, until he learns the disturbing truth about his benefactor. When the FBI tries to coerce Richie to help bring down Block, Richie faces his biggest gamble ever: attempting to outmaneuver the two forces closing in on him."
PokerNews' own Chad Holloway recently sat down with Laak to talk about the film and what it was like being a part of Hollywood, if only for a day.
Holloway: Rumor has it that you and Antonio Esfandiari had the chance to film a cameo for Runner Runner. How did that opportunity come about?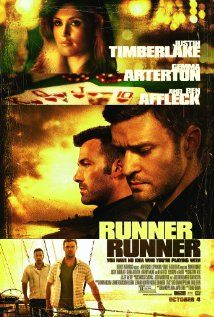 Laak: Something luckier than falling into easy money is falling into excellent relationships, and I have been very fortunate by some of the decisions I've made in life to literally stumbling into meeting people who are not only interesting but charismatic, funny, smart; people who, whether or not they're skilled veterans in their field, I'd want to be friends with anyways. One of those friends was Brian Koppelman, the guy who wrote Rounders.
When he was telling me about Runner Runner, I realized this god-man, Brian Koppelman, hatches anything it has to be gold. I saw Rounders, you can't trick me. If the guy's involved in something it will be gold, because Rounders was golden. My only problem with Rounders, I told him — and he said it was his only problem too, but the producers had to have it — it was the relationship, I didn't buy that relationship with that woman. That's a whole other interview.
So, Brian was telling me about Runner Runner, and he saw that I was really excited, one thing led to another, and then Antonio and I were on a plane to Puerto Rico, which I'd never been to other than a little stop. It was a lot of fun, but unfortunately our scene didn't make it into the movie.
How do you feel about your scene being cut?
That's cool, though, because I didn't know they'd even finished making the scene because it kept getting interrupted by the rain. It was a nighttime poker scene outdoors. It was the scene where Justin Timberlake was passing off the codes to — well I shouldn't be giving the story away because it isn't out yet. Actually I haven't seen it yet. I'm going to see it on September 18 at the premiere in Vegas, so I'm stoked on that.
Anyway — funny thing though, anyways with a "s" is not a word. When I type and write, I often find myself getting autocorrected on that. I want to lobby for it to actually be a word because in common vernacular slang or whatever, you hear the "s" all the time. I think human language patterns force new rules, i.e. "ain't."
Anyway, it was fun. We made this scene and there was a little bit of an overlap with Justin Timberlake and Ben Affleck. They were both there. Our scene had nothing to do with their scenes. Justin was up on the veranda, they were at a party, nighttime, and we're on an outside patio on the ground while the party is happening up around us.
Did you get to talk to them at all?
Ben had his own little social thing happening. Antonio and I are, I'm not going to say lazy, but if you're in a place where there's very few chairs and very few air-conditioned environments, I would say that I'm in the top 4% and Antonio is probably in the top 25% for moving our bodies to where there is stimuli, comfort or whatever. So for us that was video village, which is the place where as the directors and producers are creating, all of that information is coming there. There are nine monitors showing different angles and that kind of stuff.
So there was an army of chairs set up, and there were always three or four empty director's chairs. Jennifer Killoran, who was a producer for Runner Runner and our liaison, was hanging out. Justin Timberlake was coming back and forth to take directions from the director and we were right there. During a break he actually spent like a half an hour with us. It was the first time I'd ever met him. He's a very sharp, very funny, personable kid. He's also very fit I noticed.
He could have easily dominated the conversation or chose to talk about a wide variety of topics that were more interesting to him than what was happening, but he bounced around, made one or two jokes, and was great. It's not like we swapped telephone numbers or whatever, I just happened to be in his orbit.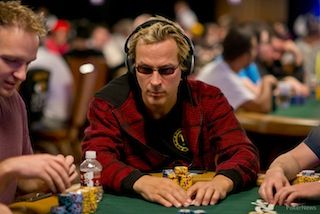 Was it just a one-day shoot?
Yeah. So they shipped us in the day before and we were out in the middle of nowhere in some Puerto Rican forest. It was in the backyard of a mega-mansion. For one scene, you wouldn't even imagine how much work from an endless array of people.
Can you describe the scene you shot in a little more detail?
We were playing poker on an outdoor veranda down from where the main party was happening. The lines that we had had nothing to do with the movie's plot points. It was just things you said in a poker game like, "I bet," "fold," and "you got it." They would do the scene up above and then it would swing down, like a connect shot. So we'd do certain things when they'd start.
[Laughs] I'm telling you man, this poker table would keep getting rained on. We'd be doing our thing and then all of a sudden everything was shut down, we'd all go inside because the rain came from nowhere. Then there would be a bunch of guys with towels that'd throw them over the poker table, bring everything in, and continuity experts taking pictures of everyone's stack sizes. I couldn't believe for a simple little poker thing that wasn't even connected to the movie, it was so much work.
For more information on Runner Runner, visit runnerrunnermovie.com. You can also follow the film on Twitter and like their page on Facebook.
Get all the latest PokerNews updates on your social media outlets. Follow us on Twitter and find us on both Facebook and Google+!
Executive Editor US, PokerNews Podcast co-host & 2013 WSOP Bracelet Winner.