Five Thoughts: Bredin Overcomes the Odds, Perkins Tweets, Ivey Acts Goofy, and More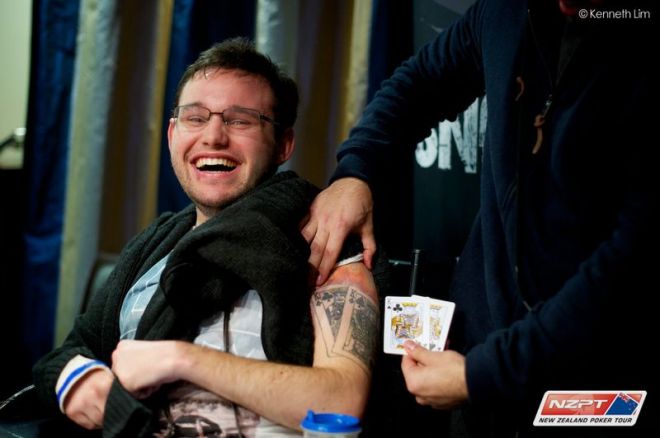 Cerebral palsy is a blanket term for a group of motor conditions caused by brain damage before, during, or immediately after birth. It affects body movement, muscle control, muscle coordination, muscle tone, reflex, posture, and balance. It can also affect motor skills, including oral communication.
According to CerebralPalsy.org, about 764,000 children and adults in the United States currently have CP. Half a million of those individuals are under the age of 18. While CP is a non-progressive condition, and children with CP can live long lives, assistance is often necessary for everyday activities. For parents, properly managing a child with CP's health status may assist in optimizing life span.
In 2008, Abbey Curran, who was born with a mild version of CP, represented Iowa in the Miss USA 2008 pageant. Christopher Nolan, an Irish poet and author who suffered from a variant of CP named dystonia before passing in 2009, was published at the age of 15. In his life, he was awarded an Honorary Doctorate of Letters in the UK, the medal of excellence from the United Nations Society of Writers, and in 1988 he was named Person of the Year in Ireland.
CP can be overcome, and the poker world was reminded of this over the weekend. Jonathan "Jonno" Bredin, who is wheel chair-stricken and must communicate with an iPad due to CP, won the 2013 PokerStars.net ANZPT Queenstown Snowfest Main Event, earning NZ$93,600. To top it all off, the hand he won with is tattooed on his arm — suits and all.
1. Two Black Kings
Bredin entered the final day of the Queenstown Snowfest Main Event with the chip lead, and he eliminated five of his eight opponents at the final table. He eventually found himself heads up with Australian cash-game grinder Daniel Laidlaw, who also has several deep runs in live tournaments including a 12th-place finish in the 2013 Aussie Millions Main Event. Laidlaw had the chip lead, and was in good shape to win the event when he had Bredin all in and at risk holding the
. He was dominated by the
of Laidlaw, but Bredin hit a deuce to stay alive.
Bredin regained the lead, and a few hands later, he was the one who had his opponent all in and dominated. Laidlaw was at risk with
, but he was up against the
of Bredin. Bredin flopped a set of kings, but Laidlaw also received a gut-shot draw to make Broadway. The turn and river both produced bricks, and Bredin was the champion. After the dust settled, Bredin's caretaker lifted the champion's left sleeve, and revealed a tattoo of two cards. Low and behold, the hand was the
. Incredible.
After the win, PokerNews' own Sarah Grant sat down with Bredin. He explained that he's been playing cards since he was 18, and that he is going to use the money to purchase a wheelchair accessible car.
When I came across this story on Sunday morning, I instantly lit up. For Bredin, who mainly plays online and qualified for the event in a small live satellite, to win with the exact hand tattooed on his arm is absolutely extraordinary. Let's start with some very basic math. Although it would be very rare that someone would have a strange hand like
tattooed on their body — I'm sure I just offended someone whose favorite hand is exactly
— there are 1,326 different starting hands in hold'em. Bredin's two black kings represent .00075% of the possible starting hands.
Even if we assume that Bredin's possible tattoo options are queens, ace-king, kings, and aces (34 hand combinations), black kings still only represent roughly three percent of the range. Bredin could've easily asked for two red kings, or even a pair of queens, but aces were out of the question.
"They're boring," he told Sarah.
Here comes the hard part. Beyond the probability that Bredin picked two black kings, he then had to win his live satellite, get heads up, pick up two black kings, and then hold against a player who had an overcard. I am certainly not smart enough to create a probability for those outcomes (I can tell you that the
is a 68 percent favorite against the
), but I can assure you that the number is extremely low.
But it happened.
Bredin's smile tells it all, and as someone who's played in a home game with a wheel chair-stricken friend, I have the smallest inclination into how huge this really is for him. When I attended Elon University, Josh Cranfill, who was kind enough to speak with me after Black Friday about how the loss of online poker affected him more than others, was a regular in our small game. The games suited him because the majority of the facilities on campus — and even most of the off-campus housing apartments — are handicap accessible. Most of the other home games is the greater Burlington and Greensboro area didn't have ramps, unless they were held in a garage.
Josh held his own in the game, and I can only imagine what it would be like if he took down a major live tournament title.
Congratulations to Jonno, and I hope to see him the next time I take a trip down under. Perhaps he will take part in the 2014 Aussie Millions, as he told Sarah he's played at Crown Casino in the past.
2. Perky Tweets
Unprovoked, businessman and amateur poker player Bill Perkins tweeted the following on Monday morning:
If poker tournaments were three days and started on friday I believe attendance would go up 20 percent minimum. #standardize @PokerNews

— Bill Perkins (Guy) (@bp22)
Perkins is a regular in PokerStars-sponsored high rollers and super high rollers, and has appeared on both the PokerStars Big Game and High Stakes Poker. He also makes a very good point — if poker tournaments want to attract wealthy businessmen.
PokerStars Global VIP Host Garry Gates was quick to assure Perkins that the EPT Barcelona Super High Roller operates on this schedule, but the rest of the EPT schedule isn't official just yet.
Over here in the United States, the World Series of Poker Circuit has adopted a weekend schedule for their main events, which changes from stop-to-stop depending upon the estimated field size. Some events separate the Day 1 flights into two days (Friday and Saturday), while others host both flights on the same day (Saturday). The final day is Monday, which rarely causes conflict because for most of the players the money distributed at the final table is worth missing a day of work.
For someone like Perkins, a minimum cash in a super high roller isn't worth missing a day of work, however.
Also, some high rollers and super high rollers allow late registration up until Day 2. So, if someone like Perkins has business to attend to on Friday morning, they can handle it, jump on a private jet, and then register towards the end of Day 1 or on Day 2. Easy game.
Beyond scheduling, high roller and super high roller structures can be addressed. On the PokerNews Podcast this summer Haralabos Voulgaris complained about the One Drop structure being too slow on Day 1, which can be a deterrent for businessmen. Somebody who has business to attend to on Monday, or in the case of Dan Shak every second at the poker table, doesn't want to sit and grind forever. They want action and they want the tournament to move at a decent pace.
Therein lies the proverbial fork in the road: do you cater to the players, or to the businessmen?
In the end, you need to focus on the economy of the poker community. I'm not saying that all high rollers should be hyper turbos — sorry for getting you excited, George Lind — but professional players should be able to adapt to faster structures. There will certainly be a bit more variance, but there will also be more players.
Look at Macau. The GuanDong Asia Millions Main Event attracted 71 unique entries and 54 re-entries. The 2012 Macau High Stakes Challenge Super High Roller had 73 unique entries and 21 re-entries. None of these structures were perfect, yet the field sizes were massive.
The only super high roller with a "great" structure to attract a large field — the largest ever, in fact — was the One Drop High Roller at the 2013 WSOP. Caesars of course benefitted from a reputable charity and the coveted gold bracelet.
With the EPT schedule currently unfinished, I hope they are listening to customers like Perkins. He and his friends can single-handedly affect the success of big buy-in tournaments, and their opinions are very important. Weekend schedules for big buy-in events could boost field sizes, which would be great for the fans who want to sweat marquee events and even better for professionals looking to line their pockets.
3. Kristy Getting #OntheJet
On Monday, our own Kristy Arnett tweeted that she will be appearing on Poker Night in America:
Whoa so excited!!! Was chosen by @PokerNightTV to play in tv cash game! Gonna be the highest stakes I've played. Ready! Leave Thurs on jet!

— Kristy Arnett (@KristyArnett)
Along with the $25/$50 cash game, Arnett will be playing in the $1,500+$150 Empire State Hold'em Championships at Turning Stone Resort & Casino in Verona, New York. Joining Arnett in upstate New York will be pros Phil Laak, Dwyte Pilgrim, Eli Elezra, David Levi, David "ODB" Baker, Dennis Phillips, Greg "FBT" Mueller, Amanda Musumeci, Tom "Donky Bomber" Schneider, Layne Flack, Matt Glantz, Darvin Moon, Shaun Deeb, Will Failla, David Williams, Gavin Smith and Shawn Buchanan.
On his blog, PNIA Creative Director Nolan Dalla calls the concept, "an edgy new television series and window into behind-the-scenes reality that has never been attempted before. Part real-life poker coverage, part unscripted reality television, this is the first program ever which shows what really goes on away from the table and behind the cameras." Dalla adds, "Our mission is to revolutionize televised poker. We want to make poker fun again."
PokerNews Editor-in-Chief Donnie Peters addressed the "fun" in poker last October, and during the Main Event we discussed the lack of "fun" on the PokerNews Podcast. We want more weirdos. We want more people wearing umbrella hats. We want Dmitri Nobles to send people out on stretchers, and the Italian Stallion to send people to the rail. Fun isn't just good for the game, it's good for life in general, unless you hate smiling and laughing.
In which case, don't click this link.
Unfortunately, PNIA doesn't have any more scheduled events after the Empire State Hold'em Championships, and if you click the "where to watch us" link on their site, you're told that the information is coming soon. This is never good, especially when it comes to poker television. Remember last year when we all got excited about Full House With Johnny Chan? We have yet to see the unknown, boisterous poker player pay his rent in Euro. What a shame.
I am certainly in favor of anything that is innovative, fun, and sheds a positive light on poker, and Dalla is a legend within the poker community who wouldn't put his name on anything that isn't worthwhile, but PNIA is behind the eight ball. They will need to put together an awesome pilot and find the perfect buyer for this project to actually air on television. That being said, I'm rooting for PNIA's success, and apologies to all of the professionals involved, but I'm also rooting for Kristy to take all of your money.
4. We Play for Forks and Knives
Phil Ivey. The nine-time WSOP bracelet winner is known for being stoic. Known for being silent. Known for his ice-cold death stare.
What Ivey is not known for — at least in the public light — is being goofy. Well, in this Vine with DJ Steve Aoki, Ivey is indeed goofy. Very goofy.
There are several brilliant parts to this Vine. One, the dealer looks like New York Jets wide receiver Braylon Edwards.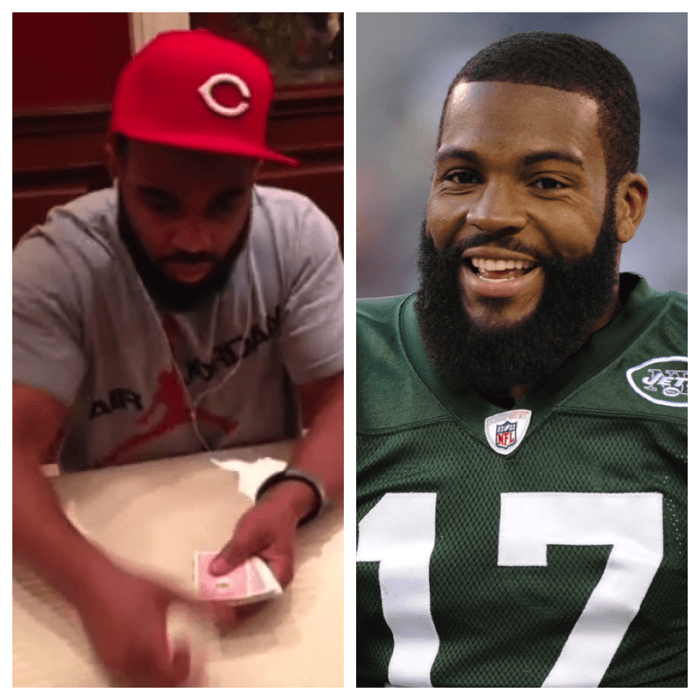 Uncanny, right?
Two, while giving the patented Ivey stare, Ivey winks. He winks! Unless the camera operator is a good looking masseuse or dealer, then this has to be the greatest acting job since Tom Hanks in Castaway.
Third, Ivey throws down an epic slow roll. Aoki excitedly tables his cards, announcing that he has a full house, only to have his dreams crushed by Ivey who shows quad sevens.
Fourth, and finally, Ivey delivers an epic line. "We don't play for money, we play for forks and knives!" It's random. It's nonsensical. And yet, it's brilliant. While shouting at the camera, Ivey rakes in a pile of silverware as if he's won bracelet number 10. I laughed. I cried. Norman Chad, bring back the Flushy Awards!
On a more serious note, this is one of the most non-Ivey things Ivey has ever done publically, and it's awesome. Daniel Negreanu has told me on several occasions that Ivey is a very outgoing person, but he's never peeled back the curtain enough to show the fans and the media this side of him. He's always very quiet and very reserved at the table, and refuses to do interviews despite trying to grow his own online poker site.
Instead of learning, chatting, and playing with the pros over at IveyPoker, perhaps we will all be playing for forks and knives. With Braylon Edwards dealing to us.
5. Crown Announces 2014 Aussie Millions Schedule
Late Monday night, Crown Casino announced the schedule for the 2014 Aussie Millions. The festival will take place from Jan. 23-Feb. 10. The Au$10,000 Main Event begins on Feb. 2 and will have three starting flights. The AU$25,000 Challenge, a two-day event, begins on Feb. 2 as well. The AU$100,000 Challenge, a two-day event, begins on Feb. 7, and the AU$250,000 Challenge, another two-day event, starts on Feb. 9.
You can check out the entire schedule here, and for more information, I advise you to head on over to AussieMillions.com.
The festival runs a week later than last year, which is an evident attempt to attract more players who travel down to the Bahamas for the PokerStars Caribbean Adventure. With February being a generally quiet time for poker, this is a very smart move, and I hope that poker players take the opportunity to go Down Under. Crown is a phenomenal property that really cares about the players and the staff, and Melbourne is absolutely wonderful in the summer time.
Don't let the long flight or the potential jet lag scare you. It's just a stupid excuse barring you from going to one of the best tournament series in the world. Trust me.
In 2013, Mervin Chan took down the Main Event and over AU$1.6 million, while Andrew Robl, Sam Trickett, and Igor Kurganov won the AU$100,000 Challenge, AU$250,000 Challenge, and the AU$25,000 Challenge respectively.
Edwards photo courtesy of Stacks Magazine.
Get all the latest PokerNews updates on your social media outlets. Follow us on Twitter and find us on both Facebook and Google+!