Five Thoughts: Two-Time WSOP Bracelet Winners, Bax's Poker Legacy, and More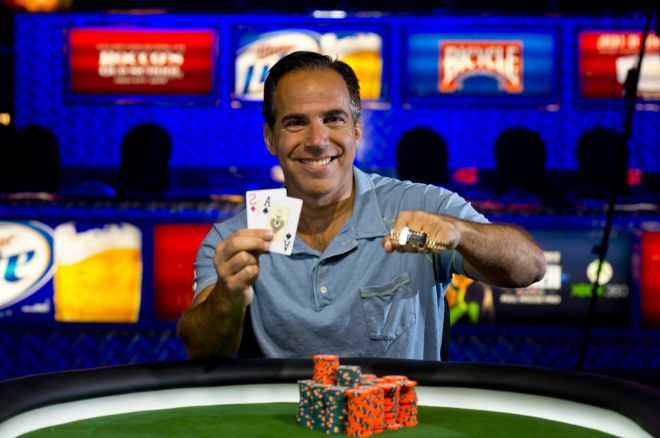 This past week, four players won their second career World Series of Poker bracelet: Cliff "Johnny Bax" Josephy, Mark Radoja, Davidi Kitai, and, say it with me now, Athanasios Polychronopoulos.
Josephy, who I will refer to simply as Bax from this point forward because it's an iconic nickname that he earned by crushing online and joining forces with Eric "Sheets" Haber to create the best staking tandem in the history of poker, won Event #9: $3,000 No-Limit Hold'em Shootout, Radoja took down Event #16: $10,000 Heads-Up No-Limit Hold'em, Kitai won Event #19: $5,000 Pot-Limit Hold'em, and Polychronopoulos bested another massive field winning Event #17: $1,500 No-Limit Hold'em. All three of these players are now apart of an elite group of multiple bracelet winners, and because of his contributions to the online poker community, I will make the argument that Bax should be a member of the Poker Hall of Fame.
Sit back, relax, and enjoy the second installment of Five Thoughts from the 44th annual WSOP.
1. Polychronopoulos and Radoja Both Win a Second Bracelet in Three Years
In 2011, both Polychronopoulos and Radoja took down bracelets. Polychronopoulos bested a field of 2,713 runners to capture gold, earning $650,223 in a $1,500 event, while Radoja navigated through a very tough, 387-player $5,000 event, earning $436,568 and his first bracelet. Radoja, a Canadian, defeated Jeff Gross, an American, heads up, while Polychronopoulos, an American, defeated Simon Charette, a Canadian, heads up.
This week, nearly two years removed from both of their victories, the two became champions again. This time, Radoja won the $10,000 Heads-Up event, while Polychronopoulos took down yet another massive $1,500 event. Event #17 attracted 2,105 players, and combined the two fields that Polychronopoulos beat total to 4,818 players. To put that into perspective, in Phil Hellmuth's 13 WSOP wins, the combined field sizes comes up to 6,102, and that includes a massive 2,628 no-limit event that the Poker Brat won in 2007. Take that event away, and the number shrinks to just 3,474 players over 12 events.
What Polychronopoulos has achieved is incredible, and is comparable to some of the other epic feats we've witnessed over the last few years, including Brock Parker winning two bracelets in the same week, Phil Ivey reaching five final tables in the same week, and Matt Matros winning a bracelet in three consecutive years. Matros still has a couple dozen events in 2013 to make it four bracelets in four years, and if he's able to achieve that then all bets are off.
Polychronopoulos defeated Manuel Mutke heads up, and was joined at the final table by 2009 Main Event champion Joe Cada (4th) and David "Bakes" Baker (8th). Polychronopoulos took home $518,755, and now has well over a one million dollars in WSOP earnings. After Polychronopoulos was mobbed by his rail, and tried to give his number to our camera operator, he was joined by Lynn Gilmartin and became a bit emotional:
The previous day, Radoja took down the prestigious $10,000 Heads-Up event. En route to the gold, he defeated some very tough players including the aforementioned Hellmuth and my pick on the PokerNews Podcat to win, Ankush "pistons87" Mandavia. In the end it was him and Don Nguyen battling it out in the Mothership, and Nguyen got out to an early lead. Radoja came back when he won a key flip holding pocket threes against Nguyen's ace-six off. In the final hand, Radoja was behind with king-nine of spades against Nguyen's ace-three off, and it looked like Nguyen was going to ship a massive double, but the man with the ax spiked on the river to give Radoja a winning pair of kings and his second bracelet. Radoja earned $331,190 for the victory, and now has a six-figure score in each of the last three WSOP's.
Congratulations to these two and Kitai, who already had achieved the Triple Crown before winning bracelet number two. His Triple Crown is a bit unique because his World Poker Tour win came in an invitational event, but that argument is for another day.
2. Bax Wins Number Two
If a first timer comes to the world series and spots Johnny Bax, they won't ask for his autograph or sneakily grab their camera phone to take a fuzzy picture of him that will look even crappier when it's uploaded onto Instagram. In fact, they probably won't even do a double take, mistaking him for some kind of weekend warrior, firing of $1,500 he's saved all year just to say that he's played in a bracelet event.
Simply put, Bax is a legend. With over $4.1 million in career online tournament earnings, over $2.4 million in live tournament earnings, two WSOP bracelets, and what is perceived to be the largest and most profitable stable of horses in the history of poker, there are few modern poker players outside of the dozen or so elite players (e.g. Phil Ivey and Daniel Negreanu) that have this kind of resume. Sure other players have more live earnings, some have more online earnings, there are those with more bracelets, and sick individuals like Vivek Rajkumar have extremely expensive horses, but very few players, if any, can lay claim to all four of these characteristics.
I have a hunch that, if one day we could see a list of all of the players that Bax and Sheets staked in both online and live poker tournaments, then our level of respect for both of these individuals would increase exponentially. Unfortunately, being savy businessmen, I don't foresee a day that a Google doc will leak with a list of names, nor do I think either of these men will publish some kind of tell-all novel. Bax and Sheets are in the business of making money, not spilling secrets.
One player, who I know for a fact was backed by Bax and Sheets, is the aforementioned Cada. Don't believe me? Go back and watch the 2009 Main Event final table. On the final hand, who does Cada walk over to before the flop? Is it his best friend? His parents? No, it's the man, the myth, and the legend, Johnny Bax.
If Eric Drache, who was a huge influence in the poker community off of the felt, can be inducted into the Poker Hall of Fame with just $340,000 in career tournament earnings, then I think Bax should at least be considered. And, if we do see that iconic list one day, then perhaps he may even be a shoe-in because of the iconic players he and Sheets propelled into the spotlight of the poker industry.
3. Matusow Wins a Fourth Bracelet
Mike "The Mouth" Matusow took down Event #13: $5,000 Seven Card Stud, earning his fourth WSOP gold bracelet and his third in a non-hold'em event. Matusow won his first bracelet back in 1999, taking down a $3,500 no-limit hold'em event, and added two more in 2002 and 2008, winning a $5,000 Omaha Eight-or-Better event and a No-Limit Deuce-to-Seven event respectively. Matusow now has over $8.9 million in career tournament earnings and, thanks to his victory in the NBC Heads-Up National Championship, over one million dollars in earnings this year alone.
This is his first million-dollar year since 2008, where he won his third bracelet and finished 30th in the Main Event, and the fourth million-dollar year of his career.
Initially, I didn't know how to feel about Matusow's victory because the rest of the WSOP overshadowed it. Twitter didn't blow up, nor was there a buzz in the Rio the next day. It just kind of happened. Then, PokerNews' own Matthew Parvis made a great point to me on the podcast, saying that he's a professional and that winning bracelets is to be expected.
And he's right.
With Ivey and Hellmuth it's one thing, because they are racing for the all-time bracelet record, but with the other professionals, it's commonplace. Great players do great things, and with more than 60 bracelets being awarded this year, great players should earn hardware. The story is great, and Matusow is certainly a tough mixed games player, but this doesn't make him a top-10 player all of a sudden. Top-10 players do this sort of thing all of the time.
It is great to see Matusow go deep, however, and his personality is something that poker desperately needs. The Mouth has historically done well in the Main Event, so perhaps his 2013 run good will spill over into the big one. Only time can tell.
4. 25K Fantasy Update: Gorodinsky Still Crushing
As of Wednesday June 12, Team Gorodinsky is still crushing Negreanu's 25K Fantasy League. Thanks to Gorodinsky's own win, and Dan Kelly's four Day 3's, the team has already banked 274 points. In second place is Team Waxman with 227 points. Waxman's biggest horse thus far has been Bakes, who has scored 121 points in three final table appearances.
| Team | Points |
| --- | --- |
| Gorodinsky | 274 |
| Waxman | 227 |
| Hastings | 131 |
| Mercier | 127 |
| Negreanu | 126 |
| Brunson | 114 |
| Katchalov | 111 |
| Kenney | 63 |
| Alaei | 62 |
| Katz | 62 |
| Fleyshman | 60 |
| Glantz | 55 |
| Russia | 49 |
| Timex | 43 |
The biggest surprise thus far has been the lackluster performance of both Team Alaei and Team Glantz. With only one cash thus far, Ivey has only contributed 25 points to Team Alaei, while both Michael Binger and Steve Sung have zero. Likewise, Team Glantz has two donuts from "King" Dan Smith and Chris "Genius28" Lee, while two of their owners, Chris Klodnicki (19) and Matt Glantz (1) have only scored a combined 20 points.
There is still a ton of time left in the WSOP though, and with five teams in the middle separated by 20 points or less, there is sure to be a lot of shakeup as the Main Event draws closer. With the way Kelly is crushing, it will be interesting to see if anyone can catch Team Gorodinsky.
5. Heinecker Wins the GDAM Main Event for $4.4 Million
If you noticed that a few of the top professionals were absent for the first week of the WSOP, don't worry, they aren't pulling an Ivey and skipping it altogether. A plethora of top pros hopped over to the City of Dreams in Macau for the GuangDong Ltd Asia Millions Main Event. The HK$1,000,000 Super High Roller attracted 51 players, including professionals and businessmen alike, and the eventual winner was German Niklas Heinecker. Heinecker took home HK$34,600,000 ($4,464,515), and that was after his horse Max Altergott won the PokerStars and Monte-Carlo® Casino European Poker Tour Grand Final Super High Roller, earning €1,746,000.
Here's how the entire GDAM final table looked:
| Place | Player | Prize (HKD) | Prize (USD) |
| --- | --- | --- | --- |
| 1 | Niklas Heinecker | $34,600,000 | $4,464,516 |
| 2 | Jeff Rossiter | $24,500,000 | $3,161,290 |
| 3 | Sorel Mizzi | $16,100,000 | $2,077,419 |
| 4 | Zheng Tang | $12,525,000 | $1,616,129 |
| 5 | Ike Haxton | $10,200,000 | $1,316,129 |
| 6 | Igor Kurganov | $8,300,000 | $1,070,967 |
| 7 | Anson Tsang | $7,150,000 | $922,580 |
| 8 | Pratyush Budigga | $6,000,000 | $774,193 |
Fellow member of Team Germany Igor Kurganov finished in sixth, Aussie Jeff Rossiter was runner-up, Sorel Mizzi, who took third in the Grand Final Super High Roller, took third once again, PokerStars Team Online Member Ike Haxton, who finished runner-up in the GDAM "Warm Up," finished fifth, and spelling whiz Pratyush Buddiga rounded out the final table in eighth.
This event was surely a blast for the players because it took place in the wonderful city of Macau and it attracted some pretty large whales, but it was a bit disheartening to see that it was scheduled during the WSOP. The window is sacred, and it should be respected, but none of these players were going to pass of this kind of value in Macau. I just hope that this doesn't become a trend.
Team Germany and the rest of these players will certainly make their way to the WSOP, if not now then in time for the One Drop High Roller.
Be sure to follow our Live Reporting page for continuing coverage of every event at the 2013 World Series of Poker, and follow PokerNews on Twitter for up-to-the-minute news.