Five Thoughts: If You Can't Beat Them, Call Them a Business Built on Deceit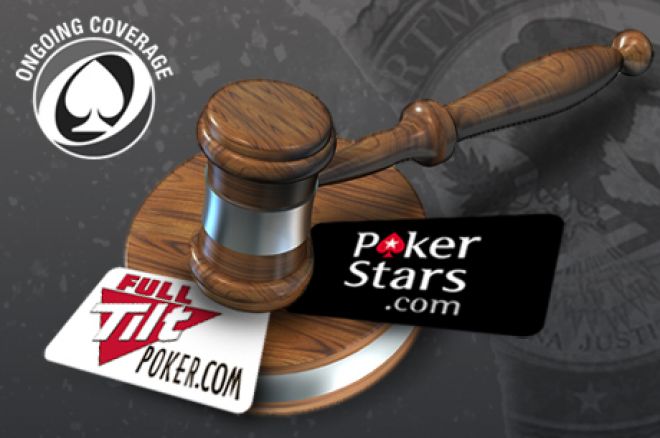 The opinions expressed here are those of the author and do not necessarily reflect the positions of PokerNews.
On Monday, the American Gaming Association filed a brief to the New Jersey Casino Control Commission, opposing PokerStars' petition for casino authorization in Atlantic City. In the brief, the AGA urges New Jersey to oppose PokerStars because they willingly ignored legal risk in order to rake in profits after the Unlawful Internet Gaming Enforcement Act was passed in 2006.
"AGA today opposes the PokerStars Petition because the integrity of the gaming industry would be gravely compromised by any regulatory approvals of PokerStars, a business built on deceit, chicanery, and systematic flouting of U.S. law," the brief states. "Any action allowing PokerStars to be licensed would send a damaging message to the world of gaming, and to the world beyond gaming, that companies that engage in chronic lawbreaking are welcome in the licensed gaming business. That message would dramatically undermine public confidence in gaming regulation and could cripple the industry's public image for many years."
OK boys and girls; raise your hands if you think PokerStars' presence in New Jersey would cripple the gaming industry's public image. Bueller? Bueller?
Eric Hollreiser, Head of Corporate Communications for PokerStars, released a statement late Monday night, addressing the AGA's brief.
"These are matters for expert regulators to determine, not self-interested partisans picking a public fight," he said. "The U.S. Department of Justice has said PokerStars is suitable to apply for a license in the U.S. and saw fit to give us the assets of our largest competitor and entrust us to the compensate their customers outside of the U.S. We will continue to work with authorities including the NJ regulators and other interested state regulators to discuss our qualifications and allow them to comment on what they find."
Chris Porter, director of interactive marketing for Golden Gaming Inc., described this squabble perfectly on Twitter:
Skimming through the @AGAupdate brief against PokerStars which includes a formal legal opinion. #PRbattle has officially started

— Chris Porter (@CM_Porter)
Indeed, the public relations battle is on.
1. If You Can't Beat Them, Call Them a Business Built on Deceit
A few weeks ago, Frank Fahrenkopf, president and CEO of the AGA, expressed optimism about a federal online poker bill. He is optimistic despite countless failed attempts by Senate Majority Leader Harry Reid (D-Nev) and Jon Kyl (R-Ariz.) to pass such a bill, and increased pessimism from the Poker Players Alliance.
Nate Silver, who joined the PokerNews Podcast at the 2013 Aussie Millions, is also pessimistic about a federal online poker bill being passed. In an "ask me anything" thread on Reddit, he wrote, "My hunch is that the poker community probably underrates how difficult it is to get ANYTHING done at the federal level, especially in the near term."
In January, TheHill.com reported that Fahrenkopf, who has served as president of the AGA since its inception in 1994, is stepping down on June 30. With his exit nearing, perhaps there are a few motivating factors for the AGA to try and bring the smack down on PokerStars. Perhaps Fahrenkopf wants to hit a walk-off homerun, bringing down PokerStars on his way out the door, or someone within AGA is lobbying for the presidency, and is looking for a trump card to put on his or her résumé.
If someone within the AGA actually succeeds in warding off PokerStars from having a land-based presence in the United States, they will be recognized as a hero within the gaming industry.
The big problem for the AGA is that when PokerStars' parent company (Rational Group) settled with the DOJ, the company admitted no guilt. The DOJ happily accepted Rational Group's nonadmission, pocketed hundreds of millions of dollars and told Rational Group that it may operate PokerStars in the United States as long as it receives a license on the state or federal level.
Like Hollreiser stated, the decision to allow or disallow PokerStars from operating in New Jersey will be made by regulators, not lobbyists – although it's clear that lobbying has a huge effect on the gaming industry in the U.S.
This last-ditch attempt by the AGA to bar PokerStars from re-entering the U.S. market is desperate and somewhat laughable. Rather than legislating during the six years after the UIGEA – and particularly during the last year and a half post Black Friday – the AGA waited until the very last second to complain about a competitor's successes. The land-based casinos in the U.S. had plenty of time to get their ducks in a row and act, and they failed to do so. Now they have to deal with the consequences.
Additionally, if the AGA somehow succeeds, then it would be taking away 2,400 jobs from Atlantic City. In the aftermath of Hurricane Sandy, and with casinos closing left and right, AC needs some kind of economic jolt. Taking away the Atlantic Club deal with PokerStars would be a huge mistake by Gov. Chris Christie and the New Jersey state government as a whole.
Hopefully this will all blow over, but I expect the AGA to put up a big fight. This is Fahrenkopf's last stand, and perhaps the last chance for land-based casinos in the U.S. to defend themselves from PokerStars.
2. PokerStars vs. Full Tilt Poker
Last week, Team PokerStars Pro Daniel Negreanu challenged Gus Hansen and "The Professionals" to a series of heads-up matches. Hansen talked with Tom Dwan and Viktor Blom, who both agreed to participate, and allowed Negreanu to pick two players from Team PokerStars Pro's extensive roster.
There was one caveat however:
.@RealKidPoker Since you have tons of PS pros to choose from, and I have my two, I should get to pick the match ups.

— Gus Hansen (@GusHansen)
.@GusHansen Ok that's fair. I will have a response to you in a couple days with who I'm choosing then you can pick the matchups. Deal.

— Daniel Negreanu (@RealKidPoker)
With the help of some fans, Negreanu chose heads-up specialist Isaac Haxton and French wizard Bertrand "ElkY" Grospellier. Hansen picked the following matchups:
| | | |
| --- | --- | --- |
| Daniel Negreanu | vs. | Gus Hansen |
| Bertrand Grospellier | vs. | Viktor Blom |
| Isaac Haxton | vs. | Tom Dwan |
The heads-up challenge will take place on March 10 at EPT London and will be played on Full Tilt Poker in a "battleship" style. The winner of each best-of-three match will earn $50,000 from his opponent, and each member of the winning team will earn $10,000 in tournament buy-ins from the "rival" poker room.
I'm shocked that it took the Rational Group this long to flex its muscle and bring together Full Tilt Poker and PokerStars at a PokerStars-sponsored live event. Although I think the trash talking between Negreanu and Hansen was genuine, it's cute that they refer to this as a match between "rival" sites. We all know that they are essentially one in the same, and at the end of the day, the profits from the two sites all go to the same place.
I'm also surprised that "The Professionals" hasn't expanded yet. By this point, we know that the new Full Tilt Poker is legitimate, and with all of these young poker players chomping at the bit to become members of Team Ivey, there is certainly a ton of interest. I don't expect the new Full Tilt Poker to bring on hundreds of "Red Pros" like the old Full Tilt Poker, but having just three representatives seems odd.
In the coming months, I suspect that Full Tilt Poker will expand "The Professionals," but it seems like the company is content with laying low for the time being. If I were a gambling man, I'd say that one or more members will be added prior to the World Series of Poker, however.
As for these heads-up matches, I wish they weren't "battleship" style. I understand that they want people to be able to rail online, and several thousand people will, but I'd still prefer for the players to actually compete against one another on the felt.
I predict that PokerStars will win 2-1, with Grospellier and Haxton defeating Blom and Dwan, respectively. Blom and Dwan will get bored playing a single table on the Full Tilt Poker client, and in the middle of their matches they will fire up some high-stakes 2-7 triple draw.
3. Klann Wins WPT LAPC, Volpe Finishes Runner-Up
Paul Klann took down the 2013 World Poker Tour L.A. Poker Classic, earning $1,004,090, a nameplate on the WPT Champions Cup, and a seat in the $25,000 WPT World Championship at the Bellagio in May. Klann defeated Paul Volpe, who pocketed $651,170 for his runner-up finish.
2013 WPT LAPC Final Table Results
| Place | Player | Prize |
| --- | --- | --- |
| 1st | Paul Klann | $1,004,090 |
| 2nd | Paul Volpe | $651,170 |
| 3rd | Jesse Yaginuma | $429,810 |
| 4th | Daniel Fuhs | $316,650 |
| 5th | David Fong | $236,250 |
| 6th | Toby Lewis | $193,560 |
Volpe had the chip lead entering the sixth and final day, and I would be lying if I told you that I watched the live stream as an unbiased observer. Back in January, I made 10 predictions for 2013 (two of them have already been accurate thanks to Scott Seiver and Dan Shak), and one of them is that Volpe will earn $1 million in live tournament earnings this year. Entering 2013, Volpe's most profitable year on the live circuit was 2012, when he earned $383,234. He earned most of that money during the 2012 WSOP Main Event, where he earned $294,601 for his 20th-place finish.
Prior to Black Friday, Volpe chose not to travel the live circuit, instead crushing online. Playing predominantly under the handle "paulgees81," Volpe has amassed more than $4.1 million in online cashes.
During four-handed play at the LAPC final table, Volpe started to slip. Rather than overreact or punt off his stack, Volpe stayed composed and came rumbling back. He eliminated Daniel Fuhs during Level 32, with the blinds at (75,000/150,000/25,000). Fuhs moved all in on the button for 525,000, Volpe isolated in the small blind, and the player in the big blind released. Volpe's
was ahead of Fuh's
, and Volpe held as the board ran out
.
Volpe then eliminated Jesse Yaginuma in third place. With the blinds at 100,000/200,000/25,000, Volpe min-raised to 400,000, and Yaginuma three-bet all in for 2.575 million from the big blind. Volpe called with
, which was ahead of the
of Yaginuma. Volpe held once again as the flop, turn, and river produced
, and was suddenly heads up with the chip lead.
Unfortunately for Volpe, Klann made a comeback and evened up the stacks in the first dozen hands. When the blinds shifted to 150,000/300,000/50,000, there were fireworks, as Klann min-raised to 600,000 on the button. Volpe moved all in for effectively 7.4 million, and Klann called, putting himself at risk.
Volpe:

Klann:
Volpe did not improve as the board rolled out
, and was left with just two big blinds. The next hand he was all in with
, and Klann held
. Volpe actually flopped an open-ended straight draw when the dealer fanned
, but the turn and river bricked
,
respectively.
According to Hendon Mob, Volpe now has $673,383 in earnings in 2013. If he can average $32,661 per month for the rest of the year, then he'll finish with exactly $1 million in live tournament earnings.
4. Seventh Anniversary Sunday Million
On Sunday, PokerStars celebrated the seventh anniversary of the Sunday Million by guaranteeing a $7 million prize pool. To no one's surprise, they met the guarantee during the early stages of the tournament, and proceeded to smash it. The 49,287 unique entrants created a total prize pool of $9,857,400, making it the third-largest Sunday Million ever. The two largest Sunday Millions, the fifth anniversary of the tournament ($11,825,600), and the tenth anniversary of the site itself ($12,423,200) both took place prior to Black Friday.
Final Table Results
| Place | Player | Prize |
| --- | --- | --- |
| 1 | benislovas | $848,589* |
| 2 | Dave "sexygee" Gent | $836,321* |
| 3 | Kasra84 | $813,370* |
| 4 | n0rflip | $358,809 |
| 5 | pellompogos | $254,321 |
| 6 | stradale430 | $181,376 |
| 7 | Andrey "2outs4cake" Lidgey | $117,303 |
| 8 | rewgr343 | $85,759 |
| 9 | Heminsley | $62,102 |
*denotes three-handed deal
At the final table, a three-handed deal was made between "Kasra85," Dave "sexygee" Gent, and "benislovas." The deal guaranteed each player over $700,000 and left $140,000 for the eventual winner. In the end, all three players earned over $800,000 because "benislovas" defeated Gent heads up to add $140,000 to his total. In the final hand, Gent min-raised on the button with the blinds at 2.5M/5M, and "benislovas" defended his big blind. The flop was
, and "benislovas" check-called a bet of 10,000,000. The
turned, "benislovas" checked again, and Gent fired 20,000,000. "Benislovas" check-raised all in, and Gent made the call.
"Benislovas:"

Gent:
The
completed the board, and "benislovas," who represents Lithuania, was the winner.
Despite not winning the extra cash and the title, Gent has to be very pleased with his effort, and is on a bit of a hot streak – Gent refused an initial deal at the final table citing that he wasn't interested in a chop because he recorded a six-figure score last week.
According to Hendon Mob, Gent failed to record a live tournament cash in 2012. His last score coming in the 2011 WSOP. He finished 33rd in the $5,000 Six-Max Event, earning him $17,270.
After the final table was over, TwoPlusTwo poster "Benners" posted an excerpt from an old Chris Moorman post in the Sunday Million sweat thread. It was very timely and interesting, and I'd like to share a portion:
"I gave Geeforce a gg in chat and politely asked if I could have his email address. To my amazement Geeforce (David Gent) accepted and we would speak on msn whilst I would sweat his sessions at 3/6 and 5/10nl. These were stakes where thousands of $ would be on the line every minute as he would normally be 8 tabling. These sessions were invaluable for me and before long I was jumping in these games myself in the softer lineups and even though he generally got the better of me in the game I can't put a price on those sweat sessions. These bigger games were unreal; now I was playing for life changing amounts of money every day."
Congrats to Gent, "benislovas," and the rest of the final tablists on their scores. Maybe my fellow Americans and I will be able to participate in the eighth anniversary of this prestigious event, but I unfortunately doubt it.
5. Virginia Pleads the Fifth
On Thursday, the Virginia Supreme Court decided not to rule on whether or not poker was a game of skill or chance. This means the state will remain far from introducing legalized gambling, and Charles P. Daniels, a poker club owner who had his establishment shut down in 2010, will not win his counter suit.
Portsmouth Circuit Judge Thomas S. Shadrick ruled that the state's anti-gambling statue covers Texas hold'em because "the outcome of any one hand is uncertain," thus making it a game of chance. Daniels appealed to the Supreme Court, who opted not to offer a decision.
In his appeal case, professional Greg Raymer, a native of neighboring North Carolina, testified that poker is indeed a game of skill. Several math experts joined Raymer in defending the game, but the Supreme Court upheld Shadrick's decision, claiming that "it provides fair notice and an individual of ordinary intelligence can discern its meaning."
The only thing worse than ruling that poker is a game of chance is ruling that you're not sure as to whether or not poker is a game of chance or a game of skill. Pick a side Virginia. Tip-toeing around the issue isn't going to bring resolution to the problem, especially when a clear precedent was set in the state of New York.
Last August, New York Federal Judge Jack Weinstein ruled that poker is a game of skill and is not illegal under the Illegal Gambling Business Act. Weinsten made the ruling in a case similar to the one in Virginia; Lawrence Dicristina was convicted of running an illegal gambling business for operating a live no-limit hold'em game.
I'm not sure how much empirical evidence the Virginia Supreme Court needs to make an actual decision, but if a Main Event champion and a handful of math experts isn't enough, then perhaps the state is a lost cause. This is just another reason why federal regulation is nearly impossible, and why state-by-state regulation is the best path for poker players in the U.S.
Maybe one day Virginia will see the light and opt in, but until then, poker is apparently neither a game of luck nor skill. It's in limbo.
Have your own thoughts on these Five Thoughts? Use the comments section below and don't forget to follow PokerNews on Twitter for up-to-the-minute news.
*The views expressed in this article are those of the author and do not necessarily represent those of PokerNews.