Five Thoughts: Raymer's Arrest, Volpe's Million, Visser's Victory, and More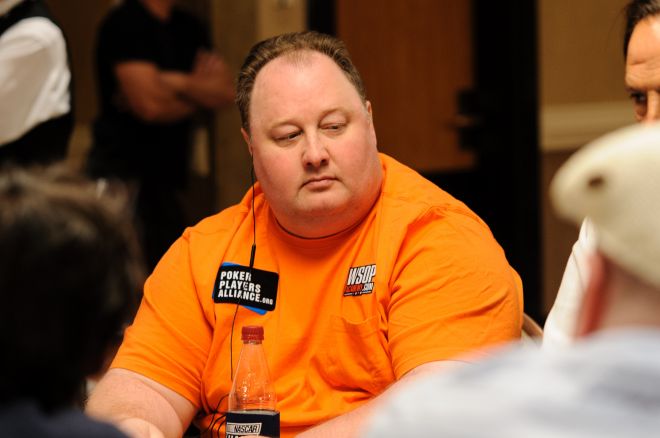 We, as a people, are imperfect. When I first started writing for PokerNews, I told myself that I never wanted to be a moralist nut. Unless they broke the law, or were caught cheating, I never wanted to lash out on players for mistakes they made, because everyone makes mistakes. Who am I to judge someone? We, as a people, are imperfect.
When John Racener was arrested for driving under the influence in December of 2010, I wrote an op-ed telling him to "man up." Part of me is happy that I wrote it because DUI's are very serious, and a drunk driver killed a high school classmate of my brother's, but there is another part of me that regrets publishing that column. I'm sure Racener was chastised by countless people around him after his arrest, why did I need to pile on?
It's easy to be hypocritical when given the power of publishing, just ask former Chicago Sun-Times and AOL columnist and Around the Horn contestant Jay Mariotti. Mariotti was always hard on athletes who broke the law, and was particularly tough on Michael Vick after he was arrested for dog fighting, but it was all a sham. Mariotti the moralist was arrested for domestic violence in 2010, and suspended from both AOL and Around the Horn. In 2011 he pleaded no contest, and then confronted his ex-girlfriend the very same day.
News is news, and it's impossible to ignore certain stories because they involve important figures, but personal business should remain personal. You will not find me playing the role of judge, jury or executioner any time soon.
1. Raymer Arrested, IRS Selling Yang's Bracelet
Five days ago, if you Googled "Greg Raymer," the first few results would've been his Wikipedia page, his Twitter account, his personal website and then probably his World Series of Poker results page.
Now, the words "prostitution sting" are splattered throughout the page, along with a mug shot of the 2004 Main Event champion.
Since the news broke — and then re-broke because ABC WTVD initially reported it as male prostitution — several people have weighed in on the occurrence. Personally, Nolan Dalla's is my favorite because it examines the consumption of media and the need for controversy. Far too many readers and writers were foaming at the mouth on Friday when Raymer's mug shot popped up on their Twitter feed.
That's not to say that the arrest wasn't news — if a Main Event champion is arrested, it's news, regardless of the offense — but gawking and goggling at Raymer's personal life is wrong.
Regarding online poker in the United States, Raymer, and former Rep. Barney Frank were always in favor of legalized gambling, not just poker. The Poker Player's Alliance and other lobbying bodies convinced the pair to focus their efforts on online poker alone because of the "game of skill" angle, but in truth, the two are openly Libertarian. They never wanted to exclude online casinos because they believe, as long as no harm is being done, a citizen should be allowed to do whatever they want in the comfort of their own home. This is the key to personal freedom and civil liberty.
Prostitution, which at its core is a financial agreement between two individuals, is far from unlawful in a world with personal freedom.
The only valid argument for criticizing Raymer's actions is the growing sex-trafficking problem throughout the world. This is a very big stretch, however, and most of the people making the argument have no idea whether or not the prostitution ring in North Carolina used trafficked individuals. They're simply building a very large, imaginary bridge between the two cases.
Raymer handled the situation perfectly. Rather than hiding, he played in the Heartland Poker Tour's Iowa-Prairie Meadows Racetrack Casino Hotel stop, making Day 2. He also spoke through his lawyer, who released the following statement:
"Mr. Raymer is very sorry for this lapse in judgment. He regrets deeply the pain he has caused his family, friends, and fans. Mr. Raymer is grateful for the many expressions of support he has received."
In time, this will pass, and when we Google "Greg Raymer," we will read about the 2004 WSOP Main Event champion, and not an individual who committed a very harmless crime.
As for Mr. Jerry Yang, reader "thegimp9" put it perfectly:
"Those friendly IRS agents will have a friend for life in Jerry Yang."
If you evade Uncle Sam, he will find you. This is a great reminder for all professional poker players that April 15 is right around the corner.
2. Paul Volpe Completes the Road to One Million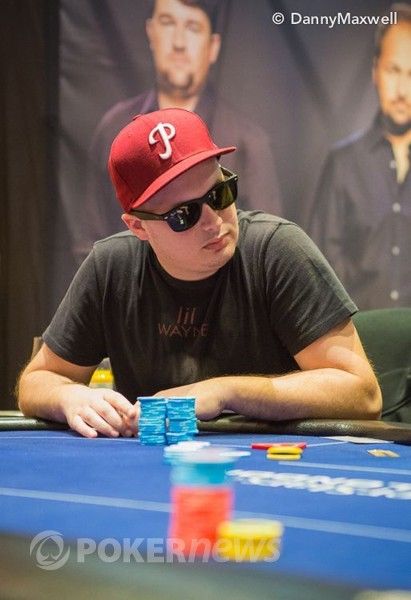 With a third-place finish in the World Poker Tour Bay 101 Shooting Star Main Event, Paul Volpe eclipsed one million dollars in earnings for 2013. He then flew directly London for the European Poker Tour London Main Event and £10,000 High Roller, finishing fourth in the latter for $161,663.
According to Hendon Mob, Volpe's total in 2013 is now $1,270,626. At this pace, he will earn over five million dollars this year. I'm not counting on that happening, although Volpe is on a tear, but I will say I told you so.
I told you so. I told you so. I told you so.
Taking credit for Volpe's accomplishments thus far would be asinine, but I would be lying if said that I wasn't supremely confident that it was going to happen. Watching him navigate through the 2012 WSOP Main Event was very telling, and his hunger to win was evident at EPT Prague. He's also surrounded by very talented players like Mark "dipthrong" Herm, and beginning to assimilate himself with some of the legends that travel the live circuit. While he was four-handed at the high roller final table, he discussed going to EPT Berlin with Team Germany's own Fabian Quoss. Right now, there is no better think tank in poker than the Germans. Any time spent discussing poker with Quoss, Tobias Reinkemeier, Philipp Gruissem or Igor Kurganov is invaluable.
Still, when I asked Volpe about traveling the circuit on last week's episode of the PokerNews Podcast, he didn't sound thrilled.
"It's just a pain in the ass traveling. It is. It gets old."
He also explained that he hates cameras and bright lights, saying that final tables should commence in secluded basements.
Despite his success, if online poker returned to America tomorrow, I am confident that Volpe would return home to grind online. He prefers that lifestyle very much. For the sake of the fans and the media, maybe it's a good thing that online poker hasn't returned just yet. Volpe is capable of doing something special on the live circuit, and perhaps there is a bracelet and a WPT Player of the Year trophy waiting for him in the near future.
The road to two million dollars starts now.
3. Hup Holland Hup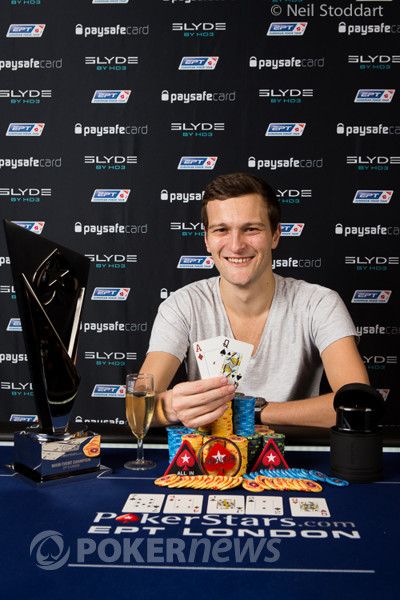 On Saturday, Ruben Visser took down the EPT London Main Event, earning him £595,000 after a three-way chop with Mantas Visockis and Olof Haglund. This was the Dutchman's largest career cash, and his fifth career six-figure cash.
Thanks everyone for the support and congratulations the past days! Still feels unreal

— Ruben Visser (@rubenrtv)
Visser made the final table of the 2012 PokerStars Caribbean Adventure Main Event, finishing eighth for $156,400, finished runner-up in side events at EPT Deauville in 2012 ($199,903) and EPT Grand Final in 2010 ($228,247), and finished 44th in the 2011 WSOP Main Event ($196,174).
Visser is now just shy of two million dollars in career tournament earnings and was extremely happy about finally closing out a major tournament.
"I got eighth in the PCA [Main Event] and was extremely disappointed after that final table," he told our own Sarah Grant after the win. "To win on my second try at a final table, especially to win in such a difficult field, just feels really, really good."
He added that he's ready to play in more live tournaments.
"I'll probably head over to Berlin," he said, grinning. "Getting the second EPT title kinda sounds very cool."
Visser wasn't lying about facing tough competition either — joining him at the official final table were Theo Jorgensen, Chris Moorman and Steve O'Dwyer. Moorman was the first to exit at the final table, however, and O'Dwyer and Jorgensen bowed out in fifth and fourth place, respectively. O'Dwyer began the final table as the chip leader, but lost a massive coin-flip against Haglund, then three-bet shoved with ace-deuce over an open from Visser. Jorgensen woke up with pocket aces behind him, re-shoved, and the America was eliminated. Jorgensen was unable to put O'Dwyer's chips to good use, losing a flip for his tournament stack against Visser soon after.
It was another large race that ended the EPT London Main Event and awarded Visser the title. Two hours into heads-up play, Visockis was all in and at risk with two tens against Visser's ace-queen. The flop and turn were both dry, but the queen of hearts spiked on the river, and Visser was the champion.
PokerNews has a very large Dutch following, and I know they were celebrating after Saturday night. Congrats to Visser, and we'll see if he can become the first ever two-time champion in Berlin.
4. Moorman Misses Out on EPT Glory, but Captures FTOPS Gold
As stated above, Moorman made the EPT London Main Event final table, but unfortunately was the first one to bust. The Brit lost a race with pocket sevens against Jorgensen's ace-king, and walked away with £57,000.
Busted in 8th place for 57k, lost flip to theo 77 v ak for 2.5 mill and a real shot. Thanks so much to everyone who supported me #eptlondon

— Chris Moorman (@Moorman1)
Not to worry Moorman fans, he went on to win Full Tilt Online Poker Series XXII Event #3 $216 Pot-Limit Omaha, earning $21,250.
Finally won an FTOPS!, Of course it was in the RUSH PLO!! Thanks @PhilGalfond for those plo videos I grind every night just before bed :)

— Chris Moorman (@Moorman1)
As you can tell by the word "finally," Moorman will now don the gold FTOPS avatar for the first time. According to PocketFives, Moorman has over $3.2 million in earnings on Full Tilt Poker to go along with over $4.3 million on PokerStars. Prior to winning, his deepest run in an FTOPS event came in 2009, when he finished runner-up in FTOPS XIII Event #17 ($204,000). His largest cash on FTP came in a third-place finish during the second-to-last $1K Monday before Black Friday. He earned $235,592, while Mike Sowers took home $490,295.80 for the win.
With over $9.1 million in online cashes, some consider Moorman to be the best online multi-table tournament player in the world. PocketFives ranks him 15th in the world, and first in the United Kingdom.
Despite not having a major win on the live circuit, Moorman has certainly broken through as one of the top players. He has five six-figure cashes since Jan. 2011, including a runner-up finish to Elio Fox in the 2011 World Series of Poker Europe Main Event. Moorman finished runner-up for a bracelet earlier that summer as well, finishing second to Joe Ebanks in the $10,000 Six-Handed World Championship.
Watching Moorman have success on both the live and virtual felt is exciting, but until he earns either a bracelet, an EPT trophy, or a spot in the WPT Champions Club, the casual fan will look past his incredible accomplishments. Hopefully he can bag up one of the three in the near future.
5. Jake Cody Takes Down the EPT London Charity Event
At every stop on the EPT, PokerStars does their best to organize a media tournament. It's impossible at the PCA because it's illegal for members of the media to gamble, but I've played in two tournaments at Prague and London. It's a lot of fun, and it's a great way for all of us to decompress — who doesn't love drinking copious amounts of alcohol and berating other players.
Well, in London, the winner was Team PokerStars Pro Jake Cody. Chris Moneymaker finished fourth. With the victory, Cody is now the first ever Quadruple Crown winner (copyright Mad Harper), and during one of the middle levels of play, he became the first ever player to three-bet-fold in a media event. I don't believe any other player has ever had a deep enough stack to pull off the move.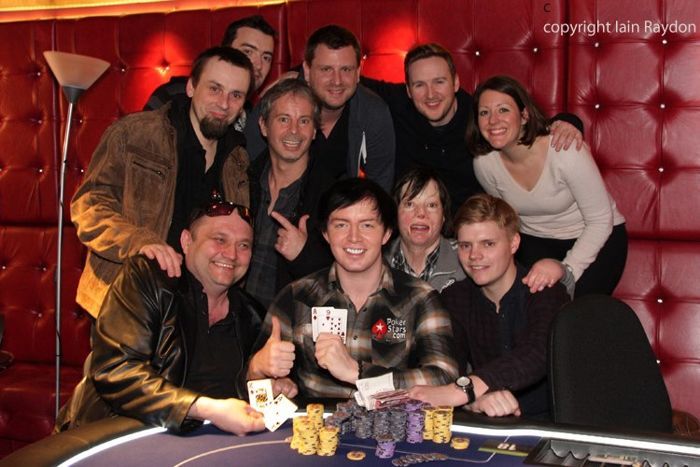 Upon winning, Cody took the £300 and donated it to Shelter, a London-based charity for the homeless. This is also a first in media event history, because usually the money goes towards post-tournament alcoholic beverages.
This was a really cool gesture by Cody for countless reasons. He,Lex Veldhuis, Liv Boeree and the other notable players who showed up weren't required to, but they did anyway. They willingly drank, interacted and laughed with the members of the media. We appreciate that gesture immensely. Moreover, in talking with some members of PokerStars, no one has a bad thing to say about Cody. He is always prompt, and always willing to fulfill his duty for the company. That is a rare quality for poker players.
Instantly donating the money to charity seems like a no-brainer, but no-brainers become more difficult a few cocktails in. Without assistance from the PokerStars people present, Cody did the right thing.
Thanks, Jake Cody, and keep doing your thing. If you hurry up and get a job dealing, you can qualify for the Dealer's Event at the 2013 WSOP and attain the unheralded Quintuple Crown!
Have your own thoughts on these Five Thoughts? Use the comments section below and don't forget to follow PokerNews on Twitter for up-to-the-minute news.
*The views expressed in this article are those of the author and do not necessarily represent those of PokerNews.