PokerNews Op-Ed: Time to Man Up John Racener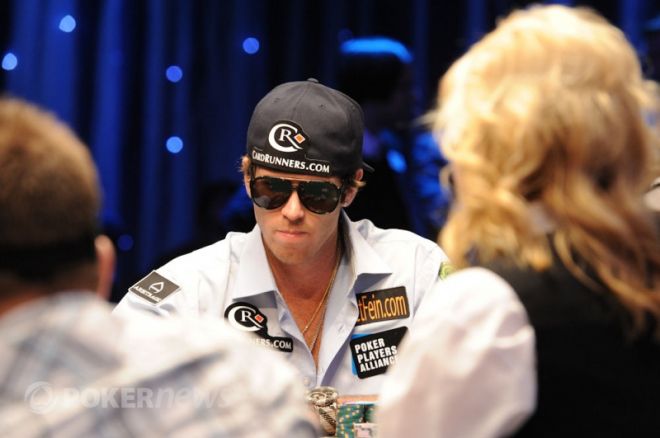 John Racener, in the words of YouTube legend Antoine Dodson, you are really dumb, fo'real.
Racener was arrested at 4:07 a.m. on Saturday, December 11 in Tampa Bay, Florida, and charged with his third DUI since 2005. He refused to take a blood-alcohol test, and after being processed at the Hillsborough County jail, he posted the $1,000 bail and was released.
Racener was a 2010 November Niner, finishing second in the World Series of Poker Main Event – the biggest and most prestigious poker tournament in the world. His face is now synonymous with the poker industry thanks to ESPN's wall-to-wall coverage during the tournament and the buildup to the final table between July and November during which every tournament Racener or any other November Niner played in became a marquee event. He is, whether he likes it or not, a personification of the poker community as a whole, and his actions affect how outsiders view it.
His DUI arrest won't affect his airtime either because he recently final-tabled the World Poker Tour's Doyle Brunson Five Diamond World Poker Classic, and a documentary about him called On The Line is in post-production. In major American sports, players are punished for DUI arrests. This season, the New York Jets and Denver Broncos suspended Braylon Edwards and D.J. Williams, respectively, for drunk driving. During the summer, the Super Bowl champion New Orleans Saints released defensive end Bobby McCray after he was arrested for a DUI.
In the poker community, there is no punishment for Racener. He is free to continue on as an "ambassador of the game" and smack away at his favorite stick of chewing gum while the cameras are fixed on him. This is unfortunate because Racener's actions further damage the game's reputation. At a time when we are fighting to become a legitimate sport, it obviously doesn't help when the player who just finished second in the most important tournament in the world acts so foolishly. Those who oppose poker can simply point a finger at Racener and say we are all degenerate gamblers who, even with success, fall more quickly to temptations than the average, nonpoker playing American.
After only one DUI arrest, many people would at least try to change their habits, but not Racener. Instead, he willingly chose to endanger the lives of other drivers at least two more times – and it's impossible to know how many times he drove after drinking and didn't get caught.
This habitual ignorance is not only illegal, it is shameful, despicable and above all, inexcusable. As a successful professional poker player, Racener has been put in a position where he should make a positive impact in the world, not threaten the well-being of other people. Even if you don't donate to charities or give back to the community, the least you can do is tone down your recklessness and obey the law.
Certainly, people make mistakes, but the U.S. is distinctly a land of second chances. Look at Philadelphia Eagles quarterback Michael Vick who trained dogs to fight and then slaughtered them if they lost. He confronted his problem, changed his behavior and is currently reaping the benefits of his maturation. Only time will tell if he stays true to his word, but at the moment there is no indication of a potential relapse into poor behavior. This cannot be said for someone like Racener, a repeat offender who has two blind eyes fixed on the problem.
Can Racener finally learn from his umpteenth mistake? His public relations team seems to think so if you read his latest tweet:
"I am very upset by my actions of recent days. I should have known better. But there is no time like the present to turn things around. I am getting help and feel stronger already. I want to thank all of you for your support, especially Full Tilt Poker for their continued faith in me and their assistance in helping me realize that my actions impact others."
While Racener's past behavior is objectionable, and while he seems to have difficulty learning a lesson, we hope that after this recent arrest he will face his drinking and behavioral problems and seek help to change. The poker world needs Racener to step up in light of his recent foolishness, and become a positive figure in our community. Here's hoping he's up for the challenge, and embraces this fourth chance.
Want more PokerNews? Subscribe to the PokerNews Podcast on iTunes, follow us on Twitter and "like" us on Facebook!
The views expressed in this article are those of the authors and are not necessarily reflective of views of the PokerNews.com