Five Thoughts: PokerStars Saves the Day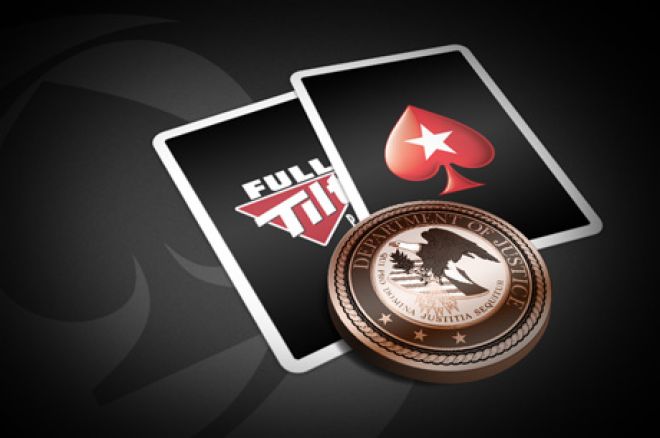 On Tuesday, after months of negotiations with the U.S. Department of Justice, the poker world rejoiced as PokerStars acquired Full Tilt Poker's assets. In 90 days, PokerStars will make available all outstanding balances — totaling $184 million — owed to the "rest of world" players who had money frozen on Full Tilt. American players — who are owed about $150 million — will be refunded separately. No timeline or payout process has been determined for the latter.
Prior to the acquisition being completed, however, PokerStars will have to pay the DOJ $225 million before Monday, and founder Isai Scheinberg must step down from his role within the next 45 days.
Additionally, the settlements made by Full Tilt Poker and PokerStars do not constitute admissions of any wrongdoing, culpability, liability, or guilt by any parties. Thus, once online poker is legalized in the U.S., PokerStars will have an opportunity to apply for a license and reenter the market.
1. PokerStars saves the day
Two years ago, if you told me that PokerStars was going to buy Full Tilt Poker, I would have laughed in your face. It what universe would the New York Yankees buy the Boston Red Sox? Why would Manchester United purchase Arsenal? Well, today it's a reality, and it's all thanks to the people at PokerStars.
Clearly the acquisition is a concentrated business move by PokerStars to solidify its customer base and make good with the DOJ, but it also shows how invested PokerStars is in the players. Scheinberg and the crew understand that legitimacy is paramount when it comes to online poker. If customers don't feel safe playing on your site, then your traffic will always be limited. If customers trust you and remain loyal however, then the word will spread, your traffic will boom, and your income will be plentiful.
Ray Bitar and his cronies didn't understand this concept and tried to maximize profits right before the ship went down. Before Black Friday, Full Tilt introduced multi-entry tournaments, which created massive field sizes, and after Black Friday, Full Tilt continued to rake the ROW players without the proper funds to pay them. Thankfully, the DOJ barred Bitar, Howard Lederer, Chris Ferguson, Rafe Furst, and Nelson Burtnick from working for PokerStars.
PokerStars plans to keep the Full Tilt Poker brand alive, however, but Head of Home Games at PokerStars Lee Jones says that the company is not planning to seek licenses to operate in France, Italy, Spain, Denmark, Belgium, and Estonia.
Hundreds of players took to Twitter to react to the news. Here are some of my favorite Tweets:
Hopefully, once the repayment process for Americans is released, there will be further celebration. We'll just have to wait, and thankfully I don't think we're in store for another 15-month nightmare.
2. Raymer ships HPT event
On Monday, the Heartland Poker Tour filmed its 200th episode at the Route 66 Casino in Albuquerque, New Mexico. 2004 World Series of Poker Main Event champion Greg Raymer entered the final table as the chip leader and eventually won, defeating Robert Crawford heads-up to earn the title, $71,875, and 50 points in the HPT Player of the Year race. Raymer is currently tied for sixth in the race with Phil Collins, Will Failla and five others. The 2012 HPT POY will earn six HPT Main Event buy-ins and hotel accommodations for the 2013 season. According to the HPT's recap of the event, Raymer's opponents were delighted to play against the former world champion, and Raymer was equally excited to win.
Raymer won the Main Event eight years too soon. Coming off of the heels of Moneymaker, Raymer's impact on the game was limited when he won in 2004. Any American-born player could've filled Raymer's shoes and nothing would've changed, unless that player was non-white or female. Even then it's hard to predict how different things would be had David Williams defeated Raymer heads up or a female was able to take it down. Raymer's impact on the game came way after he had won, and it was self–imposed. He worked hard to create his image, whether it be with PokerStars or the Poker Player's Alliance, and continues to carry the torch as an ambassador despite not having a sponsorship deal.
Being a Main Event champion is a lot like being a quarterback in the National Football League. You're expected to lead, you're expected to win, you're expected to be motivated, and fans, writers and fellow players will magnify all of your mistakes, faults and shortcomings. Unlike in the NFL, however, there are no teams in poker — you represent yourself. There are sponsorship deals available, and most Main Event champions pursue deals, but they aren't mandatory, and wearing a hat or a patch doesn't make you an ambassador of the game. It just makes you money.
Main Event champions Jamie Gold and Jerry Yang were never great ambassadors. Neither Gold or Yang wanted to be a full-time representative for poker, but they risked money to play in the Main Event, they won, and like it or not, to the victor go the spoils. They have every right to do whatever they want with their money, and if that includes playing less than 10 poker tournaments a year, then so be it.
If a Greg Raymer somehow won the 2012 Main Event, however, then his impact would be immediate. Just imagine if a 48-year-old, well-spoken, intelligent, skilled player, who's also a strong advocate for legalized and regulated online poker was able to defeat a 20-something-year-old wizard heads-up. Isn't that a dream come true?
Even if Darvin Moon was able to defeat Joe Cada we could've benefited because the 25 to 54 demographic is so important. On average, 25- to 54-year-old males make more money than 18- to 24-year-old males. However, one can assume that 25- to 54-year-old males tend to be more worried about the shadiness of online poker, and may be unwilling to deposit their money, even when it becomes legalized and regulated.
Raymer is great for the game, and his support is nothing less than admirable. I only wish more professional players shared his passion for the industry and focused more on fostering, growing, and protecting the game of poker.
3. Bring on more Russians!
After 10 days of low-stakes raging on PokerStars, MicroMillions II came to a close last week. The winner of the Main Event was Argentinean "SoyDelGlobo," however, even with his $157,218.68 cash, Argentina only netted $230,700.44 during the series. The country with the most money won was Russia with $1,119,518.12, followed by Germany ($1,009,509.88), the United Kingdom ($696,038.10), and Canada ($605,856.05). Russia also led the world in cashes by country with 24,046 (4,357 more than second-place Germany), final tables per country with 130 (30 more than second-place Germany), entrants by country with 211,968 (57,009 more then second-place Germany), and events won by country with 18 (five more than second-place Germany).
I want to believe that there's a poker training facility in the heart of Russia that's looping the Ivan Drogo/Rocky Balboa training montage from Rocky IV, while great poker players are being handcrafted by Alexander Kravchenko, Vladimir Shchlemev, and Vitaly Lunkin, but that's just a little bit too far-fetched. Most of Russia's success has to do with the size of its population, which is nearly double Germany's population, but there's still something to be said about the quality of the players. Brazil has 50 million more people than Russia, yet only two Brazilians won MicroMillions bracelets, and Brazil ranked sixth in money won by country.
Along with Kravchenko, Shchlemev, and Lunkin, the successes of Andrey Zaichenko, Alexander Kostritsyn, Ivan Demidov, Max Lykov, Kirill Gerasimov, Andrey Pateychuk, Leonid Bilokur and more have helped bolster the game in Russia. According to Hendon Mob, there are 19 players with over $1 million in career tournament earnings and 163 players with at least six figures. Only one Brazilian player, one Indian player, and two Chinese players have over $1 million in career tournament earnings.
The rise of Russian poker players is sure to continue over the next few years, and it will be interesting to see whether one player in particular can step out and assume the role as a leader or an ambassador.
4. Ryan Young killed in car accident
Professional poker player and 2007 WSOP bracelet winner Ryan Young died in a car accident on Monday, according to numerous tweets from his friends and fellow professionals. The first player to mention the tragedy was Jared "TheWacoKidd" Hamby, and he was followed by a plethora of others:
Rest in peace, Mr. Young. My prayers are with you and your family.
5. Ronnie Bardah Seat Open Part II
Check out part two of our feature interview with 2012 WSOP bracelet winner Ronnie Bardah.
Follow PokerNews on Twitter for up-to-the-minute news.