Five Thoughts: 2013 Class of the Poker Hall of Fame, WSOPE Winners, and More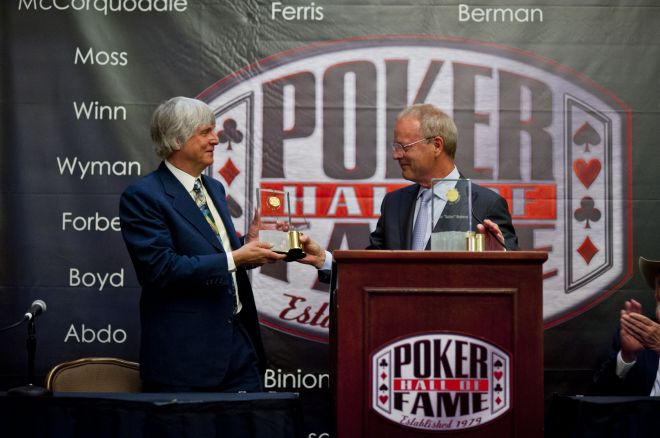 While the 2013 World Series of Poker Europe is winding down in the lakeside town of Enghien-les-Bains, France, Five Thoughts will begin this week in the desert city of Las Vegas, Nevada. Over the weekend, Mike Sexton tweeted the identity of the 2013 Poker Hall of Fame inductees:
"Congratulations" to Scotty Nguyen & @McEvoy_Tom for making the Poker HOF. Both have been nominated multiple times. #2worldchamps

— Mike Sexton (@MikeSexton_WPT)
Tom McEvoy confirmed the leak:
I have been elected to the Poker Hall of Fame along with Scotty Nguyen. We will be inducted at the Rio in Las Vegas on November 3rd.

— Tom McEvoy (@McEvoy_Tom)
Scotty Nguyen (baby) also tweeted his thanks:
i thank you all for all of your love and support all of these years baby! HOF baby!!!!

— Scotty Nguyen (@TheScottyNguyen)
To no surprise, the results sparked a debate on Twitter, and even Doyle Brunson offered his opinion:
Times have changed. Need to rewrite the criteria for the Poker HOF. Define high stakes? what is top competition? Tournament poker? Thoughts?

— Doyle Brunson (@TexDolly)
McEvoy, although he wasn't mentioned in the tweet, fired off a response. Dolly wasn't a fan of it:
@TexDolly Your personal favorites are not the only people that should get in Doyle

— Tom McEvoy (@McEvoy_Tom)
@McEvoy_Tom I don't recall mentioning your name. As far as I'm concerned, the non smoking thing would justify you.#abletobreath

— Doyle Brunson (@TexDolly)
As I've written before, there need to be more European representatives in the Poker Hall of Fame, but unfortunately I do not have a vote. The PokerNews staff pooled their votes together, and I gave five points to both Thor Hansen and Chris Bjorin.
Let's first take a look at the two new inductees, and then discuss why we need to change the criteria.
1. 2013 Poker HOF Results
Players are considered based upon the following criteria:
A player must have played poker against acknowledged top competition
Be a minimum of 40 years old at time of nomination
Played for high stakes
Played consistently well, gaining the respect of peers
Stood the test of time
Or, for non-players, contributed to the overall growth and success of the game of poker, with indelible positive and lasting results
Let's start with Nguyen, who probably receives four checks out of the first five (which are the ones designed for players). I've never heard of him playing in any high-stakes cash games, he's rarely played in a high roller tournament, and he's never appeared on a televised show like High Stakes Poker. There is the off chance that he regularly played in big private games, but I don't see how he can receive a checkmark for "played high stakes" with all of these question marks.
Nguyen is clearly a consistent winner – since winning the 1998 Main Event, he's averaged $666,864 in tournament winnings per year.
However, beyond the necessary criteria, there's also this:
Nguyen apologized after the event aired on television, but that 10-minute clip will always be a black eye on his career. The voters obviously didn't think it was enough to keep him out of the HOF, and I think his statistics warrant a place among poker's great, but there are several other players I want immortalized before the guy screaming for a "f***ing cocktail" on national television.
With regards to McEvoy, I'm not sure he meets any of the criteria, other than the age limit. There's no evidence that he's ever played high stakes, since winning the Main Event in 1983 he's only earned $2.2 million in live tournament earnings (around $73,000 per year), and if Brunson is sub-tweeting McEvoy, it's clear that he doesn't have the respect of his peers.
McEvoy's biggest claims to fame are his 14 poker books and that he had smoking banned in card rooms. The first accolade isn't uncommon — there are thousands of poker books in circulation — and the second is completely overblown. The '83 champ was an opponent of smoking, but he wasn't the only player to campaign against it. Casey Kastle famously drafted and distributed a petition against smoking that was signed by 1,100 players, and influenced both the Bellagio and the WSOP to eventually ban smoking.
Beyond the lack of a résumé, some of McEvoy's recent tweets have been both off-putting and downright incorrect:
@TexDolly @RealKidPoker The thickness of a wallet should never determine who gets in. How about 4 bracelets, 14 books, & your lungs thank me

— Tom McEvoy (@McEvoy_Tom)
If "the thickness of your wallet" isn't a determining factor in poker, then I don't know what is. The entire point of the game is to take your opponent's money.
Although the listed criteria appears quite clear, there seems to be a lot of confusion as to why certain players belong in the HOF, and others don't. Personally, I think two players should go into the Hall each year — one based upon statistics, and the other based upon influence. From this year's 10 finalists, I believe the statistics-driven selection would've been Carlos Mortensen (over $10 million in live tournament earnings after winning the Main Event, including a near return to the final table this year), and the influence-driven selection would've been Thor Hansen. Now, it seems like we're arguing apples to oranges, which is ultimately fruitless.
The induction ceremony will be held Sunday, Nov. 3 at 5 p.m. in Rio's Wine Cellar.
2. Big Roger Becomes First French Player With Two Bracelets
Bertrand "ElkY" Grospellier, David Benyamine, Fabrice Soulier, Antoine Saout, Ludovic Lacay, and Bruno Fitoussi have combined for over $30 million in lifetime career earnings, but none of them have won multiple WSOP bracelets. The only Frenchman to ever win two is Roger Hairabedian, who captured No. 2 this past week in Event # €2,200 No-Limit Hold'em.
Big Roger defeated eight-time bracelet winner Erik Seidel heads up, earning €148,820. He now has over $4.4 million in career live tournament earnings, and along with being the first French player to ever win two bracelets, he is the first player to win two WSOP Europe bracelets.
The French fans and media in attendance were very happy to see Hairabedian win, and it was very appropriate that he captured both of those records on French soil. The locals were able to celebrate a little more a few days later when Lacay finished runner-up in Event #6: €3,250 Mixed-Max Pot-Limit Omaha, earning €64,600, and he is currently making a deep run in the Main Event.
October is a big month for poker in this country. After the two-week WSOP Europe festival, poker's biggest names will migrate into the heart of Paris to the Aviation Club de France for the World Poker Tour Grand Prix de Paris. Even the taxi drivers I've encountered have talked excitedly about the growth of poker — one even asked me to write down a list of training sites he could visit in order to improve his game.
There is certainly a French poker bug going around, and if a local — particularly someone well-known like Lacay — takes down the Main Event, then there will be some serious partying going down in the City of Lights.
3. Fourth Time's the Charm for Ausmus
In the last 12 months, Jeremy Ausmus has reached four final tables in WSOP bracelet events. The Las Vegas pro finished fifth in the 2012 Main Event for over $2.1 million, fifth in the accumulator event at the 2013 World Series of Poker Asia-Pacific for $56,865, eighth in the WSOP Circuit National Championship for $38,570, and this past weekend, he won Event #4: €1,650 Pot-Limit Omaha at the 2013 WSOP Europe for €70,324.
Ausmus also finished third in the $3,000 mixed-max event this summer for $132,748 and 12th in the One Drop High Roller for $308,622. Outside of the WSOP, he won an event at the Venetian for $121,853, finished 12th in the L.A. Poker Classic for $70,970, 18th in the WPT Five Diamond World Poker Classic for $36,593, and won a side event at Five Diamond for $78,572.
In total, since locking up a seat at the Main Event final table, Ausmus has earned over $3 million.
As an honest, down-to-earth family man, Ausmus is very easy to root for. After winning his first bracelet, he tweeted about how unlikely it was that his first win came in PLO. I asked him about the tweet a few days later, and he smiled.
"I've always said it's my worst game," said Ausmus. "I still think it is."
It's not the first time a good player has won their first bracelet in a game they're poor at either — the aforementioned Grospellier won the 2011 $10,000 Seven-Card Stud World Championship Event.
ElkY. Stud. It happened.
Ausmus, who used to focus solely on cash games, says that short-stacked online ring games helped him transition to tournament poker. He also believes that, and this is a very popular opinion that I agree with, cash game players are better at tournament poker than tournament players are at cash games.
"Obviously there are great tournament players who can beat cash games, too, but a lot of them can't," he said.
Ausmus said that he is going to scale back the travel schedule with a couple of little ones at home, but he'll still grind the entire WSOP in Las Vegas. I suspect that, soon enough, he'll join Hairabedian as a multiple bracelet winner.
4. Caesars Dropped from Suffolk Downs
Inside Gaming has been keeping tabs on the casino proposals in Massachusetts over the last few months, and this weekend some major news broke regarding Caesars Entertainment. Caesars partnered up for a casino venture at Suffolk Downs — CEO Gary Loveman lives in the Boston suburbs and the racetrack has strong political ties in the city — but the gaming giant was dropped when there were doubts that the company would pass a mandatory state background check.
Suffolk Downs intends to replace Caesars and remain in contention for the Greater Boston resort casino license.
State investigators raised several concerns about the company, including a relationship with a person alleged to have family members involved in organized crime outside of the U.S. The report is not yet public.
Caesars said the following about the news:
"We believe that the Gaming Commission is attempting to set suitability requirements that are arbitrary, unreasonable, and inconsistent with those that exist in every other jurisdiction."
Diamond Flush believes that the woes in Boston could span farther, and that Caesars Interactive CEO Mitch Garber's ties to Party Gaming (now bwin.party) could have a negative impact as well.
Caesars wasn't a lock to win the bid in Boston — Suffolk Downs is competing against Steve Wynn and Foxwoods — but losing them this early in the race is huge. They've proven that, alongside 888 Holdings, they're ready to launch iGaming ventures in as many states as possible. With a pending launch in New Jersey, a pact with Massachusetts could've increase player liquidity for WSOP.com, but now Caesars will have to focus on other states.
If more concerns come to light about Caesars, and more gaming commissions confront them with stricter guidelines, then WSOP.com's growth could be stunted. This would be bad news for the consumers, but it could be positive news for competitors (cough, Rational Group, cough).
In fact, I wouldn't be surprised at all if certain competitors were helping to unearth some of these "bad relationships" — the American Gaming Association has been lobbying against PokerStars in New Jersey (and everywhere else in the U.S. for that matter) ever since online gaming was legalized.
This public relations war is ugly, and it will probably only get worse. The unfortunate thing is the only people that lose are the consumers.
5. WSOP Announces the Return of the One Drop
On Friday, the WSOP announced the return of the $1 Million Big One For One Drop on June 29 at Caesars Palace. The event is still capped, but the WSOP staff added an extra table, bringing the potential field size to 56. I wish that the event wasn't capped — and allowing one re-entry for the absolute sickos would be amazing — but I completely understand why they want to limit entrants. First, they don't want the businessmen to think they're drawing dead. Second, they don't want to (completely) bankrupt the poker community.
The first-place prize will most likely be north of $20 million, meaning Antonio Esfandiari will no longer hold the record for the largest single cash — unless he wins again. Remember, the Magician also finished fourth in the 2013 One Drop High Roller for over $1.4 million.
The change in venues piques my interest. For as long as I can remember there have been rumors about the WSOP moving to another Caesars property, but the Rio is the only one with an adequate amount of convention space and endless amounts of parking. I doubt moving the One Drop is an indication of a transition, but the conspiracy theorists will definitely take this as a sign from the poker gods.
The One Drop is a massive spectacle, and the move will benefit both the players in the $1 million event and the players in other bracelet events. The opening ceremony in 2012 was a circus, literally, with massive drums banging throughout the Amazon Room. Players in other events were justifiably annoyed, but this year they won't have to worry about that.
Likewise, throwing a $1 million spectacle in the faces of people grinding in a $1,500 buy-in tournament is a bit tacky.
Guy Laliberté has already confirmed that he will be playing, and as soon as more names arise PokerNews will bring them to you.
Get all the latest PokerNews updates on your social media outlets. Follow us on Twitter and find us on both Facebook and Google+!