Five Thoughts: Dwan and Full Tilt Split, Schemion Pips Negreanu, Rounders 2, and More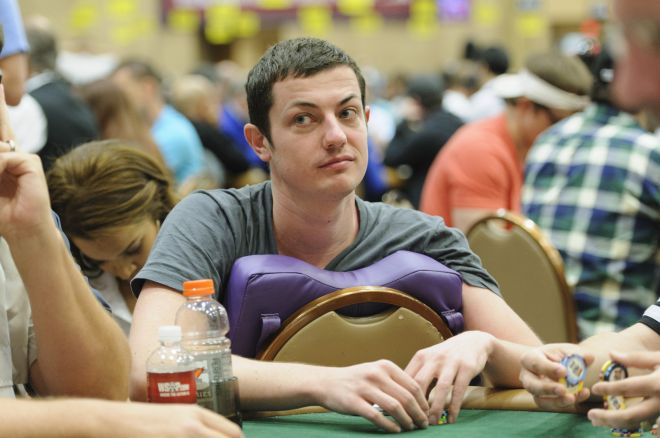 Before there was "Isildur1", there was "durrrr".
The 2010 World Series of Poker was still in its infancy when Event #11: $1,500 No-Limit Hold'em reached an official final table of nine. Among the finalists were online tournament pro Eric Ladny, German pro Marvin Rettenmaier, bracelet winner Jason Young, and young phenom Tom "durrrr" Dwan.
It was only early June, but the atmosphere in the Amazon Room was electric. This was only my second WSOP as a tournament reporter, first with PokerNews, and the only thing I could compare it to at the time was the play-down day in the Main Event.
Looking back now, it was even bigger than that.
Prior to the 2010 WSOP, Dwan followed Phil Ivey's lead and made a series of bracelet bets. The amounts were never confirmed, but if Dwan won a bracelet, it was rumored that he would earn between $9-12 million. He told Gloria Balding at the start of the WSOP, that it would be his largest one-day win ever.
Dwan was the chip leader entering the final table, and on the one-hour dinner break before the start of play, he hopped into the $10,000 Seven-Card Stud Hi-Low Split 8-or-Better Championship. His objective was to try and run up a stack so that he could continue playing on Day 2 regardless of the result at the final table, but all he really did was torment the players he was betting against.
When the final table was about to begin, Dwan was fielding offers for buyouts. Most of the players who bet against Dwan let it ride, but it looked as if he and Huck Seed cut a deal before the cards were in the air.
The man known as "durrrr" didn't eliminate a single player during the final table, and found himself with a short stack (19 big blinds and 10 percent of the chips in play) during three-handed play. Dwan then doubled with the 9♦7♣ against the A♣10♠ of David Randall, and two-dozen hands later, Kiwi Simon Watt busted Randall.
Watt had more than a 2-1 chip advantage heading into heads-up play, but you would swear that Dwan had 90 percent of the chips in play. The $10,000 buy-in event and the final table were adjacent to one another, so when players folded their hands they would run (literally run) over to see what was happening. Some of them didn't have any money on the line, while others had hundreds of thousands of dollars at risk, some millions.
On TwoPlusTwo, the virtual sweating was nonstop. As a very green poker reporter, I was constantly refreshing the thread dedicated to Dwan's run in fear of a post criticizing me for poor spelling or incorrect information. I am certain that several F5 buttons were destroyed that evening — remember, this was before the influx of live streams in poker.
Dwan tried to rally, and at one point he won six consecutive hands, but he never was able to even the stacks. On the penultimate hand he ran a big, unsuccessful bluff, and on the final hand he open-jammed 13 big blinds with the Q♦6♣. Watt woke up with the 9♦9♣, and held as the board came 8♣A♣A♠A♦K♥.
The very second the suicide king completed the board, Dwan exited the Amazon Room, sliding out one of the side doors into the long, bright, back hallways. Watt, who had very few, if any, supporters on the rail, stood alone at the table.
"Thank you for saving us millions of dollars!" belted Mike Matusow, one of the players who had a bet with Dwan. "How does it feel to be every high-stakes gambler's hero? They're gonna, like, put you on the wall in Bobby's Room or some shit."
Watt could only muster an embarrassed smile.
Over the past three years, Viktor Blom has surpassed Dwan as the "This guy is playing high-stakes nosebleeds I gotta watch" player in poker, but Dwan was a pioneer. To this day, the big pots he played on High Stakes Poker are awe-inspiring, particularly this insane bluff against Peter Eastgate:
On Monday, news broke that Dwan is no longer a member of Full Tilt Poker's Professionals. This has predictably led to questions of his future in poker, which we'll address in our first thought.
1. Dwan No Longer a "Professional"
According to a representative with Full Tilt, Dwan's contract recently expired as a member of "The Professionals." The two sides opted not to renew the contract, and as you can see from this page, only Blom and Gus Hansen's photos remain.
For fans, Dwan is a fantastic ambassador. He's a recognizable face whose played the highest limits in the world, and for a period of time the entire poker world followed his every step. His status was equal or even greater than Ivey's or Daniel Negreanu's is now.
For the companies he represented, Dwan could be a bit of a nightmare. His problems were never on the felt – Dwan is an overly conscious individual who doesn't seem to be motivated by the evils in poker at all – but he was rarely on time or socially active with the media.
Dwan was never bad as Ivey, who simply refuses to do interviews unless you're explicitly pimping him or his product, but he was never actively looking for exposure.
His tardiness was inexcusable. During the last few months alone, he didn't show up for the pre-match photos for the Team PokerStars Pro vs. The Professionals Challenge at EPT London, and at Full Tilt Poker Montreal he appeared and late registered at the very last second, more concerned that he dropped his phone in water the night before. He promptly busted, but not before finding some rice to naturally dry his cell.
Dwan's lack of professionalism isn't a discredit to his character, however, because freedom is one of the reasons he likely chose to play poker for a living. His sponsorship wasn't "necessary" for him to profit, although I'm sure he was very happy to receive transfers into his account from Full Tilt while the gravy train was full steam ahead. Likewise, when Full Tilt was operating in the United States, all he had to do to represent the brand was play high-stakes, like Blom is doing now. There were a few interviews here and there, but nothing like the calculated media full court press PokerStars puts on its Team Pros.
If Dwan doesn't want to be in the spotlight, then so be it. If Full Tilt Poker doesn't want to represent a player that doesn't want to be in the spotlight, then so be it. This is a very amicable divorce, which is rare, and both sides seem very happy with the decision.
Dwan's future in poker is unknown – the absence of PokerStars and Full Tilt in the United States plays a key role in this – but saying that Phil Hellmuth was right when he said Dwan wouldn't survive in the poker world is short-sighted. Dwan is still only 27 years old, and if he chooses to continue grinding, his best years may still be ahead of him.
I'll never forget that June evening at the Rio where he had the entire high-stakes poker world dangling from his fingers in a lowly $1,500 buy-in event. It was one of the most important preliminary events in the history of the WSOP, and one of the most exciting final tables I will ever cover.
2. Schemion Passes Negreanu
Ole Schemion reached the final table of the EPT Prague Main Event on Tuesday, securing the top spot in the Global Poker Index Player of the Year race.
According to the GPI, all Schemion needed was a 17th-place finish or better in the event to pass Daniel Negreanu and take the lead. Now the German is looking to pull away from the Canadian, but it doesn't really matter.
Negreanu told PokerNews on Monday that he "packed up his year" in Prague and "isn't too concerned with what happens."
Schemion's story isn't finished yet because, knowing him, he could walk away with his first EPT title and over $1.2 million on Wednesday, but Negreanu's 2013 appears to be officially in the books. Although Kid Poker won't walk away with the GPI POY crown, and it will likely sting him a little bit even if he never admits it, 2013 was an incredible campaign for the 39-year-old pro.
Over the past 12 months, Negreanu earned over $3.2 million in live tournaments, bringing his career live tournament earnings to over $19.5 million. It was the second-most profitable year of his career – in 2004 he earned over $4.4 million, finishing third in the PokerStars Caribbean Adventure Main Event, winning a WSOP bracelet, and winning the World Poker Tour Borgata Open and WPT Five Diamond World Poker Classic.
This year, Kid Poker kicked things off down under, winning his fifth WSOP bracelet in the WSOP Asia-Pacific Main Event. He then made the final table of the PokerStars and Monte-Carlo® Casino EPT Grand Final Main Event, bubbled the final table of the WPT World Championship, finished runner-up to Eli Elezra in WSOP Event #59: $2,500 2-7 Triple Draw in Las Vegas[/b], finished runner-up in the EPT Barcelona High Roller, and won the World Series of Poker High Roller, securing his sixth bracelet and second WSOP Player of the Year title.
You can make all of the hair or Choice Center jokes you want, and you can call Negreanu old or over the hill, but all of those criticisms will fall upon deaf ears. He is as confident as ever – as long as the internet in his hotel room is working.
Come on, Danny! The internet made you leave Prague? I've been on internet tilt several times on the poker circuit, but after a couple of "woosah's," I'm usually OK. It would've been nice to see Negreanu stay in Prague and compete in the High Roller with his POY fate on the line, and he will likely catch some flack for leaving, but his decision to skip town early isn't the reason he's going to finish second to Schemion.
Schemion, despite being ineligible to play in WSOP events in Las Vegas because he was only 20 at the time, had an insane year, making numerous deep runs. Both men are very deserving of the award, but the computers favored the German, and he will earn the hardware.
3. I Don't Have Spades
In Early Novemer, on The B.S. Report, Brian Koppelman told Bill Simmons that Rounders 2 was written, and that Matt Damon, Edward Norton, and John Malkovich were all committed to filming the sequel. The only problem is that he and co-writer David Levien need approval for the project, and Harvey Weinstein and Miramax were having issues.
Well, Miramax and The Weinstein Company are back together, and Weinstein told Deadline Hollywood that Rounders 2 is going to be "instantaneous." He echoed Koppelman's statements that Damon and Norton are ready to roll, but hinted that there would be a new villain to replace Malkovich. He also mentioned that Robert De Niro could potentially fill the roll.
As with any sequel, I am cautiously optimistic. Anchorman 2: The Legend Continues premieres this week in the United States, and as a big fan of the first movie I have my doubts. At the same time I am extremely excited to see the movie, and the very day my fiancé and I touchdown on American soil for the holidays, we are going to the movies to bask in the greatness of Ron Burgundy.
Sorry, love.
Rounders, while a nightmare for most film buffs, is a cult classic in the poker world. Every line is quotable. Every moment of heads-up play between Mike McDermott and Teddy KGB is riveting. Every time Worm opens his mouth you want a put a sock in it. And every time Damon tells Johnny Chan that he forgot his hand, I give a small Kobe fist pump.
Peel away the ridiculous string bets, terrible bet sizing, and cheesy narrative-driven overtones, and at its core Rounders is a highly entertaining movie about our favorite game in the world. I'm sure that Koppelman and Levien have thought long and hard about Rounders 2, and with more experience as writers the movie could be just as good as the first.
Sequels are scary, but I'm admittedly thrilled with this news.
4. PocketFives, Meet GPI
Earlier in December, The Hendon Mob (owned by the GPI, which is owned by Zokay Entertainment) and PocketFives.com agreed to share their respective tournament results and rankings. Now, both websites will show both online and live tournament rankings for tens of thousands of players from around the world.
"I'm excited that the leading rankings companies are building a relationship that will help expose poker players globally and locally, both online and offline," said Zokay Entertainment CEO Alex Dreyfus. "Our common goal is to promote poker, and offering these results to our respective audiences will be a huge advantage for the future. This exclusive agreement will definitively help each company be stronger and bring more innovation into poker."
PocketFives co-founder Adam Small added the deal has been in the works for a while.
"Members of both companies' ownership have been aware of the synergies and were trying to find a way to get mutual benefit by sharing some information," Small said. "It's a pretty limited deal for the time being – we are sharing some recent results and current ranking information with each other."
This story hits me close to home, because PocketFives gave me my first opportunity in the poker world back in 2009. As a member of the PocketFives Live team, I traveled to the WSOP at the rip-old age of 21, and I've never looked back. My experiences at PocketFives really helped me develop relationships with online players who weren't as well known as televised pros, and in the coming years, a lot of the "online pros" became the biggest names in the game.
PocketFives member Joe "jcada99" Cada even won the 2009 WSOP Main Event.
This joint venture is very exciting. While the GPI and PocketFives have no plans to create a combined rankings system at the moment, it would be really interesting to see who would top the list when both disciplines are weighted equally. Likewise, adding online tournament earnings to Hendon Mob profiles will further increase exposure for the aforementioned "online players."
On previous trips to Chris Moorman's Hendon Mob profile fans could see that he has done very well with nearly $3 million in live tournament earnings, but now they can see he's excelled online with over $10.4 million in tournament earnings.
The partnership is still in its infancy, and hopefully it will grow in the coming years. Both the GPI and PocketFives benefit mutually from this kind of information sharing, but no one is more positively affected than the fans.
5. Vote for the PokerNews Podcast!
Voting is still open for the BLUFF.com Reader's Choice Awards, and if you want to win the WSOP Main Event one day, you should vote for the PokerNews Podcast.
Last week, BLUFF Magazine recognized the PokerNews Podcast as one of the leaders in audio content in the poker industry, and we are on this year's ballot. The PokerNews Podcast is up against tough competition that is equally deserving of such praise, and we hope that our devoted fans will rock the vote P. Diddy style.
If you really feel festive – we are nearing Christmas, you know – you could also give us a (positive, hopefully) rating on iTunes. All of your efforts will help to increase our reputation even outside of the poker world, and deliver a bigger product.
Thank you for your consideration.
Get all the latest PokerNews updates on your social media outlets. Follow us on Twitter and like us on Facebook now!