Five Thoughts: Brunson Plays, Female Wins an Open Event, and More from the 2013 WSOP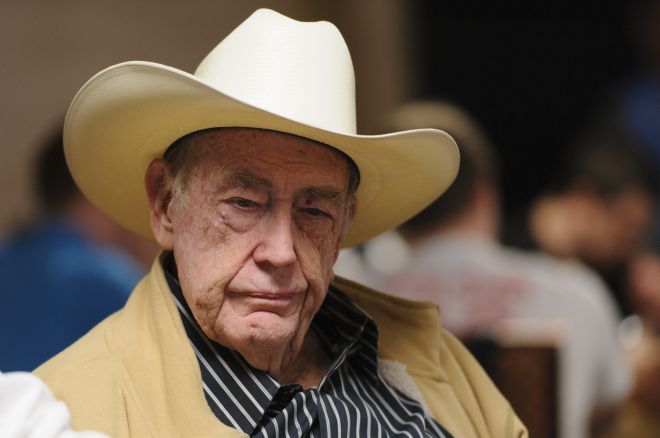 In the fifth week of the 44th annual World Series of Poker, we saw the return of a legend, a female win an open event, a true WSOP grinder finally win his first bracelet, and the conclusion of the $111,111 One Drop High Roller.
So, without further ado, let's get to the news.
1. Doyle Brunson Enters the Players' Championship
There are few things that get me really excited at the WSOP. One of them is the giant eagle trophy dedicated to "Oklahoma" Johnny Hale that goes on display during the Seniors Championship. The only thing that trophy lacks is some sort of drinkability – if you could somehow chug a brewski from it, then there would be no better trophy in all of sports. Move over, Lord Stanley.
Nothing gets me more amped than being able to watch and interact with the legends in the game, however, and there is no greater legend than the Godfather himself, Doyle Brunson. When Texas Dolly fired off the following tweets prior to the $50,000 Poker Players' Championship, I'm not going to lie, I fired off a Kobe fist pump or two. It looked like Brunson was going to skip the 2013 WSOP altogether, even the Main Event, yet suddenly – thanks to a few prop bets – he had a change of heart.
Total 28 bets.Not as high as it seems. Total of 800k. Seems like a lot, but bets are to cash, final table, win.#lotsofactionforasickolikeme

— Doyle Brunson (@TexDolly)
If I lose (and I'm a fav to lose) I will lose between 80K-140k. But if I win, I could win up to 800k maximum. Hoping to at least cash.#gulp

— Doyle Brunson (@TexDolly)
Brunson arrived, and drew a sizable rail whenever he was near the ropes. After a steady Day 1 he bagged more than the starting stack, but entered the danger zone during Day 2. He was all in during a hand of no-limit hold'em, the Cadillac of poker, holding two jacks on a ten-high board. Unfortunately for him, Cole South tabled a set of threes, but Brunson survived when the turn and river both brought tens.
Texas Dolly bagged a less than average stack, and showed some love for his late friend and the first winner of the $50,000 H.O.R.S.E. event, Chip Reese.
Day 3 was unkind to Brunson, who was unable to spin it up, andhe was eventually eliminated in a hand of stud against Ofir Mor. He missed the money, losing all of his bets, but rather than tweet about the value he had given, he once again made reference to Reese.
It's unclear whether or not Brunson will play in the Main Event. Personally, I don't think he will, and more importantly I don't think he has to. Brunson has been an incredible ambassador for poker for the better part of four decades, and if he doesn't have the stamina to play long days, then so be it. Let him rest and play in Bobby's Room. He can come and deliver one of the ceremonial "shuffle up and deals," but let's not force him to come to the Rio just so that we can all clap when he busts after a long miserable day of no-limit hold'em. That's not how we should pay respect to Brunson, we should pay respect to Brunson by allowing him to do whatever he wants.
It was a pleasure seeing Brunson sitting at the tables once again for the WSOP, and if he returns this summer, then I'll smile at the sight of him like I have fishhooks in the corners of my mouth. If he doesn't, I'll still smile at the thought of him, knowing that we were all in the presence of a living legend – even if it was just for a few days.
2. Castaneda Wins an Open Bracelet
Dana Castaneda took down Event #54: $1,000 No-Limit Hold'em, becoming the first female not named Vanessa Selbst to win an open bracelet event since 2007. Selbst has two bracelets, one she won in 2012 and another in 2008, and in 2007, Annette Obrestad won the World Series of Poker Europe Main Event.
After the event, Castaneda admitted that the only reason she played is because she cashed in Event #51: $10,000 Ladies No-Limit Hold'em Championship. In the Ladies Event, she finished 94th for $1,768.
Starting the table last in chips, Castaneda received a much-needed double up right off of the bat. She held two sevens against Michael Zucchet's ace-king, flopped a set, and held as the turn and river both delivered bricks. Twenty-seven hands later, she doubled again, but got her money in behind with queen-jack up against Barry Hutter's king-queen. Castaneda flopped three jacks and faded Hutter's open-ended straight draw to rocket up the charts.
Three hours later, she was heads-up with Jason Bigelow, holding a commanding five-to-one chip lead. Both players started limping on the button and pushing small pots back and forth, but Castaneda eventually slammed the nail in the coffin, flopping two pair against Bigelow's flush draw. Bigelow couldn't find a fifth diamond, and he was eliminated in second place, earning $281,991.
After the win, Castaneda explained her incredible story to our own Kristy Arnett:
This marks two years in a row now that females have won open events at the WSOP, and it should be no surprise. Although there hasn't been a "female poker boom" per se, there are dozens of solid female players and 60 bracelets to be had. Last summer, we nearly had two females win open events, as Amanda Musumeci finished runner-up in Event #9: $1,500 No-Limit Hold'em Re-Entry, and, although they're not open events, a Allyn Jaffrey Shulman won the Seniors Championship and Patricia Baker finished runner-up in the Casino Employees Event.
Females winning open events will soon be commonplace, and one of these summers there will be two or three events won by females. Maybe even a female pro will win two.
3. "Crazy" Marco Finally Wins a Bracelet
You can scratch another player off of the "Best Player to Have Never Won a Bracelet" list.
"Crazy" Marco Johnson, who entered the 2013 WSOP with two runner-up finishes and added a third in Event #31: $1,500 Pot-Limit Omaha, finally won his first career gold bracelet in Event #48: $2,500 Limit Hold'em Six Handed, an event he finished runner-up in last year. To go along with his first piece of jewelry, Crazy Marco added $206,796 to his bank account, and now sits with $2.1 million in career tournament earnings.
Not too shabby for a guy who mostly grinds cash games outside of the WSOP. In fact, Johnson plays in so few tournaments that only one of his cashes has come outside of the Pacific time zone – he finished 14th in a $5,000 event at the Borgata in 2007 for $14,200.
There are players that are due, and then there are players that are due. If you went on to Twitter right after Johnson was crowned the champion, you could tell that he fit into the latter category.
Huge Congrats to Marco Johnson. Just kept banging at the door, finally smashed through. The real deal.

— Scott Seiver (@scott_seiver)
Congrats to Marco Johnson shipping the 2500 6-max limit bracelet.So happy for him! Was so happy

— Ronnie Bardah (@RonnieBardah)
Congrats to my friend Marco Johnson. Just shipped his 1st bracelet. Was his 4th time heads up for 1. Can't think of any1 who deserved 1 more

— Jason Mercier (@JasonMercier)
My favorite tweet came from David "ODB" Baker, who described the scene of Johnson's win perfectly:
While everyone is sweating 1Drop (rightfully so), Marco Johnson doing what he always does.....crushing quietly and humbly.

— David Baker (@audavidb)
Baker couldn't have been more correct. While all of the attention in the Amazon Room was on the main stage, Johnson was peacefully grinding in a darker-than-usual Blue Section in front of a very small crowd of spectators. Johnson isn't a household name, nor do television producers rush to recruit him for cash games, or make sure he is on a featured table during the Main Event, but he is undoubtedly a great player. There is a reason that Team Mercier spent 25 points on him in the $25,000 Fantasy Draft.
A soft-spoken Johnson talked with Sarah Grant after the win, and admitted that he texted people on Day 1, telling them that he was going to win:
Congratulations to Johnson on finally getting over the hump. Don't be surprised if he adds number two by this time next year.
4. The End Boss Wins the $111,111 One Drop High Roller
Prior to the WSOP, Tony Gregg was able to cross off an important item on his bucket list: win a $25,000 high roller event. He didn't technically win the event outright, rather he was able to chop it with longtime friend and fellow online beast Steven Silverman, as both players walked away from the PokerStars and Monte-Carlo® Casino European Poker Tour Grand Final €25,000 High Roller with €760,000 each.
Here in Vegas, Gregg was able to cross of a second item, winning the $111,111 One Drop High Roller for $4,830,619. Gregg bested fellow East Coast grinder Chris Klodnicki heads up, and joining them at the final table were Bill Perkins, Antonio Esfandiari, Richard Fullerton, Martin Jacobson, Brandon Steven, and Nick Schulman. Gregg now has over $8.6 million in career tournament earnings, and should catch his good friend and defending Main Event champion Greg Merson ($9.8 million) shortly, as Merson plays in very few tournaments.
That is unless the Aria continues to bar him from playing in their nosebleed cash games, but that's a completely different story.
According to Merson, Gregg is fascinated with these high buy-in tournaments, and even though he doesn't want poker fame, he's thirsty for recognition from his peers. Merson also admitted in an interview with Lynn Gilmartin that Gregg called his shot not once but twice, saying that he was going to win the One Drop High Roller.
As a testament to his somewhat shy nature, when Gregg won, "Redbull" Robbie Thompson asked him if he had a few words to say to the crowd.
"No words," Gregg said, waving his hands and smiling. "No words."
If Gregg wasn't being shy, then he was simply in a rush – while the final table for the One Drop was finishing on a fourth, unscheduled day, he was blinding out in Event #52: $25,000 No-Limit Hold'em (Six Handed). Yes, even though he was at the final two tables of a massive, six-figure event, he still registered for a separate, five-figure buy-in tournament. That takes a real boss.
Speaking of "boss," Gregg's nickname is "End Boss" or "Top Boss." Not because he does boss things like double dip in high rollers, but because his peers think he's as unbeatable as Mike Tyson in Punch-Out! or Bowser in Super Mario. The nickname is one of the coolest in poker, and it's not even close.
Even with a few "1ups," Klodnicki and the rest of the finalists would've had a tough time topping the End Boss, who I look forward to seeing at more high rollers in the future.
5. $25K Fantasy Update
Team Waxman remains in the lead of the 25K Fantasy League, and with three players in triple figures, including David "Bakes" Baker who has the most points (231), they're in good shape to finish in first position. There are two $10,000 buy-in events left, including the Main Event, so anything is possible.
| Rank | Team | Points |
| --- | --- | --- |
| 1 | Team Waxman | 694 |
| 2 | Team Gorodinsky | 439 |
| 3 | Team Alaei | 430 |
| 4 | Team Mercier | 398 |
| 5 | Team Hastings | 366 |
| 6 | Team Brunson | 330 |
| 7 | Team Glantz | 324 |
| 8 | Team Negreanu | 319 |
| 9 | Team Russia | 307 |
| 10 | Team Katchalov | 301 |
| 11 | Team Timex | 283 |
| 12 | Team Katz | 207 |
| 13 | Team Fleyshman | 160 |
| 14 | Team Kenney | |
Team Alaei made a big jump thanks to Mike Watson and Steve Sung. Sung took down the $25,000 Six Max, earning 101 points, while Watson reached his second final table of the series this summer, and now has a total of 123 points. Phil Ivey is struggling with only 25 points, but Ivey is capable of anything in this last week.
Team Mercier received a boost from the aforementioned Johnson, who now has 147 points, and Team Hastings is up to 366 points with deep runs from Jesse Martin and Justin Bonomo.
Everyone is looking up to Team Waxman, however, who has a massive lead on the field. Even if one of the contending teams has a winner in the $10,000 Pot-Limit Omaha event, they will still need a player or two to put together a deep run in the Main Event. It's not impossible, but the field is drawing very slim.
Be sure to follow our Live Reporting page for continuing coverage of every event at the 2013 World Series of Poker, and follow PokerNews on Twitter for up-to-the-minute news.