Five Thoughts: The WSOP Player of the Year Award, World Poker Tour Alpha8, and More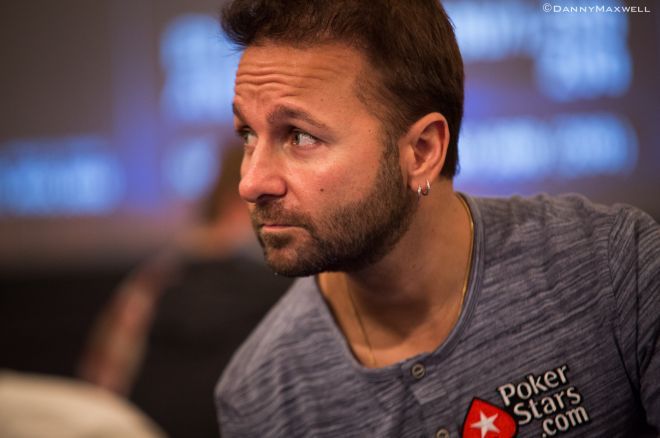 On Thursday, Daniel Negreanu won Event #8: €25,600 High Roller at the 2013 World Series of Poker Europe, earning his sixth WSOP bracelet and second WSOP Player of the Year title. Negreanu is the only player with more than one WSOP POY title, and in 2014 he will have his three WSOP Main Events paid for by Caesars.
In the wake of Kid Poker's POY win, which he locked up by simply making the official final table of the High Roller event, the debate raged on as to how to properly award points for the WSOP POY. Some believe that non-American events shouldn't count at all. Others, like Matt Glantz, believe that the race should begin in Las Vegas and conclude in Australia, so that no player enters the summer with a lead.
I caved in for a bit during one of the countless Twitter debates, defending the non-American events, but Five Thoughts is a much better forum to voice my opinion. I also disagree with Glantz that Negreanu and Phil Ivey, who both won bracelets at the WSOP Asia-Pacific, entered the summer with "big leads" and that the race should begin in Vegas.
If you would like to join the debate, then go ahead and jump into the comments section below this article — my only request is that you use more than 140 characters.
1. The WORLD Series of Poker POY Award
When the Main Event concludes next Wednesday morning in the Penn & Teller Theatre (that's a reverse-jinx of sorts), 72 bracelets will have been awarded during the 2013 WSOP campaign that are eligible for WSOP POY points (Seniors and Ladies events are not). That large number is an entirely different can of worms that we can discuss at another time, but let's break it down into three parts: Australia, Las Vegas, and Europe.
| Location | Bracelet Events | Percentage |
| --- | --- | --- |
| Australia | 5 | 6.94% |
| Vegas | 60 | 83.33% |
| Europe | 7 | 9.72% |
As you can see, over 83 percent of all bracelet events take place at the Rio All-Suite Hotel & Casino. This means that the vast majority of POY points are earned in Sin City, making it undoubtedly the most important leg of the WSOP season.
This is the third year that events outside of the summer counted towards the POY award. The 2012 POY, Greg Merson, recorded all of his WSOP cashes in Vegas. As did Ben Lamb in 2011.
Here is a list of players who won bracelets in Australia or France in 2013, sorted by POY finish. These were the highest point-earners outside of Las Vegas, yet if you ranked their average point total, it would only be 32nd in the POY race.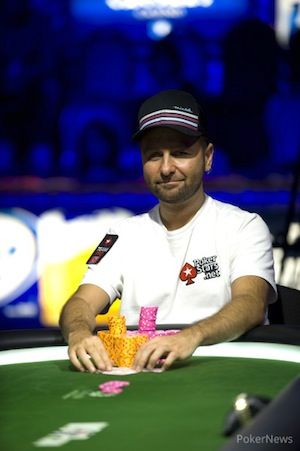 *Denotes that Negreanu won two bracelets
**All numbers courtesy of BLUFF
What happened to Ivey's massive lead?
Of the three players who finished in the top seven (this is subject to change because of the Main Event final table), all of them recorded at least half of their cashes in Vegas.
| Finish | Player | % Cashes in Vegas |
| --- | --- | --- |
| 1 | Daniel Negreanu | 66.67 |
| 5 | Noah Schwartz | 50.00 |
| 7 | Jeremy Ausmus | 72.72 |
Negreanu and Schwartz both finished runner-up in WSOP events held at the Rio, and Ausmus finished third in the $3,000 mixed-max event. Schwartz is the biggest outlier, cashing in only two events in Las Vegas, but he finished fourth and first in two really tough mixed-max events in France and one of them was a $5,000 buy-in, giving his point total a boost.
It's very clear that Las Vegas is still the most important leg of the WSOP season, and that most of the points are still earned during the summer.
We joked earlier about Ivey finishing 225th in the race despite having a "massive" lead after APAC, but Negreanu did take a big lead Down Under, scoring 360 points in his Main Event win alone. However, had Kid Poker hypothetically taken ill or quit poker after winning his fifth bracelet, it would've been impossible for him the win the 2013 POY award, because the WSOP Main Event champion is guaranteed to score 500 points.
So, using the current formula, unless someone goes absolutely bonkers in Australia and wins multiple bracelets including the Main Event, they will always be trailing the eventual winner of the Las Vegas Main Event. That is a much larger issue than points being awarded overseas or the WSOP campaign beginning Down Under.
Also, if you haven't noticed, only American players are complaining about the POY system. They don't want to travel all the way to Australia or France to play in a handful of events, but they forget the sacrifices their international peers make during the summer. WSOP Executive Director Ty Stewart made this point in his response to Glantz's blog post, writing:
"I also find it ironic that arguments are made about travel expenses. It is OK to expect Europeans and Aussies to come to Las Vegas for a seven-week period for a shot at WSOP, but it is not reasonable to think our Player of the Year might travel elsewhere for a fraction of this duration. Perhaps this is why we've only had one international POY."
That international POY was Jeffrey Lisandro, who won three bracelets in 2009.
There are certainly flaws in the system, including the aforementioned Main Event point surplus, but non-American events should definitely count towards the POY award, and the season should remain as is. There is no better place to finish the race than at the best final table in all of poker.
2. Adrian Mateos Wins WSOP Europe Main Event at 19
Adrian Mateos took down the 2013 WSOP Europe Main Event on Friday, earning €1 million and the gold bracelet. At the tender age of 19, the Spaniard became the second player under 21 years old to win a WSOP Europe Main Event — in 2007, Annette Obrestad won the first-ever Main Event held across the pond at just 18 years old. She earned £1 million (over $2 million at the time).
Mateos defeated Fabrice Soulier, denying him his second career WSOP bracelet. Soulier would've become the second French player with multiple bracelets — earlier in the week, Roger Hairabedian captured gold for a second time in as many years.
Joining Mateos and Soulier at the official final table were Benny Spindler, Dominik Nitsche, Ravi Raghavan, and Shannon Shorr.
Official Final Table Payouts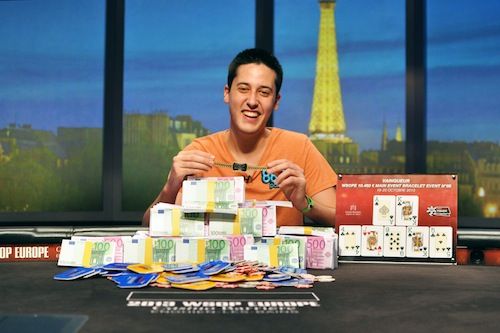 Mateos will have to wait two years until he can compete for a bracelet in Las Vegas, but says that he will be playing much more often on the tournament circuit.
"You will see me more," he said, grinning.
Mateos is already a regular on the Estrellas Poker Tour, winning a Main Event in Madrid for €103,053 back in January. He spoke excitedly about the growth of poker in Spain, and when asked about the WSOP Europe hypothetically moving to his home country, his eyes grew large.
"It's a good idea," he said. "In Spain [there] would be more players. I like that [idea] that it would be in Spain."
In 2011, the WSOP inked a three-year deal with Lucien Barrière Hôtels & Casinos. I am unaware of any renegotiations, and if the WSOP opts to move, then Spain could be the perfect destination. The Barcelona stop of the PokerStars.com European Poker Tour this season was massive, attracting 1,234 players and generating a prize pool worth more than $8 million.
3. Alpha8 Hosts Second Event, Announces Another
On Monday, the WPT Alpha8 kicked off its second event at Palm Beach on Mayfair. The £100,000 buy-in super high roller attracted a total of 19 players, and on Tuesday Bill Perkins registered late to bring the field size to 20. The £1.96 million prize pool will be split up between the top four finishers, and they will receive the following:
| Place | Prize |
| --- | --- |
| 1st | £862,400 ($1,379,840) |
| 2nd | £509,600 ($815,360) |
| 3rd | £352,800 ($564,480) |
| 4th | £235,200 ($376,320) |
You can check out what happened on Day 1 here, and PokerNews will be recapping the results of the event once it is completed.
Combined, the two Alpha8 events have fielded a total of 41 entries, which is less than the Season 9 PokerStars Caribbean Adventure Super High Roller (59), GuangDong Asia Millions Main Event (71), and WSOP One Drop High Roller (166).
One of the reasons the Alpha8 event in London drew so few people is PokerStars is currently shooting commercials with their Team Pros in Barcelona. That means no Jason Mercier, Bertrand "ElkY" Grospellier, Jonathan Duhamel, or Ike Haxton.
You might also include Negreanu on that list, but he skipped the first Alpha8 event in Florida.
There is also the WPT Grand Prix de Paris, which took place in a completely different country. As someone who has taken a train from Paris to London, it's an easy trip, but as a player I would much prefer that the two tournaments take place in the same venue. The last thing anyone wants to do after busting a tournament is hustle to Gare du Nord, sit on a train for a few hours, and then find a hotel in London.
Finally, there's fatigue. I was on the road the last four weeks, and after the WSOP Europe finished, I was more than ready to come home. There is no better time in the year to schedule a big tournament in Europe because the players are already there after EPT London and WSOP Europe, but a month of poker in a foreign place is a long time.
Mike McDonald suggested on Twitter that the WPT should've scheduled the event for Oct. 12. This would've been perfect, because players were still in London for the end of the EPT, and the only WSOP Europe events it would've conflicted with were the Ladies Event and the €1,000 reentry.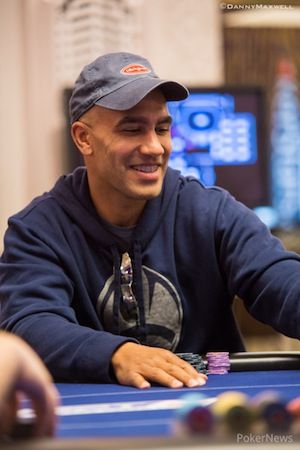 On Monday, the WPT announced that the Alpha8 tour will venture to the Caribbean island of St. Kitts on Nov. 16 and 17. The $100,000 buy-in event will be hosted at St. Kitts Marriott Resort & Royal Beach Casino, and the list of confirmed players includes Paul Newey, Dan Bilzerian, Philipp Gruissem, Tobias Reinkemeier, Erik Seidel, and Perkins. Perkins has continuously lobbied for a super high roller to be held in his "second home," and is very excited for the event.
"Being able to enjoy my hobby and hone my skills alongside these pro players, all near the natural beauty and warm waters of St. Kitts, will be brilliant," he said in a press release.
The St. Kitts event will take place right after the World Poker Tour Caribbean stop in St. Maarten and the Caribbean Poker Tour in Punta Cana. With a prime destination (who doesn't want to be in the Caribbean during November?) and Perkins campaigning for players to attend the event, I believe this Alpha8 stop will flirt with 30 entrants.
Thirty would be a 50 percent increase from the first two events, but it still wouldn't be on the same level as other super high rollers. According to the WPT website, episodes from Alpha8 will begin airing in March. Hopefully they will have a positive impact on the tour.
4. Lon McEachern Discusses Poker TV; Final Tables a Circuit Event
On Thursday, PokerNews published a guest contribution from Lon McEachern, co-host of the WSOP television broadcasts on ESPN. McEachern discusses the evolution of poker on TV, and refutes the claim that televised poker is dead.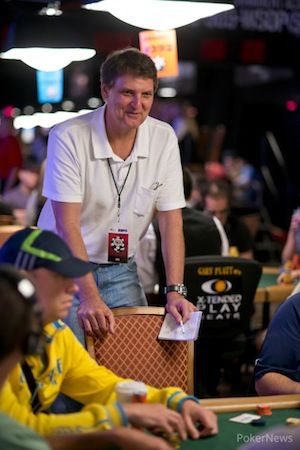 "I heartily disagree," he wrote. "It is just changing. Yes the number of shows on U.S. TV is fewer, but that, in and of itself, is not the whole story. Poker is available on the web as more and more events are streaming their tournaments live. We are still producing upwards of 40 new hours of poker each year on the world's biggest sports network."
McEachern also hints at the possibility of another poker boom, saying "I jut hope that Norman [Chad] and I will have another ticket to the ride."
He also discusses the effectiveness of human interest stories, highlighting a sit down interview he did with Kenny Tran. Tran tearfully reminisced about his struggle to find his father, who he never met. These moments hit home and keep the viewer coming back for more.
McEachern has played a large role in televised poker for over a decade, and is one of the most qualified individuals to address this topic. His views are both accurate and topical, especially with regards to live streaming. EPT Live has capitalized on a very strong, niche market, and the WSOP live streams have improved at each leg during the 2013 campaign. Likewise, I don't know if the U.S. is ready for another poker boom, but the reintroduction of online poker could also lead to more televised programs once again.
This past weekend, McEachern ventured to Lake Tahoe for the World Series of Poker Circuit, where he recorded his first WSOP cash. He reached the final table of a $365 buy-in event, finishing fourth for $11,598.
Unsurprisingly, his friend an co-host jabbed him on Twitter:
I woke up this morning to two statistical improbabilities: The Kansas City Chiefs are 8-0 and @lonmceachern made a WSOP circuit final table.

— Norman Chad (@NormanChad)
I can't wait to count the amount of jokes Chad, who made a WSOP final table in 2012, makes on Monday and Tuesday during ESPN's coverage of the November Nine.
Thanks to McEachern for his contributions not only to PokerNews, but to the entire poker community on a weekly basis, and congrats on the score! As Norman would say, "good for you."
5. James Dorrance Wins Largest WSOP Circuit Main Event Ever
On Monday, James Dorrance took down the WSOP Circuit Horseshoe Hammond Main Event, topping the 1,717 player-field (the largest in WSOP Circuit Main Event history) and earning $418,526. Joining him at the official final table was professional Kevin Eyster. Eyster, who won the WPT Seminole Hard Rock Showdown in April for $660,395, finished sixth for $87,103.
Official Final Table Payouts
| Place | Player | Prize |
| --- | --- | --- |
| 1st | James Dorrance | $418,526 |
| 2nd | David Cossio | $260,100 |
| 3rd | Diane Dines | $193,832 |
| 4th | Steve Maniaci | $146,855 |
| 5th | Scott Anderson | $112,498 |
| 6th | Kevin Eyster | $87,103 |
| 7th | Steven Hensley | $68,173 |
| 8th | Millard Hale | $53,905 |
| 9th | Michael Oshana | $43,088 |
I covered this event in 2012 when it attracted 1,523 entries. November Niner Ryan Riess recorded his first career live cash in that event, finishing runner-up for $239,063. It was amazing to see that massive room at the Horseshoe filled with players for the entire weekend — the Chicago poker community is one of the largest in the U.S., and it is still growing.
The event would probably be even bigger if the players could stay on property, but because of state laws no hotel rooms are allowed to be in casinos. In 2012, I was roughly 20 minutes away from the venue, and with 1,717 players this year, I can imagine that the hotel situation was even worse. If the Horseshoe Hammond operated like a regular Caesars property, then I venture this event could crack the 2,000-player threshold.
State lawmakers in Illinois are also discussing potential casino properties in center city Chicago or the surrounding suburbs, but there are several concerns, including negative socio-economic impacts and the city's ties to organized crime. If a casino, or even a major card room like the Playground Poker Club in Montreal, were built in the area, it would simply crush.
Congratulations to Dorrance and the other members of the final table. There are two more stops on the 2013/2014 WSOP Circuit schedule — River Rock in Vancouver and Harvey's Lake Tahoe — going on right now. You can find Main Event recaps from both right here on PokerNews.com upon their completion.
Get all the latest PokerNews updates on your social media outlets. Follow us on Twitter and find us on both Facebook and Google+!