Five Thoughts: Lusardi and Borgata, Full Tilt Poker Refunds, a $50M Guarantee, and More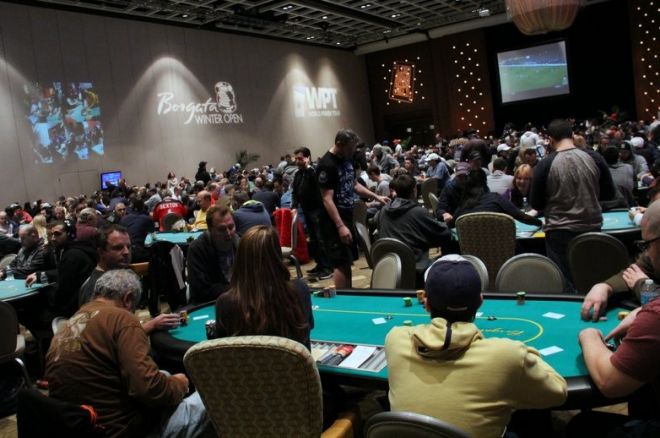 On Friday, one week after the Borgata Winter Poker Open $2 Million Guarantee was suspended because tournament officials found a large number of counterfeit chips, the alleged culprit was arrested at an undisclosed motel in Atlantic City, New Jersey. Christian Lusardi, 42, was brought to the Atlantic County Justice Facility and his bail was set at $300,000, which is $293,186 more than he earned in the tournament.
The New Jersey State Police issued a warrant for Lusardi's arrest when workers at Harrah's Resort and Casino discovered 2.7 million in counterfeit tournament chips clogged in a sewer pipe in his room.
For the remaining 27 players, the tournament still remains "cancelled" because the investigation is "ongoing," according to Borgata senior vice president Joe Lupo.
"Borgata will continue to work with the Division of Gaming Enforcement and the State police until this matter is concluded and a final order is issued by the DGE concerning the resolution of Event 1," Lupo said in a statement.
Like a poker blogger with a George Danzer hand to report, members of the mainstream media creatively crafted "royal flush" puns for their readers. A quick search shows that Philly.com, MyFoxPhilly.com, NJ.com, and The Morning Call all had "royal flush" in either their headline or their lede.
My personal favorite comes from The Associated Press, "Talk about a royal flush!"
GET IT, YOU GUYS. ROYAL FLUSH. LIKE THE HAND, BUT WITH A TOILET.
In fairness, the ludicrous crime deserves an equally whimsical write-up, but at least try and spice it up a little. Maybe throw in a "busted flush" here or there.
Lusardi's plan fell through, but I'm not so sure he had a solid plan to begin with. Let's examine it in our first thought.
1. Man Counterfeits Chips, Busts on Day 2
If you plan to break the law, plan thoroughly. Look at Walter White. He went from high school chemistry teacher to methamphetamine manufacturer in less than a season of Breaking Bad. Sure there were bumps in the road, and Walt needed to adapt to certain things, but in the end he was very successful because he was thorough. Detailed. Accurate.
Mr. Lusardi, was not. His first mistake was chumming it up with our PokerNews Live Reporting Team. His sweet love story didn't lead New Jersey's finest to his motel door, but he called attention to himself. Suddenly, he was no longer just another white male in a hoodie playing poker — he was Christian Lusardi, the note-passing lovebird. He was also photographed, allowing the poker community to look upon him and his counterfeit chips.
This isn't a how-to manual for future criminals, however, I'm just pointing out the obvious. If you're going to commit a crime or do wrong, being anonymous probably helps.
Beyond making himself known, Lusardi's execution left much to be desired. According to reports, he introduced the chips "multiple times," but not enough for him to make it to the final day of play. In fact, according to his reported cash of only $6,814, he finished somewhere between 28th-36th place. The risk-reward analysis of this heist doesn't add up. First place was $372,123.
You don't break into Le Louvre to steal a pencil in the gift shop with Mona Lisa's face on it, or the White House to nab a pillow out of President Abraham Lincoln's bedroom. Usually when you risk a large amount of money, or several years in detention, the reward is worthwhile.
Nope, not for Mr. Lusardi. He risked all of this for less than a World Series of Poker Main Event buy-in.
Lupo and the rest of the team at Borgata should be pleased that they found Lusardi so quickly, and hopefully they are equally as expeditious in finding potential associates or confirming that he acted alone.
This is not a resolution for the remaining 27 players, however, and Nick Guagenti (second in chips) still sounded a bit shaken up when he joined us on the PokerNews Podcast. They all deserve a proper settlement, and I hope it will come sooner rather than later.
2. Full Tilt Poker Players to Receive $82 Million in Refunds
On Wednesday, the Poker Players Alliance (PPA) announced that Garden City Group (GCG) is prepared to release $82 million in Full Tilt Poker refunds to approximately 30,000 players.
John Pappas, Executive Director of the PPA, broke the news on TwoPlusTwo, adding that "Players with undisputed claims should be looking for an email from Garden City Group within the next few weeks with instructions on how to receive their payment. The [Department of Justice] could not provide me with a definitive date on when these emails will go out and when payments will be processed. But it looks like it will be in advance of their March 31 deadline."
The next day, the GCG released a statement on FullTiltPokerClaims.com, confirming that the Department of Justice had completed their audit. The statement also affirmed Pappas' projected timeline.
"GCG expects to issue payments via ACH before the end of February 2014 and will post further updates on the payment process in 2-3 weeks," the statement said.
This is tremendous news, yet even with $0.00 locked up on Full Tilt (sorry for the brag, Jungleman), it's still hard for me to believe that the money is coming. Like the stubborn old man who always loses big pots with aces and would rather limp-call with the old 5♥3♥, I'm terribly afraid of what seem like inevitable delays and eventual heartbreak.
As stupid as it sounds, I won't believe it until I see it. There, I said it.
It has nothing to do with the GCG, either. They've done a tremendous job organizing all of this information and executing on their deadline. They also had to deal with thousands of poker players, and we all know that deadlines and poker players are somewhat like oil and water.
Apart from the refunds, there is still the issue of taxation. Did the DOJ skim their take right away? Will players be responsible for filing their taxes? If a player deposited $1,000 of their hard-earned money and on Black Friday there was $1,005 in their account, will they have to pay taxes for the whole lump sum?
While this news is intended to be met with celebratory balloons and Kobe Bryant fist pump gifs, I will remain reserved. The Full Tilt saga has already lasted nearly three years, and with the DOJ still involved there are still headaches yet to come.
3. The $50 Million Royal Poker Challenge
One million-dollar buy-in? Check.
Forty-eight runners confirmed? Check.
Fifty million-dollar guarantee? Check.
Winner take all? Check.
It sounds like a scene out of Casino Royale — take that mainstream media — but according to David Chen, it will soon become a reality.
That's right, on March 30 at The Star in Sydney, Australia, at least 48 players will pony up AU$1 million and compete in the winner-take-all $50 Million Guarantee Royal Poker Challenge. According to a press kit sent to PokerNews, the brainchild of this event is an Australian mining magnate, and he has personally guaranteed the top prize.
The no-limit hold'em shootout tournament is slated to be invite-only — cut to Fabian Quoss choking Philipp Gruissem with one of his fashionable scarves — and the field will consist of wealthy business leaders and entrepreneurs form Asia, as well as royal family members from Britain, Denmark, and Monaco.
If you thought the American press was pumped about writing "royal flush" puns, just wait until the British media finds out that Queen Elizabeth II was eliminated holding two ladies. Or that Prince Harry exited with king-jack off.
This tournament is insanity and awesomeness all rolled up into a neat little ball. Mr. Chen, if you're going to tease us with this media kit, at least ask us to come provide live reporting. Since this news broke, I've erased all of my unwritten resolutions for 2014 and replaced them with a single one: get Queen Margrethe II of Denmark to use the MyStack app.
4. Affleck Wins Event #15 at Borgata
Back to Borgata, where Matt Affleck took down Event #15: $200,000 Guarantee Six-Max NLHE Re-Entry. Affleck defeated Josh Brikis heads up, earning $88,643, while the Ivey Poker pro banked $54,272 for his efforts.
If the name "Matt Affleck" sounds familiar but you're suffering from tip-of-the-tongue syndrome, perhaps this hand will jog your memory:
Yes, it was Affleck who received that horrific bad beat from future Main Event champion Jonathan Duhamel in 2010. Knowing the monetary and life equity of that pot, he was understandably crushed, but Affleck didn't disappear from the poker world. Since 2010, he's added nearly $300,000 to his live tournament earnings, which total to over $1.1 million. Affleck is also a good sport with regards to that gut-wrenching, memorable WSOP moment — one time Matt Savage projected a huge image of Affleck's crying face onto a wall during a tournament, and even he was forced to laugh.
If you're covering a poker tournament and Affleck is participating, it's not hard to find him. Just look for a Seattle or University of Washington sports jersey. The Northwest native was wearing a No. 25 Richard Sherman Seattle Seahawks jersey with a Super Bowl XLVIII patch when he won this event at Borgata.
No, he did not stand up and scream that he was the best poker player in the world after the river card hit the felt.
Once again mainstream media, another timely joke! Suck eggs!
Affleck plans to travel up the Atlantic City Expressway onto the New Jersey Turnpike en route to the big game at MetLife Stadium on Sunday. For a preview of the game, be sure to look out for the Pigskin Diaries Presented by DraftKings on Thursday.
5. Liquidity in Europe
On Monday, Giovanni Carboni, one of Italy's top gambling consultants, discussed the future of online poker in Europe with PokerNews. One of his key points was the need for shared liquidity.
"Shared liquidity is of decisive importance for the revitalization of the poker industry, particularly in the current context of the sharp decline suffered by Spanish and Italian markets," Carboni said. "Unfortunately, up until now, the two countries have not shown the determination they needed to make it possible."
Spanish and Italian poker players are currently forced to play on .es and .it domains, respectively, leading to smaller player pools and less money. Both countries finally realized that they were losing out on a bigger piece of the European pie, but by the time they started to act, the window began to close.
In December, a member of the French National Assembly called poker "a little out of fashion today."
Razzy Hammadi, the Rapporteur of the Committee on Economic Affairs, added, "I am against [European shared liquidity] as it would turn online poker into an uncontrollable ogre eating one market after the other."
France, like Spain and Italy, only allows its citizens to play on country-specific domains.
In order for shared liquidity to work, all of the parties have to be committed. Unfortunately, for thousands and thousands of years, the inhabitants of the European regions now named Spain, France, and Italy have rarely agreed upon anything. Throw the United Kingdom and Germany into the mix, and you have a potpourri of disagreements, wars, and general contempt.
The obvious answer is unfortunately coupled with the most difficult realization. Everyone benefits from shared liquidity in some way, but no one is willing to compromise. Mr. Hammadi should stop worrying about uncontrollable ogres and turn his attention to cannibals, because his own market will destroy itself without an injection of players and money from beyond France's borders.
Get all the latest PokerNews updates on your social media outlets. Follow us on Twitter and like us on Facebook now!