Five Thoughts: Do You Believe in Magic?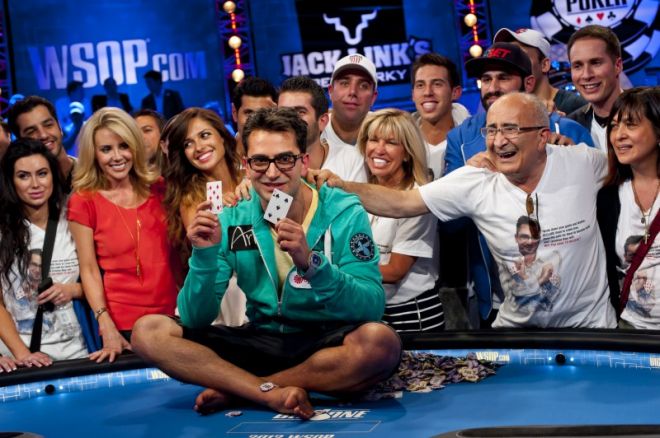 On Sunday, minutes before the $1 Million Big One for One Drop began, Antonio Esfandiari told PokerNews' Sarah Grant the following:
"I feel fantastic. I've had a great World Series so far…I'm playing the best poker I've ever played, and I wasn't planning on playing this tournament, but I got really close to a bracelet, and I tasted victory, and I was like you know what? Maybe this happened for a reason. Maybe I'm supposed to play the One Drop. And so here I am, taking a pretty big risk, but I think there's a big reward waiting for me at the end."
Esfandiari was correct, there was a big reward waiting for him at the end of the tournament, and the $18,346,673 he earned for winning the Big One for One Drop gives him the top spot on the all-time money list with over $23 million in career tournament earnings.
1. Esfandiari binks the Big One
Esfandiari was placed at the toughest table in the tournament on Day 1, but despite being surrounded by Phil Ivey, Erik Seidel, Vivek Rajkumar, Tom Marchese, Ben Lamb, Nick Schulman, and eventually Jason Mercier and Noah Schwartz, Esfandiari finished the day fourth in chips with nearly 6.9 million. His good friend Brian Rast was the chip leader with 10.7 million, and Phil Hellmuth was second in chips with nearly 8.4 million.
On Day 2, Esfandiari chipped up to a little over 10 million, then won a massive hand that vaulted him into the chip lead. Esfandiari opened on the button, and Mercier — who later admitted on Twitter that he and Esfandiari have a "crazy dynamic" — three-bet. Esfandiari responded with a four-bet, Mercier was a five-bet, and Esfandiari clicked it back with a minimum six-bet. Mercier seven-bet shoved, and Esfandiari snapped it off with two aces. Mercier held kings, and failed to make a better hand, giving Esfandiari a pot of 20 million chips and the lead.
The man they called the Magician never looked back, and a few hours later, the night ended with him as the chip leader of the final table.
Sam Trickett was second in chips entering the final table, and quickly grabbed the chip lead from Esfandiari. Richard Yong, Bobby Baldwin, and Brian Rast were the first players to be eliminated from the final table, and that's when Esfandiari surged again. He won a nice-sized pot off of Trickett to regain the chip lead, then won a 50 million chip flip against Guy Laliberté, the architect of the event. Twelve-time WSOP bracelet winner Phil Hellmuth was the next to exit, followed by David Einhorn, who plans to donate the $4,352,000 he earned to City Year — an educational nonprofit organization.
Heads-up play only lasted 16 hands, and in the end, the money went in on a J♦5♦5♣ flop. Esfandiari held 7♦5♠ for trip fives, and Trickett had Q♦6♦ for a flush draw. The turn and river came 3♥, 2♥ respectively, and Esfandiari threw his hands on his head in disbelief. He had just won over $18.3 — or at least a chunk of it — and his second-career WSOP bracelet.
The debate about whether or not the Big One for One Drop was "good for poker" is still raging, and I have to sit and think on it some more before I can form a solid opinion. The poker economy certainly wouldn't be able to sustain something like this every year, and the event wouldn't feel as special knowing that there's another seven-figure buy-in tournament right around the corner. I will say that the past three days were a success in terms of exposure for poker — Sports Illustrated, Grantland, The Wall Street Journal, and The Washington Post all ran stories about the Big One.
2. Grinder wins his second Poker Players Championship
Michael "The Grinder" Mizrach won the $50,000 Poker Players Championship last Friday, becoming the first player to have his or her name etched on the David "Chip" Reese trophy a second time. Mizrachi defeated Chris Klodnicki heads up, and survived a final table that featured Bruno Fitoussi, Bill Chen, Stephen Chidwick, Roland Israelashvili, Luke Schwartz and Andy Bloch, who were eliminated in that order.
For Mizrachi, it was his fourth career seven-figure score, putting him in an elite group with Phil Ivey and Gus Hansen. A few days later, Trickett joined the group as well:
| Player | Event | Prize |
| --- | --- | --- |
| Gus Hansen | 2005 Poker SuperStars Invitational Grand Final | 1st - $1,000,000 |
| | 2007 Aussie Millions Main Event | 1st - $1,192,919 |
| | 2008 World Poker Tour World Championship | 2nd - $1,714,800 |
| | 2010 Poker Million IX | 1st - $1,000,000 |
| | 2012 One Drop Mega Satellite | 1st - $1,000,000 |
| | | |
| Michael Mizrachi | 2005 WPT L.A. Poker Classic | 1st - $1,859,909 |
| | 2006 WPT Borgata Winter Open | 1st - $1,173,373 |
| | 2010 WSOP $50,000 Players Championship | 1st - $1,559,046 |
| | 2010 WSOP Main Event | 5th - $2,332,992 |
| | 2012 WSOP $50,000 Payers Championship | 1st - $1,451,527 |
| | | |
| Phil Ivey | 2005 Monte Carlo Millions | 1st - $1,000,000 |
| | 2008 WPT L.A. Poker Classic | 1st - $1,596,100 |
| | 2009 WSOP Main Event | 7th - $1,404,014 |
| | 2012 Aussie Millions $250,000 Challenge | 1st - $2,058,948 |
| | | |
| Sam Trickett | 2011 Aussie Millions $100,000 Challenge | 1st - $1,508,258 |
| | 2011 Aussie Millions $250,000 Challenge | 2nd - $1,384,631 |
| | 2011 Partouche Poker Tour | 1st - $1,364,666 |
| | 2012 WSOP Big One for One Drop | TBD |
After his win, some players, including Gavin Griffin took to Twitter to downplay the victory.
On the PokerNews Podcast, we asked Allen Bari, who did live commentary during the Poker Players Championship for the WSOP.com stream, about Mizrachi's two wins as well. He had a one-word answer: "Variance."
Personally, I think this a bit of an unfair approach. Can we crown Mizrachi the best tournament player ever because he defeated two hundred-player fields? No, but he has to be in the conversation. His play may be unorthodox, and his approach to non-hold'em games may leave you scratching your head, but he has results, and in tournament poker, that's what matters. There needs to be some kind of scoreboard, and tournament earnings is simple statistic, but it's also very relevant.
Is it the be all end all? Absolutely not, but again, it matters. Mizrachi's place in history will be more clear in a decade or two, so for now, let's just marvel at his recent success. His results in the last three years at the WSOP have been staggering.
3. Ray Bitar is back in the United States
On Monday, PokerNews learned that Ray Bitar, the chief executive officer of Full Tilt Poker surrendered to U.S. authorities. U.S. Attorney Preet Bharara signed an updated indictment later that day, and Bitar is charged with nine counts and faces a maximum sentence of 145 years in prison.
This is obviously the first step towards some sort of plea bargain — for some reason I don't think Bitar woke up on Sunday and suddenly felt sorry for what he's done. He wouldn't come to America and willingly be arrested if there wasn't some sort of plan in place. Hopefully we'll know more details sooner rather than later, because all of this waiting is driving more and more players to become increasingly pessimistic.
Is someone finally going to purchase FTP? Are both the American players and the "Rest of World" players finally going to receive their money? Or is this just another tease? I hope not.
This feels like the beginning of the last chapter of the Black Friday saga — I just hope that it has a happy ending.
4. Vanessa Selbst wins her second bracelet
You can file this story right next to Mizrachi's win in the "stories that were forgotten because Esfandiari won $18.3 million" cabinet. Vanessa Selbst shipped Event #52: $2,500 10-Game Mix — Six-Handed for $244,259. It was Selbst's second win at the WSOP — her first coming in a $1,500 Pot-Limit Omaha event in 2008 — and her fifth largest career score. Selbst now has over $5.3 million in career tournament earnings, but she still trails Kathy Liebert, who leads all women with $5.845 million in career tournament earnings.
When I covered the event on Day 2, Selbst held her own in the stud games, and absolutely crushed in pot-limit Omaha and no-limit 2-7 single draw. The final hand was in limit 2-7 triple draw, where Selbst made the nuts on the second draw, and Michael Saltzburg, who finished runner-up, mucked. Saltzburg collected $150,840 for his finish — his largest career cash by nearly double.
If you bet that a woman would win a bracelet in an open event at the 2012 WSOP, then you can go ahead and collect your money. However, I hope that this bet becomes irrelevant in the coming years. With double-figure women reaching official final tables this year, perhaps we'll stop counting the successes of females at the WSOP because, after all, it shouldn't be that surprising anymore. There are many talented women capable of making deep runs, and the only thing stopping them is variance.
We set the line for Selbst's career bracelets at around seven on the PokerNews Podcast, and at the rate she's going, that might be too low.
5 Esfandiari is #winning
Follow PokerNews on Twitter for up-to-the-minute news.