Five Thoughts: Counterfeit Chips at Borgata, Ivey League Training, and More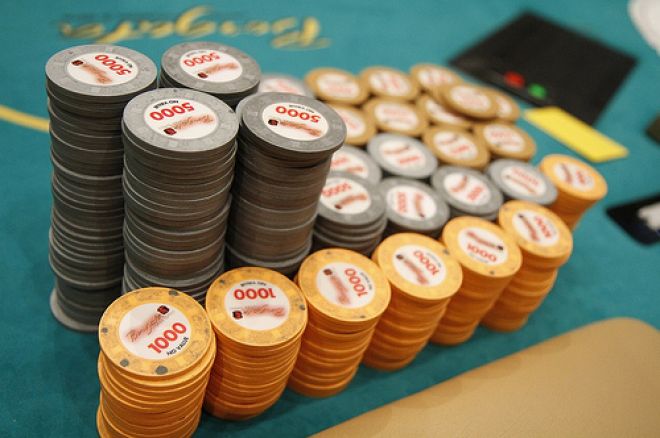 On Saturday, after a 24-hour investigation conducted by the Borgata Hotel Casino & Spa and the New Jersey Division of Gaming Enforcement (DGE), the Borgata Winter Poker Open $2 Million Guarantee was cancelled.
According to a press release issued to PokerNews, state gaming regulators found that one or more entrants used a "significant number" of counterfeit chips during the tournament.
The tournament was suspended on Friday with 27 players remaining. Each of the surviving players was scheduled to earn a minimum of $8,140, and the first-place prize was $372,123.
Nick Guagenti was second in chips heading into the final day of play, and voiced his frustrations on Twitter:
Mentally crushed poker is gonna b impossible to play for how long I don't know. I'm lost

— Nick Guagenti (@quadfours_kin)
Jesse Letchworth was fourth in chips, and was equally upset:
@jpinkussohn Are you kidding me man??? Of course I am outraged, I was likely going to win the whole damn thing!!!

— Jesse Letchworth (@JesseLetchworth)
The investigation will continue, as will the remainder of the Borgata Winter Poker Open — both the tournament staff and the DGE verified the remaining chips in Borgata's inventory. Thus far, 423 of the 4,812 entrants have been paid a minimum of $1,082, but the remaining 27 players will have to wait until the investigation concludes to see how and what they will be paid.
Unsurprisingly, those who busted short of the money are asking for a refund, but honestly I have no clue what Borgata and the DGE plan to do.
1. Counterfeit Chips at Borgata
The first mention of fake chips actually came during play on Thursday, when Luke Edwards tweeted this picture:
The Men "The Master" Nguyen jab wasn't an accusation — although dozens of poker players have, without proper evidence in this case, immediately blamed Nguyen, who has been previously accused of cheating — it was merely a joke. A day later, when the suspension was announced, the picture went viral amongst the poker community.
Neither Borgata officials nor the DGE have confirmed that this was one of the fake chips, but it does look a little off. Edwards said on Twitter that he said something immediately upon getting the chip, and "it was passed around the table and the dealer discounted the idea."
Pointing blame at one dealer is trivial — this is an institutional failure, not individual misconduct.
Borgata's tournament staff, namely tournament director Tab Duchateau, is top-notch, and the property plays host to the best poker in New Jersey, but this was a very large mistake. I'm certain that it's difficult to govern a 4,000-player tournament, and if one or more entrants wanted to be sneaky they could get away with little things here and there, but sneaking a "significant amount" of counterfeit chips into an event is unheard of. The World Series of Poker runs several large fields congruently during the summer, yet I can't recall an incident comparable to this one.
WSOP chips do pop up on eBay from time-to-time, and a quick search this morning produced this black T100 chip listed by user drdahl11. The person describes the item as "super rare," when in actuality it's "super illegal."
Rather than indict the staff, however, I want to come down hard on the culprits. As someone said on our Facebook page, this is why we (the poker community) can't have nice things. There is an innate behavioral issue in poker that leads to cheating and scamming, and even if it only affects a small percentage of the population, the results are damning. Outside of the WSOP Main Event, the Associated Press rarely covers poker tournaments, but they were all over this fiasco at Borgata.
Once major news outlets get involved, then we get insane headlines like: "FOLD! Borgata cancels New Jersey poker tournament after confirming fake gaming chips used" (NY Daily News).
One guy even asked Norman Chad what was going on:
Once again, while we scratch and claw for legalized and regulated online poker, some idiot(s) go and screw things up. I hope that Borgata and the DGE discover exactly who is to blame for this unforgivable act, and the person(s) is/are banned from casinos across the United States.
In truth, this story should be ammunition used for online poker. While managing a massive field is difficult in the live setting, and it requires a ton of overhead, online poker sites can successfully run several large tournaments in the blink of an eye. Online sites also track every bet at every table all of the time, creating a database that can be easily searched if an issue arises. Borgata and the DGE will have to labor over hours of footage produced by the eye in the sky in order to build a strong enough case for prosecution.
I wouldn't be surprised if Borgata issues a full refund to the players who participated in the tournament, but do you refund players who cashed? What if someone min-cashed but failed to cover their buy-ins because they fired so many bullets? Likewise, what do you do with the 27 remaining players? Do you issue a chip-chop? What if one of the guilty parties is among the 27?
There are more questions than answers right now, and I eagerly await any and all progress that Borgata and the DGE make in the coming weeks.
2. Ivey League Finally Set to Launch
Finally, over a year since the launch of Ivey Poker, Phil Ivey is set to launch his Ivey League poker training site later this month.
In order to create awareness for the launch, Ivey Poker plans to sponsor various sporting events, including ShoBox, The Next Generation, which aired on Showtime on Friday.
"Phil is a big fan of boxing, but more importantly he is a fan of hard work, commitment, and dedication. That's exactly what is needed when you step in the ring," said Clete McQuinn, COO of Ivey Poker.
After the 2014 PokerStars Caribbean Adventure, several members of Team Ivey flew to Cabo San Lucas, Mexico to film training videos with the boss. Among the players in Mexico were Josh Brikis, Griffin Benger, and Mike Leah. All three were very excited to work side-by-side with Ivey, and were active on social media while in Mexico:
Just finished my first hand history review in Cabo with @philivey! #bucketlist #TeamIvey #IveyPoker #IveyLeague http://t.co/SvFF9ojSKU

— Griffin Benger (@GriffinBenger)
Amazing time @philivey 's oceanside villa in Cabo with @GriffinBenger @JBrikis & TeamIvey

— Mike Leah (@GoLeafsGoEh)
Leah and Brikis went out of their way to defend Ivey after Dan Bilzerian said that he was "broke." Bilzerian is currently suing the producers of Lone Survivor after loaning them $1 million in exchange for eight minutes of screen time and 80 words of dialogue.
The jury is still out on Ivey Poker and the pending Ivey League. A handful of players, including Jackie Glazier and Christian Harder, have already removed their Ivey Poker patches, and after more than 13 months the excitement surrounding the brand has decreased significantly. With all of this time to prepare and launch the site, one would expect a plethora of useful and informative videos.
Ivey has the advantage of being Ivey, and his name carries a lot of weight, but four letters can only carry a company so far.
3. "You Got Big Fans, Brah"
The World Poker Tour announced on Monday that the WPT Alpha8 will premiere at 10 p.m. on March 16 on FOX Sports 1. The first episode of the all-new, global series of super high rollers will be the WPT Alpha8 Florida, which took place at the Seminole Hard Rock, Hotel and Casino in August of 2013.
The show, hosted by Lynn Gilmartin and featuring commentary from Ali Nejad and Olivier Busquet, released a sizzle reel as well:
I am excited for the launch for several reasons. First, March 16 is my birthday! How thoughtful of the WPT and FOX Sports 1! I hope they still send me cake... or a buy-in...
Second, I am admittedly biased towards Gilmartin, Nejad, and Busquet. I had the pleasure of working alongside Lynn for several years at PokerNews, and wish her nothing but the best. Ali was an integral part of PokerRoad Radio, a show that helped me enter the poker media and influences the PokerNews Podcast to this day. And Olivier has always been pleasant in our encounters and has a mean crossover on the basketball court.
Finally, the show looks fun, and if you've followed the PokerNews Podcast over the last year or so, then you know that we'll support most anything that injects a little fun into poker.
It starts with the cast. Lynn and Ali are always up for a good time, and while Olivier is an analytical beast, he can balance his range with humor here and there. The players who attended these events help the "fun" cause as well. The fields weren't filled with the David "Doc" Sands and Andrew Robl's of the world, rather you have Jason Mercier laughing his head off and Matt Glantz calling people "brah."
There's also Bill Perkins, who brings the party wherever he goes, and Team Germany, who were all shirtless by the conclusion of the event in St. Kitts.
Like fish, the fun is drying up in poker, and if the WPT Alpha8 broadcasts can bring a little life back to televised poker, then I will be a big supporter going forward.
4. Boeree Nearly Captures UKIPT Title
Despite eliminating five of the eight finalists at the UKIPT Edinburgh final table on Monday, Liv Boeree fell just short of the title, losing to Dean Hutchison during heads-up play. Boeree was nearly crowned the champion at the start of the heads-up match, getting it all in with the K♥K♣ against Hutchison's A♥4♦, but her Scottish opponent hit the wheel on the river.
The Team PokerStars Pro earned £59,180, making it her largest live score since winning EPT Sanremo in May of 2010. Boeree won the PokerStars Sunday Warm-Up in February of 2011, earning $147,780.96.
Boeree was pleased with the way she played — she really did dominate — and is happy to start the year off with a big score:
2nd. Just couldn't win a hand after the break. Well done to Dean for winning. Still, £59k score great start to the year!

— Liv Boeree (@Liv_Boeree)
Boeree is expected to climb up the UKIPT Player of the Year leader board, currently led by Dara Davey. Fellow British pro Max Silver currently sits in third place.
The UKIPT, like the WSOP Circuit, is a great tour for players who can't afford to play in big buy-in events on the European Poker Tour. Unlike the WSOPC, there are tons of online qualifiers, increasing the field sizes and allowing players to generate a massive ROI from a very small investment. Along with a POY, the UKIPT will also award the player who qualifies for the most events on PokerStars. Right now, the clubhouse leader is "SlowDoke," who has registered 40 wins — eight more than No. 2 "uWannaLoan?"
Hopefully the UKIPT can continue to grow, bringing more players onto the live tournament circuit. I think that both the UKIPT and the WSOPC can learn from one another in order to bolster their own brands. The WSOPC should look at the UKIPT's success with online qualifiers and start to devise a plan for Nevada and New Jersey to bring in new players, while the UKIPT should look to host a "final" of sorts that would feed into EPT London. It could even be for an EPT event in a neighboring country — the WSOPC National Championship was held in New Orleans last year, but it created a buzz heading into the WSOP in Las Vegas.
5. Petersen Ships the Sunday Brawl
After busting the aforementioned UKIPT Edinburgh, Mickey "Mement_mori" Petersen retired to the "[David] Vamplew castle" to register for some online tournaments. The Dane did quite well, winning the Full Tilt Poker Sunday Brawl for $52,120.
Won the Brawl for 52k!!! Thanks for the support everyone, feels good to be back playing online! :)

— Mickey Petersen (@mickeydp)
Petersen, a member of Team PokerStars Online, is often teased for being a nit (Pratyush Buddiga hilariously refers to him as "Nit Mori" on Twitter), but the young pro has over $1.2 million in career live tournament earnings. His biggest cash came in February of 2012, when he won EPT Copenhagen for $444,595.
PokerStars released a short on Petersen named "The Traveler" two months ago, and it's certainly worth a watch:
Sam Grafton needs to be on camera more often. Seriously.
Above all, Petersen is a fan of The Blue Scholars, and I am a fan of all poker players who are fans of The Blue Scholars. Congrats on the score, sir!
Photo courtesy of the Borgata Poker blog
Get all the latest PokerNews updates on your social media outlets. Follow us on Twitter and find us on both Facebook and Google+!