Five Thoughts: Reentry Events, WSOP.com Rakeback Issues, Riess on Gameday, and More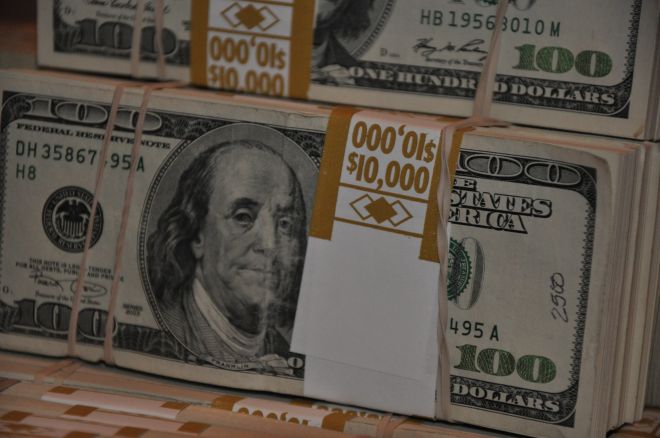 Prior to Thanksgiving, famed tournament director Matt Savage wrote an op-ed on PokerNews, asking if it's time to reconsider reentry events. Savage, who was one of the pioneers of the reentry format in 2010 with a $335 buy-in, $1 million guarantee event that generated a total prize pool of $1,683,936, believes that reentry tournaments are doing more harm than good to the poker industry.
"It saddens me than an idea I had may actually hurt the industry, but I don't think it's too late and I hope some influential players and casino management actually agree with me and make positive changes for the future of our great game," Savage wrote.
Savage doesn't believe that all reentry tournaments should be abolished – the reentry format is very important in super high rollers for various reasons – but he thinks that they should be scaled back considerably.
Chris Moorman, who became the first player to reach $10 million in career online tournament earnings this year, also wrote a blog, echoing Savage's sentiments. Like the tournament director, Moorman thinks that reentry events are getting out of hand, but allowing players to reenter in super high rollers is OK.
"In my opinion, they are in general bad for the game and are unsustainable long term," Moorman wrote. "I'd like to make it clear that I'm not talking about the huge $100ks that have become the norm over the past five years, as I think that actually helps to provide some value in these tourneys…but events such as the World Poker Tour, which I played in Montreal last week."
Moorman uses WPT Montreal as an example where a min-cash wouldn't produce a profit for players who reentered. It becomes increasingly more difficult to profit when a player can reenter an unlimited amount of times.
Both Moorman and Savage are correct to question the sustainability and overall worthwhileness of the reentry format. I want to lead off this week's Five Thoughts by piggybacking off of one of Savage's points and highlighting a comment that Nikolai Yakovenko made on the op-ed.
1. Dashing Reentries
Profiting from poker is extremely difficult, not just for players, but for venues as well. For years, Las Vegas casinos didn't even want to own or operate poker rooms because they rake less than table games and slot machines. This concept is fairly simple to understand. At a slot machine, customers lose to the house. At the poker table, customers lose to one another and give a percentage to the house. The house then prays that the winners in the poker room transfer their newfound money into the nearest slot machine or spend it somewhere else on the property.
Tournament poker is more interesting to properties because they can be sold on the idea of hundreds of poker players staying in their hotel rooms, buying their food, drinking their alcohol, and playing their table games and slot machines. That is why venues like Atlantis Paradise Island, that don't offer poker, will clear out their ballrooms to host a tournament, or, even better, a festival.
If a hotel increases its occupancy, it will likely increase its revenues as well.
Savage makes the point that, even if a reentry event will increase the amount of rake, it ultimately leaves the customer with less money to spend elsewhere. As poker players, many of them are likely invest that extra cash into other tournaments or cash games during the festival, but others will spend it on amenities or even save it for next year when the tournament stop returns. Sustainability and longevity are paramount for any business model, unless a company is content with "hitting and running."
It doesn't seem like any of the major tours plan to exit the market anytime soon, so perhaps focusing on long-term growth would be beneficial.
Beyond the economic implications of squeezing every dollar from tournament entries, there is also the psychological downfall of allowing professionals to have multiple shots at an event while satellite qualifiers and amateur players are less likely to reenter if they bust. Yakovenko wrote a very nice comment regarding this phenomenon on the Savage article:
"Also, the poker boom started because a guy won $2m from a $25* investment. Please please please make sure that people, especially locals, have a chance to win a large prize from a small investment. Whether that's reentry, satellites or rewarding regulars at a local casino, pro poker players forget who makes their living possible. Those people deserve a good experience."
*Chris Moneymaker, "a guy," won a $39 satellite into the 2003 WSOP Main Event
Yakovenko is spot on. The poker boom didn't happen because Johnny Chan won back-to-back WSOP Main Events, or Phil Hellmuth racked up 13 bracelets, it happened because an everyday person turned pocket change into $2 million. Poker, unlike almost every other hobby, offers the ultimate American dream of turning nothing into something.
If we take that dream away, if amateur players stop believing that they can win a major tournament because they are at a distinct disadvantage, then poker will crumble. Every great structure needs a solid foundation, and without a constant influx of cash from the bottom of the poker economy, our game can easily plummet.
There is still room for reentry or even re-buy events – the latter is a dirty word for casinos and tournament directors because they don't get to re-juice players – because they are different forms of tournament poker like pot-limit or limit, but they shouldn't be highlighted. Likewise, I fear that big guarantee tournaments will become oversaturated as well – the Seminole Hard Rock may be going back to the well too soon this April with another $10 million guarantee event.
As for super high rollers, they are self-sustaining ecosystems that rely on players who regularly play $10,000 buy-in events to take shots or sell pieces, and wealthy businessmen who enjoy the competitive nature of a high buy-in poker tournament. The amount of players interesting in buying into a $1,650 buy-in event on the WSOP Circuit should never influence the amount of players buying into the $100,000 Super High Roller at the PokerStars Caribbean Adventure.
For the betterment of our game as a whole, it's time to reduce the amount of reentry tournaments on the poker calendar and keep the dream alive for the amateur players.
2. WSOP.com Rakeback Corrections
In November, WSOP.com ran a promotion called Grinder Appreciation Month in an effort to revamp their Action Club loyalty program. When players were awarded rakeback at the start of December, they were upset at how little money they were given.
"Is this a joke?" TwoPlusTwo user "Jseeley" wrote in a thread dedicated to the issue. "I rake this in a day easily."
Other players posted in the thread with similar concerns, including Jimmy "gobbo" Fricke.
"I got the same email for way less than I should've," Fricke added. "This is a total joke."
On the same day the thread was created, WSOP.com's Head of Poker Bill Rini posted the following in the thread:
"Not sure where to jump into this but let me just start off saying that the guys who did the manual calculations for this promo screwed up. Not sure there's a better term for it but how they calculated the rakeback was not how it was supposed to be calculated."
PokerNews spoke with Rini, who confirmed the mistake.
"As soon as the issue was brought to someone's attention, we traced the source of the issue and have begun correcting the player balances according to the proper formula," he said.
Rini added that account balances should've been adjusted in 24-48 hours (on Dec. 8). No player has confirmed or denied that they've received the refund on TwoPlusTwo as of Tuesday afternoon.
Rini and his crew deserve credit for rectifying the issue immediately – sometimes TwoPlusTwo is actually useful – but this is a glaring mistake. There are several effective VIP programs, most notably PokerStars', that have worked for a long time, and by just tweaking them a little bit WSOP.com or any other new site in Nevada or New Jersey could be successful. Reinventing the wheel is always difficult.
It's also a bit worrisome that WSOP.com is capable of making an error with this simple calculation. All you need to do is multiply the rakeback percentage (based upon loyalty status) with the amount of points earned. Also, as Fricke noted in the thread, if WSOP.com is going to run a month-long promotion, there needs to be a way for players to track how they're doing. Adding a leader board could also be beneficial not just for tracking purposes, but to generate a little bit of competition between the regulars on the site.
WSOP.com is still in its infancy, and like the other American sites, we expected bumps in the road. At some point the customers, especially the most loyal grinders, are going to stop giving these sites the benefit of the doubt and expect them to operate like the industry leaders they're marketed to be.
3. Riess The Beast on Gameday
For various reasons, most notably the gap in talent between the top teams in the Football Bowl Series and the bottom feeders and the lack of talent compared to the NFL, I'm not a big college football fan. Bowl season is fun because there's a football game on everyday during the holidays, and I'd rather watch a couple of college kids toss around a pigskin than reruns of How I Met Your Mother, but I'd rather spend my Saturdays sleeping or watching English football.
Because of my lethargic approaching to NCAA fooball, I've only caught a few live tapings of ESPN College Gameday on Saturday morning, but this past weekend I made sure I tuned in because the reigning WSOP Main Event champ was set to make an appearance.
Getting ready to drive to Indy for the Big 10 Championship game tomorrow! I'll also be on College GameDay in the morning to make a few picks

— Ryan Riess (@RyanRiess1)
Each week, College Gameday invites a celebrity on stage to help pick the marquee matchups, and since Ryan Riess is a Michigan State graduate and his Spartans were playing Ohio State in the B1G Championship Game, he was selected. He unfortunately was coupled with competitive eater Joey Chestnut, who came off a bit abrasive and called OSU "Ohio" several times. Michigan head coach Brady Hoke must've loved that.
Riess was composed, spoke confidently, and was the only person to correctly predict that Sparty would earn an automatic bid to the Rose Bowl:
Poker players and fans responded warmly on Twitter, and you can read some examples of the hundreds of tweets that featured either Riess' handle "RyanRiess1" or simply the word "Riess" here.
This was great exposure for our game, and a sign that Riess is willingly going to carry the torch as an ambassador for poker going forward. A few weeks ago he successfully sold a package of high roller and super high roller events for the start of 2014, and will be appearing at several marquee tournament stops including the PCA, Aussie Millions, and WPT World Championship.
Riess' appearance on College Gameday is likely the biggest appearance by a WSOP Main Event winner since Joe Cada was on the Tonight Show with David Letterman in 2009:
In 2012, Antonio Esfandiari appeared on the Howard Stern Show after winning the Million Dollar Big One for One Drop.
Hopefully appearances like these will become more frequent as more states push for legalized, regulated online poker in America. Legalization and television appearances are good catalysts for an increase in player pools and overall excitement.
4. Poker Playing Celebrities Auction Off Footwear for Charity
A charity group called the Small Steps Project is auctioning off footwear worn by athletes and celebrities in an attempt to raise funds to help impoverished children around the world. The auctions are currently running on eBay , and conclude on Dec. 15.
Among the athletes that are participating in the fundraiser are EPT regular and former Manchester United striker Teddy Sheringham, Barcelona centre-back Gerard Piqué, golfer Sergio Garcia, and the No. 1 ranked player in tennis, Rafael Nadal.
Sheringham, Piqué, and Garcia have all battled on the felt and cashed in major events, while Nadal is set to enter his first tournament this week at EPT Prague. All eyes will be on the Spaniard in the Czech capital – his poker training has been well documented by PokerStars.TV over the last few months.
These four athletes have pledged the following:
Poker and charity go together like eggnog and bourbon. Last month we highlighted the WPT Foundation's "All In" For Kids Poker Tournament, which raised $725,000, and countless other charity tournaments run all across the U.S. and abroad each year. In addition, as cutthroat as poker can be, there are several grinders with big hearts and even bigger philanthropic desires.
Because he couldn't attend the aforementioned WPT charity event, Bill Perkins committed to a donation and said he would triple it if Dan Shak, the founder, won. Shak shipped it, and Perkins sounded ecstatic on Twitter:
@daniel_shak @ChildrensPhila @phil_hellmuth @WPT best case scenario 15k my man!!!

— Bill Perkins (Guy) (@bp22)
It's nice to see that these athletes are contributing to what seems like a great cause, and I hope that the charitable subset of the poker industry remains intact for years to come.
5. Vote for the PokerNews Podcast!
The 2013 November Nine marked the four-year anniversary of the PokerNews Podcast, and in January we will celebrate our 200th episode. We can't thank our loyal listeners enough for enjoying this journey with us, and we can't wait to deliver even better content in 2014 and beyond.
Last week, BLUFF Magazine recognized the PokerNews Podcast as one of the leaders in audio content in the poker industry, and we are on the ballot for the BLUFF.com Reader's Choice Awards. We are up against tough competition that is equally deserving of such praise, and we hope that our devoted fans will rock the vote P. Diddy style.
If you really feel festive – we are nearing Christmas, you know – you could also give us a (positive, hopefully) rating on iTunes. All of your efforts will help to increase our reputation even outside of the poker world, and deliver a bigger product.
Thank you for your consideration.
Get all the latest PokerNews updates on your social media outlets. Follow us on Twitter and like us on Facebook now!