Rafael Nadal and Other Poker-Playing Sports Stars Auction Off Footwear for Charity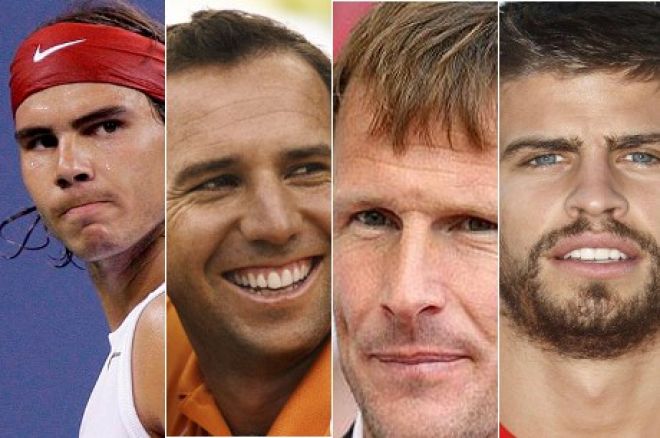 Poker is consistently lauded as a game that appeals to a wide variety of folks, from weekend grinders to international sports stars. Recently, more and more of these sports heroes have taken to the felt in major tournaments to showcase their skills. Among the athletes who have made their presence known in the poker world include former Manchester United, Tottenham, and England striker Teddy Sheringham; Spanish football sensation Gerard Pique; golfer Sergio Garcia; and tennis superstar Rafael Nadal.
All of those well-known athletes have all recently pitched in with a charity group called the Small Steps Project in an attempt to raise funds to help impoverished children around the world. Each athlete has donated signed footwear to the charity, which is currently being auctioned off online.
The footwear currently up for auction is as follows:
While each of these athletes are famous for excelling in their respective sports, each has produced results within the poker world as well. In 2012, Garcia made a deep run in the PokerStars Caribbean Adventure Main Event where he ultimately finished in 51st place for $35,000. Sheringham has also found success on the European Poker Tour, as back in 2010 he managed to find a seat at the final table of the EPT Vilamoura Main Event. He was unable to score the title, but his impressive fifth-place finish scored him €93,121 ($118,347) in prize money.
Pique made a splash recently in Barcelona. The footballer participated in the first stop of the EPT's 10th season and walked away with a notable cash. Pique rose above a good chunk of poker's elite in the €10,000 High Roller event where he scored a 19th place finish worth €21,150 ($28,292) in prize money.
Meanwhile, Nadal will make his live tournament debut in just a few days when he vies for poker glory at EPT Prague.
The auctions for these esteemed players' footwear are currently running on eBay. The auctions will close Dec. 15, so if you wish to own the memorabilia from these athlete's careers, acting fast would be a wise option. The auctions are not just limited to sports stars who play poker, either, as the auction's main page will tell you. Kate Moss, Kelly Osbourne, Emma Watson, Natalie Portman, Ben Stiller, and Taylor Swift are just a few of the celebrities whose footwear is also up for grabs.
The Small Steps Celebrity Shoe Auction is the biggest celebrity shoe auction in the world. Through this project, the most famous stars in the world are helping to raise funds to help impoverished children in areas of need. Bidding on these shoes can make you a part of this process as well. An astounding 100% of the funds raised will go directly to the charity thanks to eBay Giving Works.
For news, updates, and more follow PokerNews on Twitter and Facebook.