Ask the Pros: Which College Football and NFL Teams Do You Cheer For?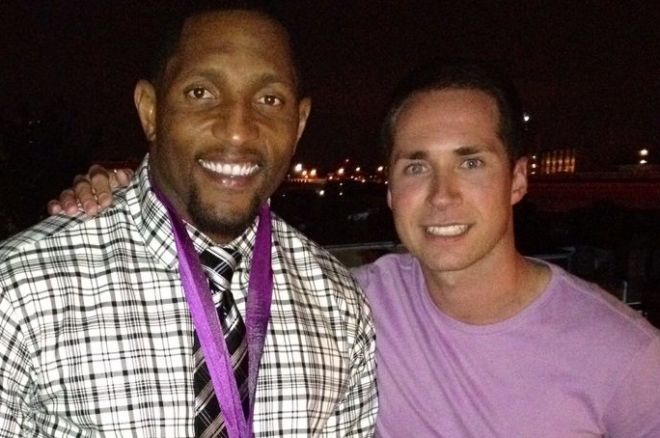 Today is college football Saturday in the U.S., which means pigskin fans all over the country are gearing up for a long day of action on the gridiron. Several poker pros will be cheering on their respective alma maters on Saturday, while many others also have heavy rooting interests.
We reached out to some of those poker players this week to find out where their college football and NFL allegiances lie. We also asked them for some predictions on how their favorite teams will fare the rest of the season. Here's what they had to say.
College Teams: University of Michigan, University of South Carolina
NFL Team: Baltimore Ravens
The University of South Carolina is where I attended and played on the soccer team for four years. The atmosphere is incredible and I have many fond memories of going to games while in school. For this season I believe they will finish 12-2 this year. They will win their part of the SEC but will lose one more game to Alabama and finish with a bowl win and a top-ten ranking. They lost a tough game to University of Georgia (41-30) but will bounce back and finish the year out strong.
Although I have a strong tie to USC I am also a die-hard Michigan Wolverines fan. I grew up in Ann Arbor so I live for the University of Michigan. I actually went to the Michigan vs. Notre Dame game last weekend, which broke the all-time NCAA record for attendance of over 115,000. I believe they will finish a perfect 14-0 season to win the Big Ten Championship and play in the National Championship. It is their year.
For the NFL I have become a very committed Ravens fan. I respect the Lions and have stuck with them for many sub-par seasons, but after living in Baltimore for the past five years I feel that I can legitimately claim that team. Each year I have lived in Baltimore, they have made the playoffs and of course last year won the Super Bowl, which I attended and it was amazing. I also have met Ray Lewis several times and in one picture I have he predicted that night that the team would win it all and sure enough, in his last season he did. I believe they will win their division in the AFC North and have a rematch with Denver in the AFC Championship game after getting semi blown out to start the season on Thursday Night Football. I know I am sounding like just picking my favorite teams to win but I believe they will win the Super Bowl again in a very close game. The city is so passionate about its team and has amazing fans that are not just fair weather fans, which is nice to see.
Go Blue, go Gamecocks, go Ravens!
Above, Gross is pictured with former Baltimore Ravens Pro Bowl Linebacker Ray Lewis
College Team: University of Maryland
NFL Teams: Washington Redskins, Baltimore Ravens
I'm a big fan of Maryland. We have sort of been a laughing stock recently but this year could be different. The team is 2-0 right now and the offense looks really good. Hopefully they can keep it up and make a good bowl.
As for NFL I'm a fan of the Redskins and Ravens. I know, I know, that is looked down on but I'm an unabashed fan of both. Both teams started with a loss but it's early and I think both are playoff teams. And of course anything can happen in the NFL playoffs.
College Team: University of Alabama
As a University of Alabama alumnus, I am a huge Alabama Crimson Tide football fan. I've been to countless home and away games including all three recent BCS National Championships. It's a really fun time to be a 'Bama fan. I recommend to everyone to get down to Tuscaloosa to watch a game. It is an experience like none other. I fully expect us to get another title this year.
I'm spending the fall in Europe but will be watching the games online in real time in the early hours of the morning here.
I'm totally out of the NFL loop, but I'll get into it when it's playoff time.
NCAA Team: University of Michigan
NFL Team: St. Louis Rams
When I was a kid, I loved X-Men and Wolverine was my favorite character and of course, Michigan's mascot is the Wolverines. That's how I became a Michigan fan. It's a little cheesy, but when you're a kid stuff like that makes a lot of sense. As for how Michigan is going to do this year, I genuinely think we can win the Big 10. It's nice to see Michigan finally back to Michigan football. Go Blue!
As for the NFL, I instantly became a Rams fan when they moved to St. Louis in the mid 90's. I suffered through watching Tony Banks and celebrated when Kurt Warner made the NFL his bitch. I'm very cautiously optimistic for this season in St. Louis. Jeff Fisher seems to have finally brought a certain amount of swagger and toughness that has been lacking the last few years. This is also the first time Sam Bradford has been in the same offensive scheme for 2 years in a row. It really is a make or break year for Bradford. The optimism in STL is high. Everybody around here is talking about the Rams and how they can make the playoffs. I'm not ready for believe that, but I can definitely see an 8-8 team in STL this year. With how the last few years have gone, that would be a successful year.
College Team: University of South Carolina
NFL Teams: Seattle Seahawks, San Francisco 49ers
The (South Carolina) Gamecocks are easily my favorite team to root for. I graduated from South Carolina, as did my wife, my brother and our sister-in-law. The loss to Georgia was rough but I think we'll bounce back and win 10 games. It's been really fun watching the baseball and football teams have so much success recently. In the NFL I really like the NFC West teams San Francisco and Seattle, because my favorite gamecocks Marcus Lattimore and Sidney Rice are there. I think one those teams will play in the Super Bowl again this year. I also pull for my other Gamecocks in the NFL but since Cam Newton beat us twice in one season I haven't pulled for the Carolina Panthers at all. I think 'Bama wins another college football title and Peyton Manning gets a second Super Bowl win this season.
NFL Team: San Diego Chargers
My favorite team is the San Diego Chargers, because I grew up in San Diego. The first year my family moved to San Diego, my dad bought season tickets, which was in 1994; the same year they went to the Super Bowl. That was amazing. Until one of the best teams of all time, the 49ers, absolutely demolished us in the Super Bowl. But it was still a fun ride. I can't give any predictions to which team will do well this year because I don't follow NFL as much as I used to. Since I spend more time on fantasy sports, I cut football and baseball and focus on basketball. But that doesn't mean I'm not still a Chargers fan.
We ask our readers, who are your favorite college football and NFL teams?
Get all the latest PokerNews updates on your social media outlets. Follow us on Twitter and find us on both Facebook and Google+!