Interview: Jon Aguiar Leaves Poker for Daily Fantasy Sports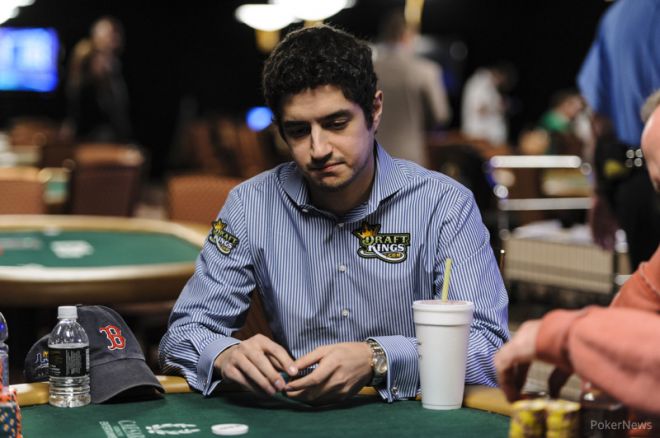 For years, Jonathan "FatalError" Aguiar has been well-known for being blunt and outspoken in the poker world, but he will now be recognized as another successful poker pro who got out of the industry to pursue other endeavors. Aguiar, who had a great year in 2012 after winning his first bracelet at the WSOP Europe €10,000 Mixed-Max event for €258,047 ($336,661), recently announced his retirement from poker via Twitter.
It's official, I'm retiring from poker to move to Boston and work full time with @DraftKings #StartupLife

— Jonathan Aguiar (@JonAguiar)
Aguiar has been a fan of the daily fantasy site DraftKings since its startup last summer. He won nearly $30,000 over the last two months of the fantasy baseball season, which led him to get more involved. After playing poker professionally since 2005, Aguiar has opted to pull the reigns back on the game to join DraftKings as a full-time employee. We met up with Aguiar to ask him about his decision to quit poker, his role with DraftKings, and daily fantasy sports becoming the next boom.
When and why did you decide that poker was no longer for you?
I've always been looking for a project or something to work on. I really didn't care too much about starting anything before Black Friday but after Black Friday I started paying a little more attention to things going on around me. I wanted to do something new because I was going back and forth between Mexico and Canada playing online. I was kind of sick of not being home with my family and girlfriend. So in June of last year I started recognizing the hype of daily fantasy sports and started dabbling in that myself. I won a decent amount of money last summer playing and thought that would be a good side gig. I got involved with DraftKings and just went from there.
Was it easier to walk away from the game after winning a World Series of Poker bracelet last fall?
I don't know if it made it any easier in that I don't consider that to be a major accomplishment that would have made me look back on poker differently. It's nice when dealing with people who don't understand poker because then it's nice when they recognize you didn't quit the game because you were a loser but instead you're a player who has a bracelet and deciding to leave the game for other endeavors. But I mean I beat like 100 players in a WSOP Europe tournament. I don't consider that a great accomplishment of my career but makes the whole discussion of my prior life more tolerable.
What are some of the fond memories you'll have as a pro poker player?
Being able to hang out with my friends and traveling around the world. The mass amount of freedom of being able to go to from place to place on a whim or to Canada to play online tournaments for a week at a time will be what I miss. That freedom will be tough to recreate in any other job.
Do you think the poker industry has a lot of negative influences?
I think life has a lot of negative influences. In poker those things may be just because people have less responsibility for their decisions. You can go and do something incredibly stupid but the only repercussion will be maybe what your peers think of you. Whereas if you choose to do something incredibly stupid in the business world you could cost yourself a lot of money. In poker you are only responsible for yourself really, unless you are being staked, but other than that it is different having a team of people who rely on you.
How did you fall into the opportunity to work with DraftKings?
I started playing on their site about a month after they launched last summer. I was playing a bunch and winning a bunch. I can't think of what the reason was but I sent an email to support. The reply team actually consisted of one of the founders so we started shooting emails back and forth. It turns out they were in Boston, which is where I am from originally. I made a stop in Boston on the way to the WSOPE for about a week and met that person for some drinks. I never thought I would get involved on that level but was thinking it would be sweet to convince them to modify the way they do things to make it more profitable for me so I met with a group and they were really cool. When I returned from the WSOPE I met up with them one more time before I headed back to the west coast and they asked if I could consult for them, just very minimal involvement where I answer emails and jump in on a call once in awhile or when in town pop into the office. That's how things went from last October until a few months ago after we raised $7 million in funding. They made me an offer I couldn't refuse so I took it on full time.
Can you describe what DraftKings is?
The NFL was very adamant that people should be able to play fantasy sports online for money because it was a game of skill by picking individual players and not just seeing overall results of a team. As a result, we ended up with a whole new industry called daily fantasy sports. What daily fantasy sports do is take the whole yearlong 16-week season of football for example, and narrows it into one day. Instead of having a draft with your friends, all the players have salaries and stuff like a manager and salary cap; you just pick the players that you want with an infinite number of permutations that you can come up with and play against each other. The scoring is identical to yearlong fantasy sports where the payout is similar to poker; you can play heads-up matches, with five or 10 people, or with thousands of people. The payouts are similar to a poker tournament where first place will get 25%, and second place will get 10%, and so on. The difference is you don't have a yearlong commitment anymore. You log on a Sunday morning and by the end of the night it's over. A lot of people prefer that experience to all the hard work that goes into a season long of fantasy sports in whatever game they like.
What job will you be taking on at DraftKings?
My title is VIP Relationship Manager. I work with our high-end customers, which is a natural thing coming from the poker world. I understand what the companies out there have done to make their brands the best. I fall back to a lot of what PokerStars has done. I think they have done the best job out there of taking care of their customers. I'm basically trying to give our best players on the site the best experience they can have by giving them a personal one-on-one attention. This is a startup company though. We only have about 20 employees so nobody really does only what is described in their job description. I do a lot of consulting with different parts of the team, the product size, what types of games will be offered, salaries of players, structure of the games, payouts, sort of everything. It really is a team atmosphere. There aren't a lot of projects that don't get a lot of input from nearly everybody. It's an accumulation of my consulting role I've had since last October with the addition of taking ownership of our high-stakes customers. Actually, a lot of them are poker players. It's an easy jump for them, especially for those still in the United States.
What types of fantasy sports are offered on DraftKings?
We offer all major sports. We also offer college football and college basketball. Right now there is only Major League Baseball in the summer but we'll be announcing football in a week. It's obviously the most popular. Fantasy football is just what everyone knows and understands, making it the easiest sport for us to promote. We're expecting a lot of new people to join because they've been waiting for this all year. The level of interest has grown so much in the last year.
What kind of success have you had playing fantasy sports?
I made a decent amount of money last year. I pretty much played full time with the exception of the summer because of the WSOP. The day it ended last year through the end of August, I went about six weeks without playing a hand of poker. I just played fantasy baseball everyday. I made about $25,000 to $30,000 last year just playing fantasy baseball without really getting involved in any of the other sports. I haven't been able to play much this year because I had a pretty full WSOP schedule. It's pretty lucrative for those willing to put in the time. It is very similar to poker in a lot of ways where if you put in the work and the effort, you will see the benefits. It's a lot easier, honestly because you spend an hour and a half of work and then you get to watch sports for six to seven hours. I guess that is the enjoyable part for some people. Nine to 10 hours of playing poker can really wear you down as opposed to making a team, and then feeling good about it and just watching them play.
I'm far from being one of the biggest winners. We just had someone walk away with $150,000. That was just in baseball too. With the progression of how things are going I wouldn't be surprised if next year the new Sunday Million will be fantasy football. It's only a matter of not if it will happen. That's going to be the new thing. With the way poker will be y a state-by-state compact, it will be years until we start to see prize pools that can touch what we can do.
Do you think that Fantasy Sports could have a similar boom that online poker did?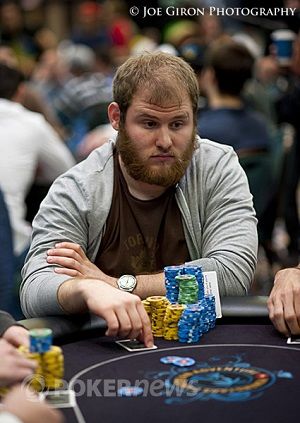 I think we are seeing the beginning of that right now, which is why I got involved. It is also what made my skillset attractive to DraftKings. I've already lived through the boom once. In fact, I can remember what it felt like to have that excitement. I'm seeing a lot of young kids who are starting to supplement their lives or create full-time jobs for themselves playing fantasy sports because they are understanding of sports and the math necessary to beat these games. It is very beatable. The rake is almost exactly like poker and the edge is quite large, even bigger than poker. The winner of our Week 16 contest last year, which at the time was the biggest fantasy contest that guaranteed $100,000 for first place, went to Sam Greenwood who is a well-known online high-stakes tournament player. A lot of the guys have already started to make the switch. I see no reason why it wouldn't continue to grow. You can win a lot of money playing fantasy sports; how could you not gain interest in that? We are now processing on PayPal. We have advertising spots on MTV, YouTube, and will have more of that once football begins. So it is definitely becoming mainstream. I don't know if we will have a Chris Moneymaker moment, but I think it will have word of mouth that spreads like wildfire.
Is there a particular sport that is better to play than the others?
They are all very different. The skillsets that are necessary to beat them vary by sport. Obviously baseball is the most statistical sport. So the person that can take all that data and make it work for them will probably work the hardest. Football, basketball, and hockey aren't as statistical but the guys who do well in those are the ones who watch a lot and really understand how individual players will be affected by other individual players. Or how teams can change dynamically if a guy is coming in, while another is going out. In basketball, it's all about who will get a lot of minutes. In football it is about what the team's game plan will be. Also in football, unlike the other sports, there is lots of information out there so you can obtain that information and level the playing field. People can go to a hundred sites and get information on what players will play that day and make their teams accordingly. It's really about taking that information and taking that skillset to make it work for you. The different sports are like different variants of poker. There will be people who are specialist and then there will be people who are pretty good at all fantasy drafts.
For somebody that's never played fantasy sports or has minimal experience, what is the best approach to getting involved?
I would start out by playing freeroll games. You can register for an account on DraftKings and hop on there. We have a freeroll everyday. You can learn the process; for example, have $50,000 salary so how will you distribute for football? Will you spend a lot on a kicker, on defense, or on the quarterback? You can really take the time to learn what strategies work and even look at what other people are doing. Digest the information and take it from there. It is not very complicated at all. If you've played the yearlong fantasy sports then it is an easy transition. If you haven't played at all then there are a lot of websites that offer really good instruction. We've tried to make the game as simple as possible, while maintaining all the elements of skill. Like most everything else, it only takes a moment to learn but a lifetime to master.
In your opinion is it possible to become a full-time fantasy sports player?
I think there are probably under 100 people who can make a living off doing just fantasy sports. There are probably 40 to 50 people who are making $50,000 to $60,000 a year off playing fantasy sports right now. That number will only continue to grow as the industry gains more interest. It's a single digit percentage of people right now but it's possible within two years that there could be a few hundred guys doing the same or better. It'll be just like the experience with poker where people gasp and look at you odd if you tell them you play poker for a living. But then they got used to the concept and it became the norm. Now the transition is going into playing fantasy sports for a living. It is possible, it is happening, and it will continue to grow. It's really how incredible how far this has come in such a short amount of time. Just a year ago almost no one heard about this and now people want these interviews because they've seen the growth. It's new and interesting.
Will poker remain in your future somehow or are you 100% done with the industry?
When I say I'm retired from poker I mean I won't be playing 200 to 250 days a year. I'll play maybe half a dozen tournaments a year, maybe more, maybe less. I'll be playing the $10 million guarantee at the Seminole Hard Rock. I don't see how anybody can miss that. I'll use all my vacation time to head out for that. I'll target tournaments that are on weekends where I can fly out Friday night, play Saturday and Sunday, and only miss a day of work if I run deep. The guys at DraftKings are really cool with that, too. I won't miss the WSOP Main Event next year but I will have to really analyze which tournaments really are the best and of most value to play in. No more PokerStars Caribbean Adventure for me, though. I can't go to the Bahamas for nine days anymore because of the NFL playoffs. It's not the worst thing though. I'm kind of sick of the Bahamas.
Click here to build your team at DraftKings today!!