Poker Pro Eric Baldwin Offers Advice on Sports Betting and Fantasy Football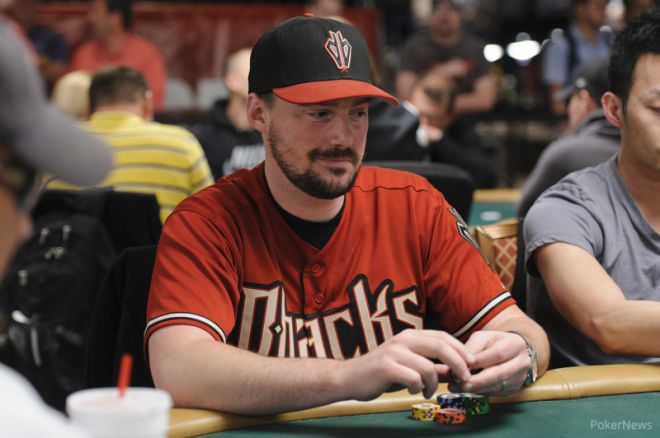 Sports betting is illegal throughout most of the United States but is an everyday part of the gambling industry in Nevada. According to Bloomberg's Businessweek, an estimated $35 million in bets were made statewide last weekend, creating one of the biggest betting weekends in Las Vegas just between college football and boxing alone.
On Saturday night, MGM Grand played host to the sold-out title fight between Floyd Mayweather and Saul "Canelo" Alvarez. Earlier that day, Alabama and Texas A&M faced off in one of the most anticipated games of the season. In baseball, the New York Yankees were in Boston for a three-game series against the Red Sox.
Combine all of these events, along with the always-popular NFL slate on Sunday, and you get what 30-year Vegas veteran bookmaker Jimmy Vaccaro calls "the perfect storm."
So what is the appeal of sports betting and how does it compare to legal fantasy sports? Is there a specific strategy that goes into play when placing bets? And most importantly, can sports betting serve as a profitable pastime?
During a recent chat with PokerNews, professional poker player Eric Baldwin shed some light on the subject and offered his advice to those wanting to turn to sports betting as a source of income. With years of sports betting under his belt, Baldwin has enough insight to weigh the benefits and downfalls of the activity as more than just a recreational habit.
PokerNews: Is sports betting a hobby or a serious form of income?
Baldwin: It is a hobby! It is incredibly difficult to have it as source of income. Look at it like this. Anytime there is an industry where there is that much money being thrown around the people offering the bets are naturally going to know what they are doing. The people that are good enough to beat it, the books have their eye on them and move the lines immediately once they walk through the door. For your average Joe Schmo, even if you get a hot tip, the values are going to be out of the line by the time you get that information. It's like poker, in a sense that you get out of it what you put in. To think that you can be the weekend warrior and say, "the Jaguars look underrated this week," and think you can beat NFL sports betting is downright arrogant and ignorant. The people who do make a living doing it are very involved with using computers and complex formulas, really making it a full-time job to make it work.
We know you prefer baseball, but what do you think is the best sport to bet on that can offer the customer the biggest advantage against the sports books? In other words, which has the most value?
Definitely not the NFL — those lines seem to be very good. College football or college basketball has more value just due to the sheer number of games they play. After throwing that many lines out there, they might not be quite as sharp as if they are focusing just on a Monday Night football game when the lines are almost always going to be spot on. With the NFL they are taking on so much money that even the best NFL bettors in the world have very small ROIs compared to college games.
Speaking only for you, do you have a strategy in place?
I used to dabble in trying to beat the odds. First off, there are lots of websites that have so much information ranging from the umpire behind home plate, who the referees for the game are that day, what the line opened at, and where the line is current at any number of sports books. I used to look at whom the public liked and tried to go against that; the theory being that if one side of the place seemed obvious, well there is a reason why the line is where it's at. It looks like a trap so I used to try and bet the other way. But I found out that the big money knows that and the lines are pretty much just too good to beat. My current strategy is to limit the amount of sports bets I make and to truly treat it as entertainment.
On that note, is bankroll management in sports betting similar to poker? If you make $100 or $200 bets, what should your bankroll be if you were consistent sports bettor?
You need at least 100 times you bet size to feel even somewhat safe about not going broke. Even if you are a good sports bettor, the edge you are getting is extremely small. You are dealing with small percentages for your return on investment. Anyone that has played poker for an extended period of time knows what it's like when you are running badly. It almost feels like it defies the odds. So when you are pushing even smaller edges in something like sports betting, the downswings are even more brutal.
What sport do you bet on and what statistic matters most to place a bet?
I prefer baseball just because it is the best sport in the world and the most fun to watch. First of all, the lineups aren't released until a couple of hours before game time, so I like to wait for those to come out. Then I just look at the starting pitcher versus that lineup. I look at the history the two teams have against each other, and how the bullpens have been performing. Maybe a player won't be starting because he has been pitching too much lately. I look at all those things, just the individual matchups that make up the game.
Are you as involved in the summer during the World Series of Poker?
A few years ago I bet a lot of baseball during the WSOP. I found myself playing poorly at the tables because you could get the games live on your phone so I would be at the table watching a ballgame that I had a bet on instead of focusing on what was going on at the table. Paying attention to those little things at the table is really what separates the good player that understands the game from the good player that sees every detail. It really is a major factor differentiating the good from the great.
Let's compare sports betting to fantasy sports. What is the difference, and which has more value?
I am in three football leagues this year and I just got back into fantasy baseball for the first time in years this year. Fantasy sports definitely have more value over sports betting because you are playing against other humans, and much like poker they are making a lot of mistakes. When you sports bet you are up against humans, too, but they are the absolute top-of-the-line professionals that are making those lines and they are charging you juice. If you are in a fantasy league where everyone throws in the same buyin, usually there is no juice in that. You can look at that from a less rake standpoint and also the human element aspect. If you put in a decent amount of work into fantasy sports and are better than others in the league then you will come out on top more often than not.
Why do you think fantasy sports are legal and sports betting has lagged?
I don't know what the verbiage is in those laws. I'm personally confused as to how these new daily fantasy sites with huge prize pools are legal but poker is not. It has to be politics and how the laws are written.
Do you think legalized sports betting will spread to other states in the future?
I think it will. I think much like poker the demand for it is there, especially if governments are always wanting more revenue. Politicians will see that it's a possible new revenue stream. I think there is no stopping it. Some states will of course opt out but other states will have it and other states will see it and want it. Just like anything else in politics it seems like it will just take awhile to spread.
Do you think any realm of the sports industry has been hit by the economic recession? Is there room for growth or do you see a decline?
I've noticed from my fantasy leagues that some people dropped out and so we scrambled to find replacements but kept the buyin the same, while other leagues have dropped their buyins. I can't tell you about the higher end sports betting and if that was hurt but I can say that information travels much faster these days and it seems like a lot of the sports books are consolidating; meaning there aren't as many different lines available. Back in the day you could walk up and down the Las Vegas strip and find three or four different lines on the same game. Now, that's very rare as most of them are in line with each other. That's definitely changed and made things tougher. I do think there is room for a boom especially with daily fantasy sports. It's quickly becoming more recognized and seen as value. If sports betting spreads and becomes legalized then I can see a boom from that realm as well.
Do you play on DraftKings?
I have not. I'm scared to because it sounds amazing! I'm worried that it will consume my life. I'm pretty sure I'll be on there before too long because I know you can do daily leagues. So if I ever have a day off from poker and looking for some entertainment, I would be on there. I know some people that can make a living at it or actually do make a living at it. Even if you just do it casually it just seems like an amazing lottery ticket. I know they just had a $1 million guaranteed prizepool. What a fun lottery ticket to have.
Are there any sports writers you consistently follow? Or your go-to site for necessary important sports information, stats, analysis, etc.
There are so many useful sites available. Vegas Insider is one site where you can get all the different lines from the biggest offshore books as well as from the casinos on the strip. There is a site called Covers.com that has pretty much every matchup listed with information on the teams laid out really well. ESPN also has some amazing stuff. As far as in-depth information and getting information first, I find that following a lot of the beat writers for teams on Twitter is a really valuable I follow the Diamondbacks beat writers Nick Piecoro and Jack Magruder. They have some amazing insights and sometimes they will even post the lineups early. They will be in the locker room and post a Twitter picture of the lineup for that day, giving you that information a minute before everyone else does. That really can be the biggest edge you can get. If you see the lineup and see that a team's star player is not playing that day, then that line will move in a matter of minutes.
Do you follow professional handicappers?
They can be an interesting follow but as far as value, by the time they've made their picks the lines have already moved. It's just the market. There comes a certain point where it's break-even. There are also handicappers that sale their pick on the Internet but it is all just marketing. You'll see handicappers advertising that it's their 100th star, triple-lock pick of the week and claim they are 5-and-1 for Wednesday nights, oh and there's also a full moon; just a bunch of nonsense. They are resorting to information like that to advertise their picks; it's a huge marketing scheme. Some of them might win but again the ones that are consistent winners but just know that you aren't getting the same lines they are. You're just chasing essentially.
If you could change or implement one thing about the sports betting sector, what would it be?
There would be free drinks in every sports book. A lot of them are getting stingy now. At Cantor you need a $500 bet to get one free drink. Back when I first moved to Vegas most places didn't even have drink tickets and the ones that did were very liberal with distributing them. Or you could become friendly with the teller at the window and they would slide you more tickets. The whole environment just had a more personal feel and now it's transformed into a bit more of a corporate feeling. I would move things back to the way they were.
Do you use any software to proximate what bets you think are probable winners?
For sports betting I do not. When it comes to fantasy football I subscribe to RotoWorld. They come out with weekly projections and other information making it extremely useful.
When is the best time to bet? How far in advance or how close to the event?
A lot of times lines are softest when they first come out but they also have the lowest limit on the wagers at that time. Cantor came out with lines for every single game of the NFL season before the season even started but they had a $2,000 limit on the games. I think they did that almost knowing they would post bad lines just to get the information from the sharp bettors so they could adapt and improve their lines before they could open it up to bigger maximums. I would say when lines first come out you might find the biggest errors in them and also right when new information comes out. Whether it is which umpires are referees will be used, specific lineups or concrete information on injuries, are all immediate useful information.
Have you met professional sports gamblers before that do this for a living and are successful?
I am friends with a couple. Most of them will bet on anything there is a market for. If you do it professionally then you look it at it differently. It is finding the value. It doesn't matter if you are betting on boxing, cricket, or baseball, if there is value in that line and you do that for a living then you are dumb not to bet it. My friends that do it successfully work very hard at it as it is a full time job. They are pretty tight lipped about it because information is valuable and you've got to go about it in a professional way to make it work because so many things have to go right in order to make a living doing it.
It's currently football season. Can you give some small tips or indicators for which bets to take when looking at different team matchups?
As far as sports betting, don't do it unless you are treating it as entertainment and expecting to lose over the long run. When I bet on a game, typically, if it's a $100 bet you are paying 10 percent juice so you are risking $110 to win $100. Half the time you will win and half the time you will lose. So look at it as you paying $10 for the entertainment and to have that sweat and treat it like a coin flip and have fun with it. When it comes to fantasy sports there is a world of information these days. My advice would be A) to have fun but B) to trust the professionals. But if you like going off your hunches and that's what's fun for you then do that and just remember to keep it fun and don't throw things at televisions and let it consume your life.
For this weekend's football coverage what matchup would you be looking forward to betting on and why?
I will take the Chicago Bears against the Pittsburgh Steelers on Sunday night football because they are my favorite team. They are healthy right now and I will be betting just for fun.
For more off-the-felt stories involving your favorite poker players, be sure to visit The Muck. And remember to follow us on Twitter and find us on Facebook and Google+!